Candy-bar stuffed Snickers monkey bread. Yep. This is what you do with all your leftover Halloween candy. Make monkey bread, and fill each piece with a candy bar. It's chocolate, caramel, and peanut heaven!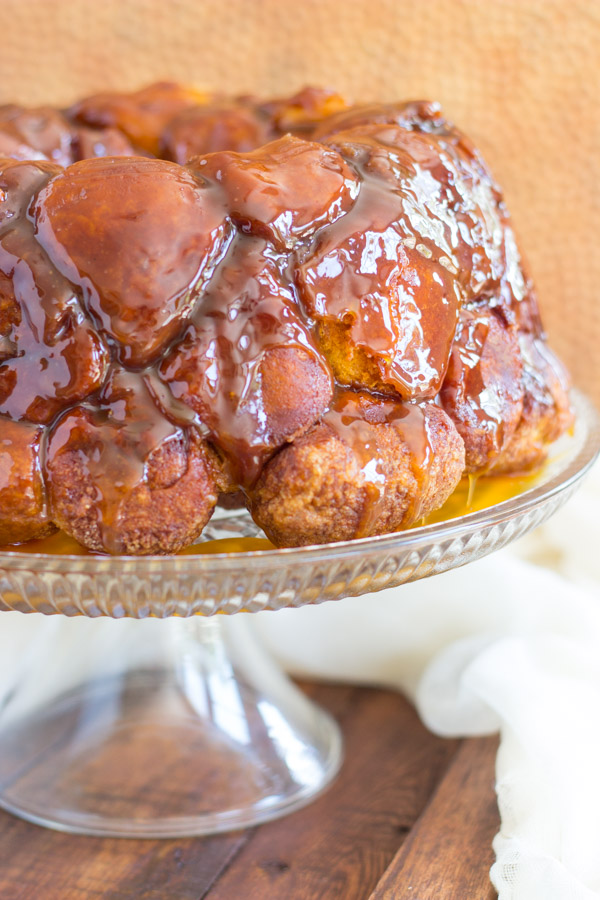 Full-disclosure, I actually used a few Milky Way too. I bought several variety bags of candy, and I was short a few Snickers bars.
Milky Ways are my favorite candy bar anyway though, so I threw in a few of those for my own enjoyment. 🙂 But I always get the sense that the rest of the population prefers Snickers, so I'm catering to the masses here with this Snickers Monkey Bread.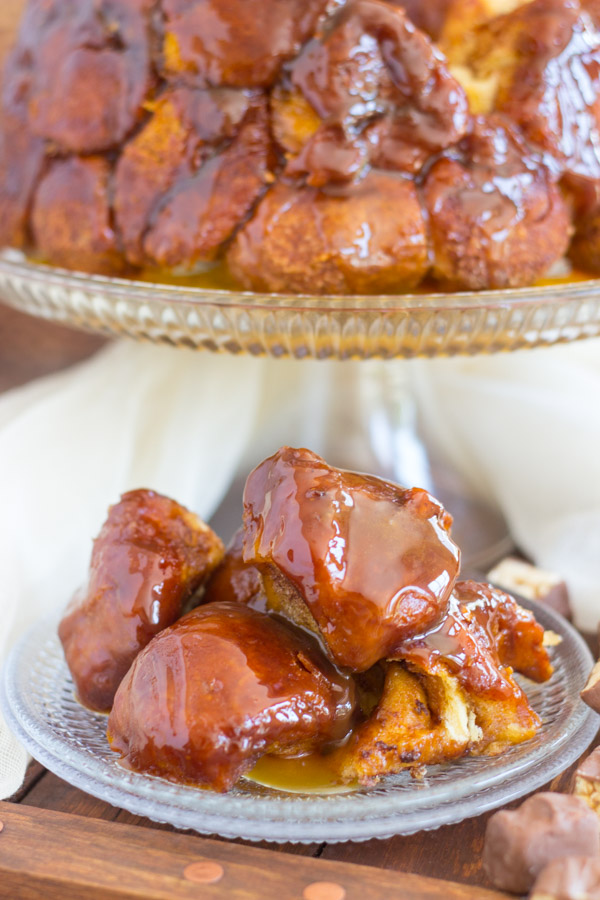 I know I shared a monkey bread recipe just a few weeks ago, this Honey Cinnamon Monkey Bread, and now here's another one, but I don't care. These are very different versions of monkey bread. You'll be very happy to have them both – they're both amazing. Excuse the lack of recipe variety, in this case, but you'll be grateful, I promise.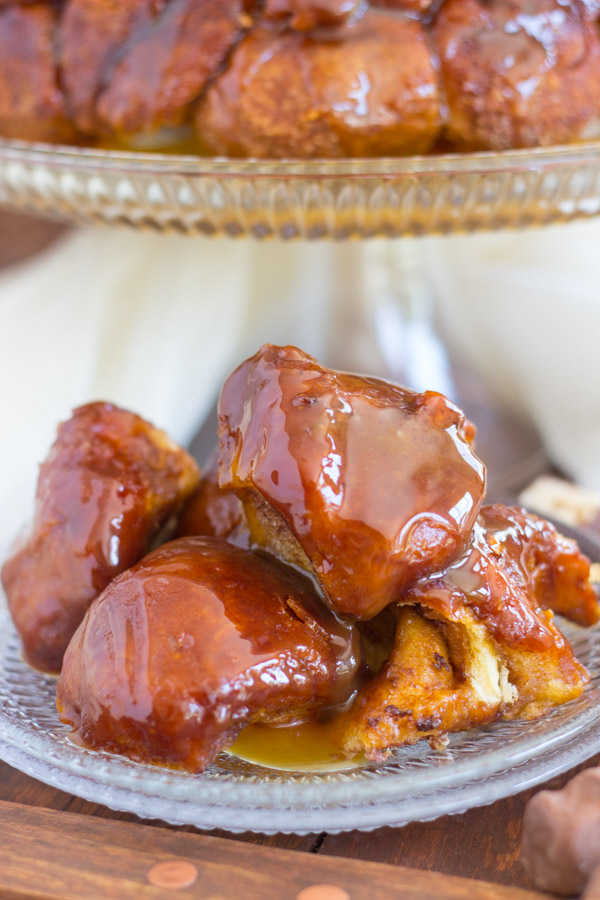 This Snickers Monkey Bread is still a short-cut version of monkey bread, so no need for yeast, and for creating a dough from scratch. I'm finally becoming friends with yeast-based breads, but I still appreciate a short-cut. This uses refrigerated biscuits, the big flaky ones. Once they're baked in a bath of brown sugar and butter, and topped with caramel sauce, you can't tell a big difference. Short-cut monkey bread is super satisfying.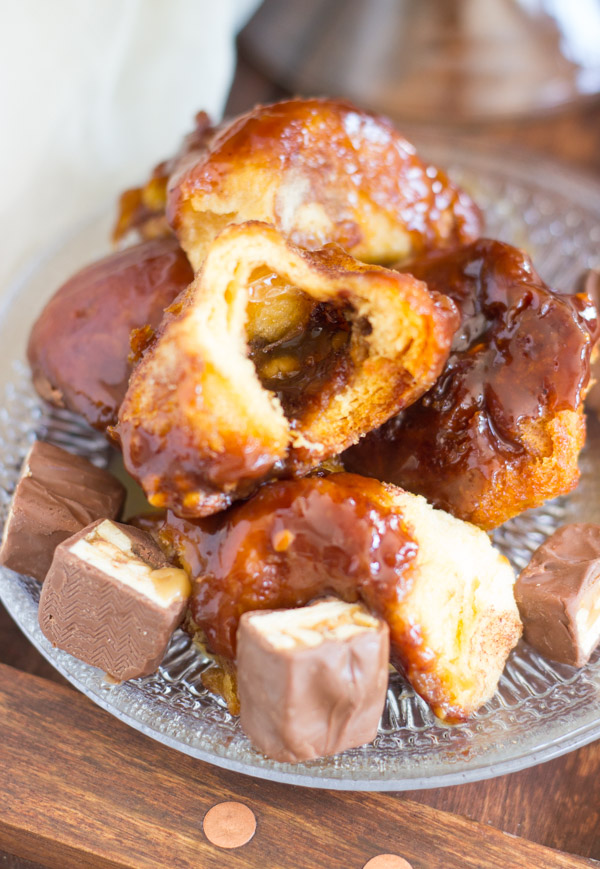 I cut each biscuit in half, and wrapped half a fun-size Snickers (or you could use minis, and you don't need to cut them in half) in the center of each biscuit. When you sink your teeth into a piece of monkey bread, you're met with melted chocolate, caramel, and peanut heaven. This Snickers Monkey Bread is so addictive.
It's drenched in butter and brown sugar to bake, and then I drizzled caramel sauce over the top of the finished product. This is what you do with leftover Halloween candy.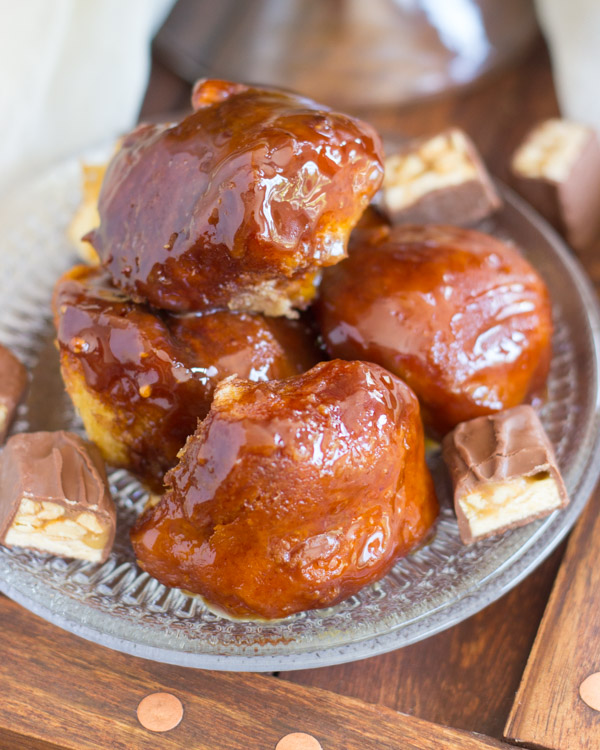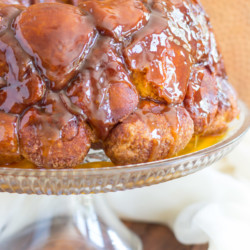 Snickers Monkey Bread
Candy-bar stuffed monkey bread. Fill each piece with a candy bar. It's chocolate and caramel heaven!
Ingredients
1

c.

granulated sugar

1

tbsp.

cocoa powder

1

tsp.

cinnamon

2 - 16

oz.

cans refrigerated biscuits

16 total biscuits (I used Pillsbury Grands Flaky Layers Butter)

16

fun-size Snickers Bars

or Milky Way, or both, cut in half (or you could use 32 minis)

3/4

c.

butter

melted

3/4

c.

brown sugar

1

jar of prepared caramel sauce

optional
Instructions
Generously spray a 10-inch bundt pan with non-stick spray.

In a gallon-sized plastic bag, combine sugar, cocoa powder, and cinnamon.

Using kitchen scissors, cut each biscuit in half.

Wrap each half of a candy bar into a biscuit half, like a dumpling. Pinch the seams to make sure that the candy bar half is covered by the biscuit dough.

Working in batches of 5 or 6, roll the balls in the plastic bag with the sugar-cocoa-cinnamon mixture, making sure to coat them thoroughly.

Arrange the dough balls in the prepared pan.

In a medium bowl, whisk together the butter and brown sugar.

Drizzle it evenly over the dough balls.

Bake at 325 degrees for about 40 minutes, or until the edges are golden brown, and when you press toward the center, it should feel 'set' and should not really depress. I use the end of a wooden spoon to press lightly toward the center of the bundt to check for doneness. You don't want it to feel doughy.

Remove from heat, and cool in pan for 10 minutes. Run a knife or small rubber spatula along the edges to loosen the bread.

Invert onto a serving platter. Do not wait longer than 10 minutes to invert, or the bread will stick to the pan.

Serve warm. Top with additional caramel sauce, if desired. Certainly not necessary, but definitely delicious.

Individual servings reheat easily in the microwave for 20-30 seconds!