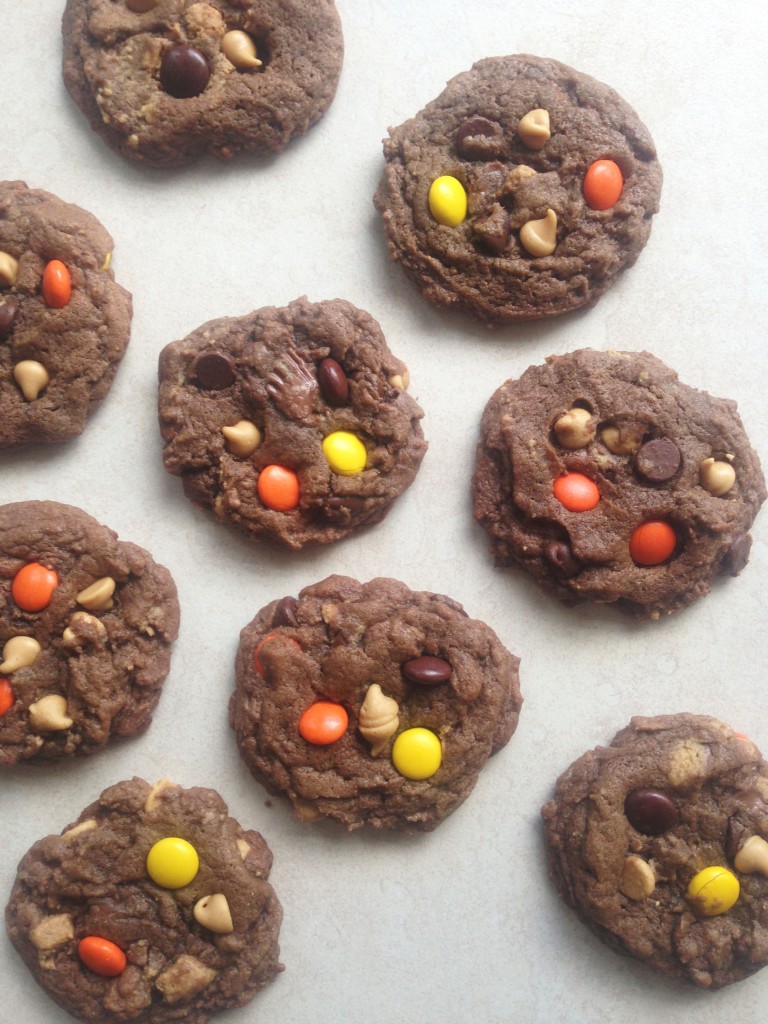 Chocolate peanut butter cookies that are soft, chewy, and chock full of PB four different ways!
First of all: It's Friday! YAAAAAY!! TGIF, friends. Second of all: COOKIES!! Here's how these cookies go down in our house: I make them, and between just the two of us (me and S.O.), 48 cookies are gone in 3 days. #fact. Chocolate and peanut butter are a classic duo. I love them together, but I don't go crazy for chocolate in general. I mean, I love it, to be sure…. but I don't looooooooooooooooooooove it. Ya know? Peanut butter is *really* my weakness. I could live the rest of my life solely on peanut butter and be totally fine with that. Therefore it should come as no surprise that I crammed it into this cookie in every way possible.
These cookies are soft and chewy, full of creamy peanut butter, slightly crunchy Reese's pieces, and peanut butter chips for more added texture. Also, chopped up Reese's peanut butter cups. YES. Every bite bursts with PB. And there's cocoa powder and semi-sweet chocolate chips in the mix to kick things up a notch. For you people that love PB and chocolate as a combo, do not worry. There is plenty of chocolate-y goodness wrapped up in these cookies too.
These are truly a crowd-pleaser. I don't know ANYONE who doesn't love chocolate and peanut butter as a team. They go together like spaghetti and meatball or lamb and tuna fish. #bigdaddy. HA!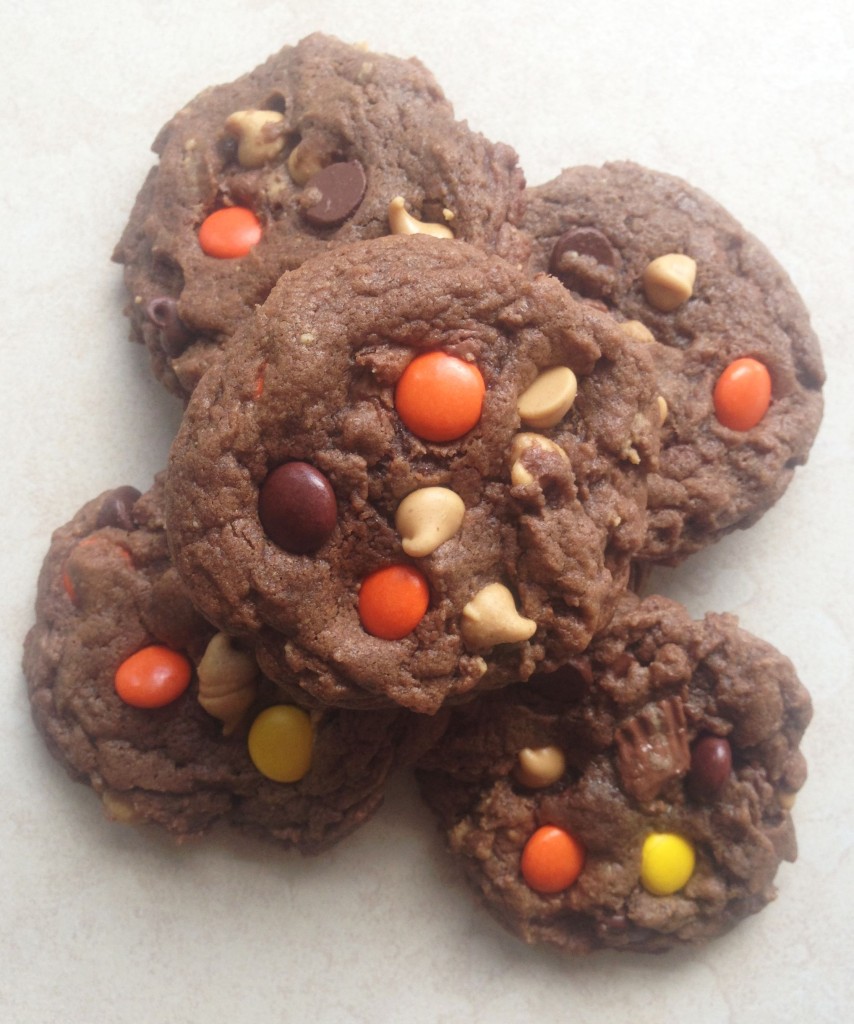 Quadruple Peanut Butter and Chocolate Cookies: 
3/4 c. butter, softened
1 c. creamy peanut butter
3/4 c. sugar
3/4 c. brown sugar
2 eggs
1 tsp. vanilla extract
2 1/3 c. flour
1/3 c. cocoa powder
1 tsp. baking soda
1 c. semi-sweet chocolate chips
1 c. peanut butter chips
1 – 4oz. box Reese's pieces
10 Reese's peanut butter cups, chopped
In a large mixing bowl, cream together the butter, peanut butter, sugar, and brown sugar. Beat in the eggs and vanilla. Combine the flour, cocoa powder, and baking soda. Add to the peanut butter mixture and blend until just combined. Mix in the chocolate chips, peanut butter chips, Reese's pieces, and Reese's peanut butter cups. Drop by tablespoonfuls onto ungreased cookie sheets. Flatten mounds slightly. Bake at 350 degrees for 8-10 minutes.
Yield: 4 dozen cookies.