A chewy peanut butter cookie with mini Reese's pieces mixed in, and a full-size Reese's cup on top. The ultimate in decadence!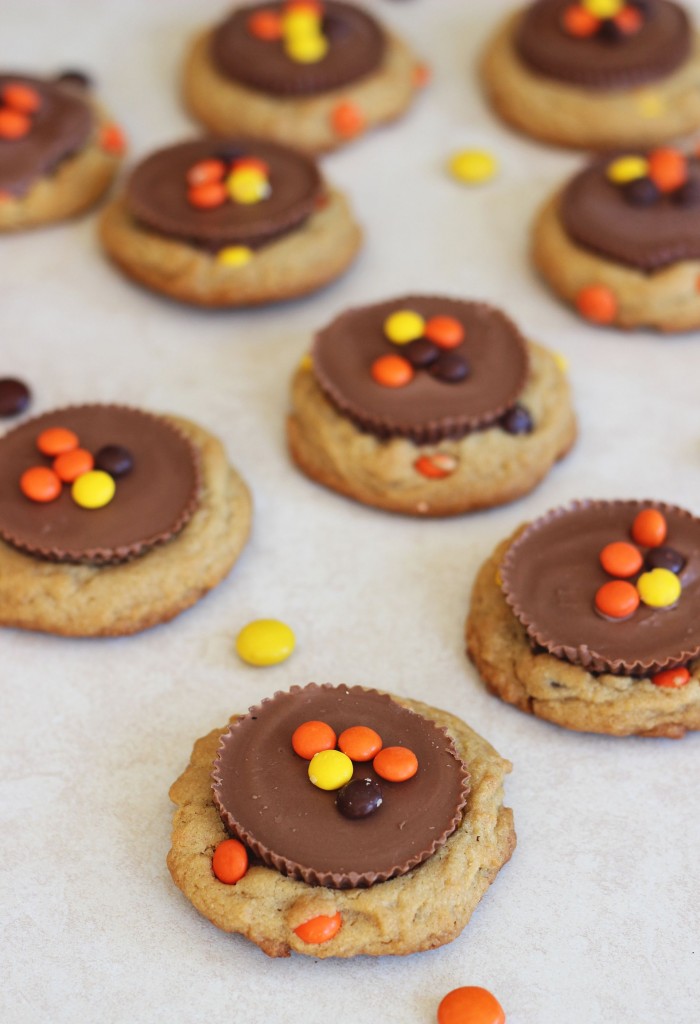 Some of you might've seen on Instagram that I was up in Erie, Pennsylvania visiting my family last week. On my last night there, we went out to dinner at a fantastic local restaurant called The Cakery. It's like $5 for a burger the size of your head there (super cheap good food… a benefit of small town life!), but the first thing you actually see when you walk in the door is a big display of cakes, cookies, cinnamon rolls, pies, etc. Various confectionery delights.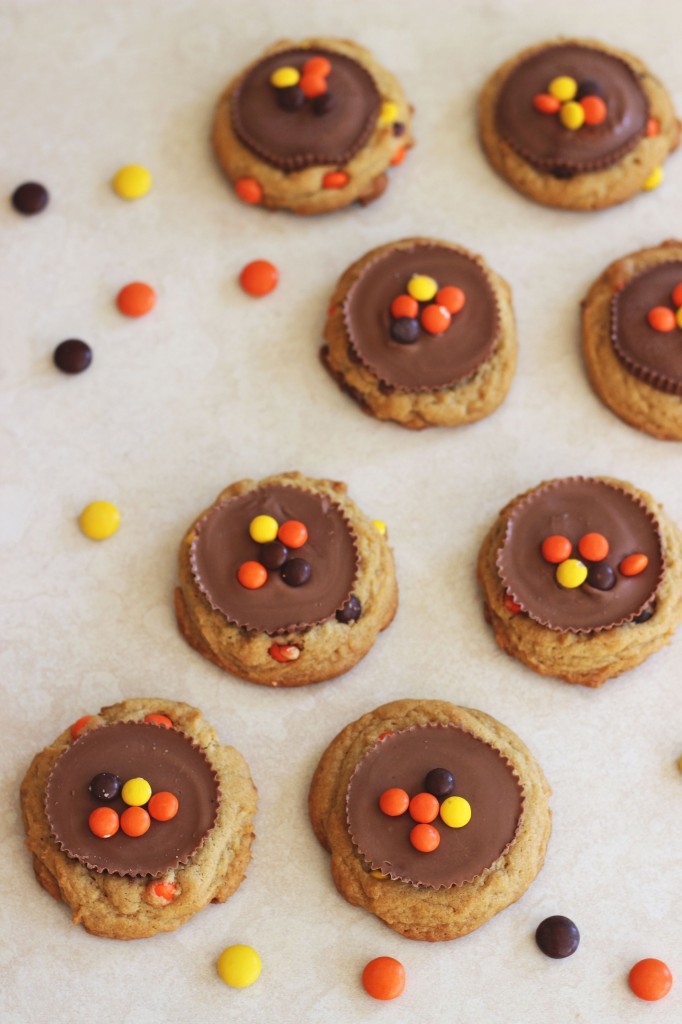 Naturally, as a family of sweet-tooths, all our minds pushed aside thoughts of hamburgers and real food entirely, and we fixated on the jaw-dropping desserts in front of us. In particular, my brother, sister-in-law, and I stared agape at their peanut butter cookies with full-size Reese's cups on top. Best.idea.ever. As a peanut butter addict, and Reese's addict, how did I not know of this sooner in life? How did I not *think* of this? I kick myself when I see amazing creations like those cookies!
It only made sense to recreate them. I got to work as soon as I returned home to Florida. I based the cookie part of these Reese's Cup cookies from my Quadruple Peanut Butter Chocolate Cookies. Those cookies are ridiculous, in a good way. Insane amounts of peanut butter items are stuffed into them. Plus chocolate.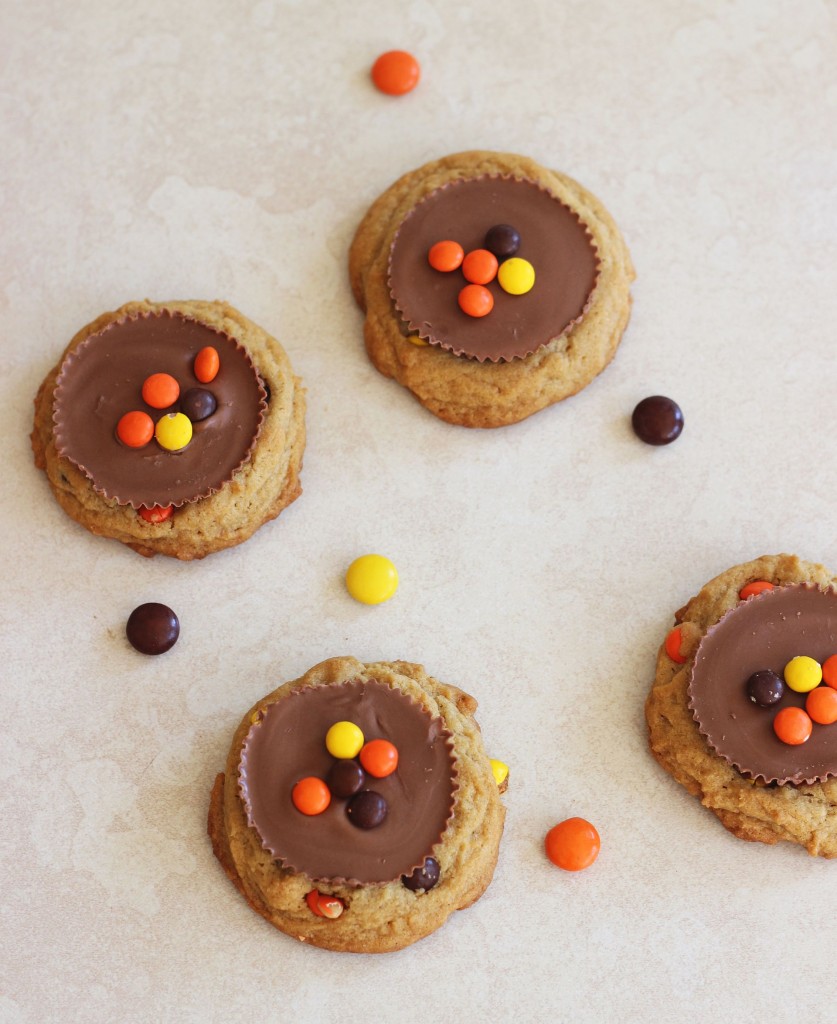 Now these cookies. These are only Triple Peanut Butter cookies, BUT, and it's a big BUT, they have a full, regular-size, entire Reese's Cup on top. So it makes up for everything. Well, technically, it's a snack-size Reese's, but let's not split hairs.
These are soooooo good. I eat one and feel like I've died and gone to heaven. The day I made them, I left them alone in the kitchen momentarily (my first mistake), came back, and S.O. had eaten three of them, within mere minutes. Then when I asked what we should have for dinner, he told me I spoiled his dinner for him. Ha! My fault! Can you imagine?
I suppose he's not really wrong. These are the kind of cookies that make you want to forget about nutrition and sustenance for basically… ever, and just live off these instead.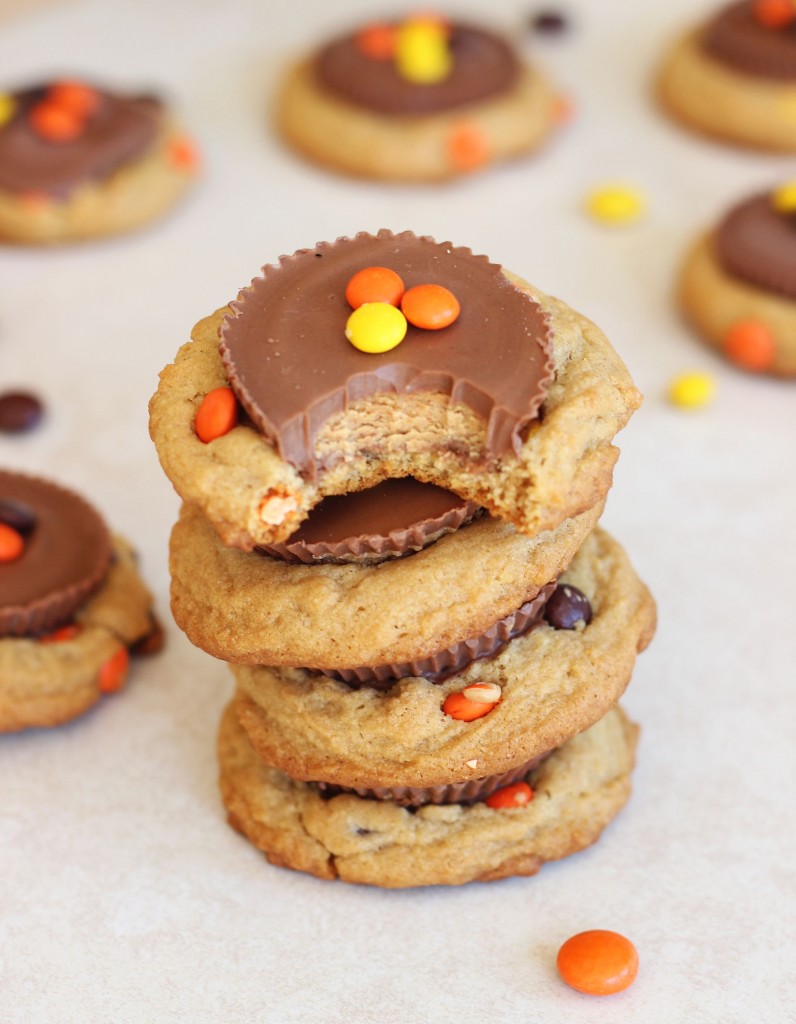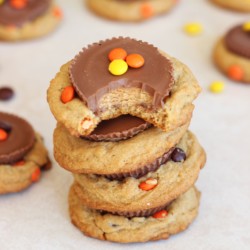 Reese's Peanut Butter Cup & Reese's Pieces Peanut Butter Cookies
A chewy peanut butter cookie with mini Reese's pieces and a full-size Reese's Cup on top! The ultimate in decadence!
Ingredients
3/4

c.

butter

softened

1

c.

creamy peanut butter

3/4

c.

white sugar

3/4

c.

packed brown sugar

2

eggs

1

tsp.

vanilla extract

2 1/2

c.

flour

1

tsp.

baking soda

1

c.

mini Reese's pieces

36

snack-size Reese's cups

for me, it was 3 bags, refrigerated

Optional garnish: 1/3 c. mini Reese's pieces
Instructions
In a large mixing bowl, cream together butter, peanut butter, and sugars.

Beat in the eggs and vanilla until well-blended.

In a medium bowl, combine flour and baking soda.

Add dry ingredients to mixing bowl and beat until blended.

Fold in the mini Reese's pieces.

Drop by tablespoonfuls onto ungreased cookie sheets.

Flatten the mounds slightly. Not to much or they won't be thick and puffy for you to press in a Reese's cup. Just flatten slightly.

Bake at 350 degrees for 8-10 minutes or until edges are golden brown.

Remove pan from oven, but leave the cookies on the pan. Allow cookies to cool for exactly 2 minutes, then press a refrigerated Reese's cup firmly in the middle. Don't push so hard that you break the cookie, but press pretty firmly so it sticks.

Garnish with mini Reese's pieces in the middle of the cup, if desired.

Remove cookies to a wire rack and allow to cool completely.

The Reese's cups will get a little melty no matter what. They will set up completely in several hours.
Notes
The shape of the Reese's Cup holds up best if they are refrigerated in advance for at least 1 hour, and if you allow the cookies to cool for exactly 2 minutes when you remove the pan from the oven. If you wait longer, it's harder for the cup to stick to the cookie. Too soon, and it will melt.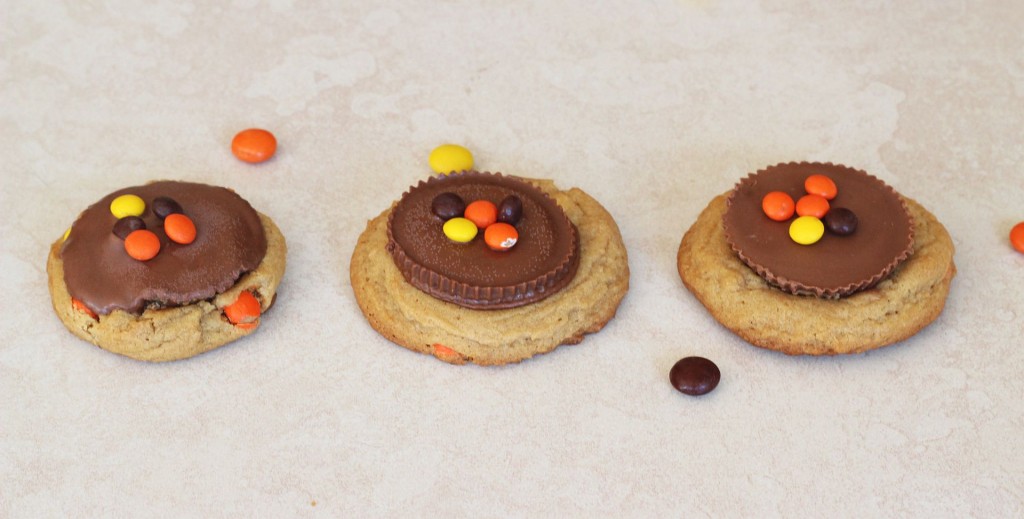 Figuring out the right timing for placing the Reese's Cup on top was kind of a game of good, better, best. Too soon, and it melts. Still too soon, and it still melts a little. I don't see this as an issue personally, but if you want the Reese's to hold their shape, I've included special instructions in the recipe. If you're like me though and presentation doesn't count for much, just let them melt into little puddles on top of your cookie. Tastes just as delicious. 🙂