Peanut Butter Bacon Breakfast Cookies are sweet, savory, and so, so good! You'll love the excuse to have cookies for breakfast, and what better way than with bacon too? These Peanut Butter Bacon Breakfast Cookies are unforgettable!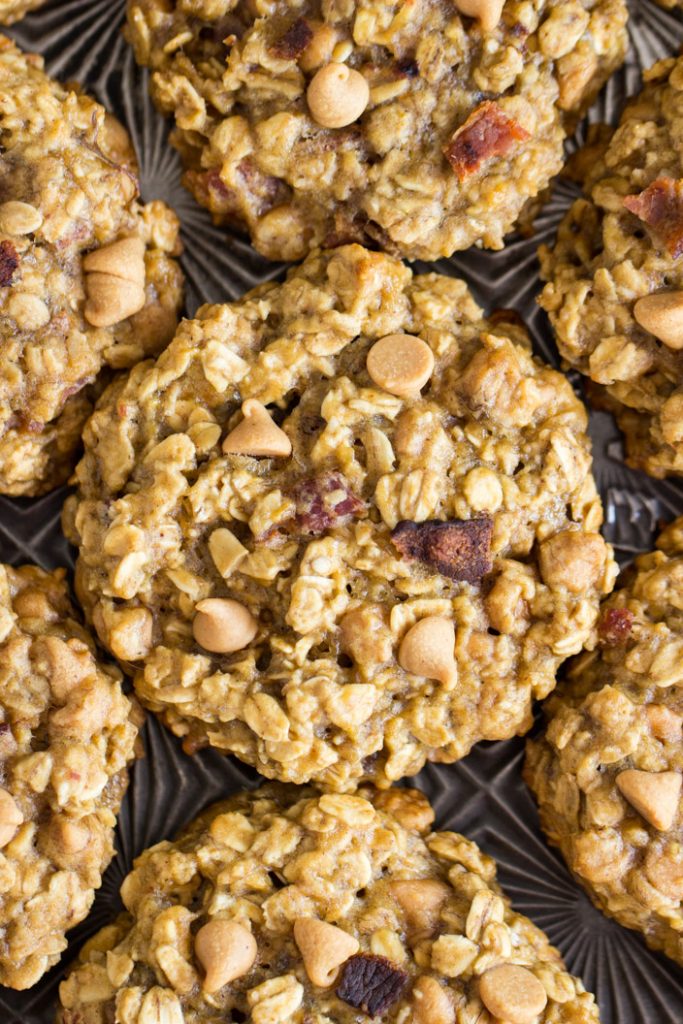 I had the best idea ever. I don't think these Peanut Butter Bacon Breakfast Cookies have ever been done before. Well, maybe they've been done before, but if they have, I don't know about it.
Honestly, when I have a really unique and creative idea, and I think it's a rare case where maybe no one else has thought of it, I don't even like to look. I don't want to know. I don't Google or dig around or research to see if someone else has done it. I just want to live in my happy world where I thought of this idea first.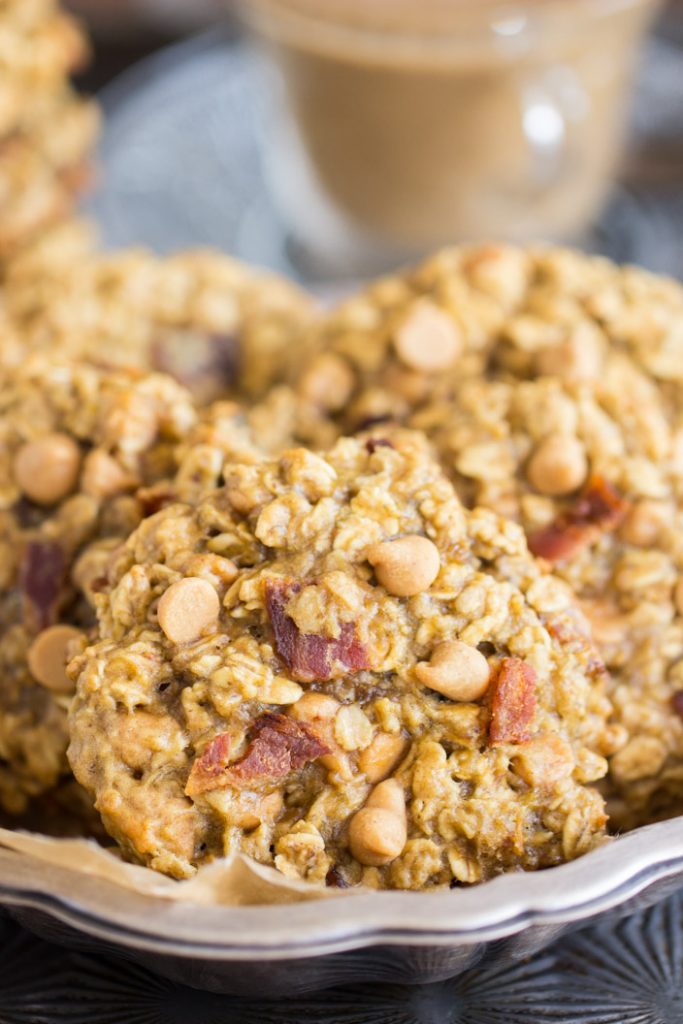 So this is my original idea, and it's the greatest idea, and I'm super proud of it. Let's leave it at that. Sound good? 🙂 There are definitely a lot of breakfast cookie recipes out there, and I've even got a few other ones that are similar: these Chocolate Peanut Butter Banana Breakfast Cookies, and these Breakfast Chunky Monkey Cookies. New for the holidays, I have these Cranberry Pumpkin Breakfast Cookies too!
I use the same base for my breakfast cookies, and then I tweak it. No need to reinvent the wheel. They start with oats and oat flour, so they're loaded with good carbs! They have just a touch of brown sugar, lots of cinnamon and spices, a few mashed bananas to hold them together, as well as a bit of nut butter, which also provides healthy fats.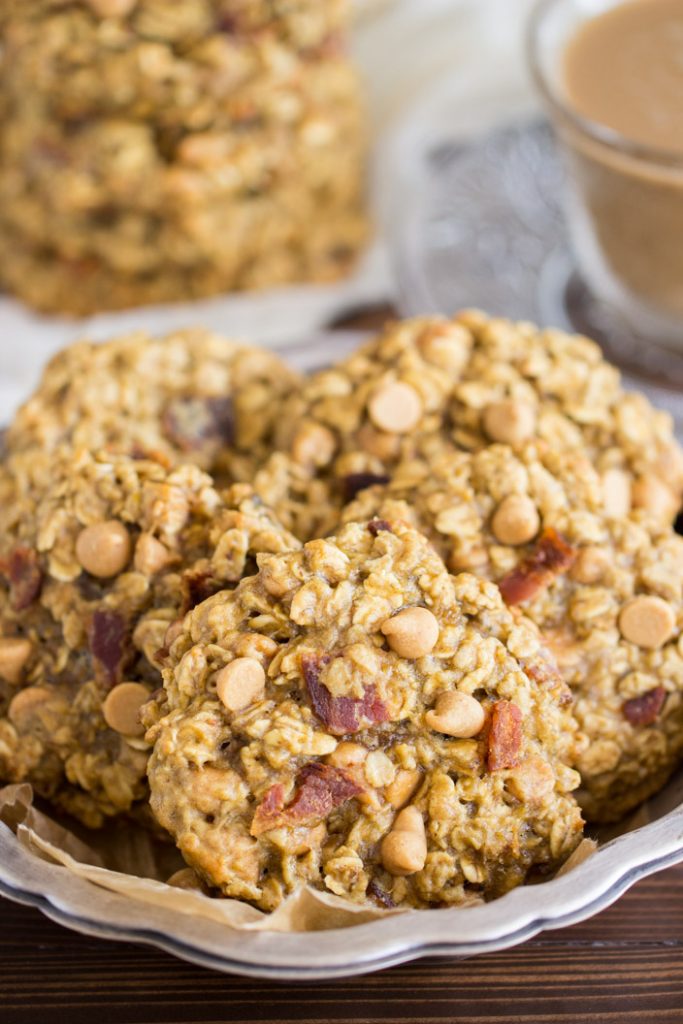 They're hearty and filling, and you can make a batch in about 30 minutes, start to finish. These Peanut Butter Bacon Breakfast Cookies are quick to whip up, and they are lovely for breakfast on-the-go or as a filling snack. I make some variation of my breakfast cookies every few weeks because they're so handy to have… well, on hand.
All of this to say: I've never seen Bacon Breakfast Cookies, and these had to happen. I love my other breakfast cookie recipes, but I'm sure you can guess that these are my favorite. You know what makes these particularly special is not just the crumbled bits of fried bacon, but also that these have extra peanut butter, and a lot of peanut butter chips. I know that the peanut butter chips detract these from being a perfectly ideal and healthy meal, BUUUUUT they're SO worth it!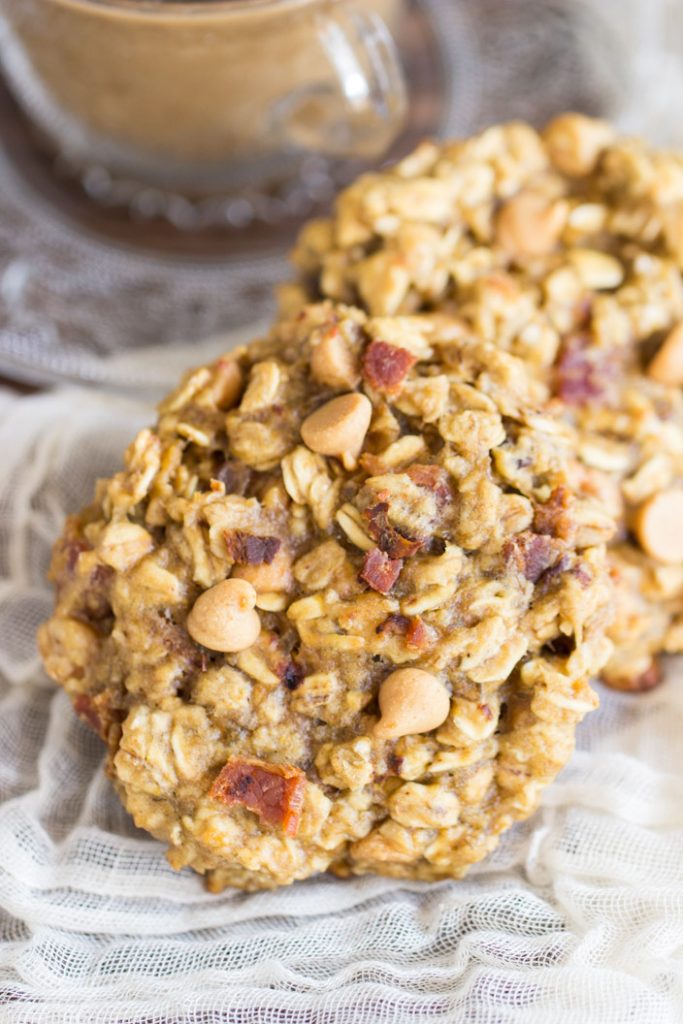 The combo of salty bacon with bits of creamy, melty, nutty peanut butter is absolute perfection. Don't skimp on the peanut butter chips because they're what really send this Peanut Butter Bacon Breakfast Cookies recipe over the top! I'm totally hooked on these Bacon Breakfast Cookies in particular. Try one batch, and you will be too!