Pumpkin pie on the bottom, buttery spice cake pecan streusel on top. Super simple and quick to whip up! This Upside Down Pumpkin Cake, or Pumpkin Upside Down Cake, is one of the best and easiest pumpkin recipes. Everyone loves it, and I always get asked for the recipe. This Upside Down Pumpkin Cake is a smash hit during the holidays.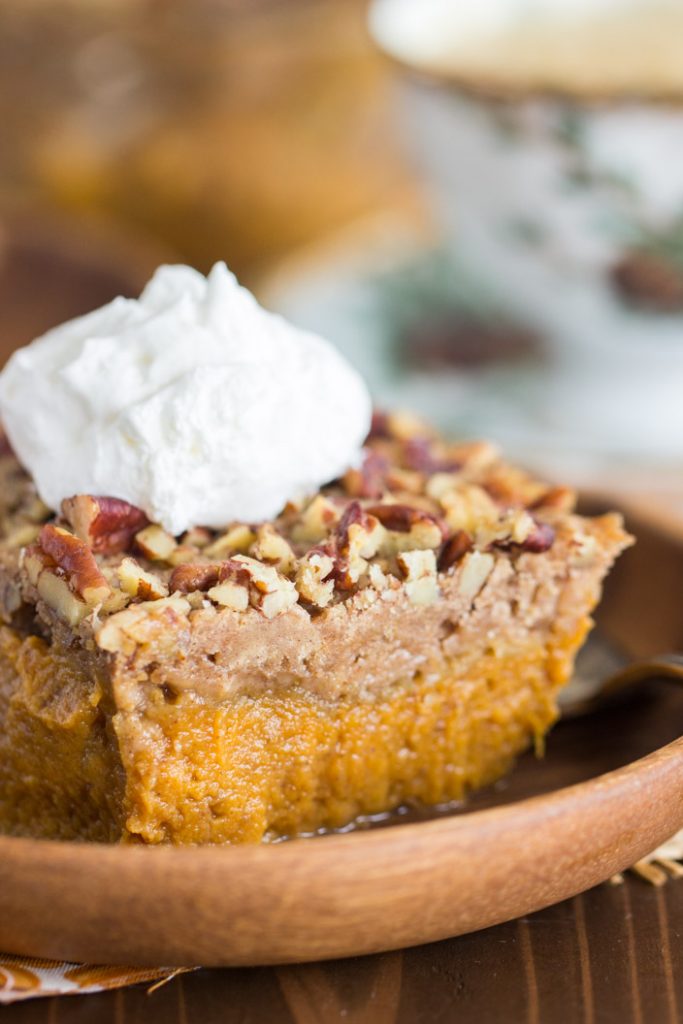 Upside Down Pumpkin Cake… it's also kinda like an Upside Down Pumpkin Pie.
I originally found this recipe on Allrecipes.com about 15 years ago. I have no idea what drew me to it in the first place, but I tried it once, and I've made it consistently ever since.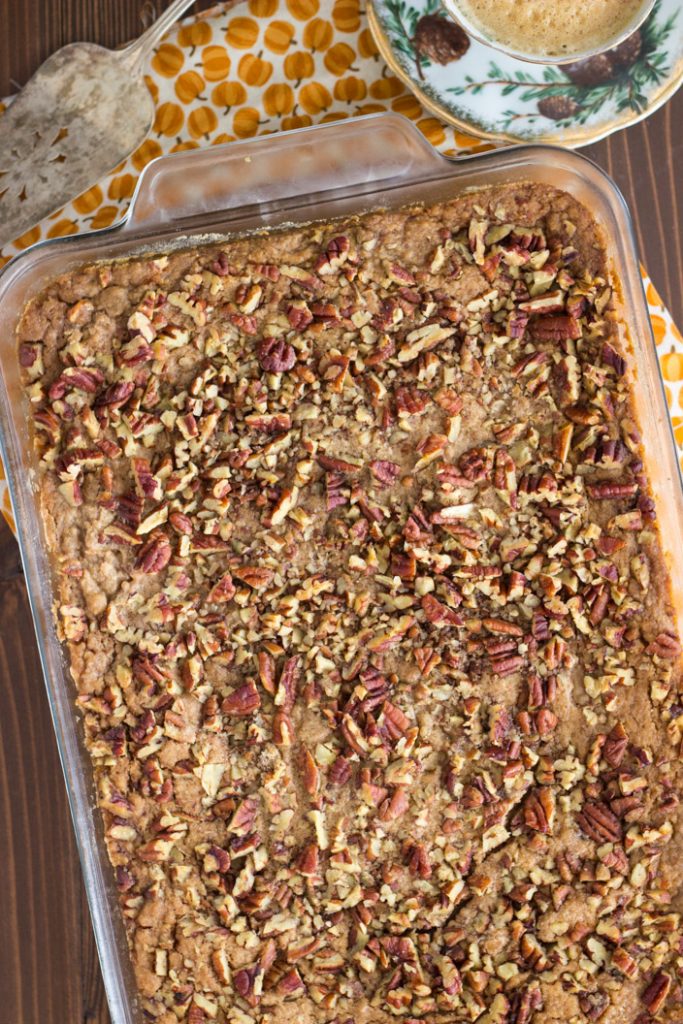 Incidentally, my cousin's wife, Lisa, makes a similar recipe to this Upside Down Pumpkin Cake. It's not quite the same, but very similar. She brought it to Thanksgiving one of the first years we knew her.
In her family, they call this Pumpkin Squishy. That name doesn't entirely make sense to me, but that's okay. This is a dessert that goes by many names because I think this may also be called a Pumpkin Dump Cake. I'm not very familiar with dump cakes, so I can't confirm, but I think it's also a Pumpkin Dump Cake.

In any event, this Upside Down Pumpkin Cake is not really a cake at all. The bottom is pretty much classic pumpkin pie. It's not much different than pumpkin pie at all, in fact, but with a few key exceptions: 1. it's thicker, and 2. it's richer. There's not as much evaporated milk diluting the 'pie' layer of this dessert.
Basically, it's the filling of two pumpkin pies crammed into a 9×13, and made a little sturdier.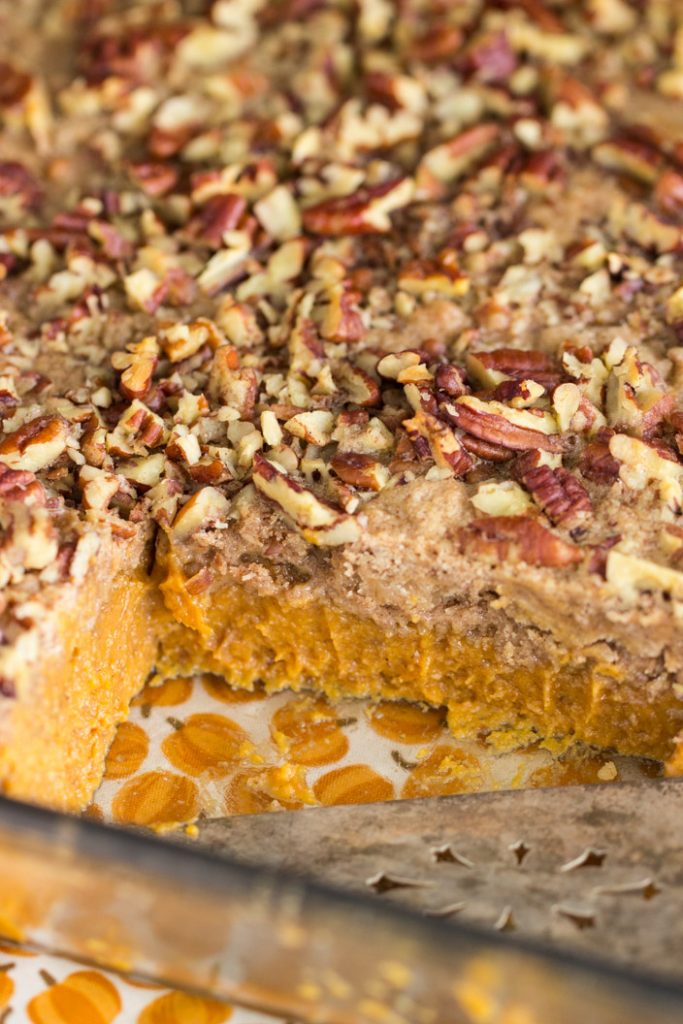 The topping is where it gets really interesting.
The topping is a slightly crunchy, super buttery, cake mix streusel. It's fabulous. A cake mix streusel with melted butter and pecans. Crust on top, pie on the bottom. Who wouldn't rather have a sweet, buttery, nutty, spiced streusel crust versus a pastry crust anyway?? That's the beauty of this Upside Down Pumpkin Cake. The topping is everything!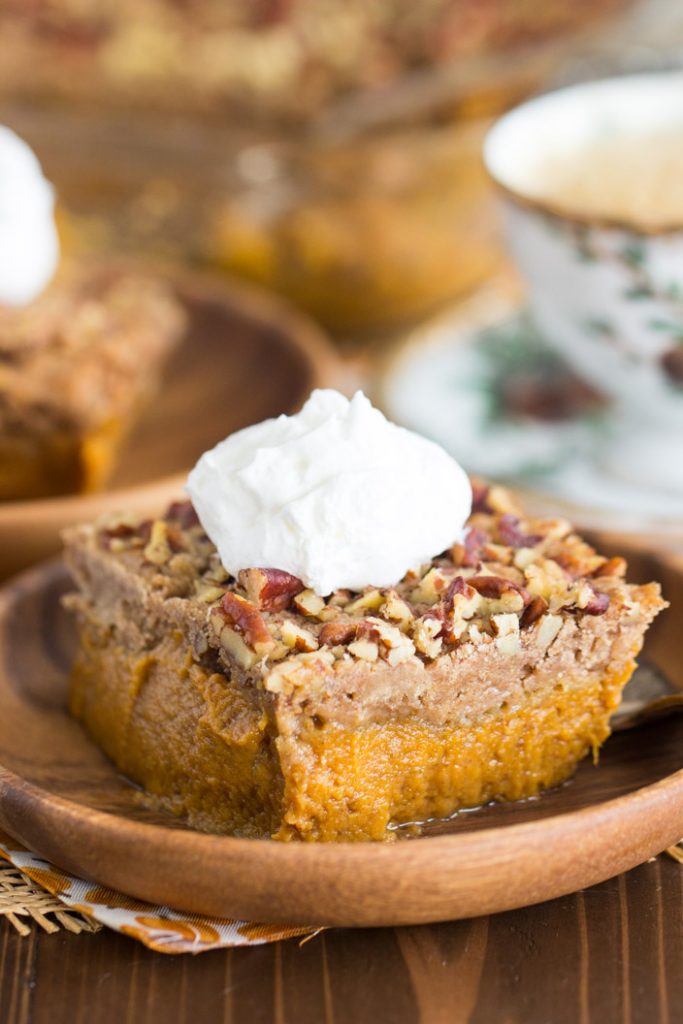 This Upside Down Pumpkin Cake is absurdly easy and foolproof. Prep time is about 10 minutes!
Also, the ingredients are all pretty common and readily available. Most of them already sit in your pantry. This Upside Down Pumpkin Cake is a win all-around. Easy, simple, delicious. I actually think it's better than pumpkin pie.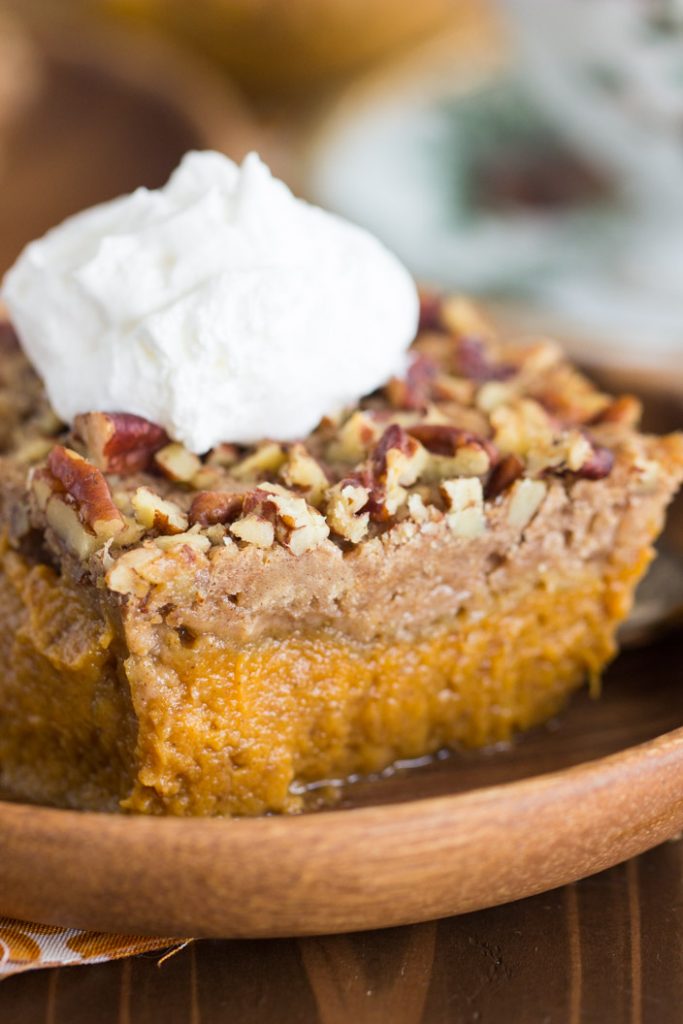 However, if you want a pumpkin pie recipe, I've got a few really great ones. Check out this Amaretto Pumpkin Pie or this Walnut Streusel Pumpkin Pie.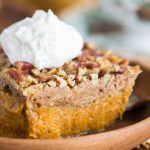 Upside Down Pumpkin Cake
Pumpkin pie on the bottom, and a cake mix streusel on top.... a buttery, slightly crunchy, cake mix and pecan topping! Soooo easy and quick to prepare, and super delicious. Everyone loves this.
Total Time
1
hour
10
minutes
Ingredients
29

oz.

can pumpkin puree

not pumpkin pie filling

1

tsp.

cinnamon

1

tsp.

pumpkin pie spice

1/2

tsp.

clove

1/4

tsp.

ginger

1 3/4

cup

granulated sugar

3

large

eggs

12

oz.

can evaporated milk

1

box

spice cake mix

yellow also works

1

cup

chopped pecans

1

cup

butter

melted

whipped topping
Instructions
In a large bowl, combine the pumpkin, spices, sugar, eggs, and milk. Mix until well-blended.

Pour into a greased 9x13 baking dish.

Sprinkle the entire box of cake mix evenly over the batter. Start from the edges, and work toward the middle.

Sprinkle the pecans evenly over the cake mix.

Pour the melted butter evenly over the cake mix and pecans.

Bake at 350 degrees for 50-60 minutes or until the edges are lightly browned.

Allow to cool completely. It will thicken and set as it cools.

Cut and serve with whipped cream. Store in refrigerator.