Cozy and comforting, these easy mashed red-skinned potatoes are full of deliciousness with help from cream cheese, bacon, sour cream, and fresh dill!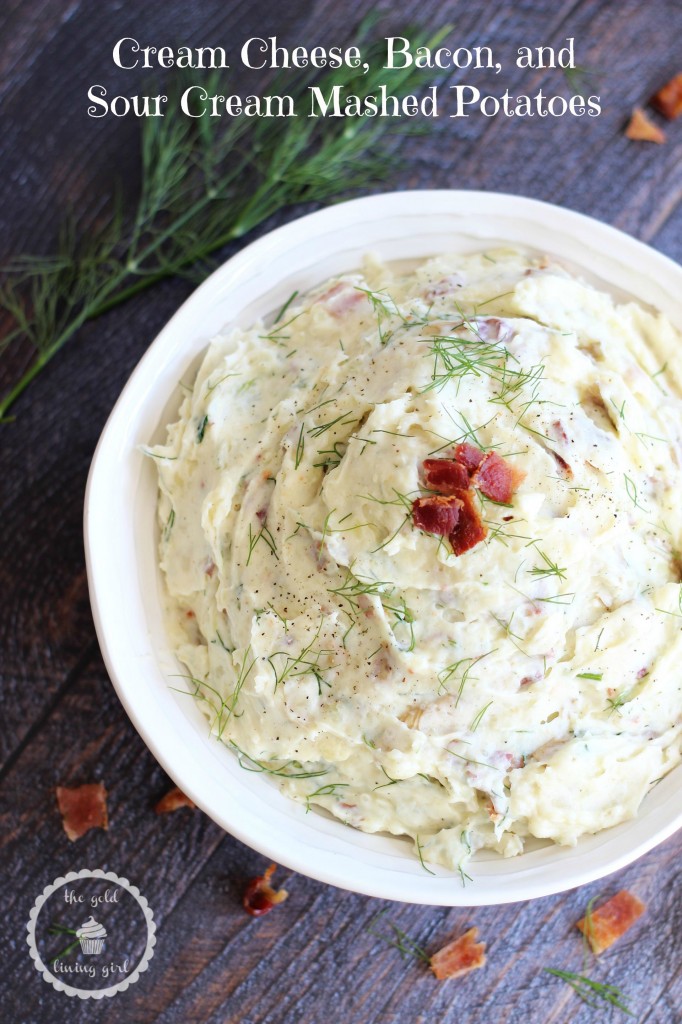 Does anyone else miss Christmas? It comes and goes so fast. Totally bummed that another one has already come and gone. It's January 5th, but I'm not over it yet. Every year passes in a flash, so it will probably be here again before we know it! I'm also very sad that football season is nearly over, but that's another story.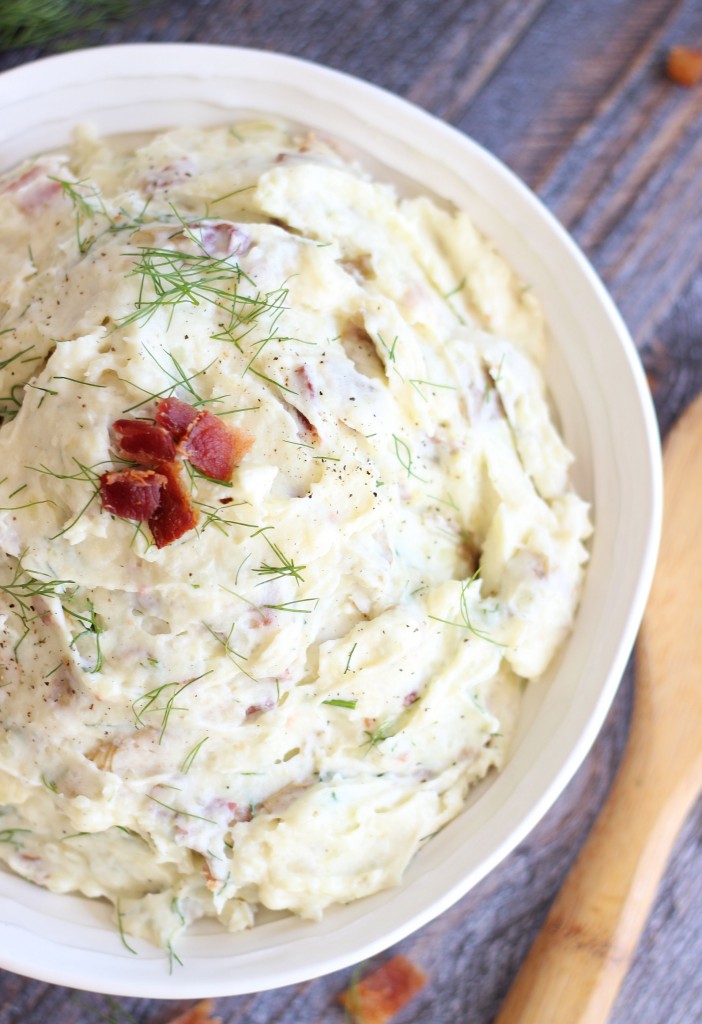 Now that the holidays are over, I am very ready for a breather from sweets. I honestly didn't even know it was possible for me to feel this way, but about a week before Christmas, I found myself actually craving savory foods.
I like to cook a little here and there, but I don't have the same passion for it as baking. I get streaks where I'm really into it, but I have to be in the right mood. Recently, I was very much in the right mood. Still am. I was soooo ready for something different, that I made 5 savory dishes in the same weekend.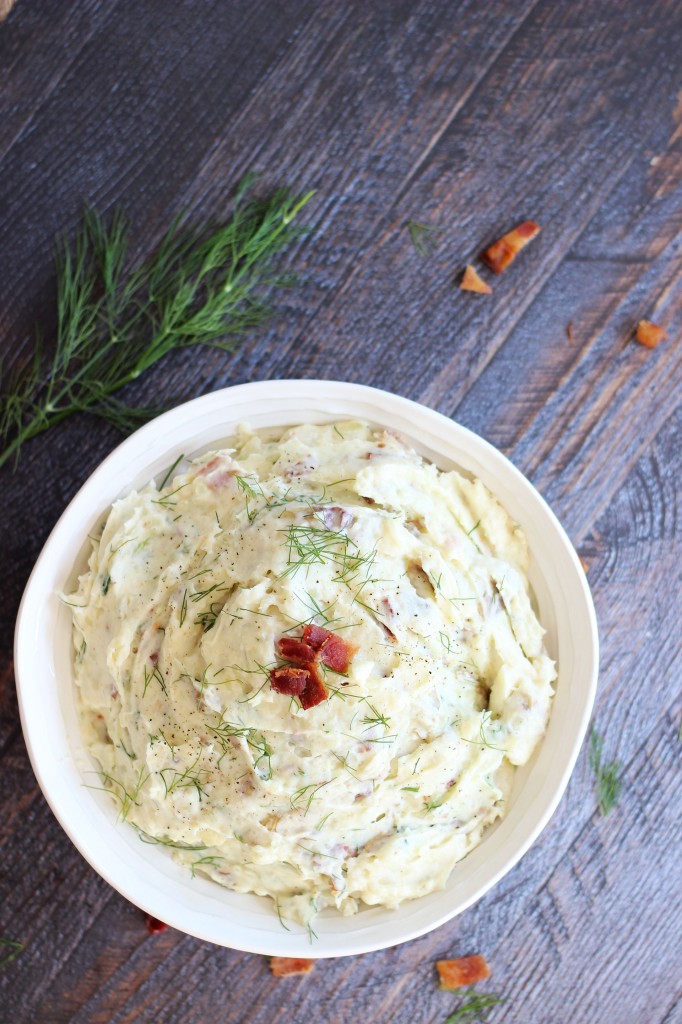 Some of you might be done thinking about mashed potatoes since the quintessential mashed potato holidays are over, but I'm still into them. I'm into all things comfort food right now. January and February are still going to bring some colder weather, and I like cozy and warm foods in these winter months. When I spotted big bags of red-skinned potatoes on sale, it was too tempting for me to resist.
My favorite recipe for mashed potatoes is one that my Grandma's made for a long time. They have cream cheese, sour cream, and bacon in them. So… you know they're good! Growing up, we had mashed potatoes regularly, but she didn't always make this version, so these were a little more novel to me than regular mashed potatoes. I always got excited when she made these! Her original recipe doesn't have dill, but I am in love with how delicious dill is with potatoes. These do not disappoint! They're packed with so many delicious things!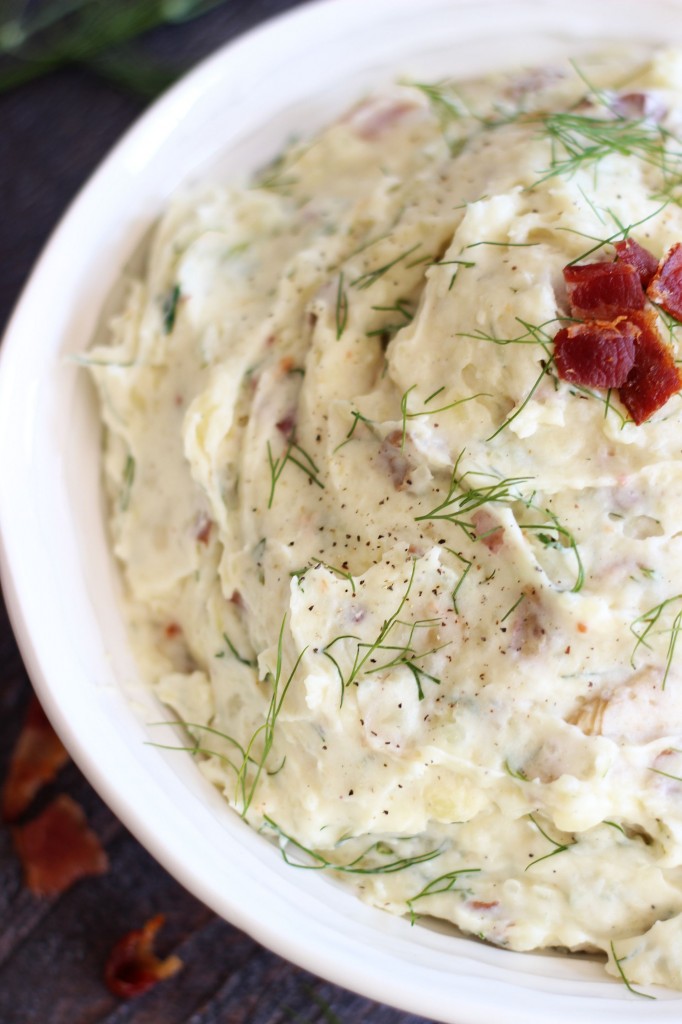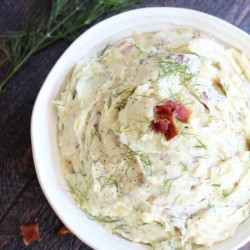 Cream Cheese, Bacon, and Sour Cream Mashed Potatoes
Buttery and creamy mashed potatoes with cream cheese, bacon, sour cream, and dlill!
Ingredients
2

lbs.

red skinned potatoes

rinsed, chopped

1/2

c.

milk or cream

1/2

c.

sour cream

I use Greek yogurt as a sub!

4

oz.

cream cheese

4

strips cooked bacon

crumbled

1/4

c.

butter

3

tbsp.

chopped fresh dill
Instructions
In a large pot, boil unpeeled potatoes until tender when pierced with a fork, about 20 minutes.

Once tender, drain the potatoes.

I transferred the potatoes to a large bowl to use a hand masher, but you could use a mixing bowl if that's your preference.

Mash potatoes until the larger chunks break up.

Add all ingredients except the fresh dill, and mix potatoes until creamy and smooth, and ingredients are well-incorporated.

Fold in dill.

Enjoy!