Eggless chocolate chip cookie dough is rolled into balls and dunked in chocolate, for a no-bake chocolate chip cookie dough truffle!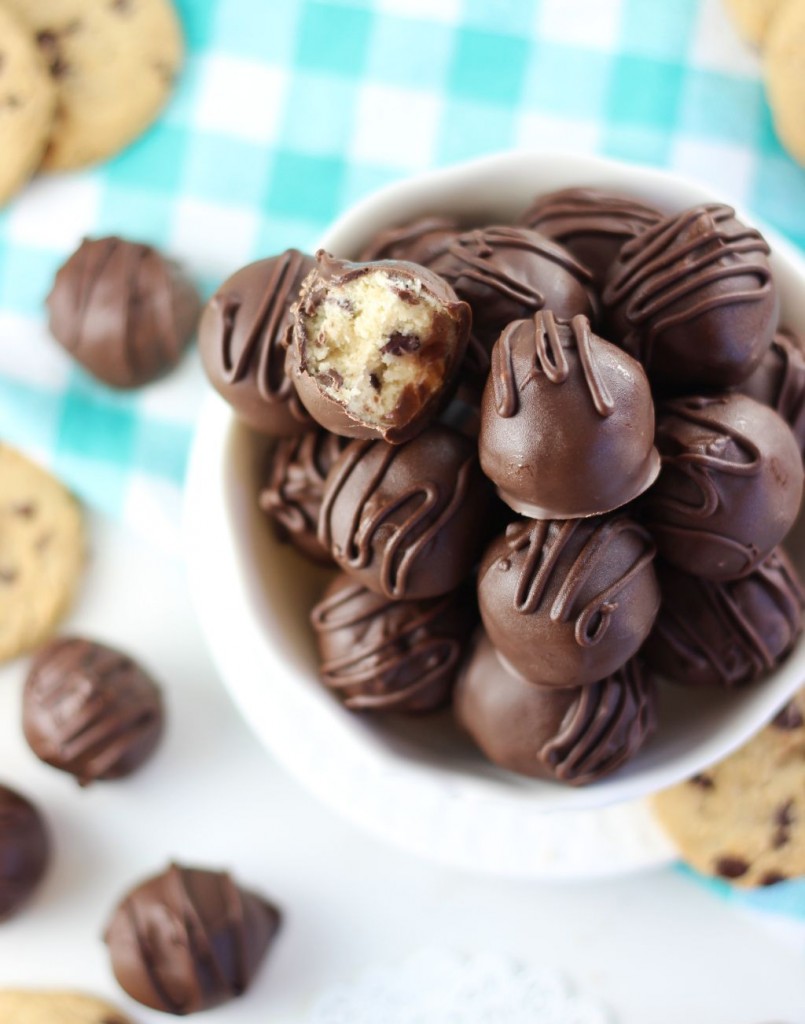 As with the Chocolate Chip Cookie Dough Cheesecake, these Chocolate Chip Cookie Dough Truffles are long overdue to make an appearance.
When I was in middle school, I'd go to my best friend's house and her family regularly kept eggless chocolate chip cookie dough in a bowl in the fridge. As in, they made it for the sheer purpose of eating it raw with a spoon, straight from the bowl. I thought it was both weird and genius.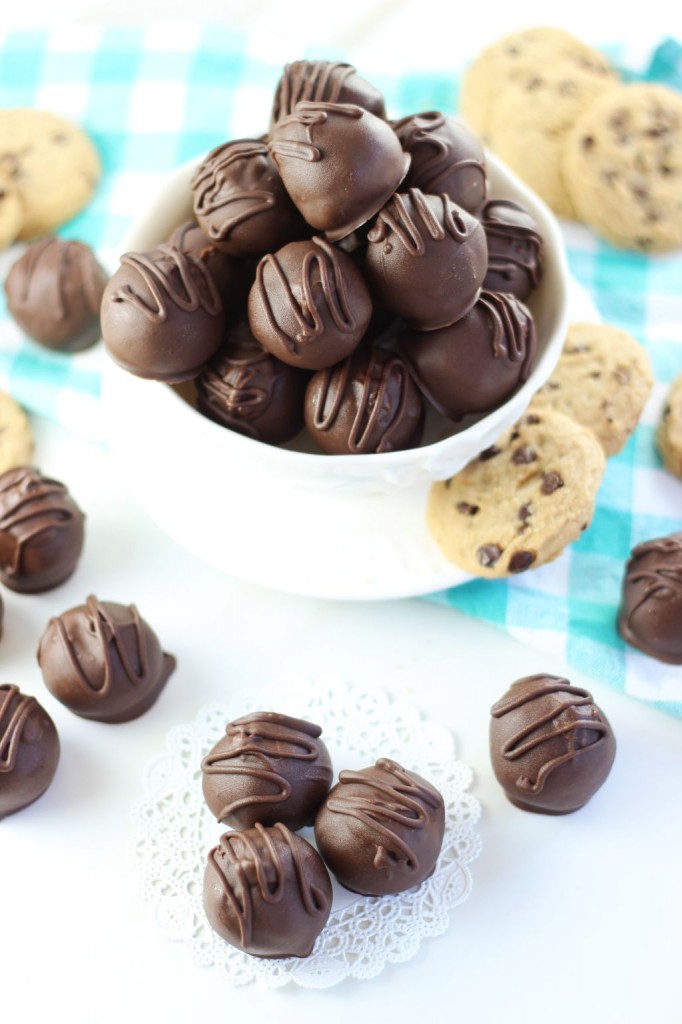 I've never done that myself, but I still think it's a grand idea. I think it's one that my mother ought to consider. She makes cookie dough, freezes it, and freshly bakes a handful of cookies at a time so that she can combat her cookie craving with fresh ones when the mood strikes. It's a great system for her.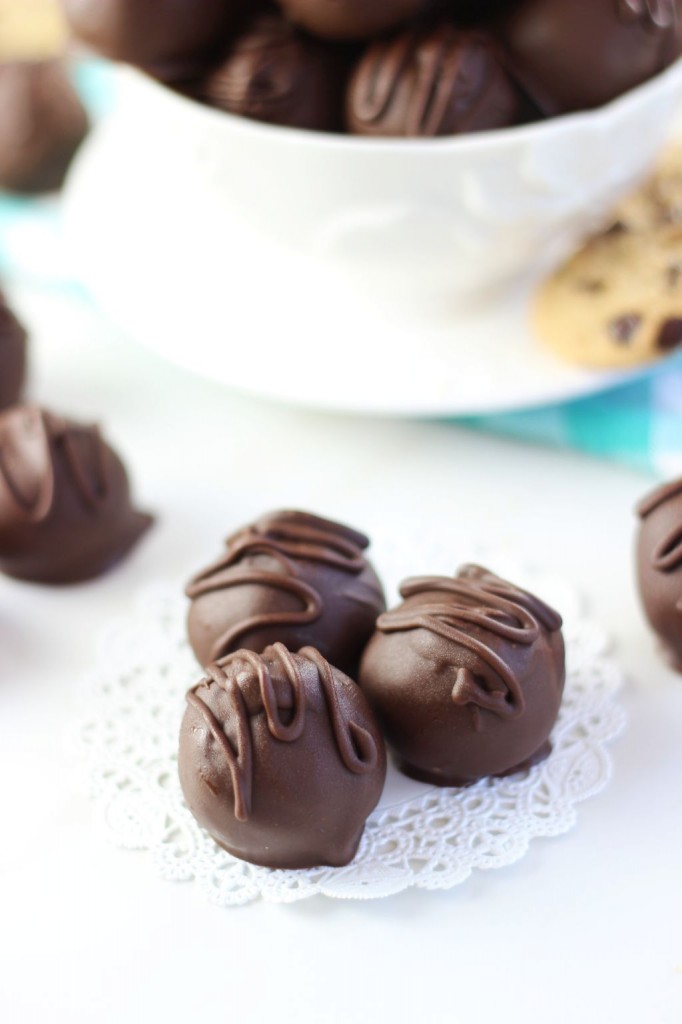 However, there's been many a time that I'm baking with her in the kitchen when she eats the raw dough right from the mixing bowl – eggs and all. I remind her about salmonella, and the fact that we actually know someone who had it, but she is not deterred.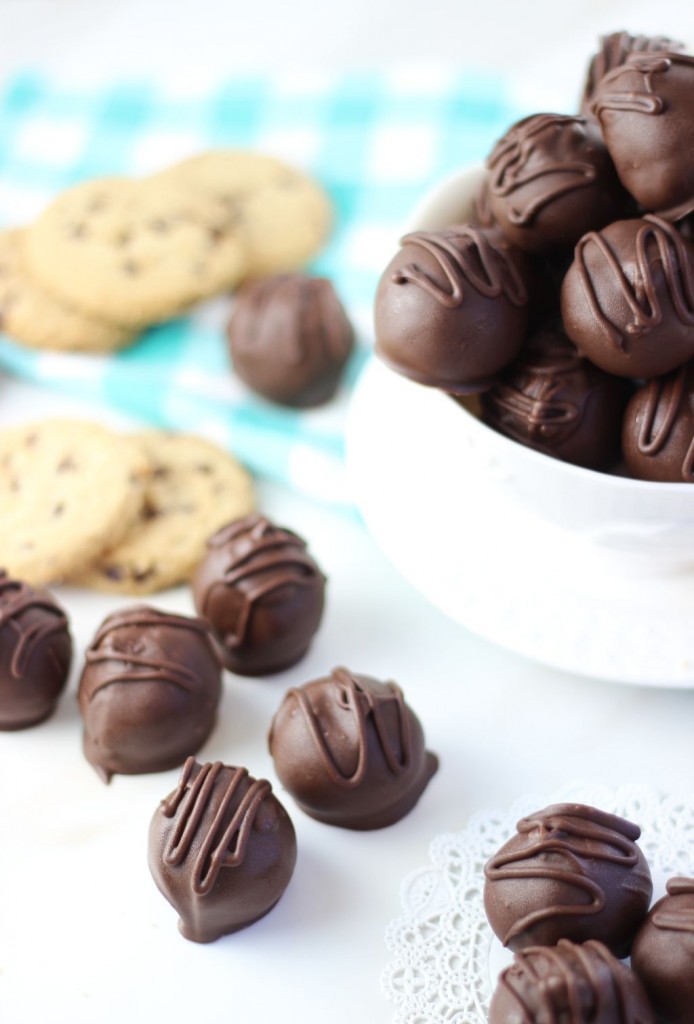 So if you're a raw cookie dough person, and a person who is not deterred by uncooked eggs in the dough, might I suggest these truffles instead?
These are easy enough to make. The starting point is not a whole lot different than whipping up a batch of chocolate chip cookie dough. Minus the eggs, and a few other changes to the proportion of ingredients, but it's as easy as making cookie dough.
Use a cookie scoop to drop balls of dough onto waxed paper, and here's the key: freeze them SOLID. It's a soft dough so that the truffles don't taste too flour-y, so you'll want to make sure they're frozen solid before you give them a chocolate bath.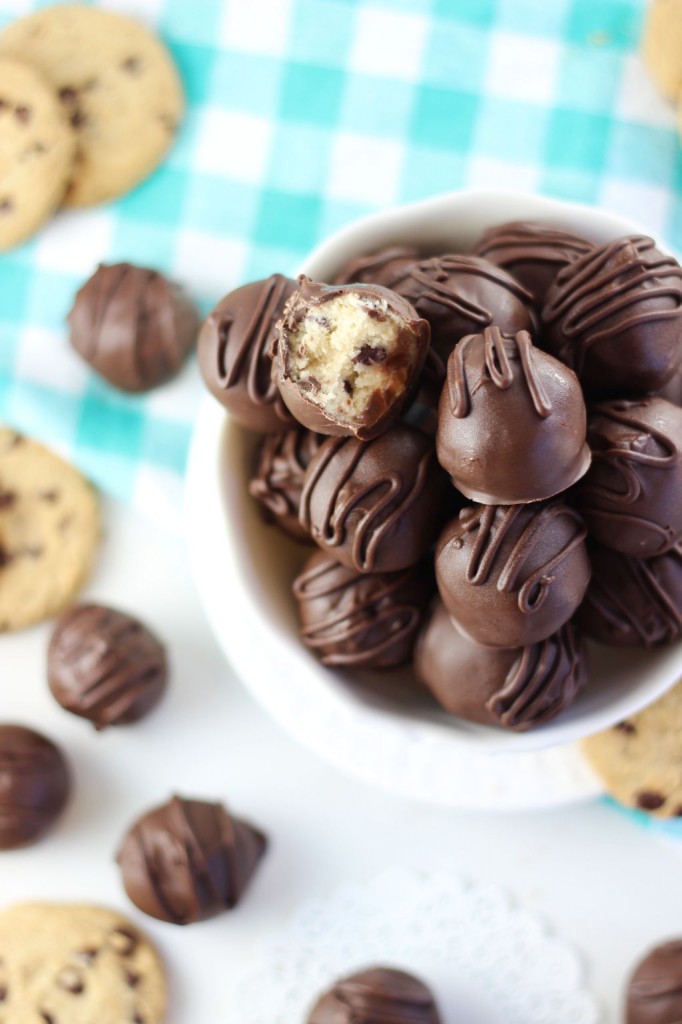 Frozen cookie dough balls make for much easier dunking than non-frozen, which are basically impossible to work with! Also, remove only a few from the freezer at a time when you're dunking them because they warm up pretty quick. If you follow this key piece, it's smooth sailing when you dunk them in the melted chocolate.
The resulting truffles are generous gobs (not my favorite word, but not sure of a better one?) of eggless chocolate chip cookie dough, in all its buttery, brown-sugary, and chocolatey glory, dunked in a vat of melted chocolate. And we're not done with Chocolate Chip Cookie Dough Week yet…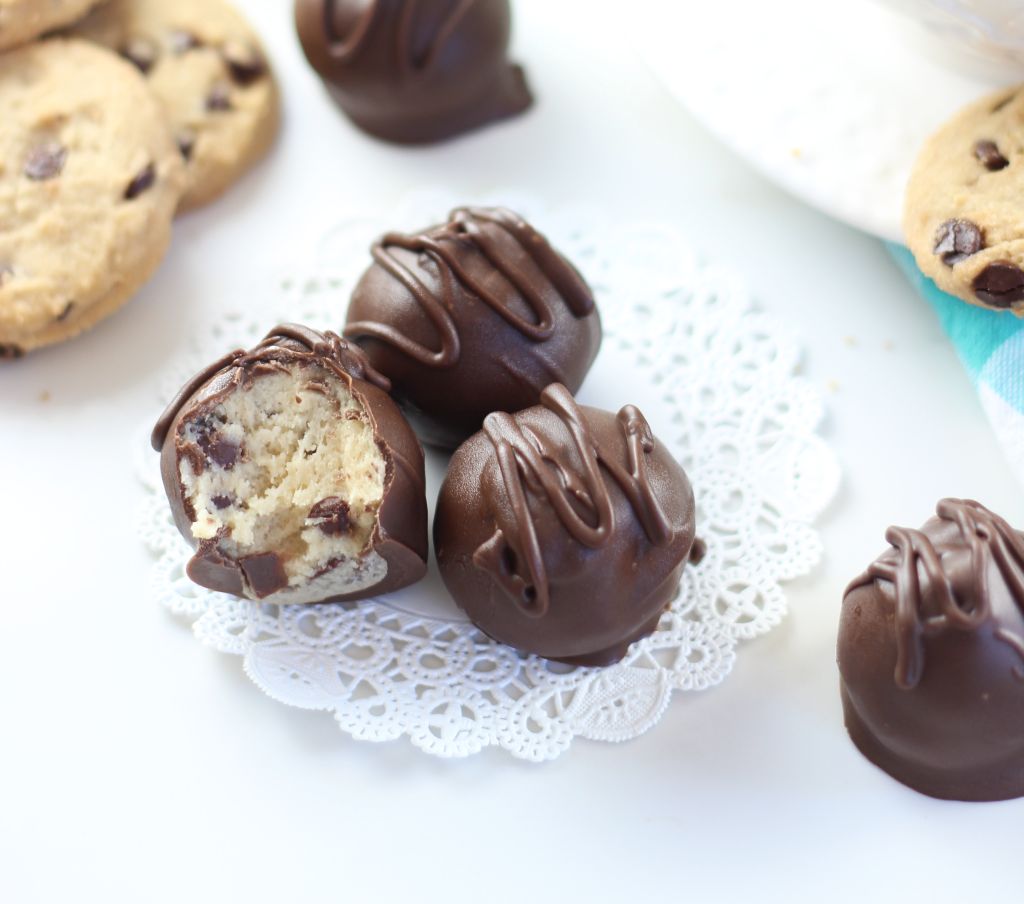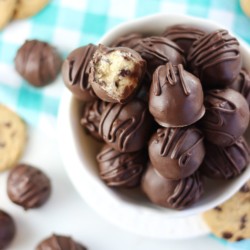 Chocolate Chip Cookie Dough Truffles
Eggless chocolate chip cookie dough is rolled into balls and dunked in chocolate, for a no-bake chocolate chip cookie dough truffle!
Ingredients
1/2

c.

unsalted butter

softened

1/2

c.

packed brown sugar

1/4

c.

sugar

1 1/4

c.

flour

1/2

c.

powdered sugar

1/2

c.

mini semi-sweet chocolate chips

12

oz.

chocolate bark

broken into pieces
Instructions
In a large mixing bowl, combine all ingredients except chocolate chips, beating until well-combined.

Fold in chocolate chips.

Using a cookie scoop, scoop balls of dough onto a greased or parchment-lined baking sheet.

Place the dough balls in the freezer for at least 3-4 hours. You want them to be pretty much frozen solid.

In a small pan over low heat, melt the chocolate bark.

Dunk the dough balls one at a time, covering completely with chocolate, and tapping off the excess.

Place back on baking sheet to set. Store in refrigerator. Enjoy!