Nutella Rice Krispie Treats with a chocolate bath and a chocolate drizzle! These are so rich and gooey with extra marshmallows and LOADS of Nutella! SO decadent. And for a RKT, they're practically fancy and gourmet!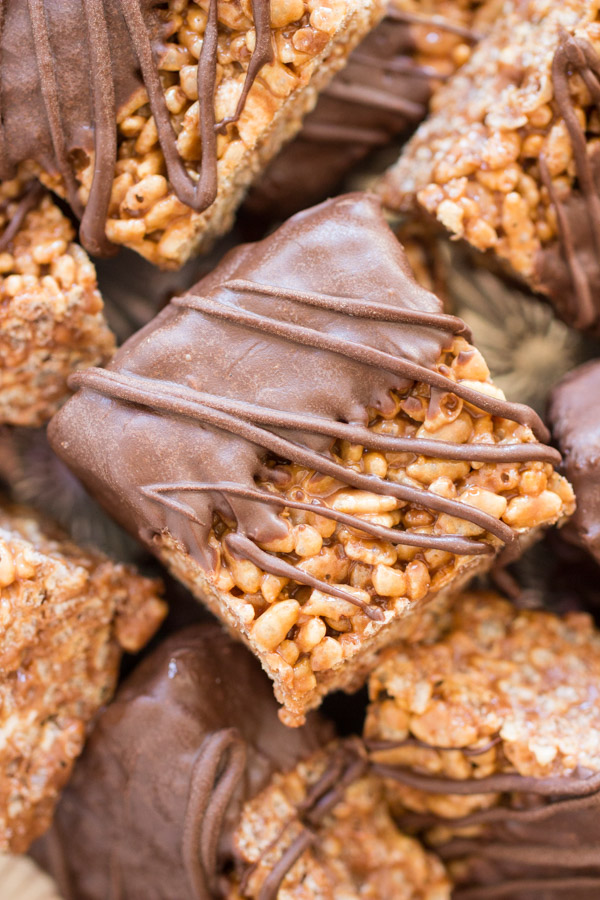 Hey friends! I made these Nutella Rice Krispie Treats MONTHS ago, and I've been so excited to post these (they're unbelievable!), but sometimes the hardest part of blogging is sitting down to write. I have a bunch of drafts ready to go – recipe is inputted,  photos are edited and ready to plug in, and all I need to do is jot down a few words, but I stare blankly at the computer screen.
I might only need 20 minutes to sit down and get something out, but I always get most distracted when I need to sit down to do it. Sadly, it's usually the only thing that keeps me from getting recipes posted quicker. And you probably get tired of my yapping as it is, so why do I agonize over what I'm going to say?? Lol.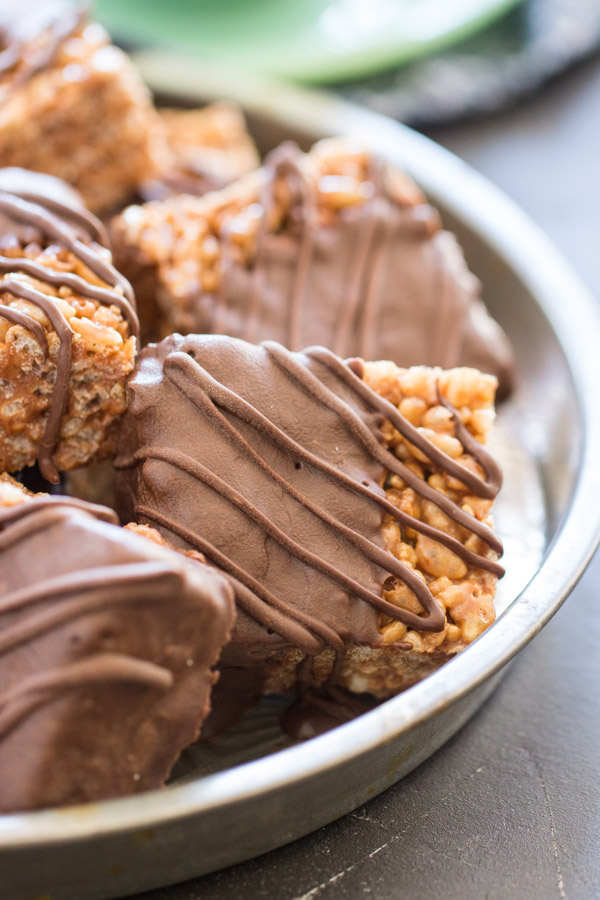 For me, this post is months in the making because I couldn't sit my ass down for long enough to write about these Nutella Rice Krispie Treats. You can make them, start-to-finish, much faster than I can write about them. I've been telling my friend Natalie about these since February, and I go on and on about my love for them, but she keeps asking when the heck she's actually going to see the recipe. Fair point.
Key takeaways: I talk too much, and still have nothing to say. Also, these Nutella Rice Krispie Treats are awesome. If you made me eat Rice Krispie Treats for the rest of my life, and I could only choose one variety, I think I'd want it to be these. There's only a few tweaks from original RKTs, but those little changes are ALL the difference in the world.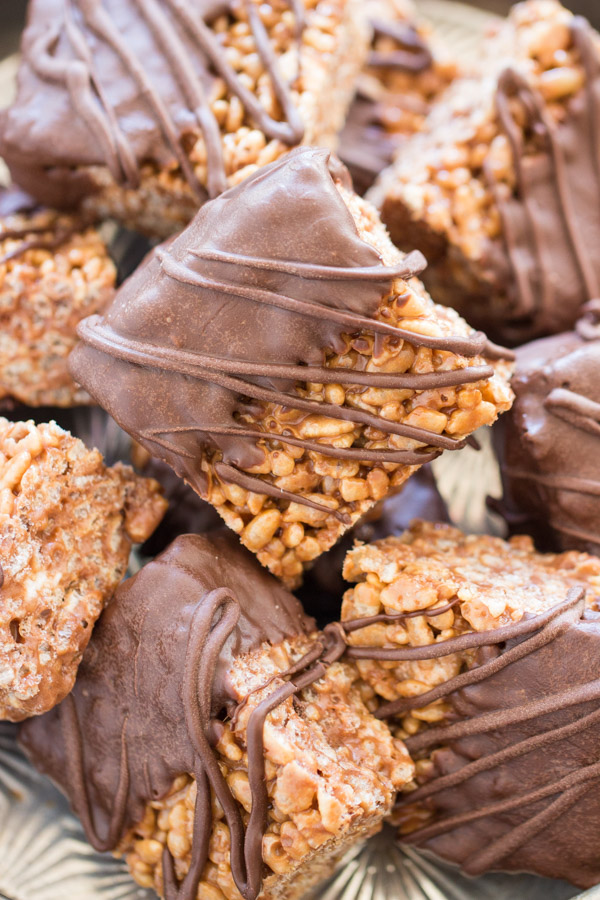 Because, hi, one key addition is almost a cup of Nutella. Gooey, creamy, sweet, chocolate-hazelnut spread. It's freakin' incredible in Rice Krispie Treats. Not just because of the chocolate and hazelnut flavors, but because it adds more gooeyness and stickiness. Also, more butter and more marshmallows in these Nutella Rice Krispie Treats. More of all things RKTs. More is always better, right? Definitely true in these bars. Ooey-gooey factor is maxed out here.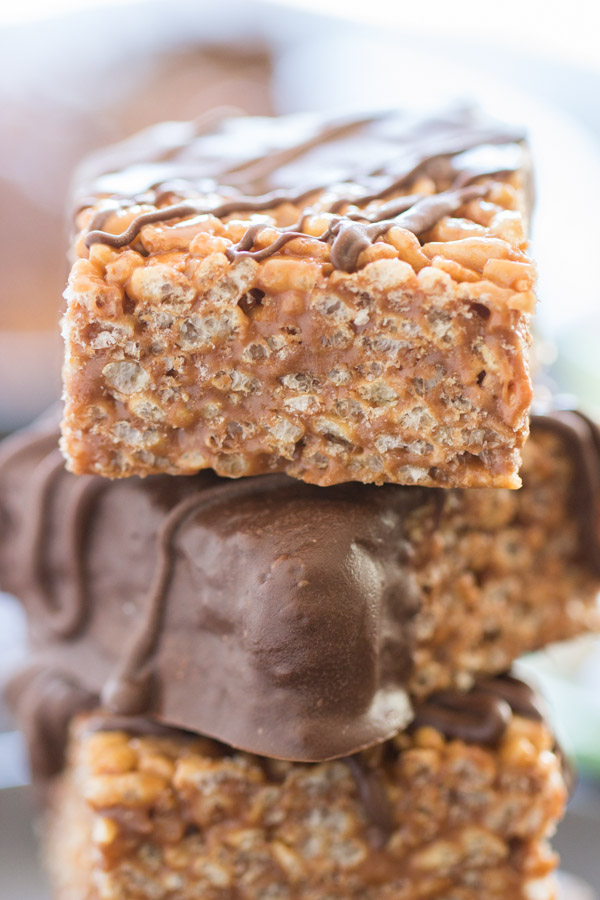 Where they really go over-the-top is with the chocolate dunk. Dipping half of these Nutella Rice Krispie Treats in really good-quality dark or semi-sweet chocolate is next-level. These are fantastic without it, but they are INSANE with it. Don't you want all your desserts to be insane? Of course you do. The chocolate dunk actually makes these feel gourmet and fancy. These are not just RKTs, they're gourmet RKTs. The kind of RKTs you could almost have at a wedding, and they'd feel totally appropriate. Seriously.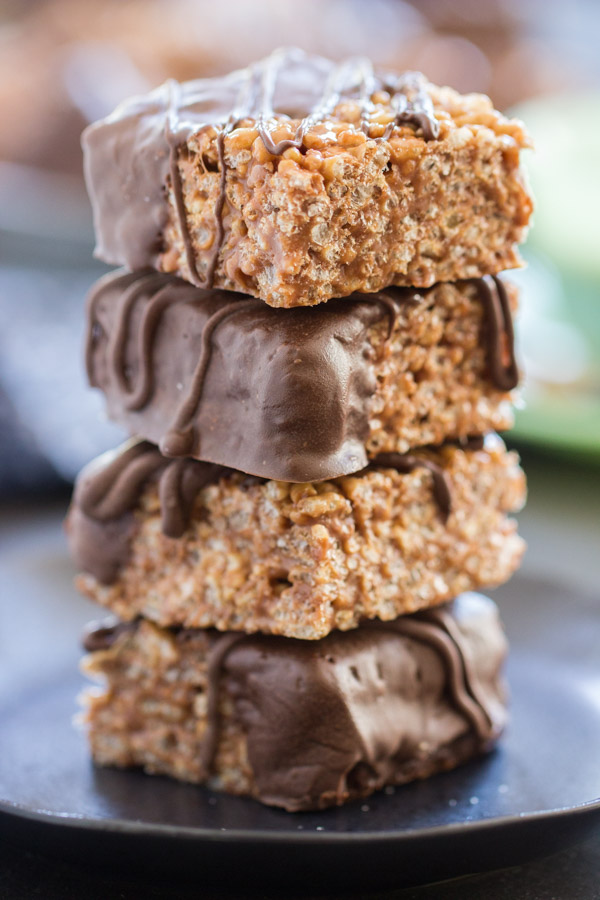 Anyway, if you're a big RKT fan, then I've got a few other great ones. I think of these White Chocolate Cranberry Pecan Rice Krispie Treats as a Christmasy, seasonal recipe, but they're actually really popular year-round. I've also got Cookie Butter Rice Krispie Treats that are FABULOUS, and I love the little bites of crunchy Biscoff cookies that are crushed up in those.
And while these are not official RKTs, my Mom's Chocolate Scotcheroos and my Peanut Butter Scotcheroos both give off strong RKTs vibes. My Mom's Chocolate Scotcheroos are well-loved because they have a little bit of butterscotch to go along with chocolate and peanut butter, and for some people, that's what makes them so different. I love my Peanut Butter Scotcheroos because they feature only chocolate and peanut butter, and they're heavy on both. Extra marshmallows too! Remember, more = better.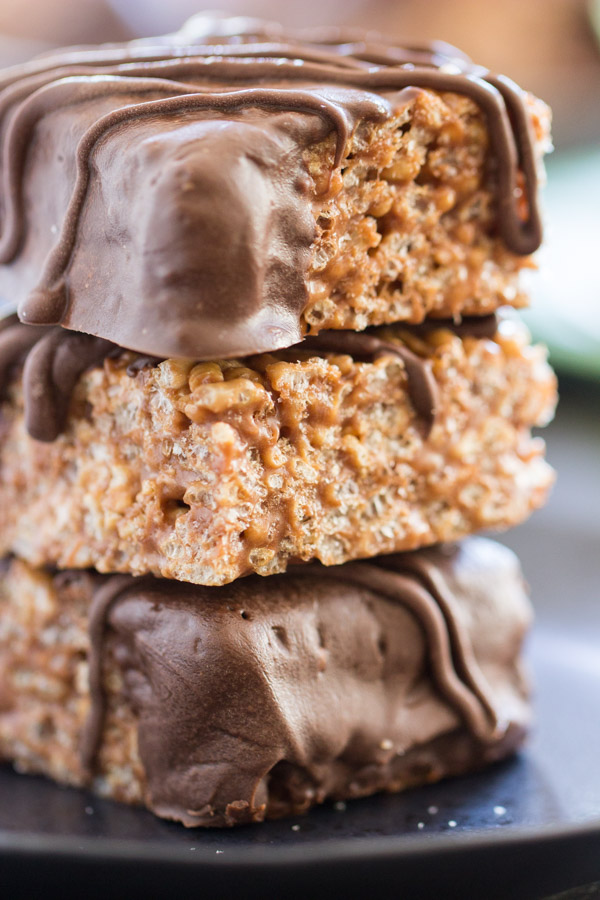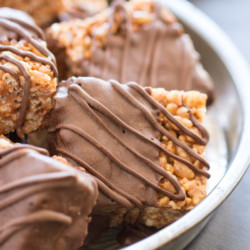 Chocolate-Dipped Nutella Rice Krispie Treats
Nutella Rice Krispie Treats with a chocolate bath! These are so rich and gooey with extra marshmallows and LOADS of Nutella! SO decadent.
Ingredients
8

tbsp.

unsalted butter

1 1/2 10-

oz.

bags mini marshmallows

15 oz.

2/3

c.

Nutella

6

c.

Rice Krispies cereal

8

oz.

semi-sweet or dark chocolate wafers

or wafer melts
Instructions
In a large stock pot over medium heat, melt the butter.

Add the marshmallows, and heat until they are melted and puffy, stirring frequently.

Add the Nutella, and mix until mostly smooth and incorporated.

Add the Rice Krispies cereal, stirring until combined.

Press into the bottom of a lightly greased 13x9-inch pan.

Allow to set. Cut into bars.

Line a cookie sheet with parchment paper.

In a small saucepan over low heat, melt the chocolate wafers.

Dunk the RKTs halfway into the chocolate, and place on parchment paper to set.

If desired, use a spoon to drizzle chocolate onto the RKTs. Allow to set.