Like a chewy, buttery, cinnamon-y oatmeal cookie, loaded with plump, sweet raisins, crossed with ooey, gooey marshmallow treats! A layer of white chocolate never hurt anything either. These Oatmeal Raisin Rice Krispie Treats are ready in minutes, just like their classic RKTs counterparts!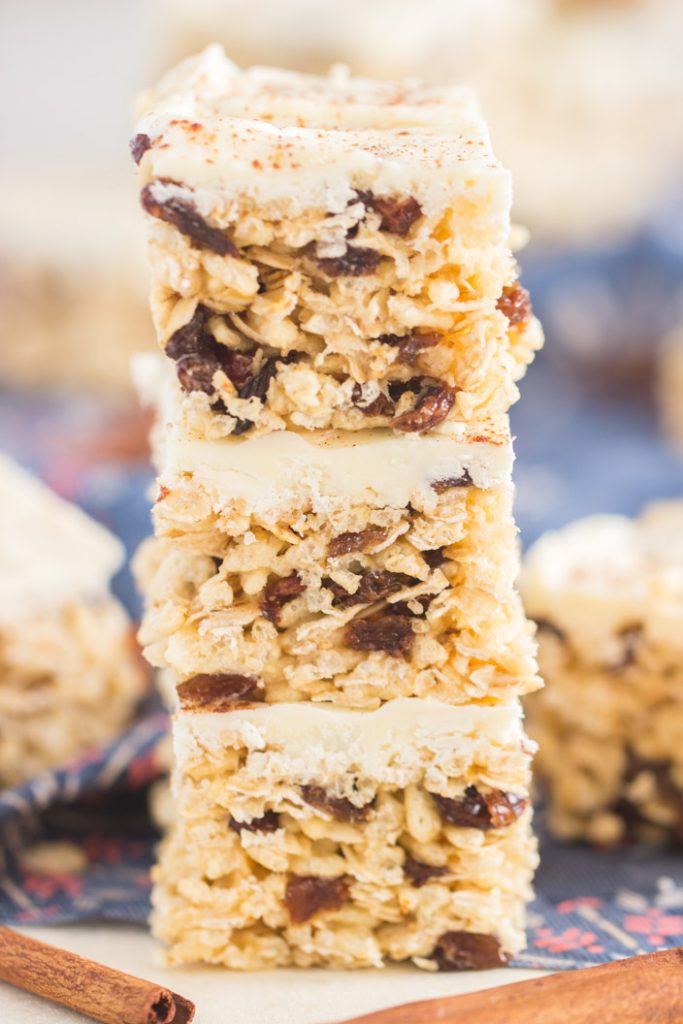 I was just saying in a recent post that I don't like raisins except for two scenarios: in oatmeal cookies, or when dunked in chocolate. But you know what, I think that might be a lie! I think maybe I DO now like raisins on more occasions than not. What is your stance?? Raisins can be controversial… haha.
As soon as I said a few weeks ago that I don't like raisins, I remembered that I made these Oatmeal Raisin Rice Krispie Treats, and these are awesome. And I also remembered my Grandma's Raisin Puffs cookies which are incredible.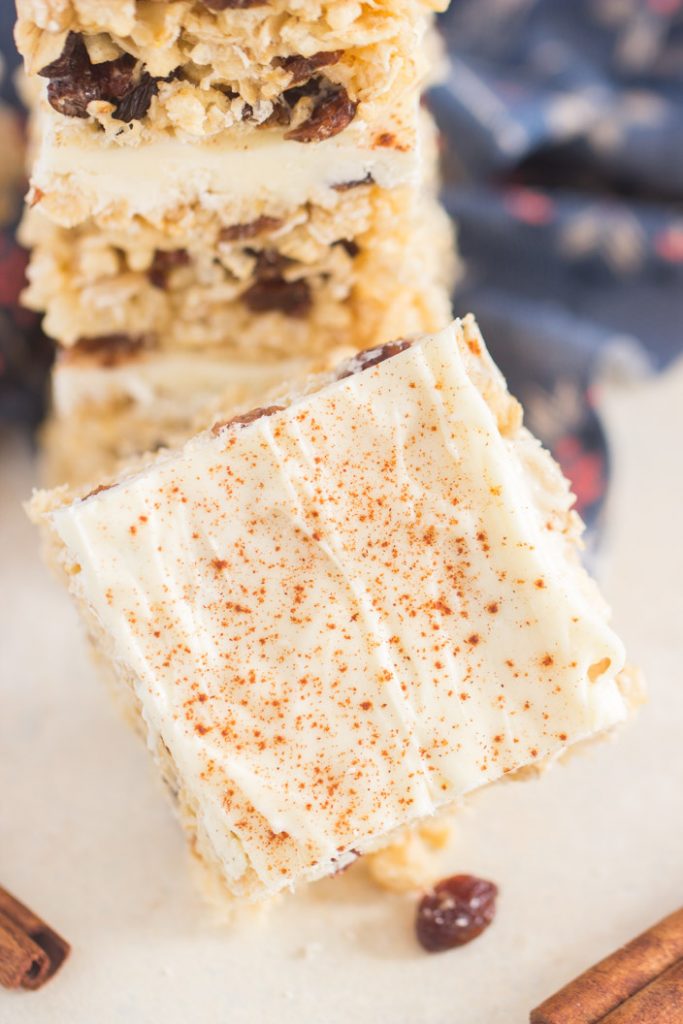 Even a raisin hater can't dislike those cookies…  the cookies are soft and puffy – they melt in your mouth! –  and the raisins are simmered til they're soft and take on a rum-like flavor. So good!
These Oatmeal Raisin Rice Krispie Treats are like classic Rice Krispie Treats, gooey and sweet, full of marshmallow goodness and butter, then crossed with classic oatmeal cookies… as the recipe name would suggest.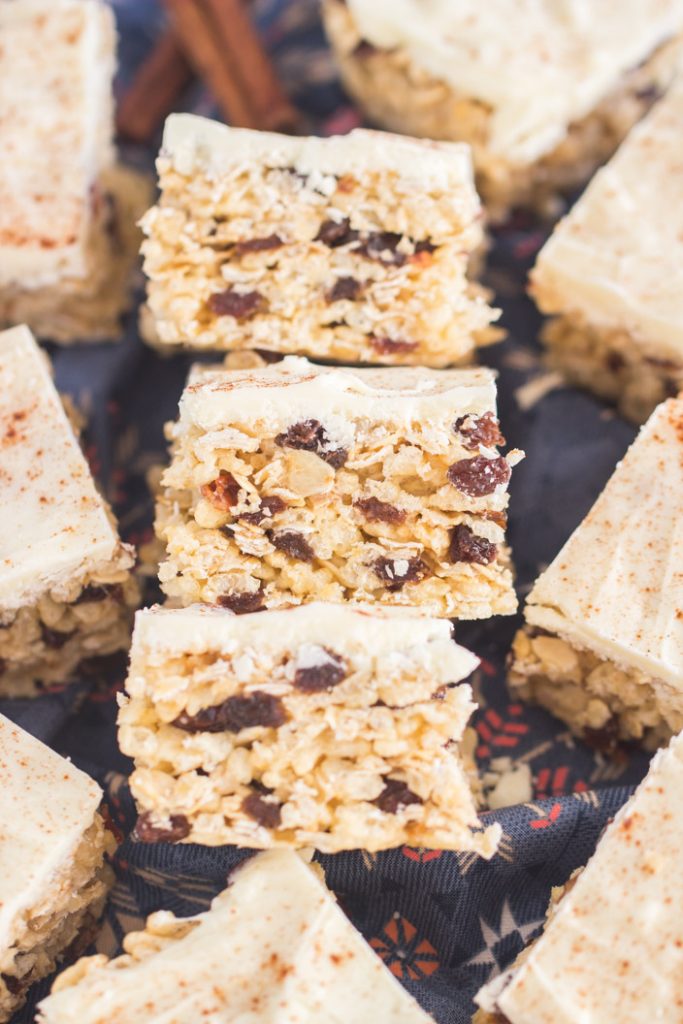 With a good dose of cinnamon, a hefty addition of raisins, and even oatmeal. You get oatmeal raisin cookies and Rice Krispie Treats in one with these Oatmeal Raisin Rice Krispie Treats. They're as easy to make as original Rice Krispie Treats, and you only need a few extra ingredients, but those ingredients really transform these.
For good measure, a slathering of melted white chocolate on top was a very nice touch!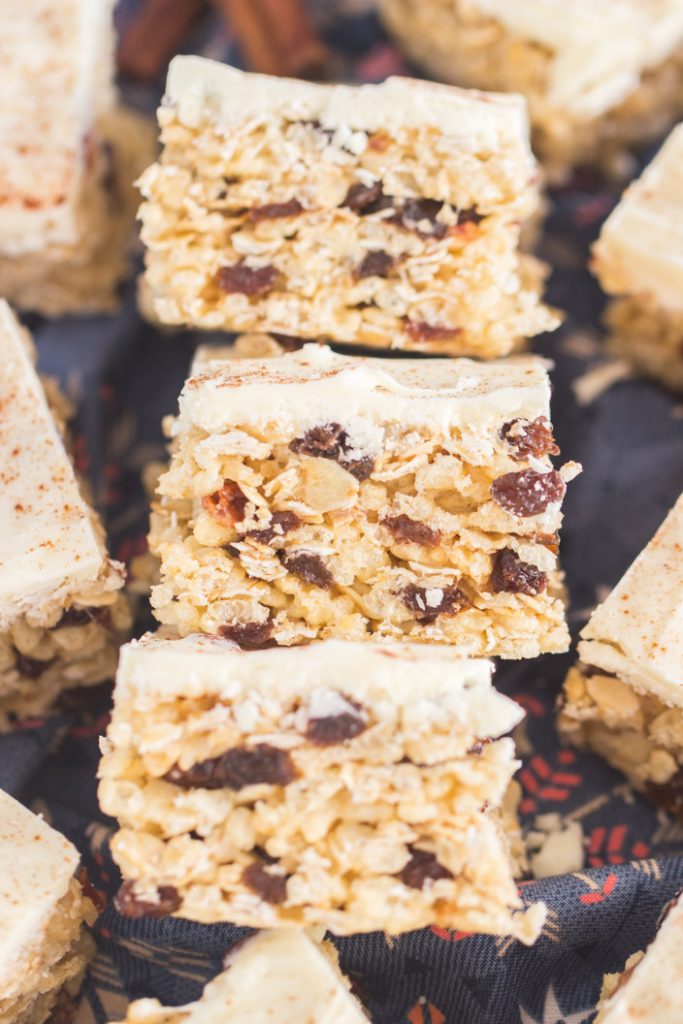 I went on a bender with Rice Krispie Treats for the a while, and created so many different ones, like White Chocolate Cranberry Pecan Rice Krispie Treats (which sound so fancy, but are so easy), Nutella Rice Krispie Treats, Pumpkin Spice Latte Rice Krispie Treats, Peanut Butter Potato Chip Rice Krispie Treats, Red Velvet Rice Krispie Treats, Cookie Butter Rice Krispie Treats, and even Gingerbread Rice Krispie Treats!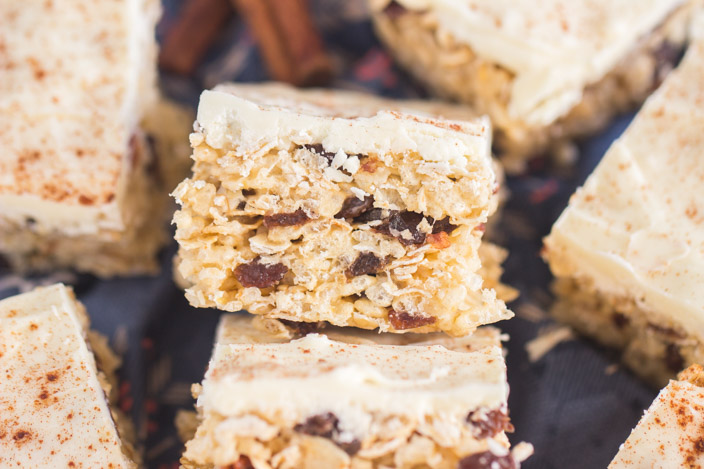 I was obsessed, and still am. A dessert that never gets old, and that can be recreated so many different ways! This Oatmeal Raisin Rice Krispie Treats recipe is just the latest in my RKTs series. You can probably (definitely) expect more. 🙂