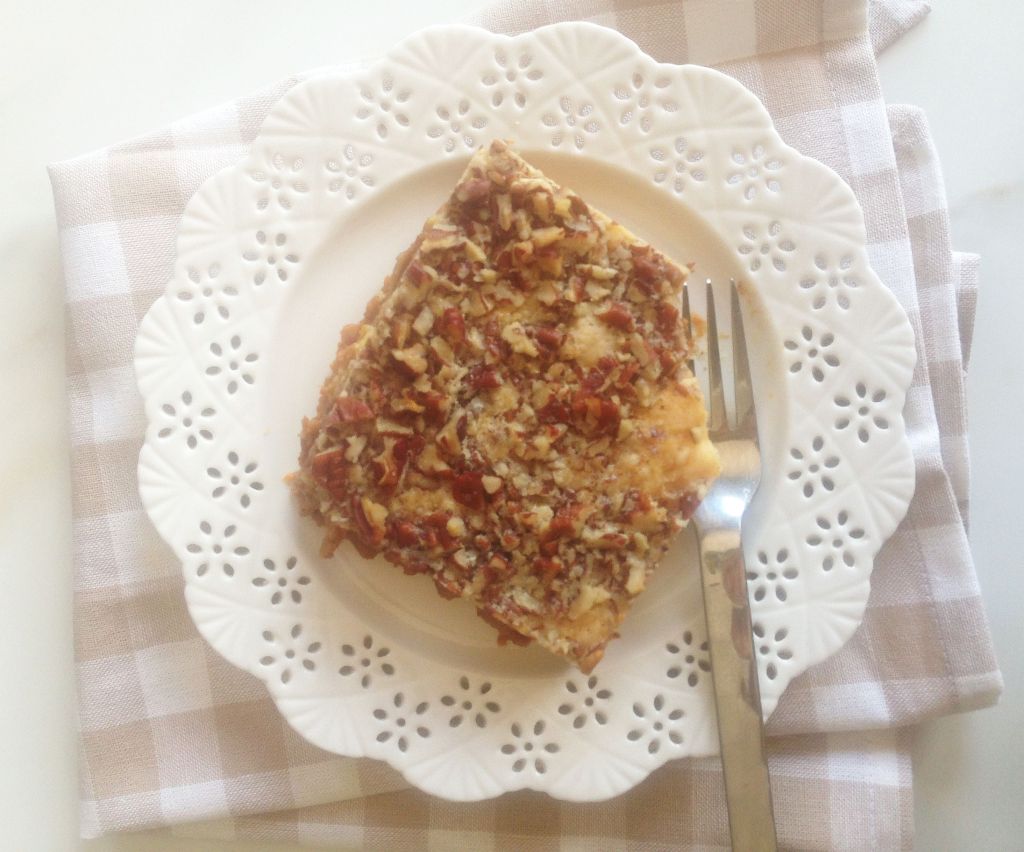 I absolutely LOVE to write. Sometimes when I intend to block out time to focus on laying down some words though, I start to procrastinate. Errrrr. I don't know why I do this because I truly look forward getting thoughts and stories down, but you know how it goes… open up Facebook real quick, or pin a few cool ideas on Pinterest (where time gets sucked into a black hole, btw)… next thing I know, I've lost a half hour!  Right now I will FOCUS. I'm totally going to concentrate. Okay, here we go.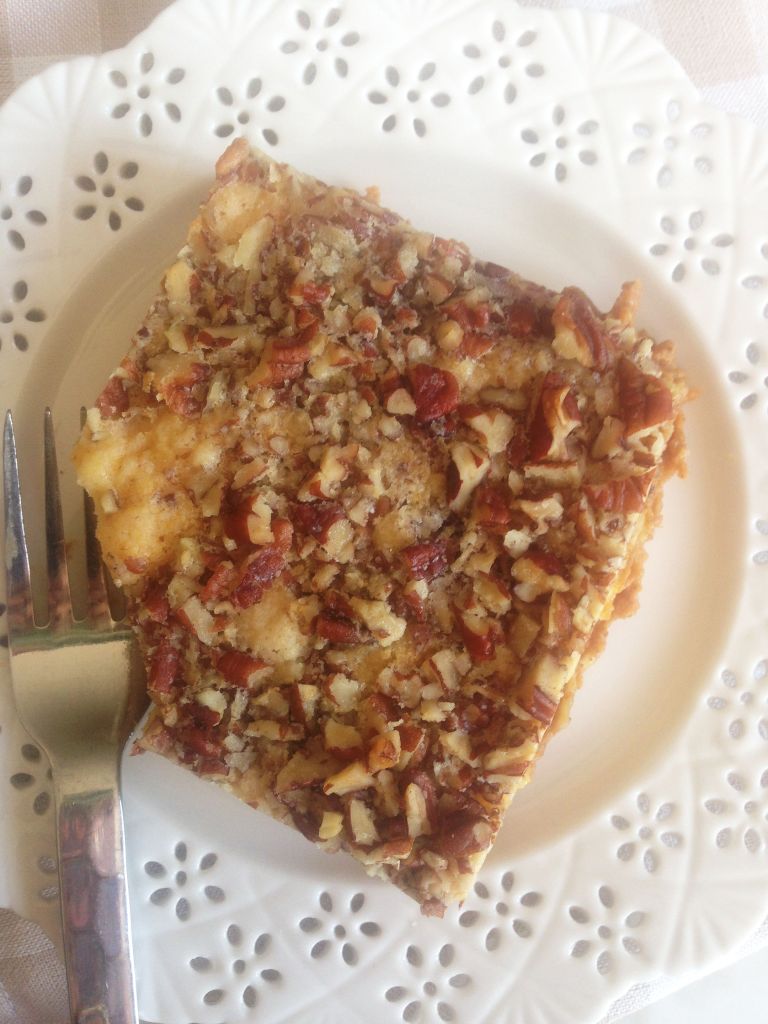 I'm all about the pumpkin things right now. This cake. I've seen other Pumpkin Upside Down Cake recipes, and there's always a little variation. I've tried several, and I always come back to this specific version. It's the best one. Don't bother with the others. Save your time. I did the homework for you. THIS is the one you want!
This recipe came to me from my cousin's wife, Lisa. I love Lisa. She's been a part of our small clan for over 15 years now and we're so lucky to have her. She brings amazing food to every holiday. That's really all you need to know to understand why we're fond of her, but she and I share a lot of the same interests – like baking and crafts – so we often have no shortage of topics to chat about. She's just so easy to talk to and we can gab about anything under the sun. It's great.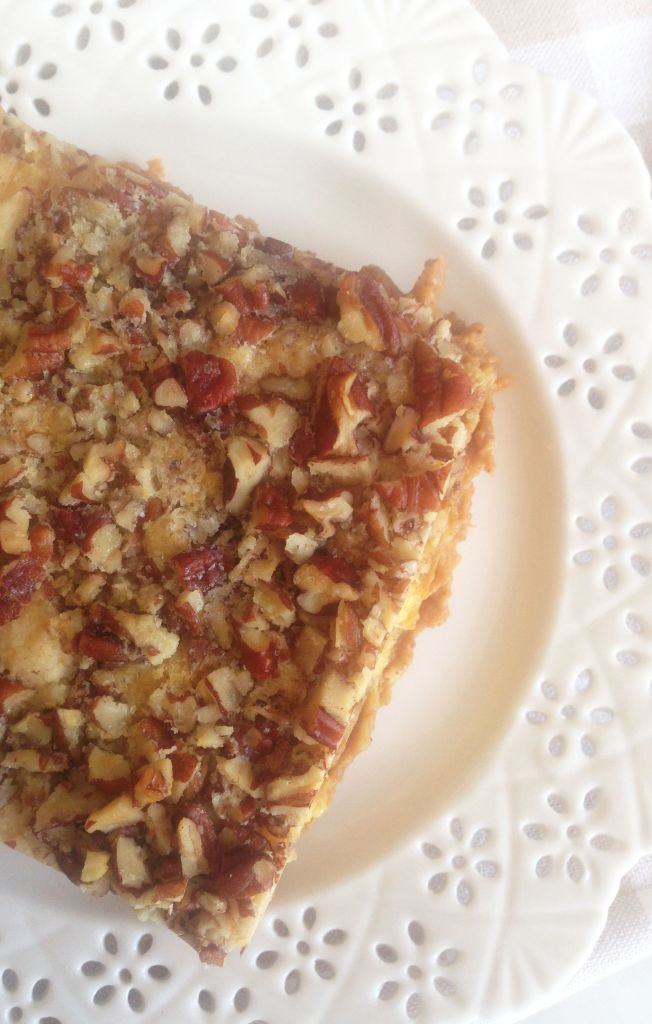 She brought this Pumpkin Upside Down Cake to Thanksgiving one of the first years we knew her. In her family, they also call this 'Pumpkin Squishy'. That doesn't entirely make sense to me. But that's okay. We embraced the dessert anyway. Then we embraced her… for bringing this recipe into our lives. And today I share it with you all in hopes that you like it as much as we do!
It's pumpkin pie on the bottom, and a slightly crunchy, super buttery cake mix crust on top! Really more like  a streusel. A cake mix streusel with melted butter and pecans. YESSSSS. So good. It's also SO easy. Prep time takes 10 minutes. Max. You could bust it out in 5 if you're dedicated and have FOCUS. Ugh. I lack it. Also, the ingredients are all pretty common and readily available. Most of them already sit in your pantry. This pumpkin recipe is a win all-around. Easy, simple, delicious. Bam.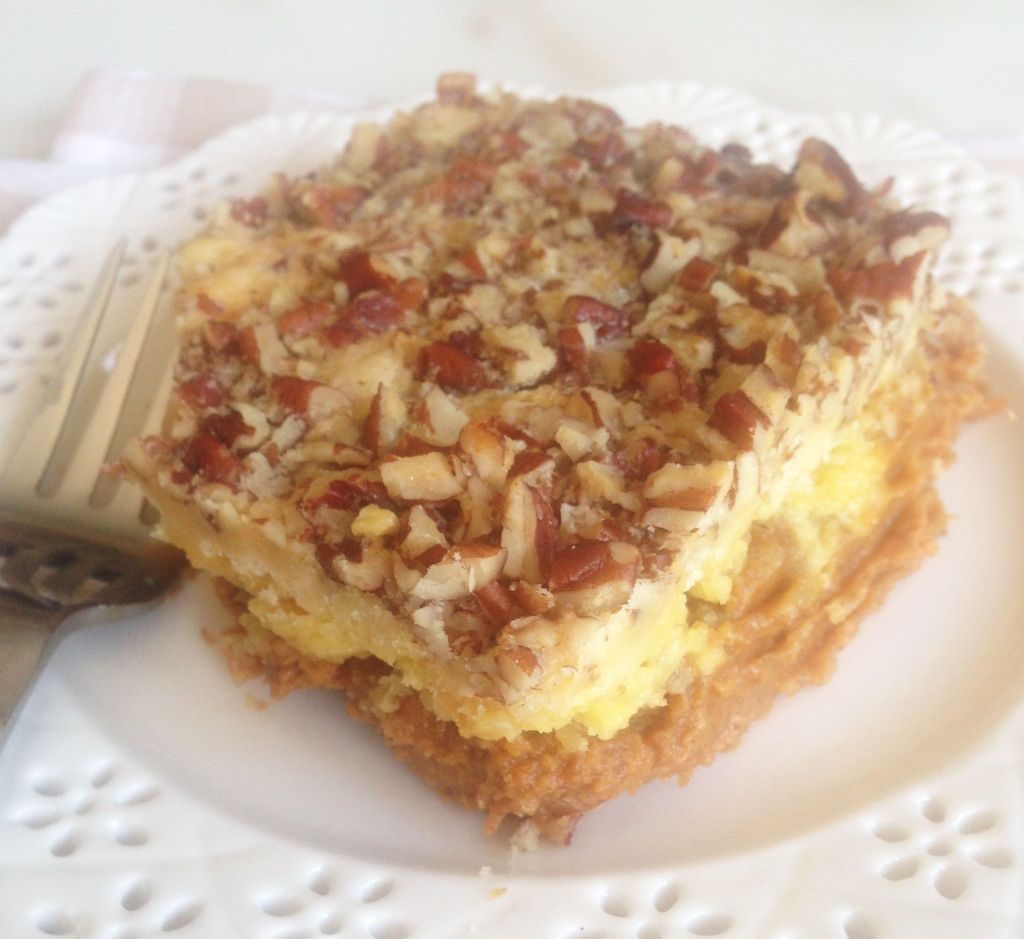 Pumpkin Upside Down Cake
Pumpkin pie on the bottom, and a cake mix streusel on top.... a buttery, slightly crunchy, cake mix and pecan topping! Soooo easy and quick to prepare, and super delicious. Everyone loves this.
Serves:
Depends...A big pan of it though!
Ingredients
1 - 29oz. can pumpkin puree (not pie filling)
1 tsp. cinnamon
1 tsp. pumpkin pie spice
½ tsp. clove
¼ tsp. ginger
1¾ c. sugar
3 eggs
1 - 12oz. can evaporated milk
1 box yellow cake mix
1 c. chopped pecans
1 c. butter, melted
Directions
In a large bowl, combine the pumpkin, spices, sugar, eggs, and milk. Mix until well-blended.
Pour into a greased 9x13 baking dish.
Sprinkle the entire box of cake mix evenly over the batter.
Then sprinkle the pecans evenly over the cake mix.
Pour the melted butter evenly over the cake mix and pecans.
Bake at 350 degrees for 50-60 minutes or until the edges are lightly browned.
Allow to cool completely.
Notes
This will still seem liquidy straight from the oven, but will set as it cools.
Wow. I wrote that in under 30 minutes by exercising some concentration. If only I could do that with everything in life! AND, I am posting TWICE today. Progress. Major progress toward my blogging goals.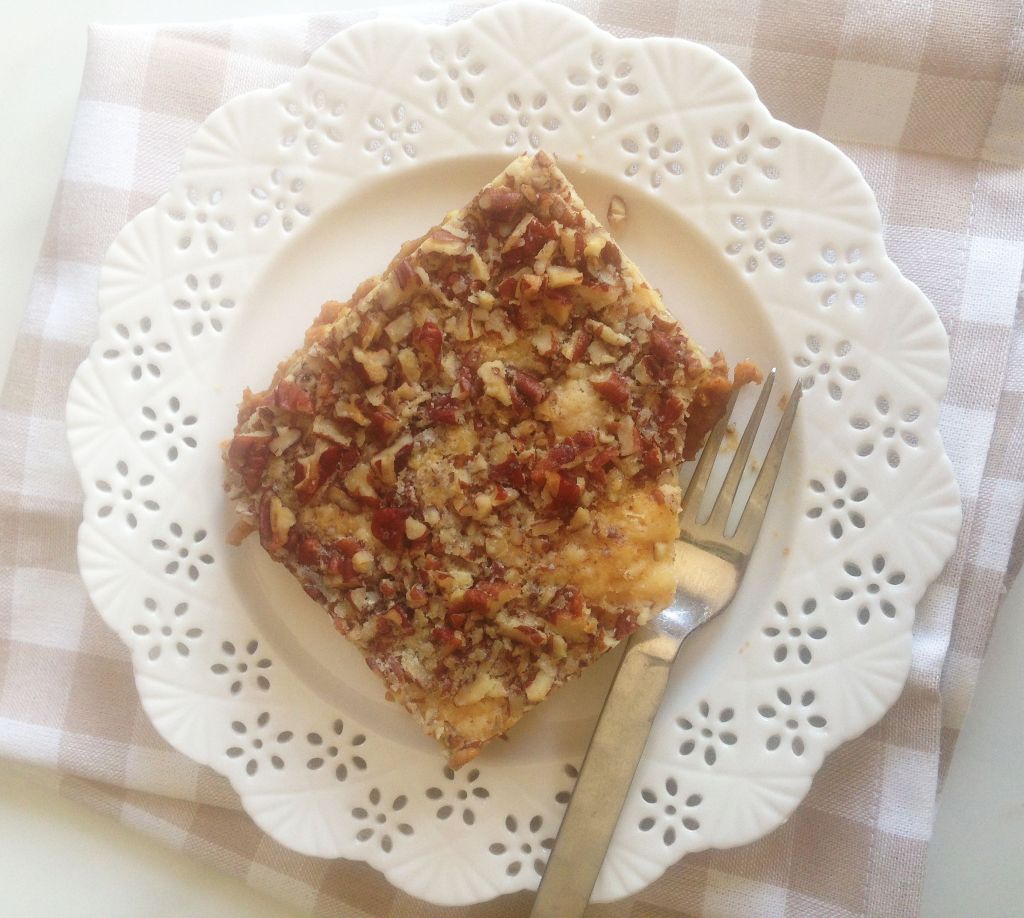 Enjoy, friends!