A soft and chewy pistachio sugar cookie bar topped with cream cheese frosting!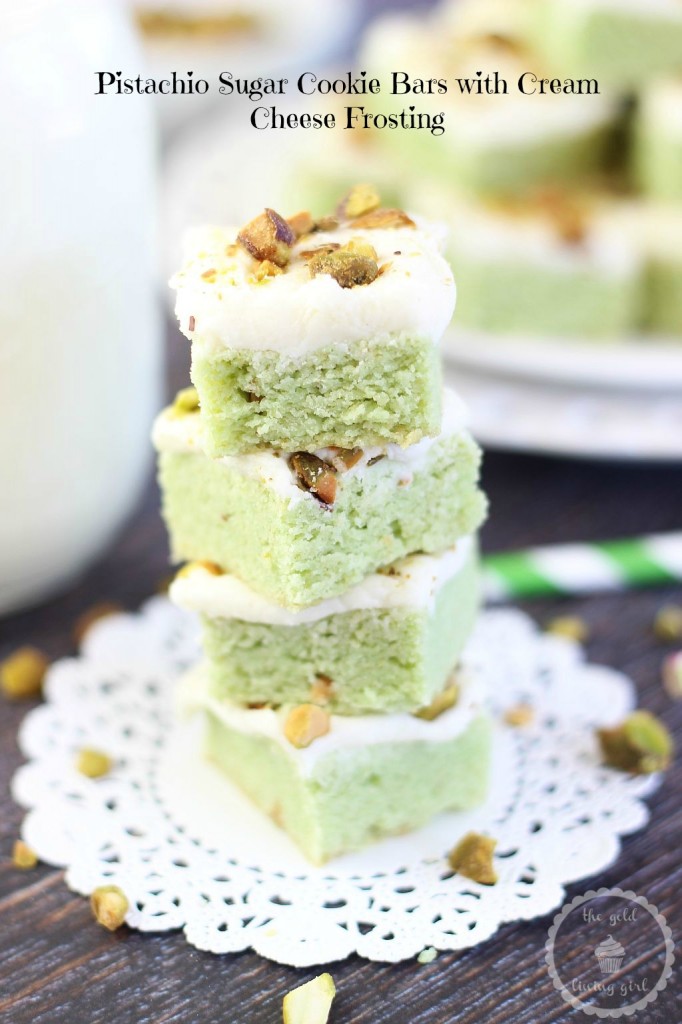 I got a new laptop. It was exciting for all of two days while everything was smudge-free, non-fingerprinty, and didn't have food crumbs and drips everywhere. The newness and novelty was short-lived though since I've already christened it with some sugar that fell into the keyboard cracks as I was eating honey-roasted peanuts yesterday. The keys sort of crunch as I type now. This morning was a coffee spill – one that was blessedly very minor. Still, the keys are now both sugary and sticky. Delightful.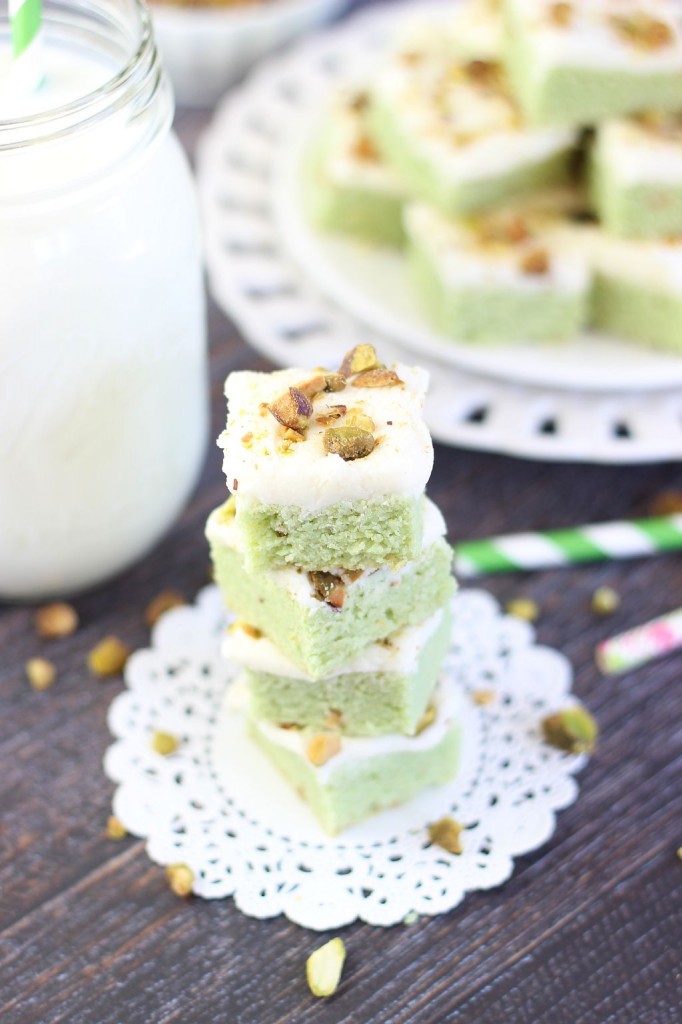 It will only go downhill from here! My camera looks the same. It is decorated with food crumbs and frosting in lots of places.
There are worse problems than having sugar and frosting glued to most of the surfaces of your home, and finding your cat batting around sprinkles that have fallen to the floor. It's a pretty fun "problem" to have.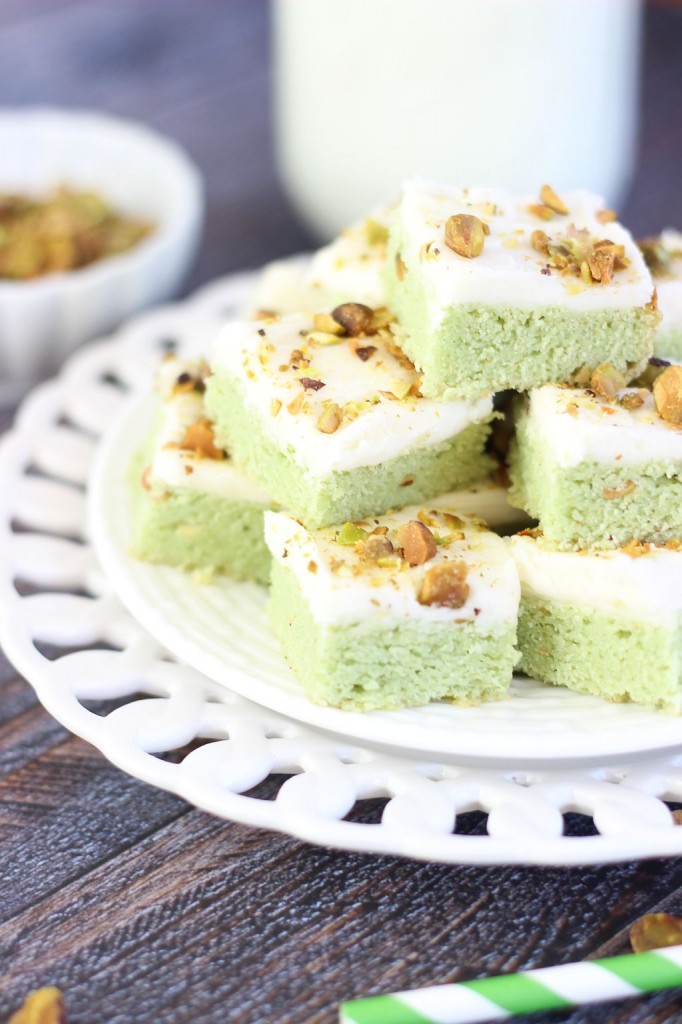 And of course it's all worth it when you stumble on a recipe that's a real winner. I love pistachio desserts and something about them feels fitting for springtime. I like artificial pistachio flavor arguably as much as the real deal. There are few artificial things that are as good or better than the real thing, but I think pistachio is one of those rare exceptions. I love pistachio nuts, for sure, but I am equally satisfied (if not more so) by fake pistachio! Thoughts? Agree or disagree?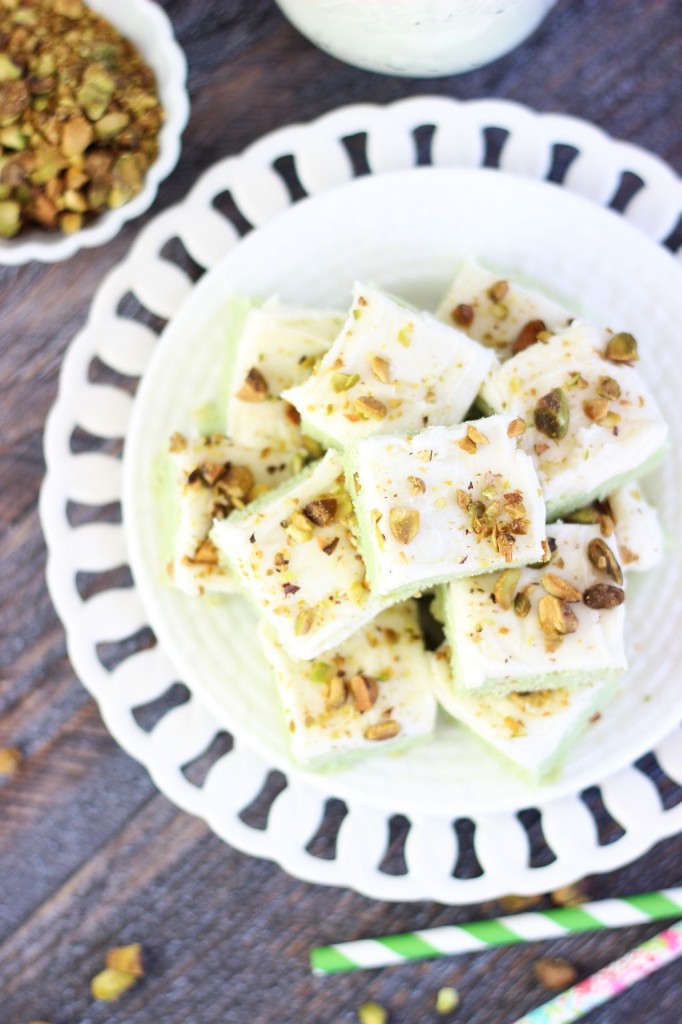 Take pistachio pudding mix, for example! I have a good many favorite recipes that feature pistachio pudding mix. Pudding mix makes cookies so soft and chewy, and really enhances flavor. These pistachio sugar cookie bars are unbelievably soft and chewy, and have tons of pistachio flavor. For good measure, if you're a person who prefers the real deal, these have a smattering of actual chopped pistachios on top. With an easy creamy and fluffy cream cheese frosting, these are a delicious and simple springtime dessert!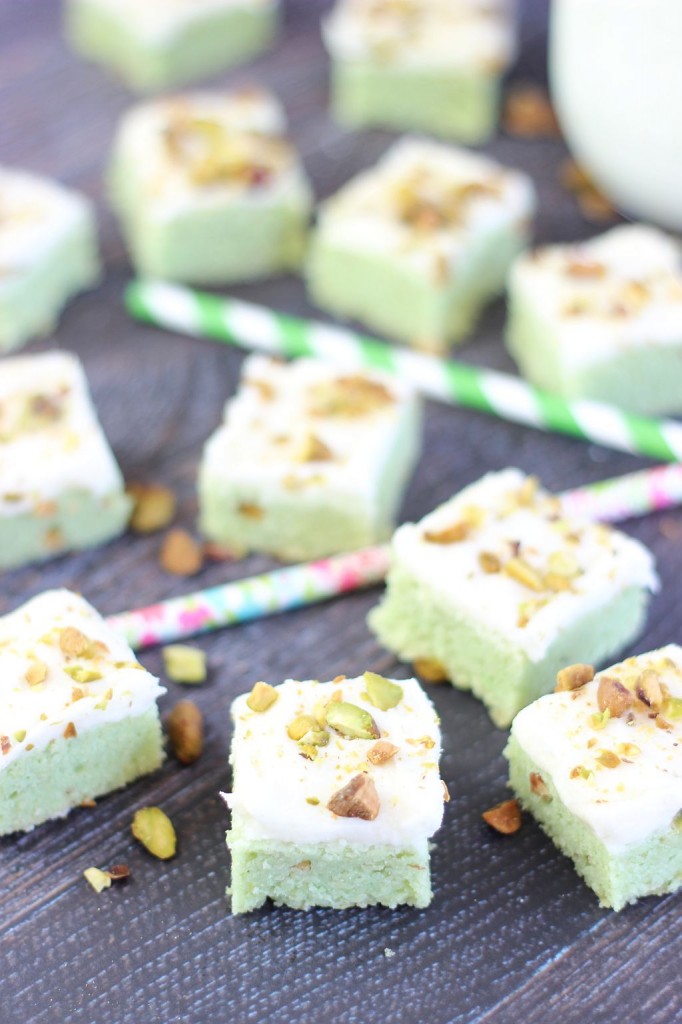 Pistachio Sugar Cookie Bars with Cream Cheese Frosting
A soft and chewy pistachio sugar cookie bar topped with cream cheese frosting!
Author:
Sarah @ The Gold Lining Girl
Recipe type:
Dessert - bar cookie
Ingredients
Pistachio Bars:
2 c. flour
2 - 3.4 oz. boxes instant pistachio pudding mix
½ c. sugar
1 tsp. baking powder
1 egg
½ c. butter, melted
¼ c. vegetable oil
½ c. milk
1 tsp. vanilla
½ c. chopped pistachios
Cream Cheese Frosting:
4 oz. cream cheese, softened
3 tbsp. butter, softened
2 tsp. vanilla
3 c. powdered sugar
Directions
For bars:
In a large bowl, combine flour, pudding mix, sugar, and baking powder.
In another bowl, combine egg, melted butter, oil, milk, and vanilla.
Mix the egg mixture into the flour mixture, stirring until just blended.
Mix in pistachios.
Press the dough into a lightly greased 9x13-inch pan.
Bake at 350 degrees for 18-22 minutes, or until edges are lightly browned.
Cool completely in the pan on a wire rack.
For frosting:
In a large mixing bowl, combine cream cheese, butter, and vanilla.
Gradually add the powdered sugar, and beat until light and fluffy.
Spread over the cooled bars, and cut into squares.
Garnish with additional chopped pistachios, if desired. EAT!!