This quick & easy No Bake Pistachio Pie preps in under 20 minutes, has a short ingredient list, and doesn't require an oven! This Pistachio Cream Pie is perfect for the season because it's so light, fluffy, creamy, and refreshing. And potent with distinct pistachio flavor, of course.
To easily view all the blog recipes, follow along on Pinterest!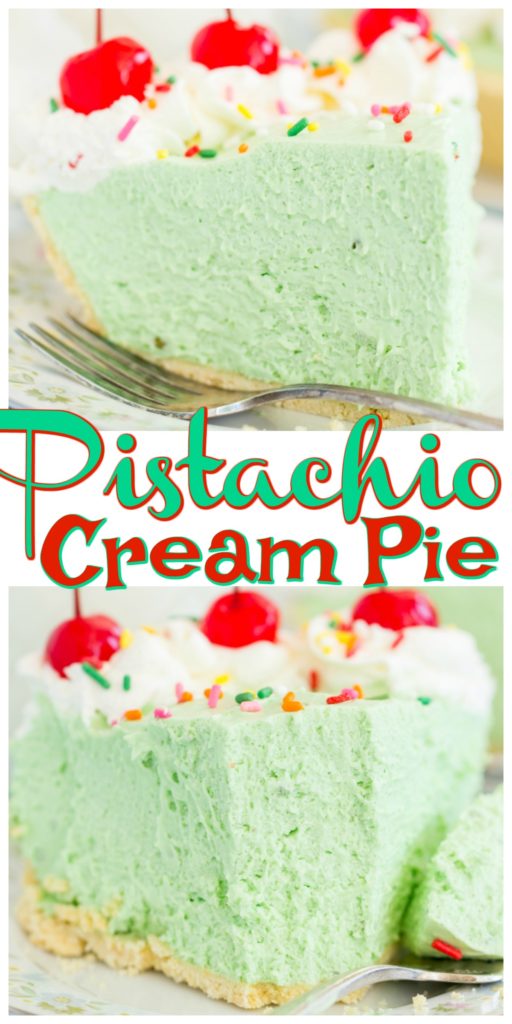 It's finally spring for just about everyone, right? The snow has ceased in more wintry areas, I hope!! Most of us are able to leave our houses a bit more too, even if it means we're just going to the park or the beach.
Suffice to say, I think we've reached a point where no one wants to be indoors, and that includes baking. The lone exception being
Banana Bread
, a newfound household staple. I mean,
Banana Bread
was always popular, but I don't think it has ever seen such a resurgence as it did the last few months!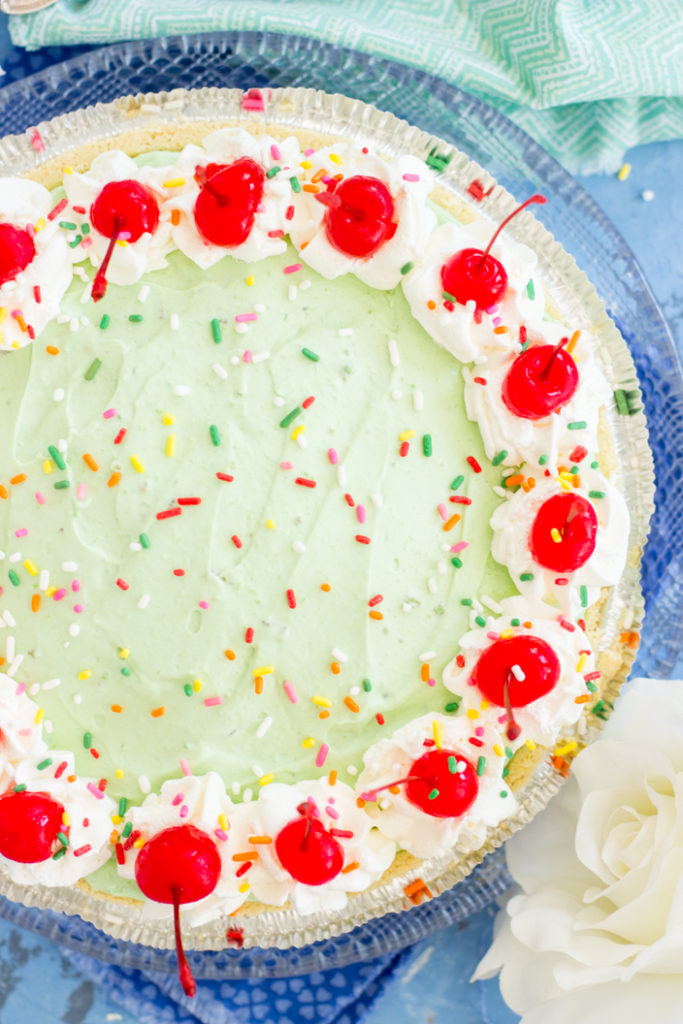 If you're still looking for ways to whip up something homemade and simple, but not miss out on precious time outdoors, this No Bake Pistachio Pie is a great option. You get the benefit of a light, refreshing dessert, without spending all day in a hot kitchen.
Additional good news — you probably have most of these items in your kitchen already. I wouldn't say they're all "staples" in a standard household, but I think you would not have to acquire much to make this
Pistachio Pie
, and
maybe
you have everything you need.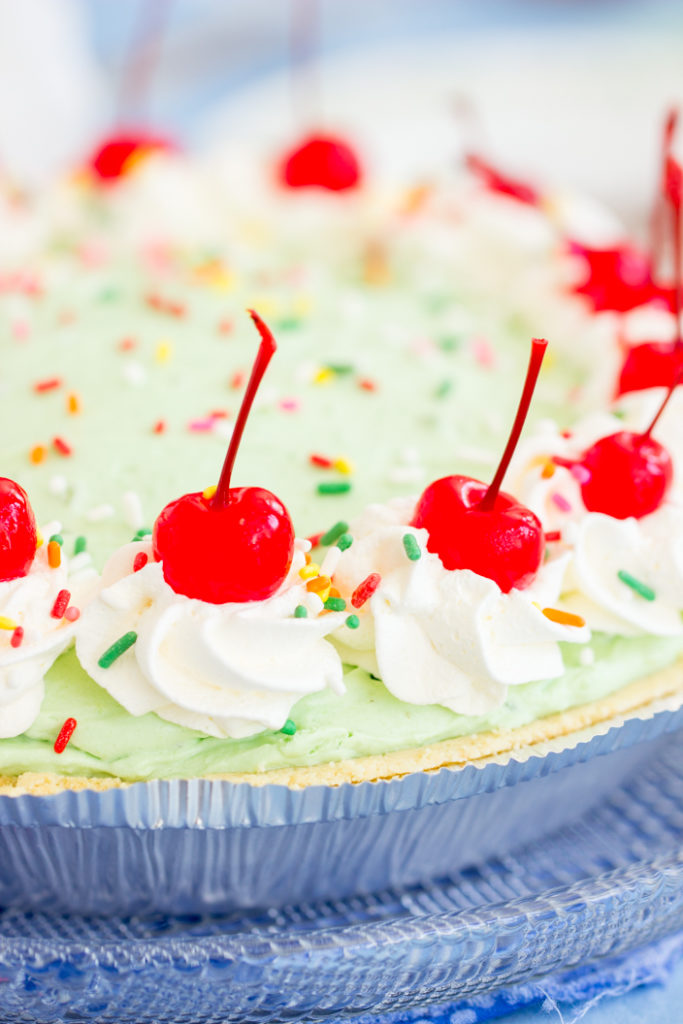 The ingredient list is short though, and everything is quite accessible. Still, substitutions can be made easily, and I'll share some options below for varying this Pistachio Pudding Pie.
This
No Bake Pistachio Cream Pie
is a pudding pie. I kinda love pudding pies. I don't mind a very unpretentious, short-cut recipe. I care not if it's fancily made and uses from-scratch everything. I'm in it for taste, and this
Pistachio Pudding Pie
is delicious.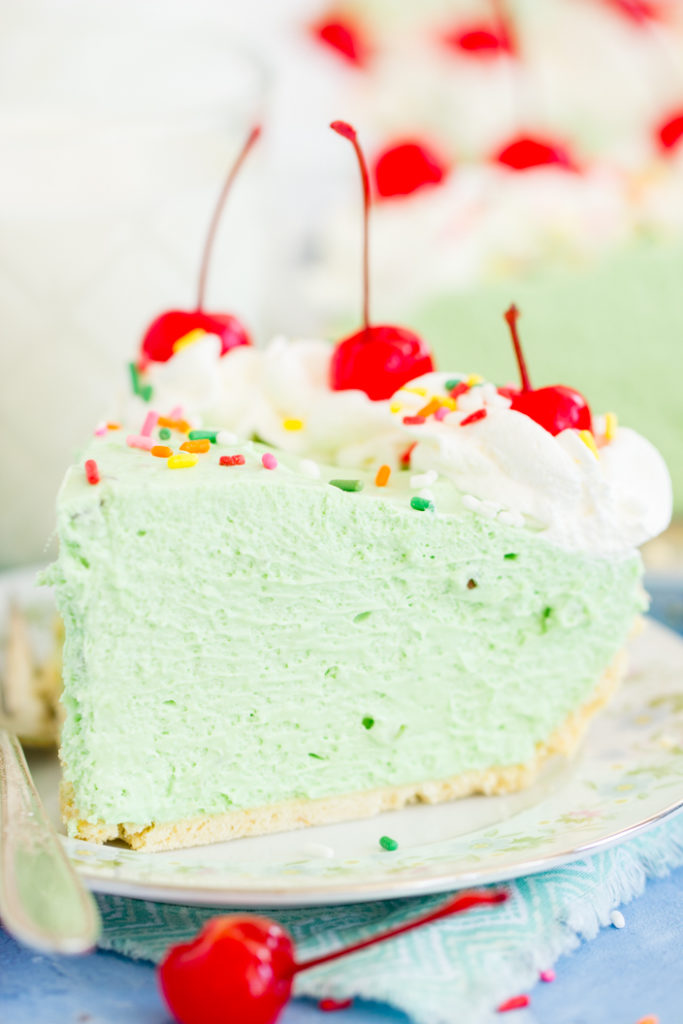 It's cute too… if you want to dress it up, a few effortless garnishes give it a fancier feel. Takes two minutes to add whip cream mounds, cherries, and a few sprinkles, but really jazzes up the presentation.
It probably goes without saying though that you have to like
pistachio pudding
to like this pie. Anymore, pistachio pudding is like its own flavor to me, separate from actual pistachio nuts. Do you know what I mean?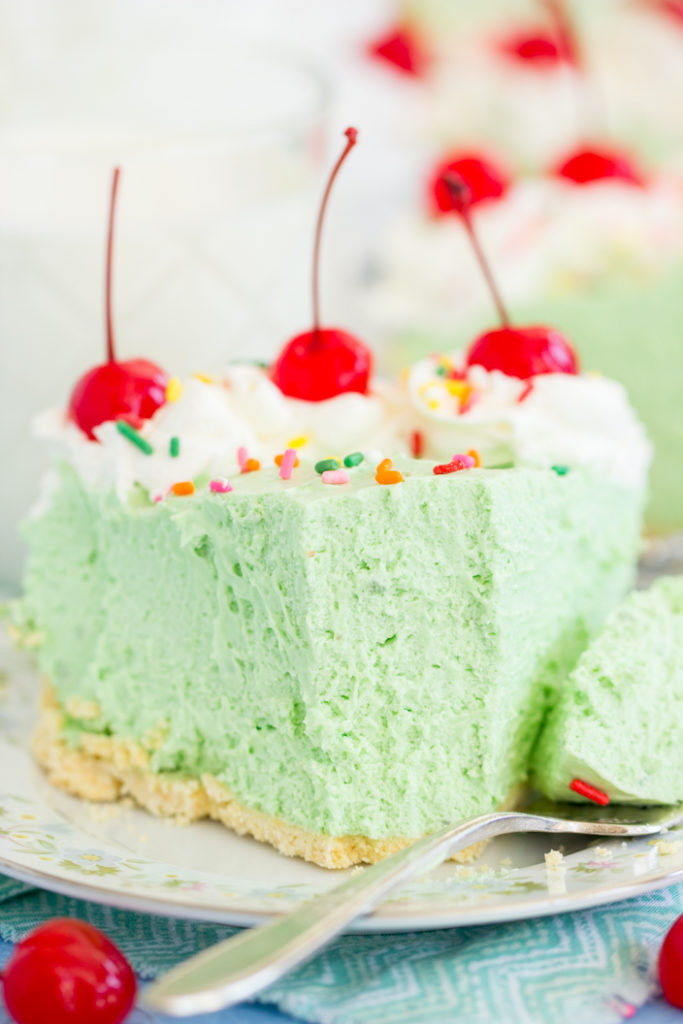 Because pistachio pudding's flavor is, let's face it, artificial, but it's a pretty lovely artificial flavor (IMO). Also, it seems to have a hint of almond, and I do feel like almond extract enhances pistachio. On its own, pistachio is so subtle, so I like that almond extract seems to embolden it.
You've got to like pistachio pudding, plain and simple. It's overhauled here with extra flavor, creaminess, fluffiness, and total pudding pie delightfulness, but at its core, has the flavor of
pistachio pudding
versus actual pistachio nuts, so you've got to like pistachio pudding. 🙂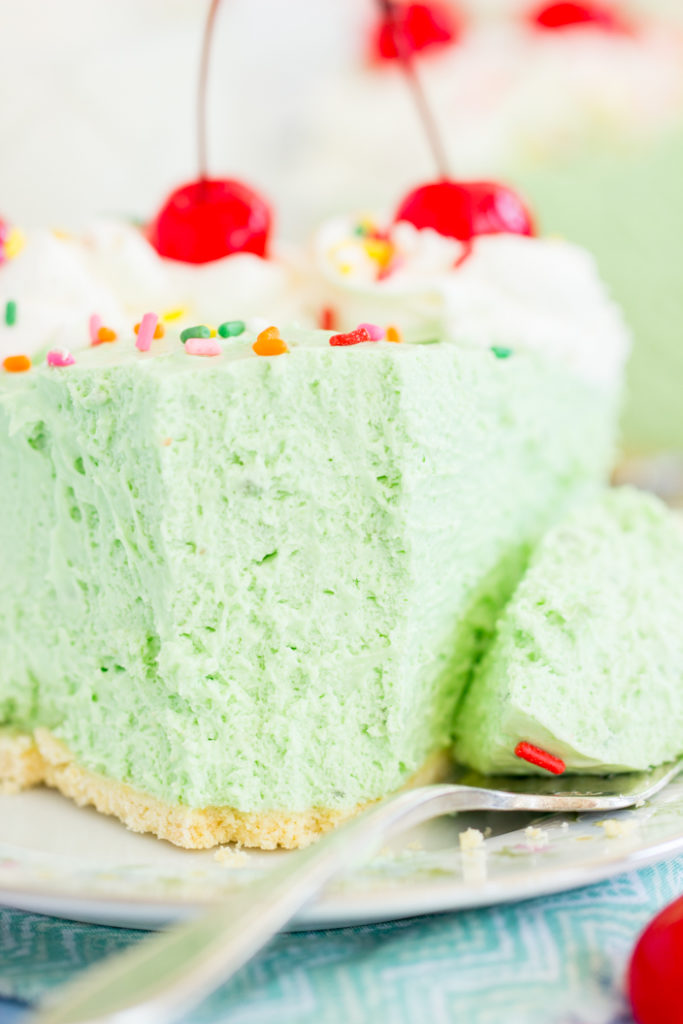 The texture of this
Pistachio Pudding Pie
is so light, fluffy, creamy, and a bit mousse-y. The bones of this
No Bake Pistachio Pie
recipe come from my
No Bake Coconut Cream Pie
. That Coconut Cream Pie recipe is so easy and very popular… lots of great reviews, so it only made sense to create a few spinoffs.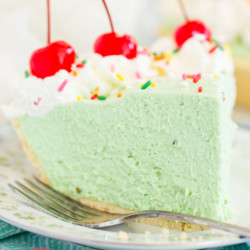 Pistachio Pie recipe
This quick & easy No Bake Pistachio Pie preps in under 20 minutes, avoiding hot days in the kitchen, and is made with basic ingredients that you probably have on hand! This Pistachio Cream Pie is perfect for summer because it's so light, fluffy, creamy, and refreshing. Potent with distinct pistachio flavor too!
Ingredients
1

9 oz.

prepared shortbread or graham cracker crust

larger 9 oz. crust is ideal, but smaller 6 oz. will also work -- pie will be VERY tall and piled high.

14

oz.

can sweetened condensed milk

1

cup

cold milk

1

tsp.

almond extract

1/2

tsp.

vanilla extract

2

3.4 oz.

boxes instant pistachio pudding mix

just the mix, and MUST be instant

8

oz.

container Cool Whip or whipped topping

thawed

additional Cool Whip or whipped topping

optional garnish

maraschino cherries

blotted dry, optional garnish
Instructions
In a large bowl, whisk together sweetened condensed milk, milk, almond extract, vanilla extract, and dry pudding mix.

Spread into pie crust. If using a 6 oz. crust, it will be VERY full, but it will all fit if you just keep building it up in the center, careful not to let the filling seep over the edges of the crust. It will fit easily in a 9 oz. crust, though the larger crusts are sometimes harder to find at grocery stores.

Refrigerate til set, about 4 hours.

If desired, garnish with additional whipped topping and maraschino cherries. I used a star piping tip to dot small mounds of whipped topping around the edge. Top each mound with a cherry.

Store in refrigerator, loosely covered, for up to a week.
Notes
Pie can be frozen for up to 3 months. Freeze it without whipped topping and maraschino cherry garnishes. Refrigerate til firm first, then gently cover with a lid. Freeze til firm, then wrap entire pie with 1-2 layers of foil.
To serve, thaw in refrigerator for about 24 hours. Add whipped topping and maraschino cherry garnishes before serving.
Other simple no-bake pies you can prep in minutes, and that allow you to avoid spending much time in the kitchen!!