With a Biscoff cookie crumb crust and a no-bake cookie butter cheesecake filling, this pie is ready in about 30 minutes! This Cookie Butter Cheesecake with Biscoff Crust features a creamy and fluffy filling, is strong on cookie butter flavor, and has a crunchy, cinnamony crust!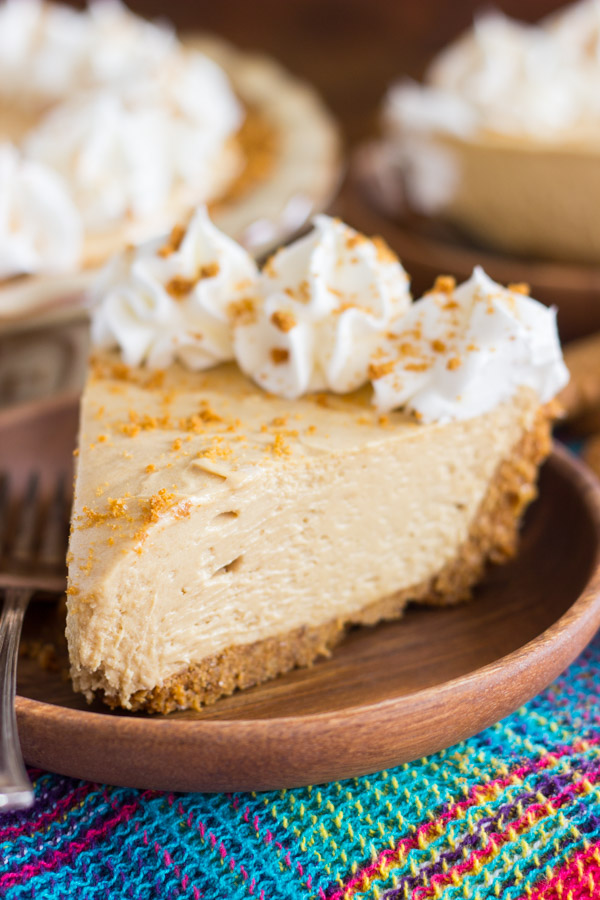 I was definitely supposed to be writing this post for you a little earlier this week, and I was definitely too caught up in Christmas activities for the last 48 hours, followed by a 1.5-hour stretch of shopping on the black hole that is Etsy. Toooo many fun things on there. I finally had a moment to write to you, and instead I was looking at mid-century modern cocktail pitchers and soup bowls. Oops.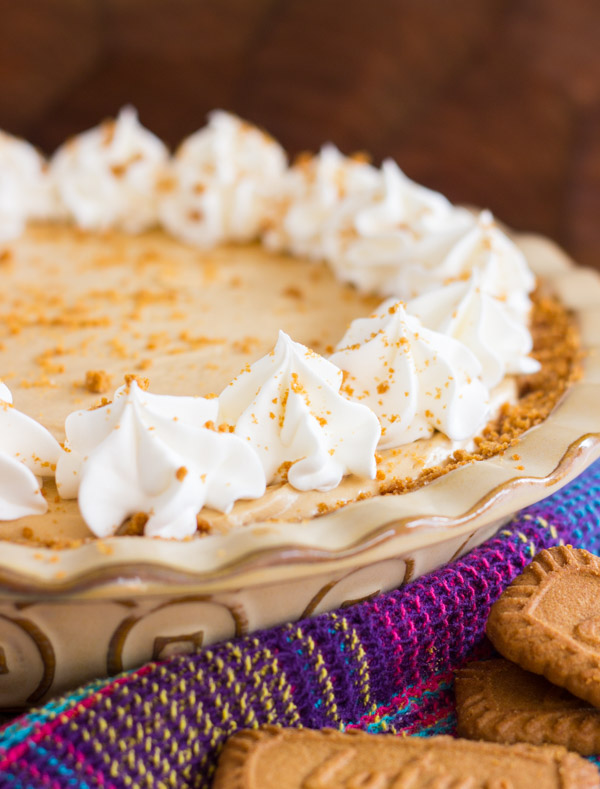 I am visiting my family up north, and I got in Monday night. It's been non-stop Christmas festivities since I landed.
Christmas shopping, driving around looking at Christmas lights, getting my Gma's tree decorated, as well as my Mom's tree. Somewhere in there we watched pieces of "Elf." It's been such a whirlwind that I forget what else.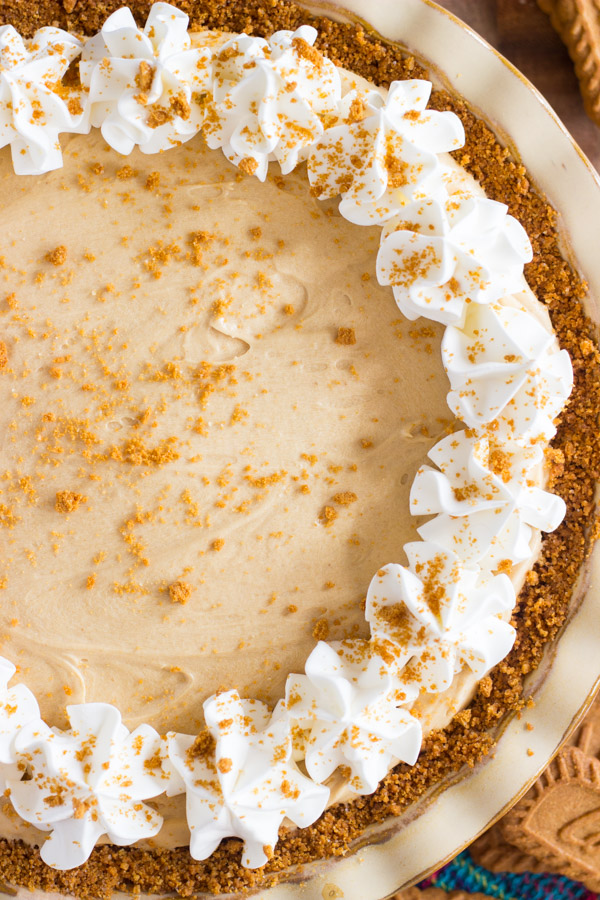 My Gma's oven is broken. It was supposed to be fixed by Christmas, but it's not. It's a little problematic, yes, but we're working around it! Quite honestly, I did so much baking leading up to Christmas, that I'm okay with having a little pressure removed to produce for Christmas. Know what I mean? If for some reason you also don't have an oven, here is what you make: Cookie Butter Cheesecake with Biscoff Crust!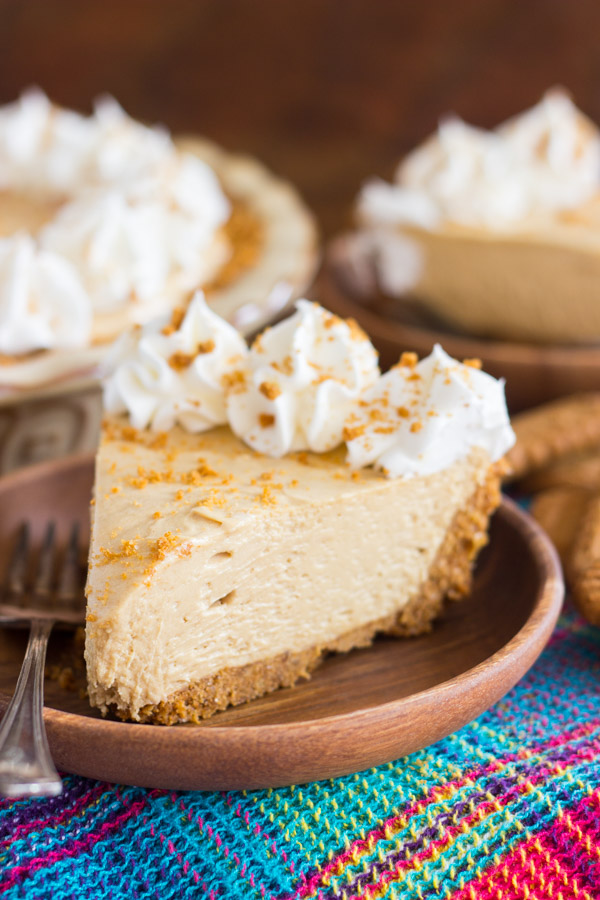 Here's what else though: Gingersnap Chocolate Ganache Truffles, Salted Peanut Butterscotch & Caramel Corn Bark, No Bake Eggnog Cheesecake with Gingersnap Crust (provided my Gma hasn't guzzled it all by the time we get to making this!), and 5-Minute Peanut Butter Cup Fudge. ALL of that.
Oh, and probably this No Bake Peanut Butter Pie recipe. We make that for every holiday, whether we have a working oven or not.
That's our 'no bake' menu. It's still a ton of variety, but none of it requires an oven! Christmas is saved. 🙂
Should you find yourself in a similar situation, without a functioning oven, or you simply don't want to bake, or you are looking for a last minute dessert, I can't say enough good things about this Cookie Butter Cheesecake with Biscoff Crust. I think the crust benefits from 10 minutes in the oven to solidify, but you don't have to bake it.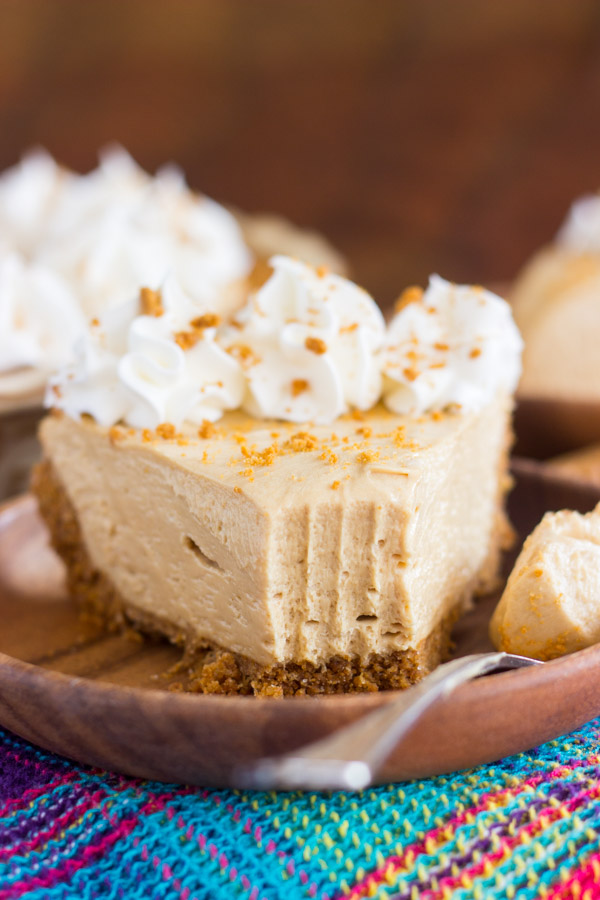 I basically took our family's favorite No Bake Peanut Butter Pie and swapped out peanut butter for cookie butter. And then I swapped out a graham cracker or shortbread crust for crushed Biscoff cookies! Oh my gawwwwd, is it good. The filling is creamy and fluffy, but rich, and strong with cookie butter flavor. The Biscoff cookie crumb crust is sweet, cinnamony, and buttery. It's crunchy and perfect, and lovely in contrast with the creamy, rich filling. If you ever want just that crust, it's here: Biscoff Crust. 🙂
It's the easiest dessert, and it is a crowd-pleaser, guaranteed. For something simple and last minute, you cannot go wrong with this Cookie Butter Cheesecake with Biscoff Crust!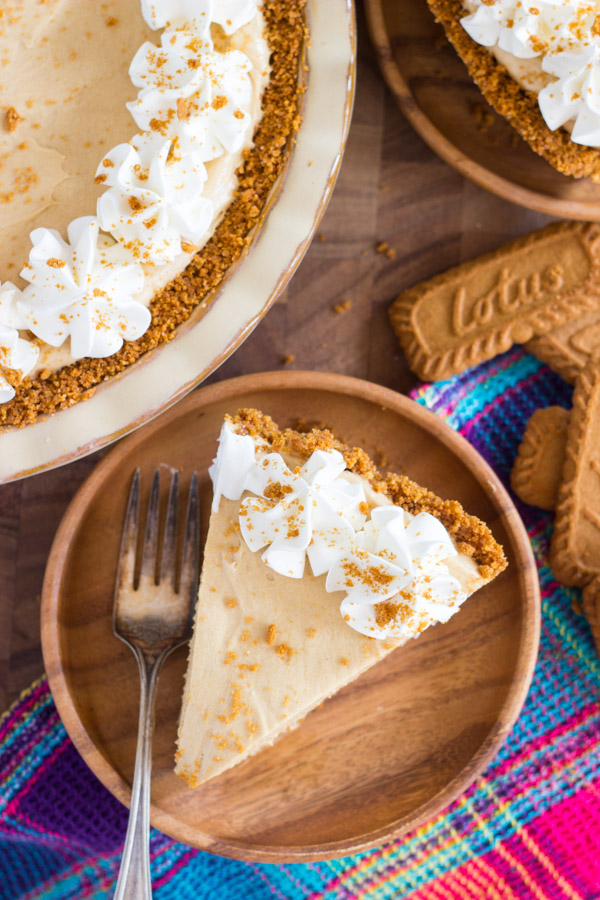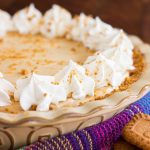 Cookie Butter Cheesecake with Biscoff Crust
With a Biscoff cookie crust and a no-bake cookie butter cheesecake filling, this pie is ready in about 30 minutes!
Ingredients
1 - 10

oz.

package Biscoff cookies

finely crushed

2

tbsp.

sugar

4

tbsp.

butter

melted

1 - 8

oz.

package reduced-fat cream cheese

softened

1

c.

cookie butter

3/4

c.

powdered sugar

1 - 8

oz.

container whipped topping

thawed
Instructions
In a medium bowl, combine cookie crumbs, sugar, and butter.

Press into the bottom and up the edges of a 9-inch pie plate.

Bake at 350 degrees for 12-14 minutes, or until it's firm and set.

Cool completely.

In a large mixing bowl, beat cream cheese, cookie butter, powdered sugar, and whipped topping.

Beat until smooth.

Spread evenly into pie crust.

Refrigerate until chilled, at least 30 minutes.

Cut and serve!
P.S. Four more cocktails coming your way this week. Did you see the Grand Marnier & Kahlua Hot Chocolate Lattes??

You may also like: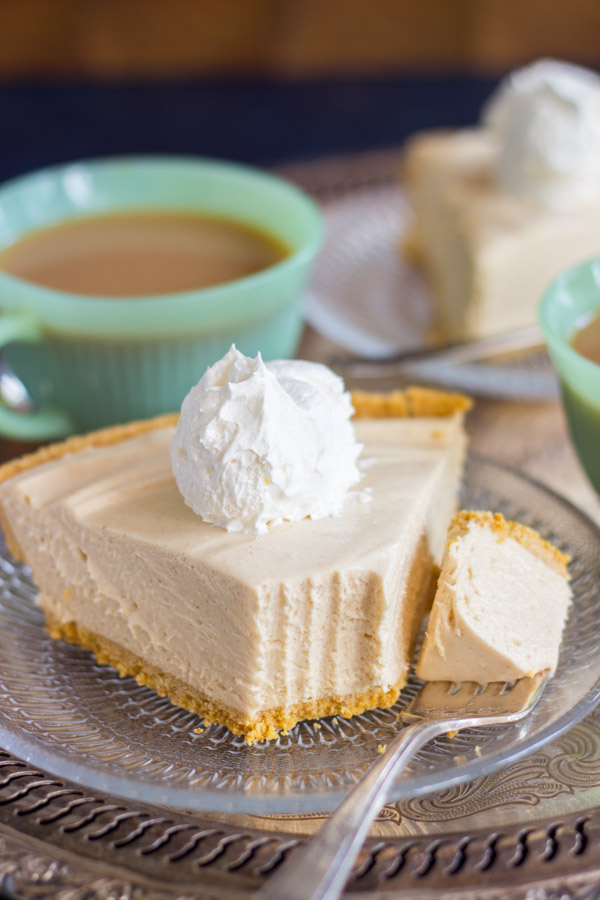 No Bake Eggnog Cheesecake with Gingersnap Crust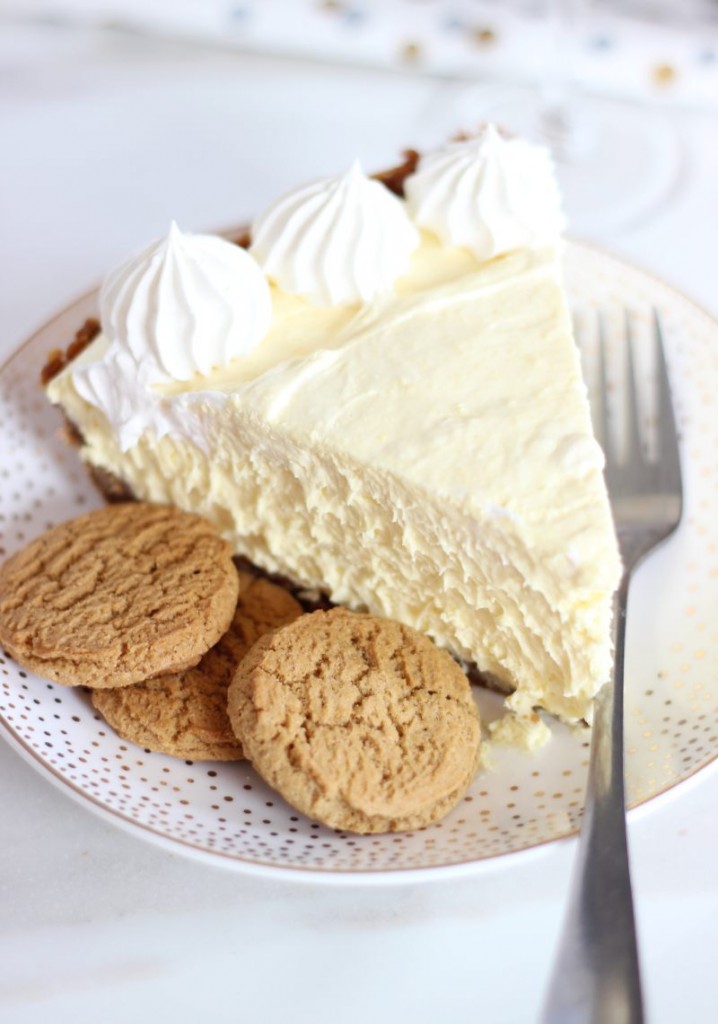 Reese's Cup No Bake Peanut Butter Pie recipe