Sweet, crunchy, cinnamony Biscoff cookies, crushed with butter and sugar, make for a delectable pie or cheesecake crust! Prepped in a few minutes, this Biscoff Crust recipe will be your new go-to!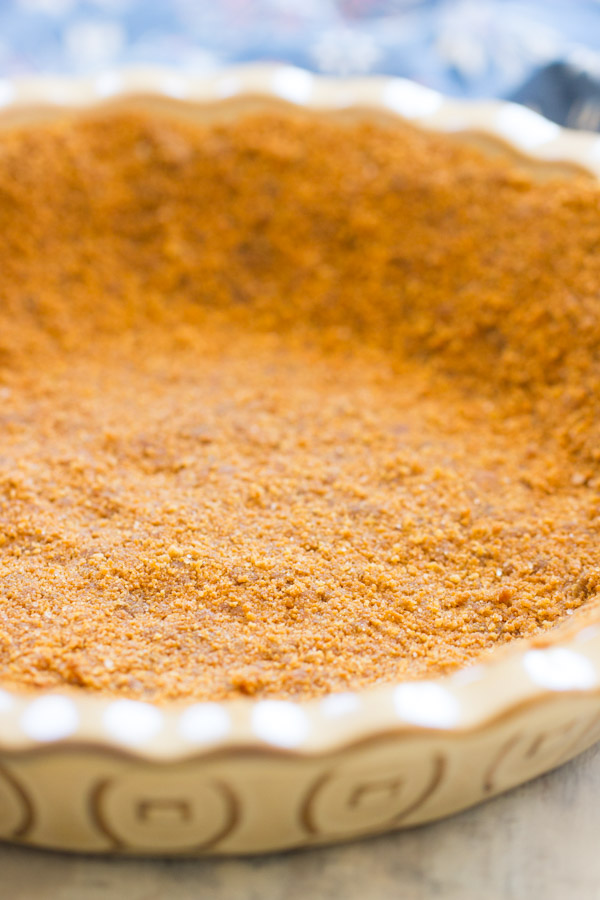 TGIF, my friends! So glad the week is over. And so glad March is over, for that matter. It's been a busy month. Even though it's been a really hectic month, it's also been a good month.
For example, I'm blogging from the airport this morning. I'm on my way to DC to visit my best friend, and to meet her 5 month-old son. I'm so excited to meet him. I've been warned that he screams bloody murder when he meets new people, and I feel like I'm not a 'kid person' anyway, so wish me luck. I will arrive bearing presents though, so hopefully that will earn me some points.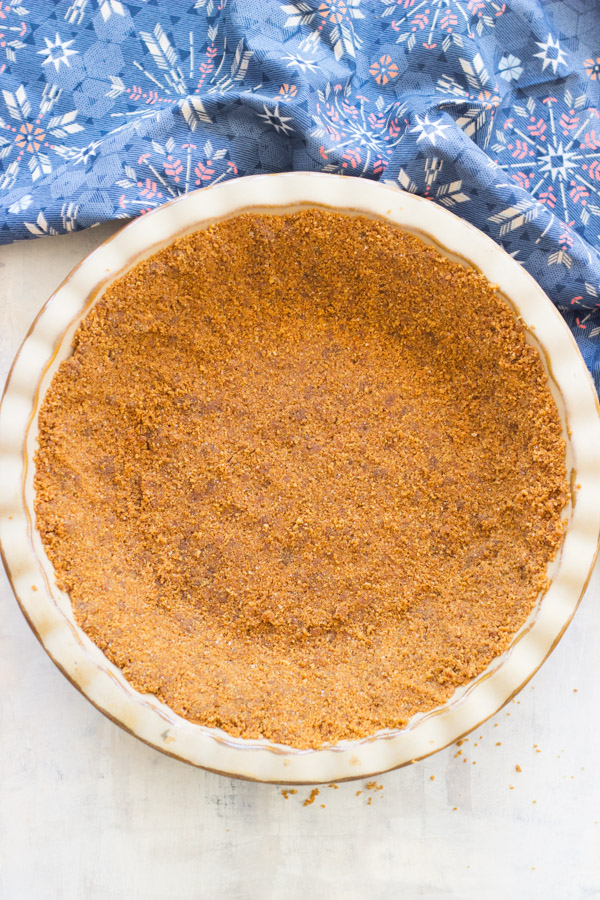 Either way, our weekend agenda is super simple. Hang with the kid, relax and catch up, squeeze in some shopping, and make a few cupcake runs to Baked & Wired. That spot is a must. The unicorn cupcakes are heaven on earth.
I also learned that they've opened a Duck Donuts in DC, so that's our first stop. My love affair with donuts has not let up, and my friend knows me all too well. She prioritized donuts at the top of the list. She's the best.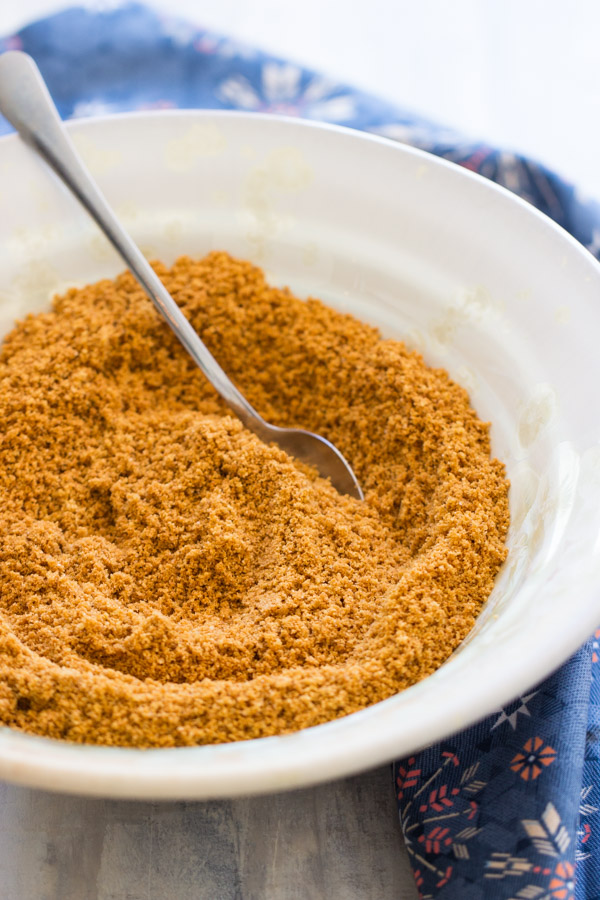 Onto pie crusts. Isn't this the most exciting recipe post you've ever seen on this blog?? Second only to the time last week when I posted a recipe for Nutella Buttercream. Yes, frosting and only frosting in a recipe post. Seriously though, that is an exciting blog post – that buttercream is insane.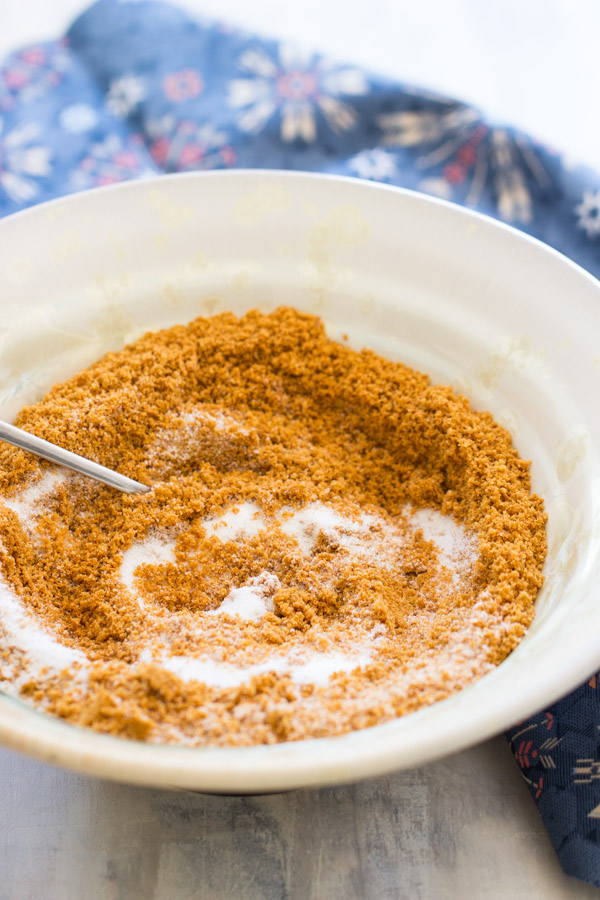 Why did I decide that this Biscoff Crust recipe warrants its own post? Because you guys ask about it all the time! People come here to find out how to make a Biscoff crust, and I wanted to deliver, so here you go. This Biscoff Crust recipe can be used for pies, cheesecakes, cheesecake bars, and really anything you need a crust for. You don't need to bake it, though I find that 8-10 minutes in the oven does help it hold together better, so I recommend it.
It's just crushed Biscoff cookies, a little sugar, and melted butter. That's it. Couldn't be simpler! You can make a crust out of just about any cookie, btw.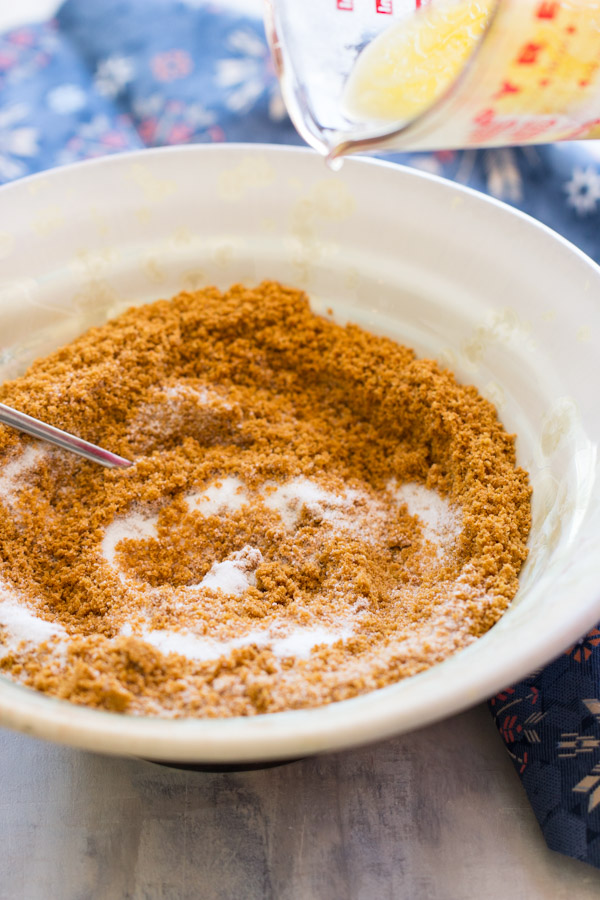 I made this Cookie Butter Cheesecake with Biscoff Crust around the holidays, and you guys love that recipe. I'm with you – it rocks. It's a simple no-bake cheesecake filling, based from this ever-popular No Bake Peanut Butter Pie recipe.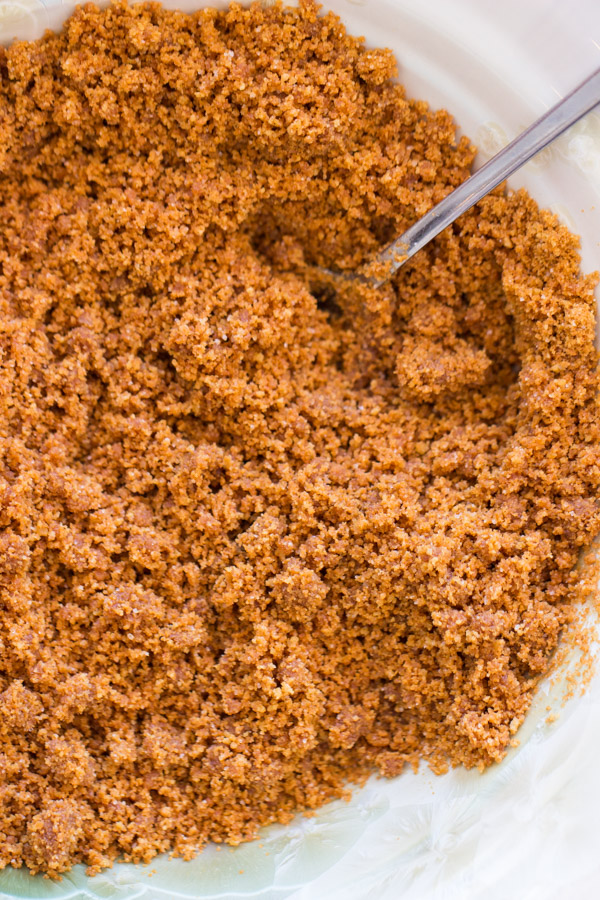 With a few small tweaks, and swapping out peanut butter for cookie butter, that Cookie Butter Cheesecake with Biscoff Crust is outrageously wonderful. Creamy, rich, cookie butter cheesecake. For the flavors to match up, you definitely want to pair that cheesecake filling with this Biscoff Crust.
For a pie crust, these pictures are kinda pretty, don't ya think?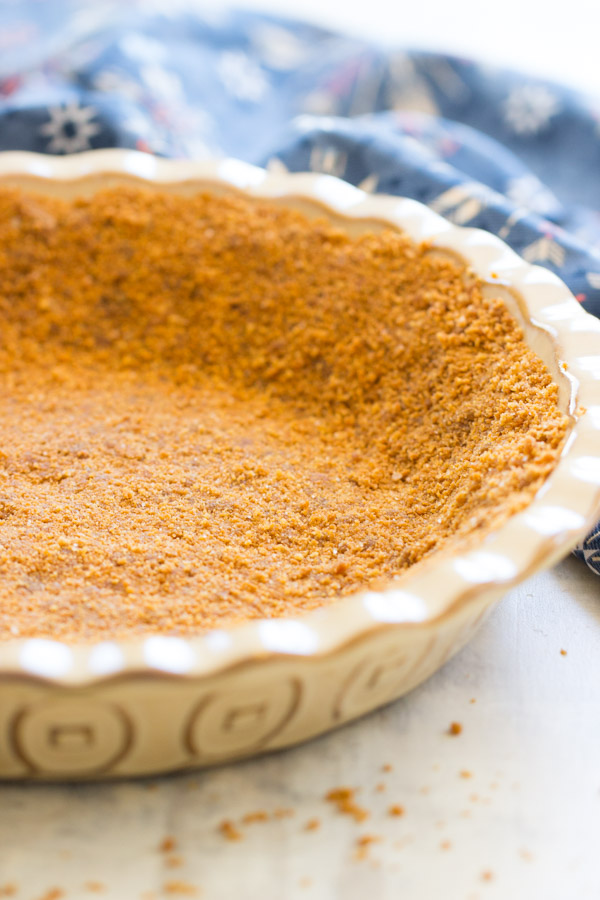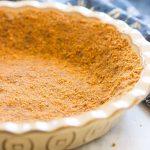 Biscoff Crust
Sweet, crunchy, cinnamony Biscoff cookies, crushed with butter and sugar, make for a delectable pie or cheesecake crust!
Ingredients
2 1/2

c.

Biscoff cookie crumbs

It will be about 1 1/2 8-oz. sleeves of cookies

2

tbsp.

sugar

6

tbsp.

butter

melted
Instructions
In a large bowl, stir together cookie crumbs, sugar, and butter, until well-combined.

Press into the bottom of a 9-inch pie plate.

Bake at 350 degrees for about 10 minutes, or until crust is firm and set.

Remove from heat, and cool completely on a wire rack.
Recipe Notes
The crust is quite crunchy, and an be a little hard to get out of the pie plate. It helps to use a shot of cooking spray on the pie plate, or if you are up to the task of fitting the pie plate with parchment paper, that's a big help. Otherwise, I usually just go in with a sharp knife and some elbow grease! 
You may also like:
Cookie Butter Cheesecake with Biscoff Crust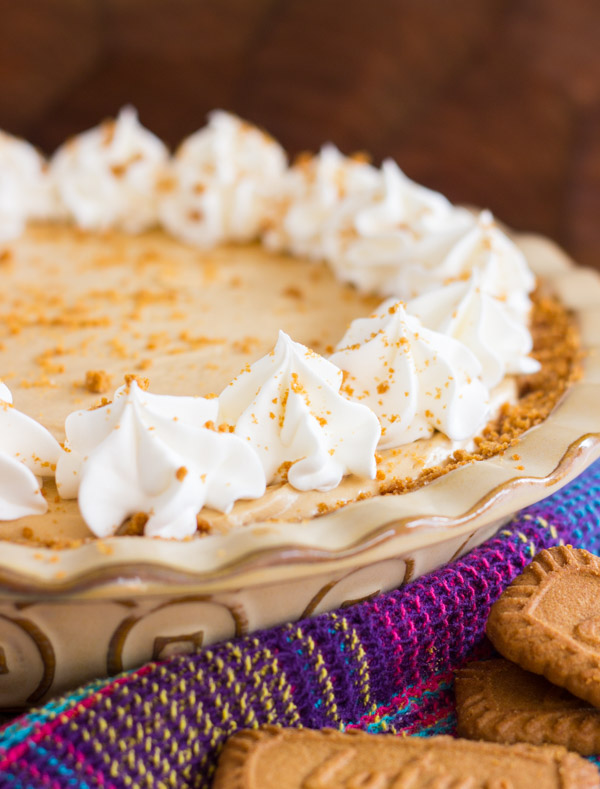 No Bake Peanut Butter Pie Recipe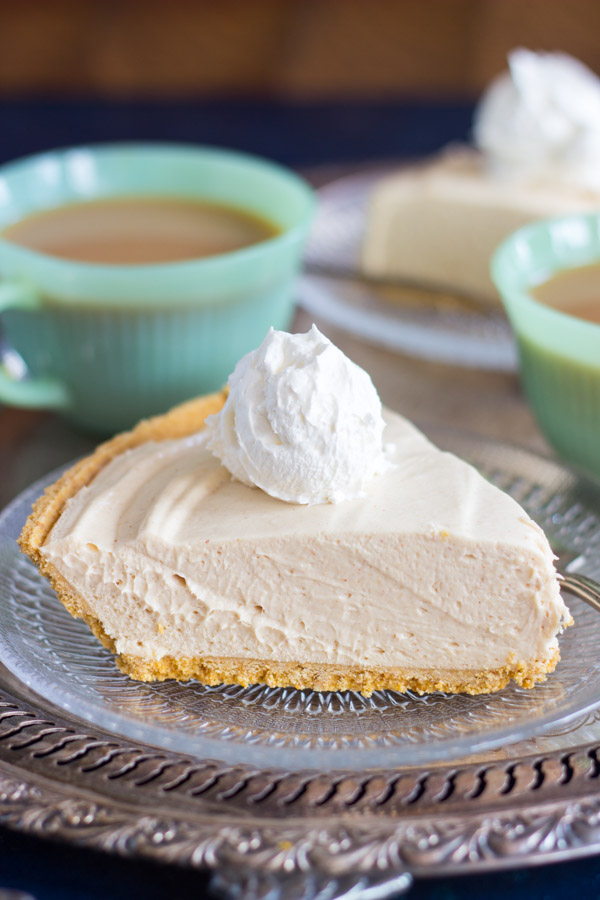 Reese's Cup No Bake Peanut Butter Pie Recipe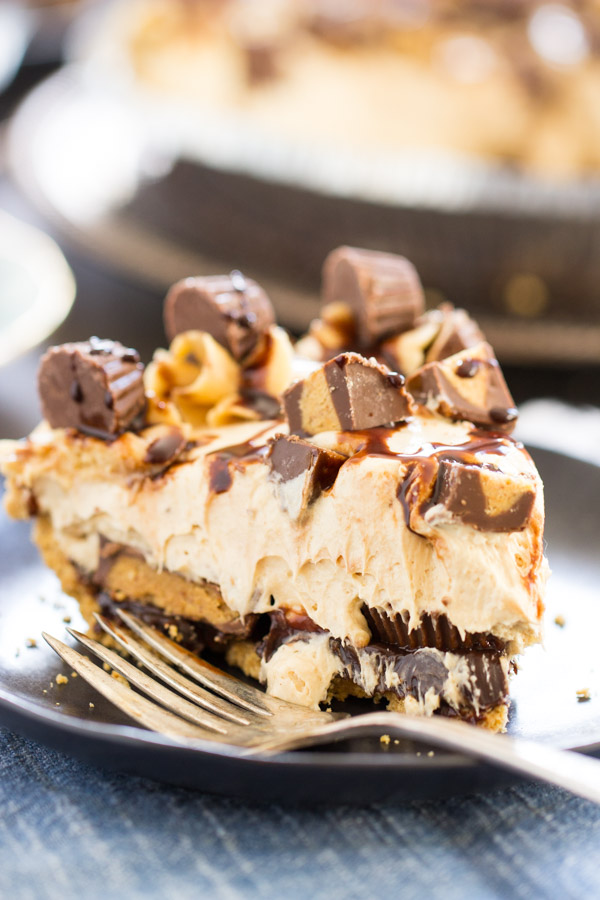 No Bake Eggnog Cheesecake with Gingersnap Crust