Ready in minutes, this No Bake Peanut Butter Pie Recipe with Pretzel Crust is so creamy, rich, light, and fluffy! With the best combo of sweet + salty!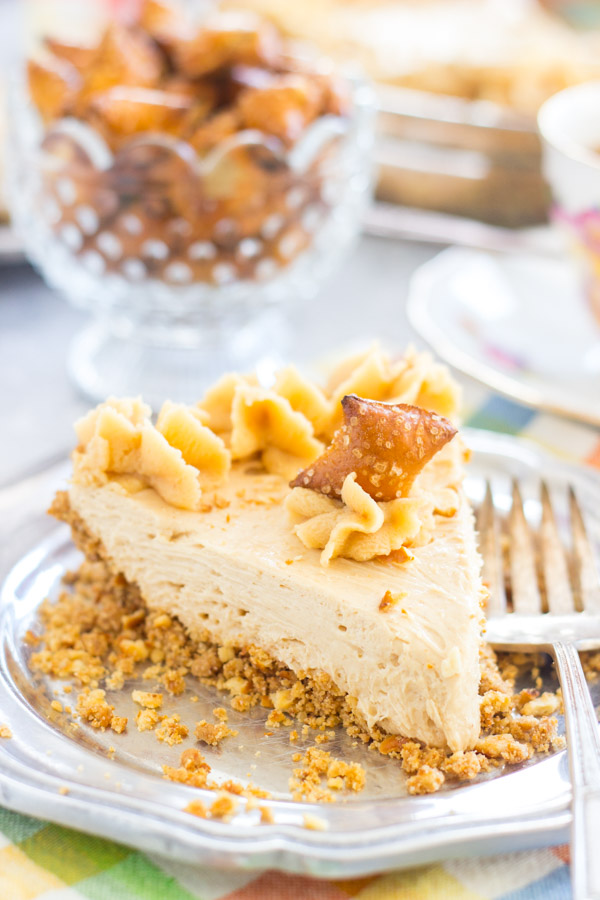 We had a rough week staring down Hurricane Irma last week. We evacuated first to D.C. to stay with a friend for a few nights, then drove several hours up north to stay with our families in Erie and Buffalo. All with our 18 year-old cat. She's flown and been on road trips with us, but not for a LONG time. No one is happier to be home now than her! Although we are also thrilled to be back.
While it was nice to spend time with friends and family, it was really hard because we were so distracted by what was happening in our state. There were a few days there where Irma was projected to make a direct hit in Tampa as a Category 3, and we (mostly I) were pretty inconsolable.
We were SO relieved to get home yesterday and to find that we only have some branches down. That's about it.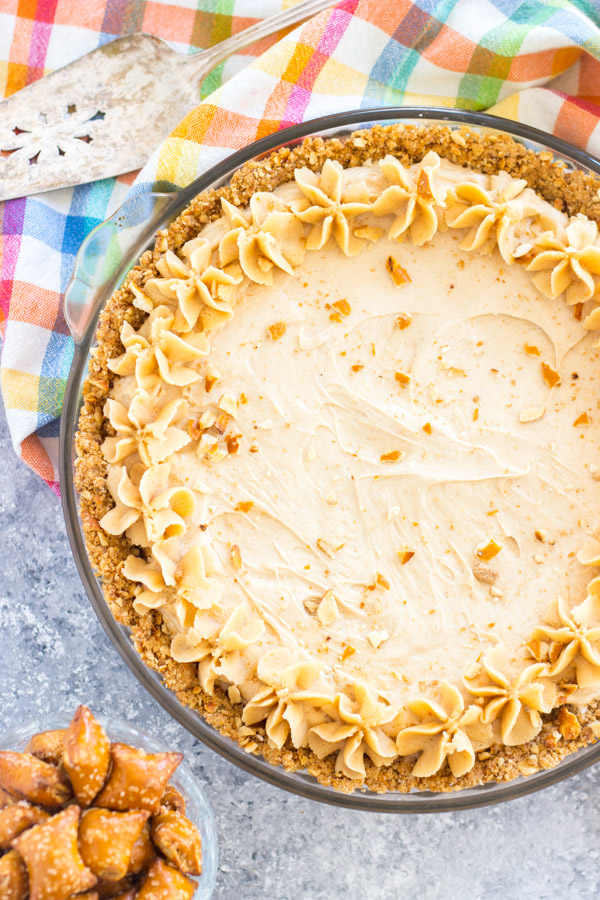 In any event, we're still really beat, so I'm taking it easy today. I have so much new stuff coming, but it's all gotten delayed. I don't have the energy or focus to talk about many of the new things with the attention they deserve, so we're kicking it back old school, and I'm sharing a variation on my Grandma's famous No-Bake Peanut Butter Pie recipe.
If I need inspiration, this is always an excellent starting point for me. This recipe has been in my family for decades, and we make it for every single holiday and get-together. Everyone that tries it, loves it.  The filling is fluffy, light, and mousse-like, but still so rich with peanut butter flavor. It comes together in about 10 minutes flat too.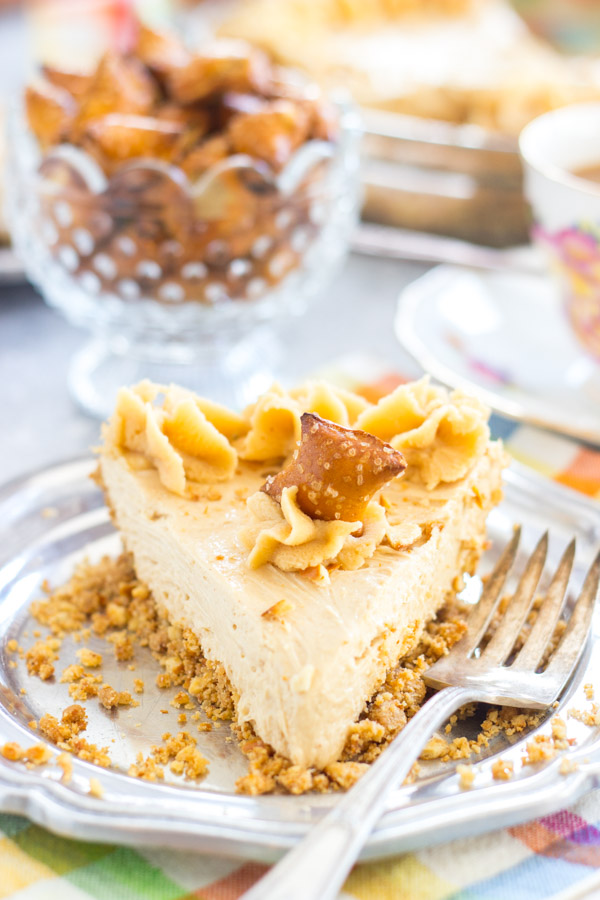 It's such a simple recipe, and so great just the way it is, but I feel like it's also very easy to jazz it up, so I really enjoy finding new ways to put a spin on it.
I've done it before with great success. If you love chocolate and peanut butter together, then you have to try this Reese's Cup No-Bake Peanut Butter Pie recipe. It's still as easy as the original, but it's so over-the-top with chocolate and peanut butter! It's seriously decadent. You love Reese's, right? You need that recipe!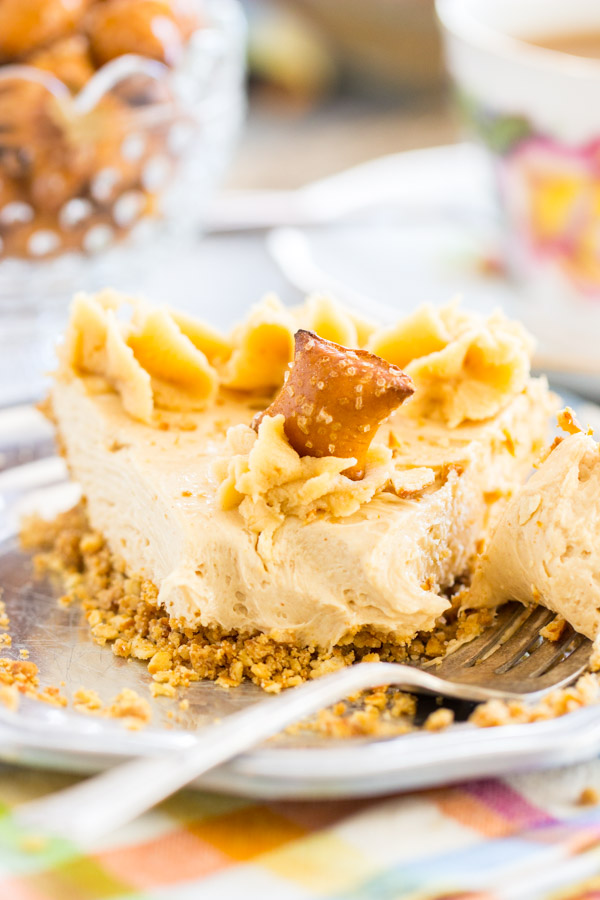 My next idea was this No Bake Peanut Butter Pie Recipe with Pretzel Crust. I LOVE peanut butter and pretzels together, and when we were grocery shopping recently, we picked up a big tub of those peanut butter-filled pretzel nuggets. Have you tried those?? They're dangerous to keep in the house! But I had the grand idea that I could crush up those nuggets and use them as a crust for peanut butter pie.
This Peanut Butter Pie with Pretzel Crust recipe was a total hit. I love the saltiness and crunch of the pretzels as a crust, and then it's filled with rich, creamy, peanut butter pie filling. It was a definite success, and it was still SO easy to make!
I've also varied the crust when I made this Nutter Butter No Bake Peanut Butter Pie version, and that's fabulous too.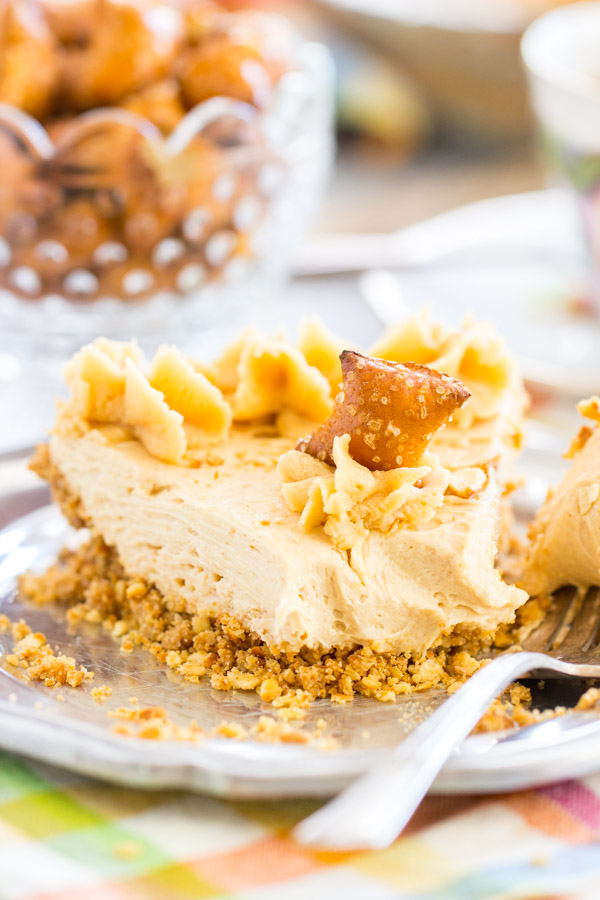 If you give this No Bake Peanut Butter Pie Recipe with Pretzel Crust a spin, let me know what you think!