9 Peanut Butter Pie Recipes that you can make in a FLASH! Pull these creamy, dreamy, peanut butter-HEAVEN pies together in sheer MINUTES!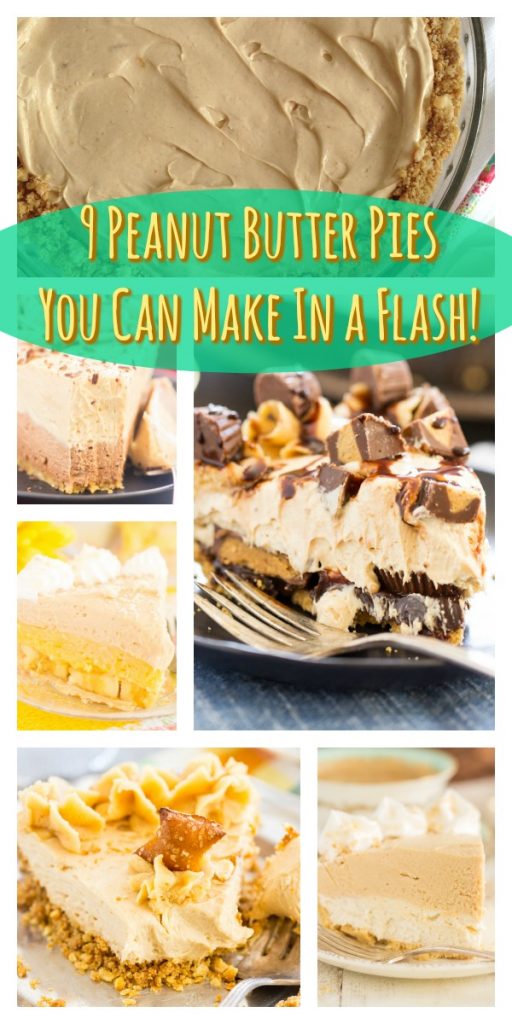 Happy Friday, and happy long holiday weekend! What will you be doing for Memorial Day weekend? Need a dessert recipe?? I've corralled a bunch of peanut butter pie recipes together in one post, so hopefully that will help you out with your decision.
There is only sunshine in our forecast here for days and days, and it's already in the 90s. The last thing I want to do is turn on my oven! Most of these peanut butter pie recipes are no-bake, fortunately. The ones that aren't are still very quick & easy to whip up. If you need a dessert this weekend, and you want to throw one together fast, I've collected together a bunch of peanut butter pie recipes. I have quite a few!
Besides that I love peanut butter, and that peanut butter pie is one of my favorite desserts of all-time, I am otherwise allllll about easy desserts. These are definitely quick & easy. 🙂 I hope you enjoy this collection of peanut butter pie recipes!
Which is your favorite?? Which will you try first??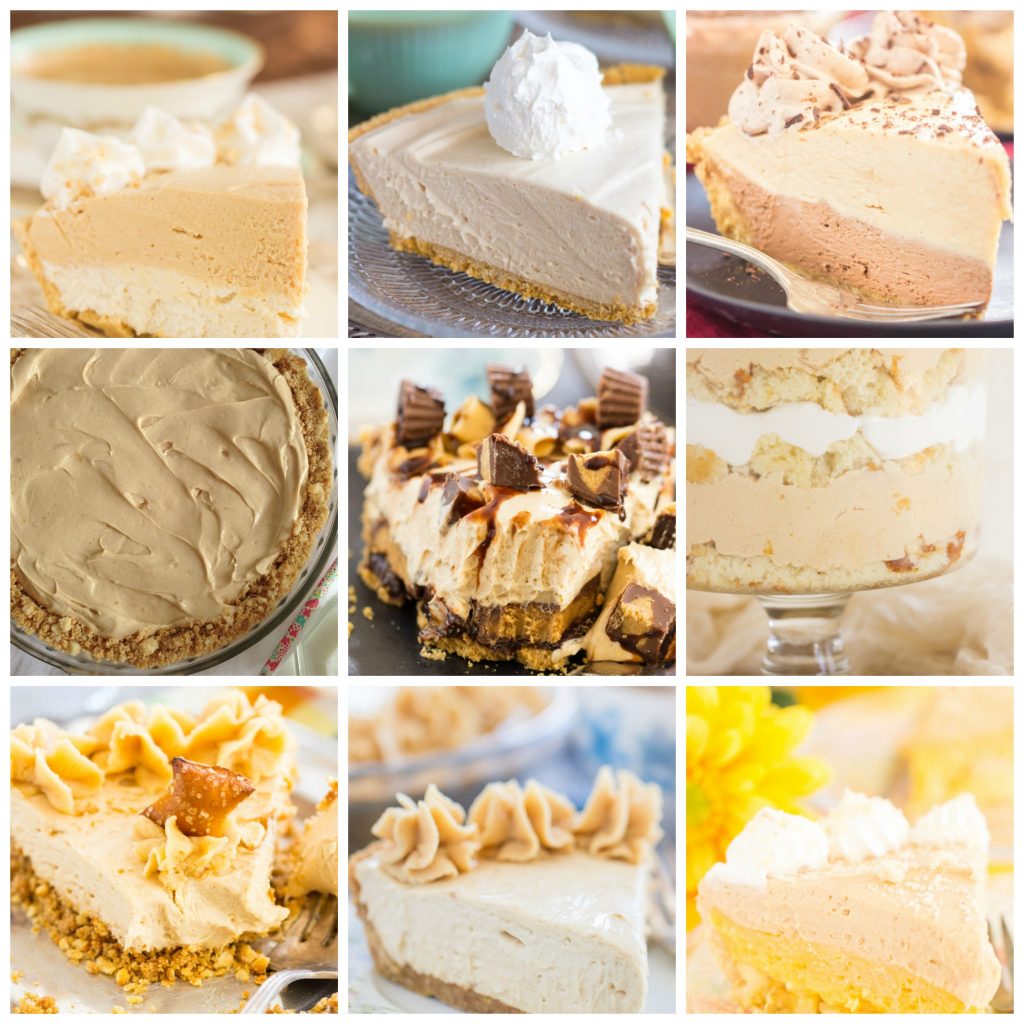 No Bake Peanut Butter Pie recipe: The classic. The peanut butter pie recipe that inspired the rest. This recipe comes together in about 10 minutes flat, and it's so creamy, rich, and extremely peanut buttery, but still manages to be light and mousse-y. It's very well-loved among family, friends, and blog readers alike.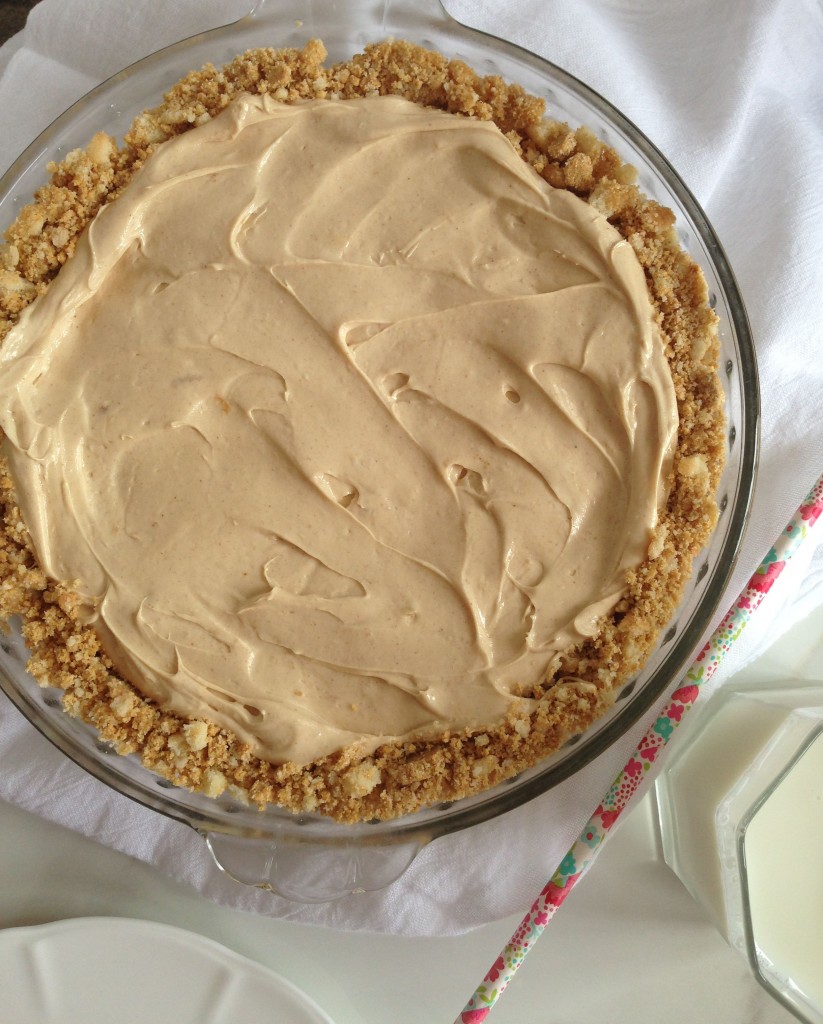 No Bake Double Layer Chocolate Peanut Butter Pie: A creamy, mousse-y peanut butter layer, just like in the original peanut butter pie recipe, but this one also features a layer of chocolate mousse-y wonderfulness too. It's still quick & easy, and comes together fast.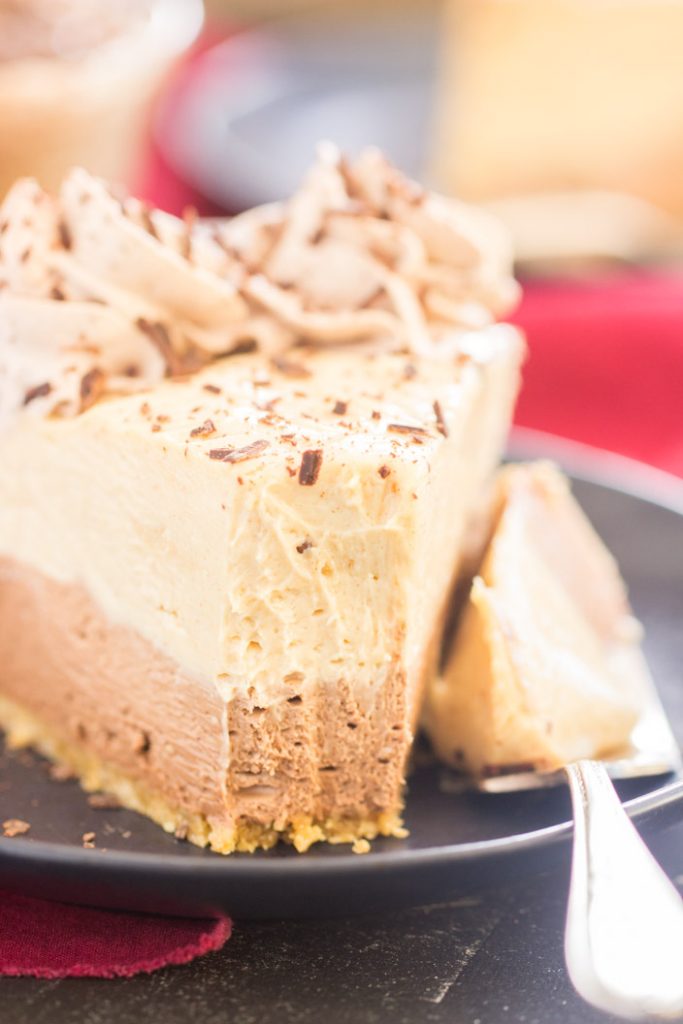 Double Layer No Bake Peanut Butter Cheesecake: This is kind of a cross between the classic peanut butter pie recipe, and one of my other favorite classics, this Double Layer No Bake Pumpkin Cheesecake. A layer of easy no-bake cheesecake — rich, but light — and a layer of rich, mousse-y peanut butter pie filling!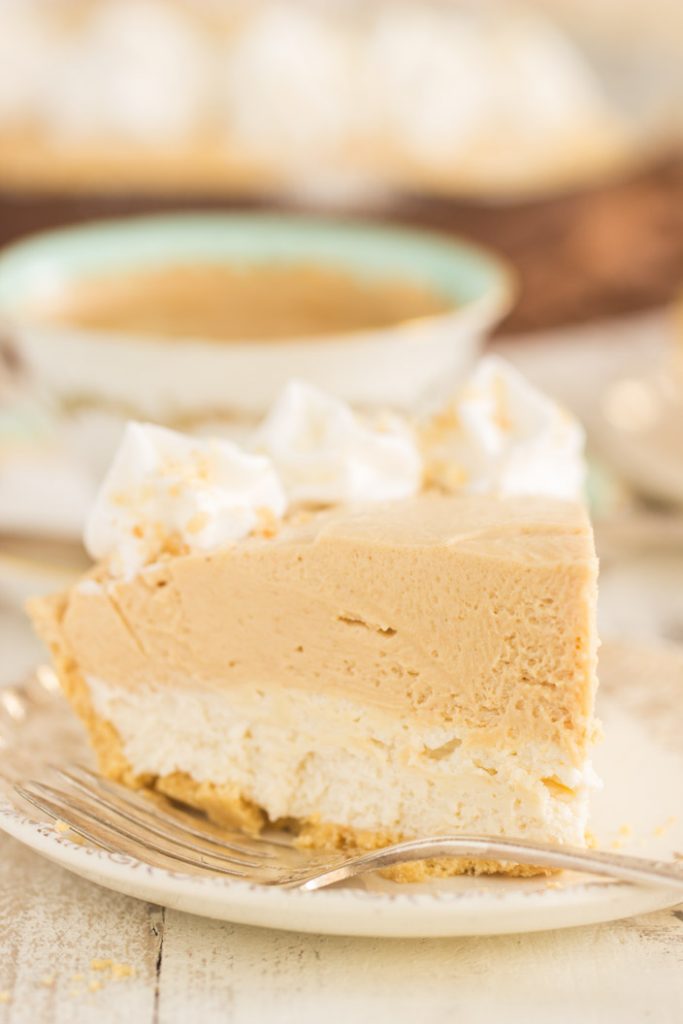 Nutter Butter Peanut Butter Pie: The classic peanut butter pie uses graham cracker or shortbread cookies, but what took me so long to use peanut butter sandwich cookies as the crust for this delectable dessert? What a game-changer!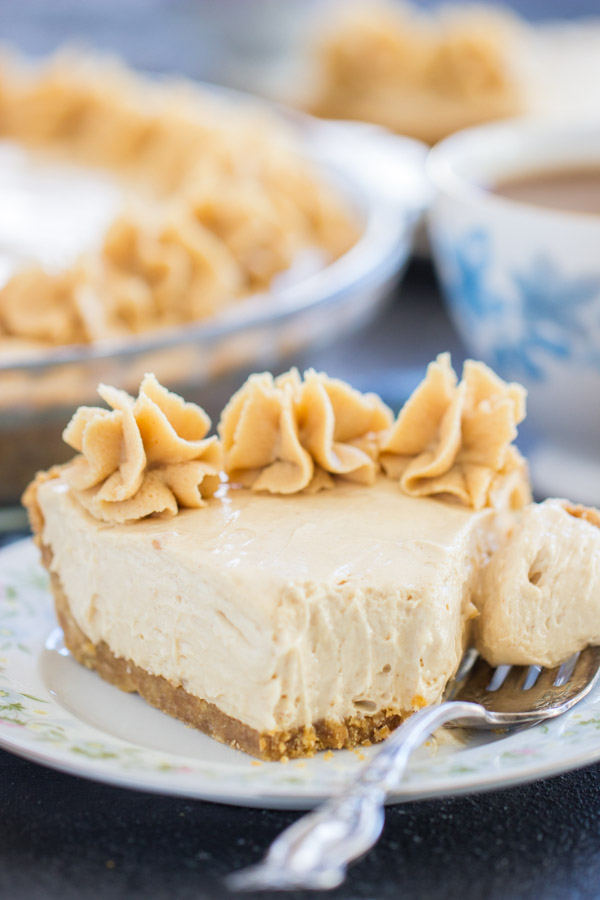 No Bake Peanut Butter Pie recipe with Pretzel Crust: This was inspired by those peanut butter-filled pretzel nuggets that you find in big tubs – those things are totally addictive and I can't keep them in the house too often! I love the sweet + salty combo of this pie.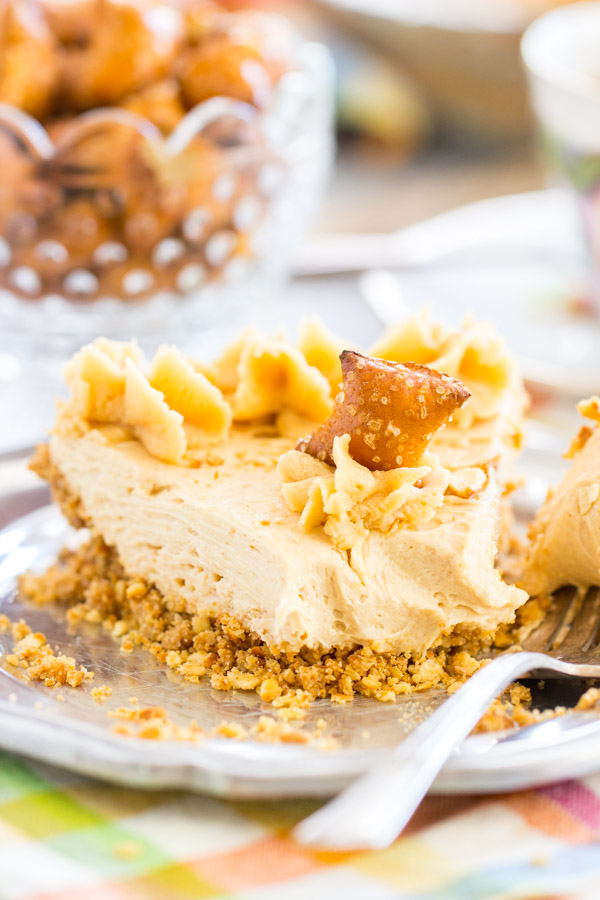 Reese's Cup No Bake Peanut Butter Pie: With a layer of fudge and a layer of full-sized peanut butter cups on the bottom, this pie is truly a sweet-tooths' dream. You MUST love a seriously decadent dessert – this will be your fave variation though!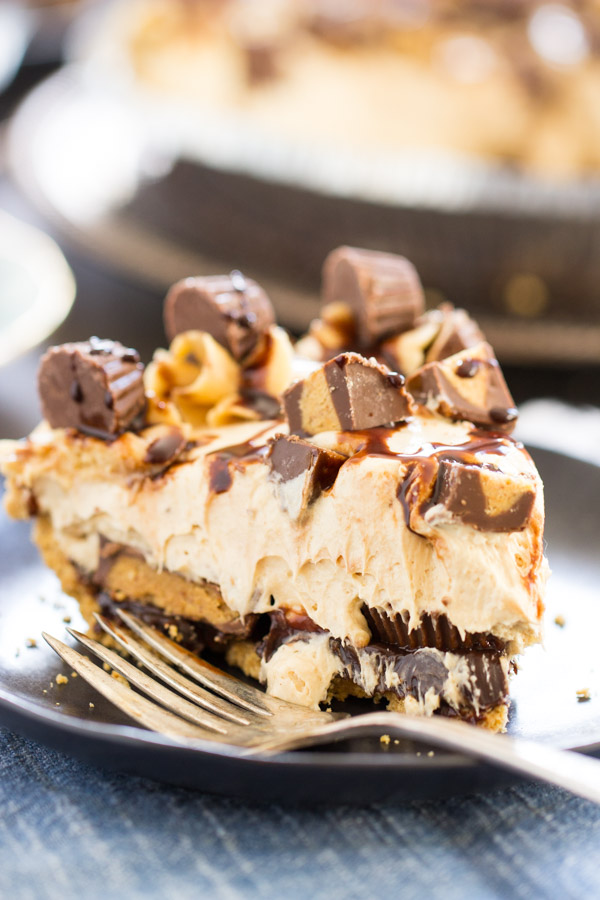 Peanut Butter Cup Fudge Pie: This pie is also black-bottomed with fudge, and features a few peanut butter cups. It will be the #1 choice of any chocolate and peanut butter lovers' — there is a LOT of chocolate and peanut butter to go around in this peanut butter pie version.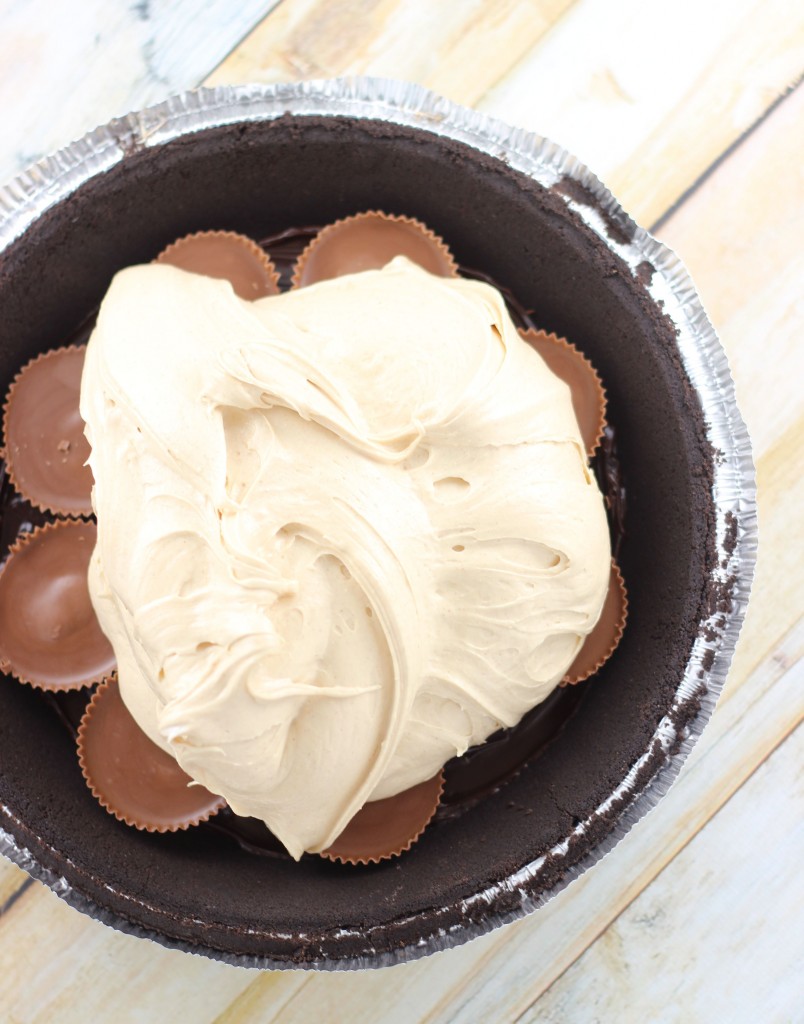 Banana Pudding Peanut Butter Pie recipe: What do you get when you cross a pudding pie with a peanut butter pie? This features a layer of banana pudding pie, and fresh sliced bananas, with a layer of classic peanut butter pie. It's irresistible.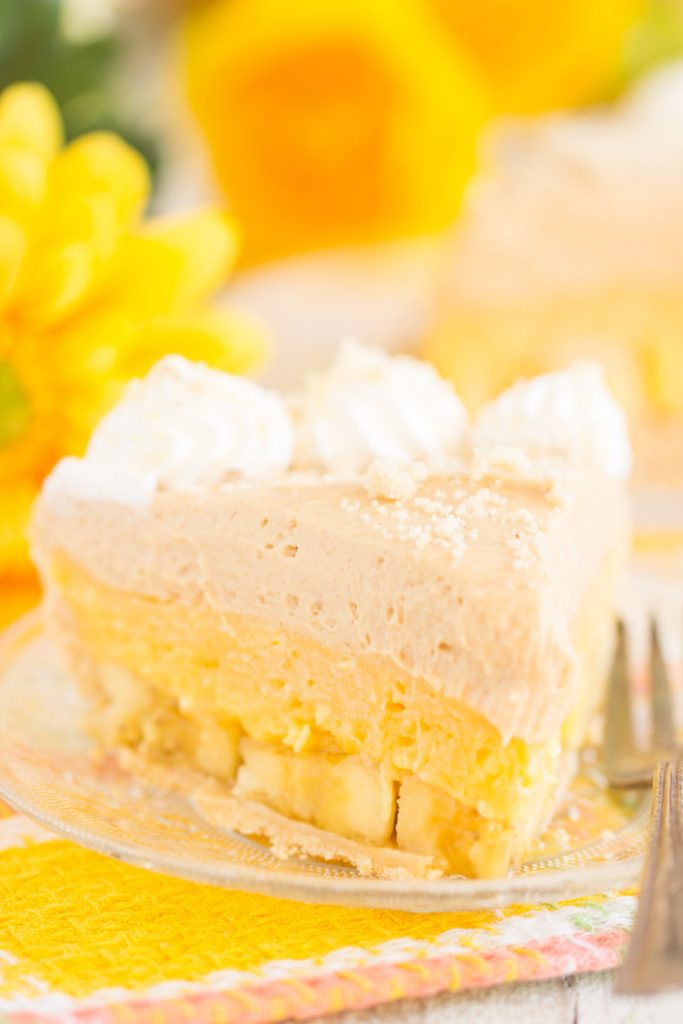 No Bake Peanut Butter Pie Trifle recipe: Okay, so this is not technically a peanut butter pie, but I used the peanut butter pie filling from my Gma's recipe to layer it with cake and whipped cream, and it's the BEST. I had to include it because it leverages that classic peanut butter pie recipe.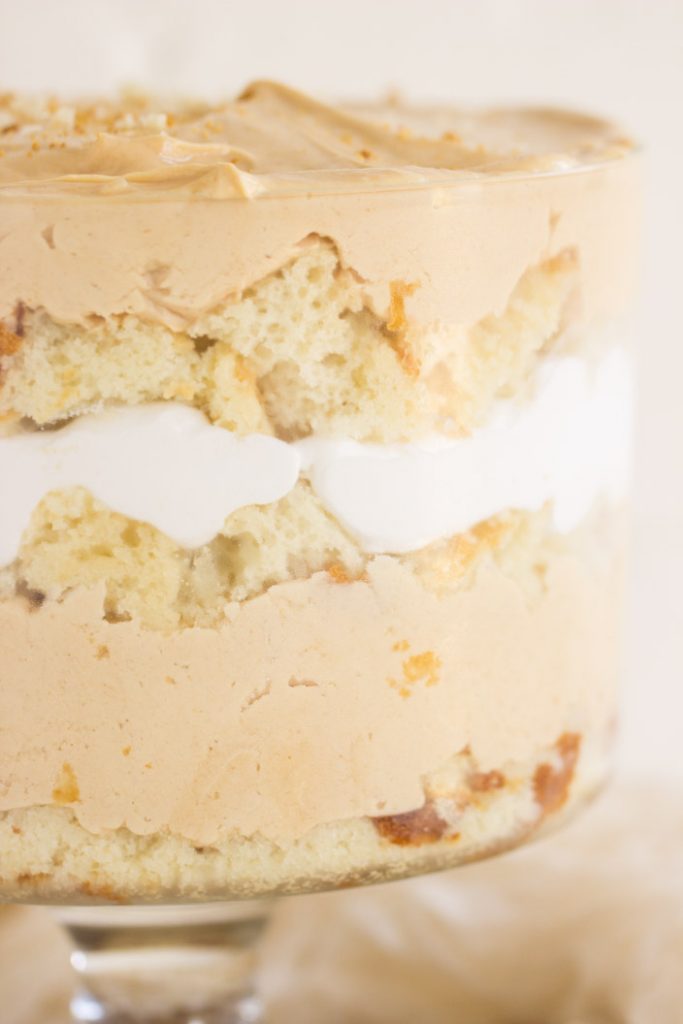 Besides these fabulous recipes for peanut butter pie, I also want to point you to a post that I did last year that collects together 17 Ridiculously Simple No Bake Pies that you can make in minutes! It includes an odd peanut butter pie recipe here and there, but it also has a heck of a lot of other delicious easy no bake pies too. Like this Turtle Ice Cream Pie and this Cookie Butter Cheesecake.
It's a little out-of-date because it doesn't include some newer recipes like this No Bake Coconut Cream Pie or this No Bake Pecan Cream Pie, but it's an excellent starting point!
I am allllll about easy no bake pies. Those are some of the best recipes to have on hand because you can usually throw them together in 10-20 minutes. Who doesn't need a few super simple & quick recipes that you can turn to in a pinch?? I hope you enjoy that post, and I hope you enjoy this collection of peanut butter pie recipes!
Have a wonderful weekend!
To easily view all the blog recipes, follow along on Pinterest!