Leftover Halloween candy finds a new purpose in this ultra-decadent and fudgy Candy Bar Brownie Pie! My favorite super fudgy and obscenely chocolate-y brownies are loaded with candy bars, and baked into a pie crust for this awesome and memorable Candy Bar Brownie Pie!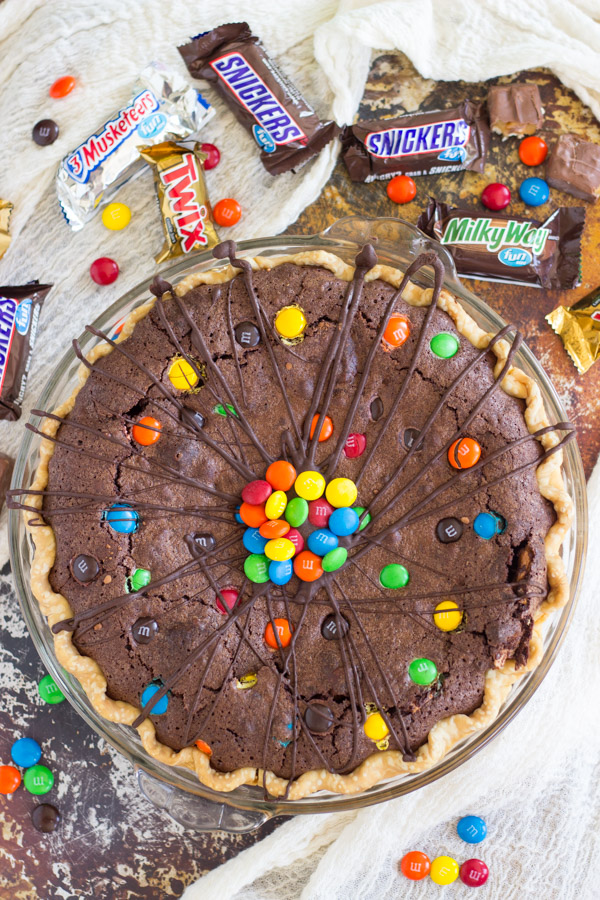 I want this Candy Bar Brownie Pie on your radar before Halloween so that when you are swimming in pillowcases full of candy bars, you have an idea for how you can use them all up. Maybe using up leftover Halloween candy isn't a problem in your household – it wouldn't be in mine – but in case you want to get creative with your candy stash just for fun, I have a few recipes lined up for you, and it starts with this Candy Bar Brownie Pie.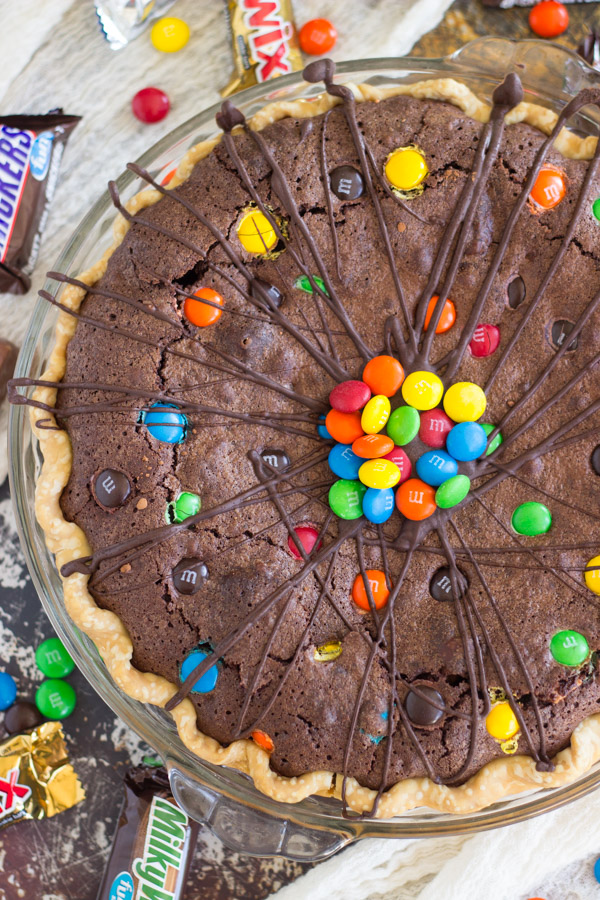 For me, I actually go out and buy Sam's Club-sized bags of candy bars in August to put together Halloween recipes for you, and I'm lucky if enough of it lasts to get the recipe made. I often have to go back out to buy more candy for making Halloween recipes because sweets never last in my house. #guilty.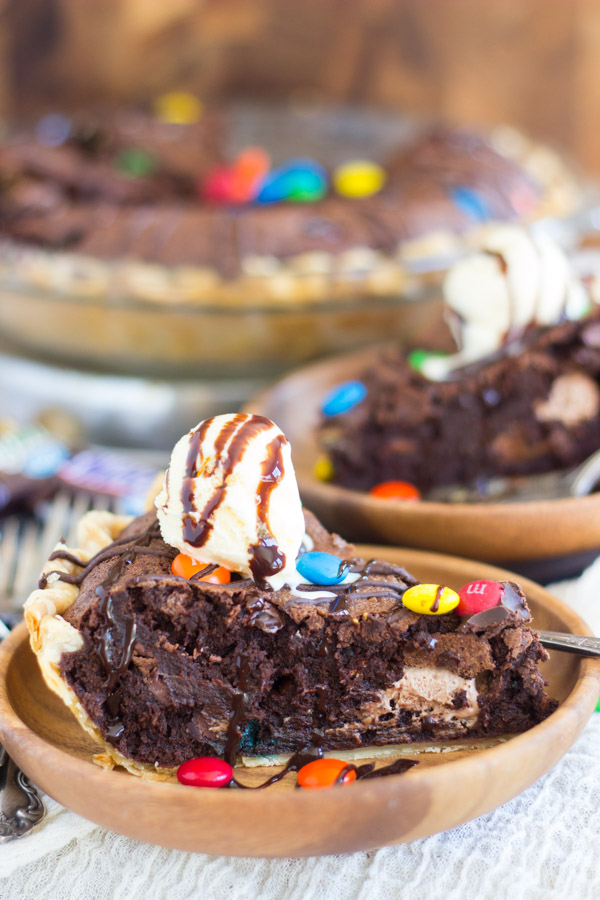 Last year, I shared these Leftover Halloween Candy Bar Brownies. Those brownies are for a serious chocolate and candy bar lover. I also shared Leftover Halloween Candy Chocolate Bark, a good recipe for when you want to throw together something in just a few minutes. Not to mention the dozens of recipes utilizing Reese's cups on this site. So you have options.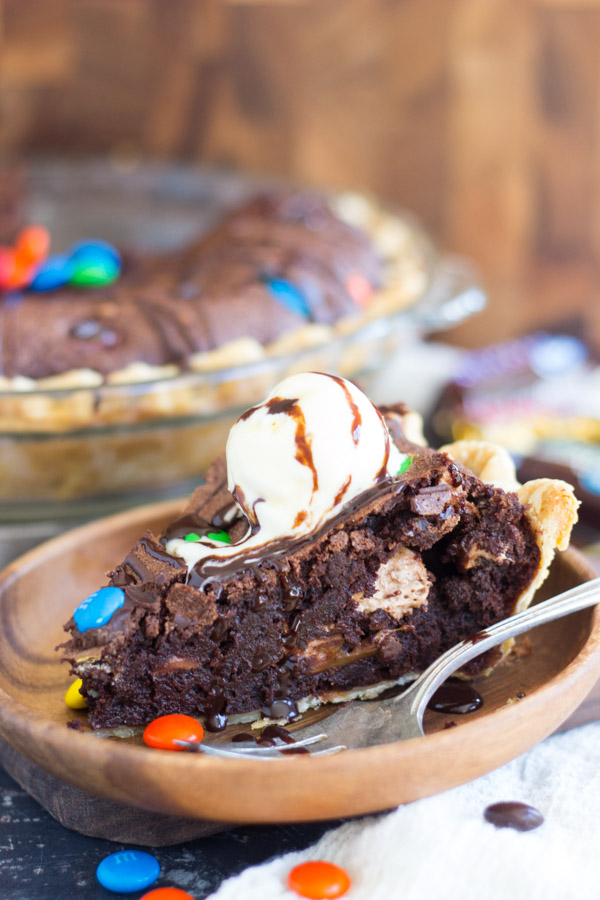 The first recipe I made for Halloween is this Candy Bar Brownie Pie. I had this pie whipped up in basically 10 minutes. It was ready so fast, and I had two other items in line to go in the oven before it. I need extra ovens! One oven is not enough for a baking blogger.
It comes together so quickly. This is partly due to using a prepared pie crust, of course, and just unrolling it into the pie plate.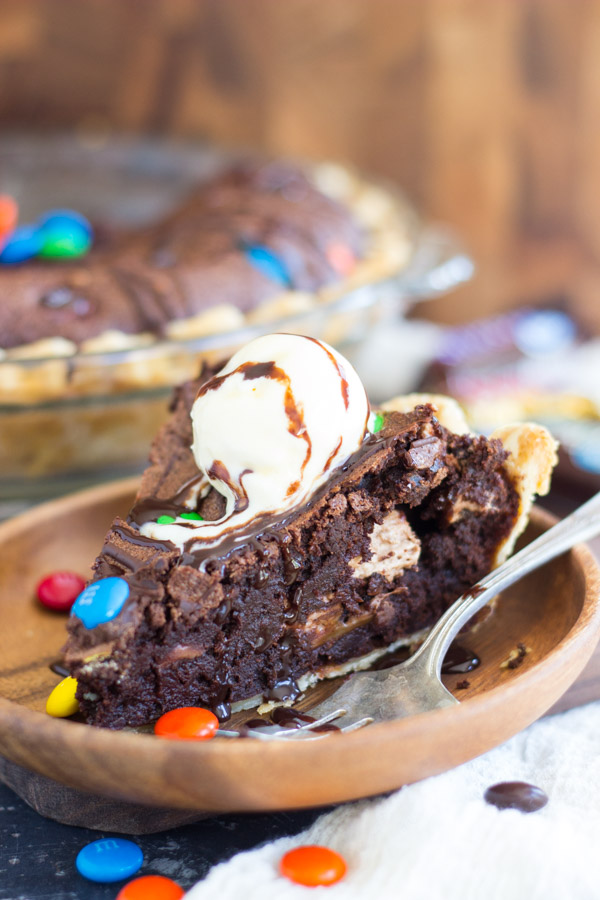 But it's also just ultra-easy and simple to throw together homemade brownies. I am a proponent of boxed brownie mix, I really like them, but I've also discovered the BEST homemade brownies that are ridiculously quick and easy to whip up. You can prep them in one single bowl, and you don't need a mixer. They're just a few basic ingredients that you've got in your pantry already. I used the basic brownie recipe from these Ultimate Fudgy S'mores Brownies.
Easiest brownies in the universe, and they are insanely fudgy, as the name would imply. It's not even right how fudgy, chocolatey, and indulgent they are.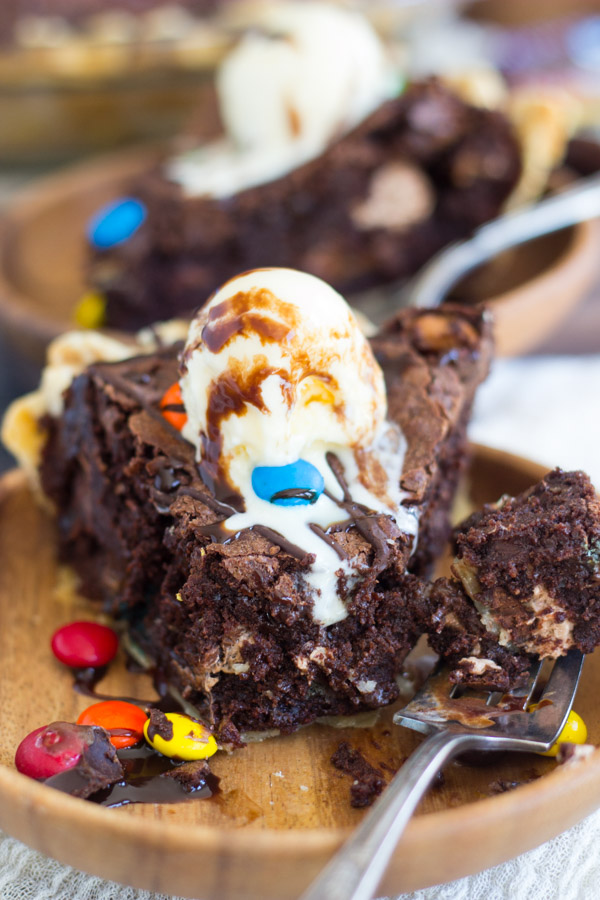 Then just load up the batter with leftover candy bars. I used Milky Ways, Snickers, 3 Musketeers, Twix, and some M&Ms. This part is flexible though, and you can use whatever candy you like, but it should probably be chocolatey. The candy will melt and seep and you'll encounter swirls of caramel, chocolate nougat, peanuts, and all sorts of candy bar innards. I can't think of a better word than innards? But it is almost Halloween, so I guess that's a bit fitting.
This Candy Bar Brownie Pie is beyond simple, and the reward is soooo high!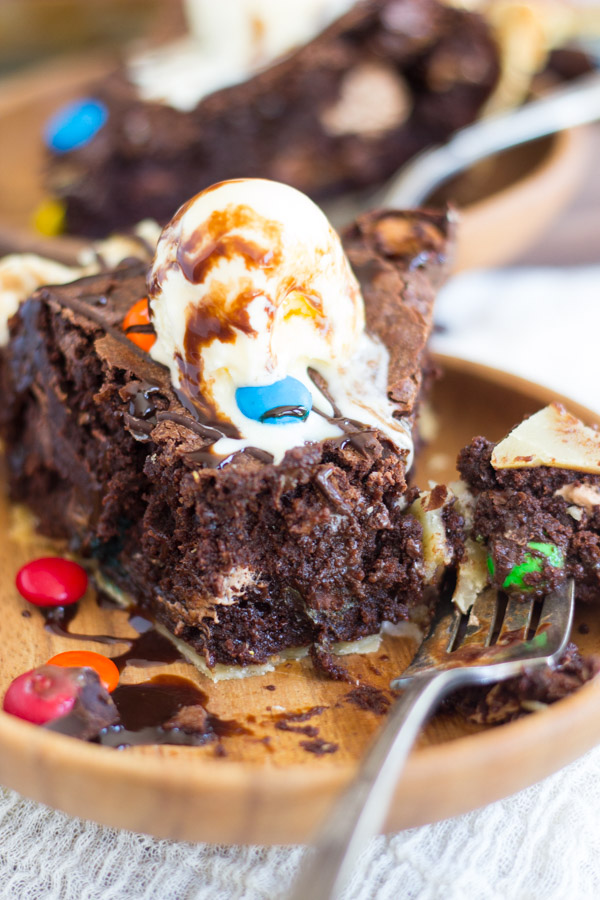 Candy Bar Brownie Pie
Leftover Halloween candy finds a new purpose in this ultra-decadent and fudgy candy bar brownie pie! My favorite super fudgy and obscenely chocolate-y brownies are loaded with candy bars, and baked into a pie crust!
Author:
Sarah @ The Gold Lining Girl
Ingredients
1 - 9 inch unbaked pie shell
1 c. butter, melted
2 c. sugar
2 tsp. vanilla
¼ tsp. salt
4 eggs
1¼ c. cocoa powder
½ c. flour
12 snack-sized candy bars, chopped (I used Snickers, Milky Way, 3 Musketeers, Twix)
⅓ c. M&Ms
⅓ c. semi-sweet chocolate chips
Directions
Adjust pie crust into a deep dish pie plate.
In a large bowl, whisk together melted butter, sugar, vanilla, and salt.
Add the eggs, one at a time, whisking well after each addition.
Stir in the cocoa powder and flour, mixing until just blended.
Fold in the candy bars, M&Ms, and chocolate chips.
Pour the brownie batter into the pie crust - it will be pretty full.
Bake at 350 degrees for 40-45 minutes, or until a toothpick inserted near the center comes out mostly clean, with a few moist crumbs.
Remove to a wire rack to cool completely. Cut and serve.
If you love the idea of this
Candy Bar Brownie Pie
, you may also want to check out this
Candy Bar Cookie Pie
! It's fantastic!