This post is written by me on behalf of Tyson Foods, Inc. All opinions are entirely my own. This shop has been compensated by Collective Bias, Inc. and its advertiser. #LoveThisHolidayTwist #CollectiveBias
Messaging below is intended for ages 21+ and is intended to be enjoyed responsibly, in moderation.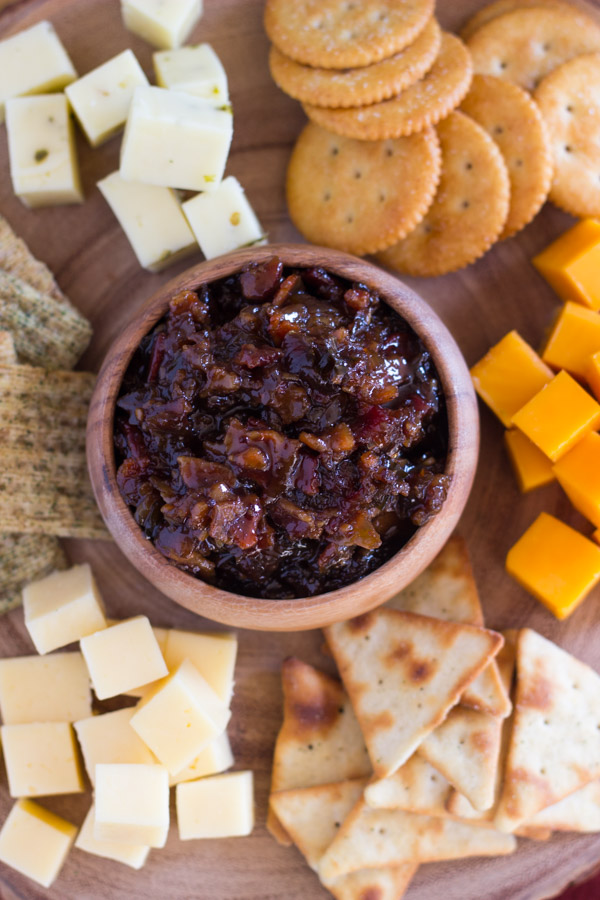 This recipe for Whiskey Maple Bacon Jam is going to be your most favorite holiday recipe. It's a guarantee. Maybe the idea of bacon jam sounds unusual, but it is unbelieeeeevable. It features a pound and a half of bacon, so you're on board, right?
When I asked my S.O. for his thoughts on this Whiskey Maple Bacon Jam, he said "it shocks and delights with its rich and robust flavor", and that its "deliciousness smacks you in the face." So, that's a good thing, yes? I swear, I'm not making this up. Those were his very words.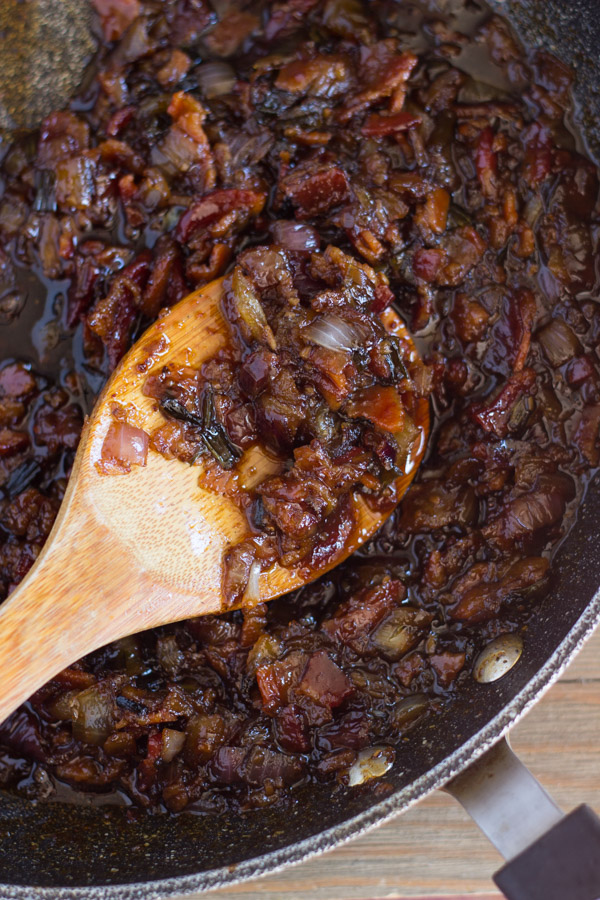 The main ingredients here are bacon, onions, maple syrup, brown sugar, and whiskey. The onions caramelize and become soft and sweet, which is complemented by the maple syrup and brown sugar. The smoky paprika and spicy chili powder are a nice contrast, as well as the salty bacon and tangy balsamic vinegar.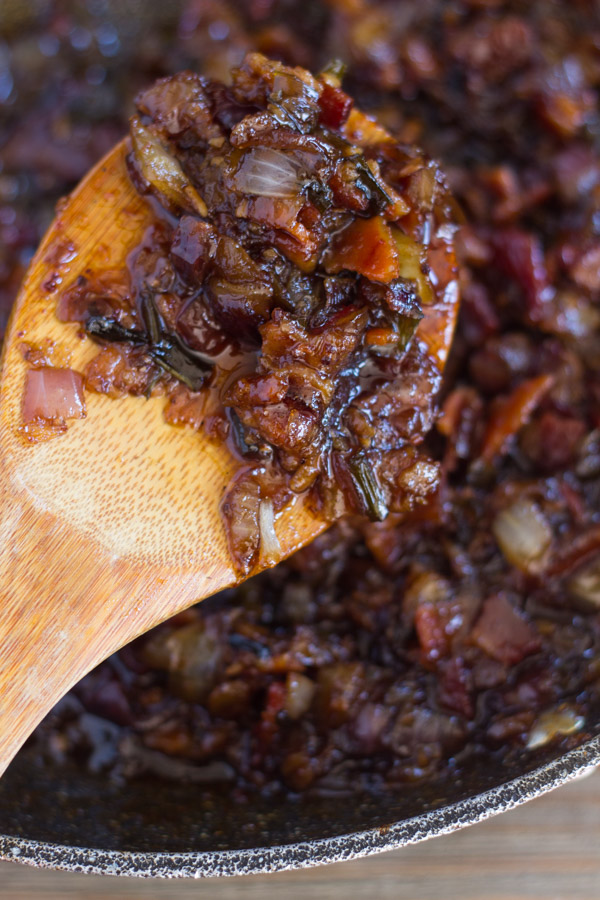 We've had a bottle of maple whiskey that my S.O. got at the office holiday party last year, and I've wanted to make something with it for months. This was too good an opportunity to pass up. This recipe begs for maple whiskey specifically.
The aroma of this jam when it's cooking is so intense and dreamy. It's both sweet and savory.  It has a little bit of everything to satisfy tastebuds – sweet, salty, smoky, tangy, and spicy. It has it all.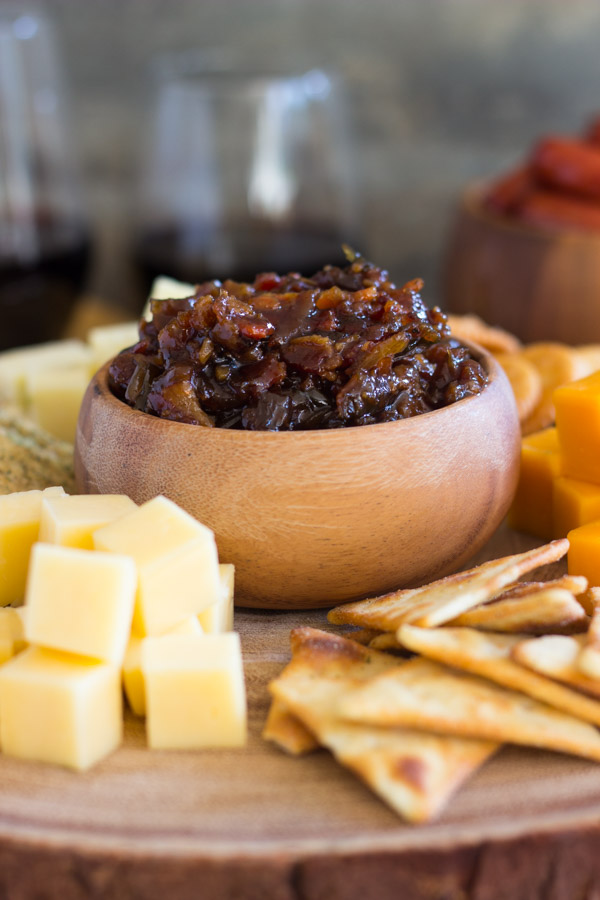 The Wright® Brand Bacon Hickory Smoked is incredible. I like that it's cut thick, and it crisps up super well, and it sounds weird to describe bacon this way, but it almost melts in your mouth. It's amazing. I'm a total convert to this bacon.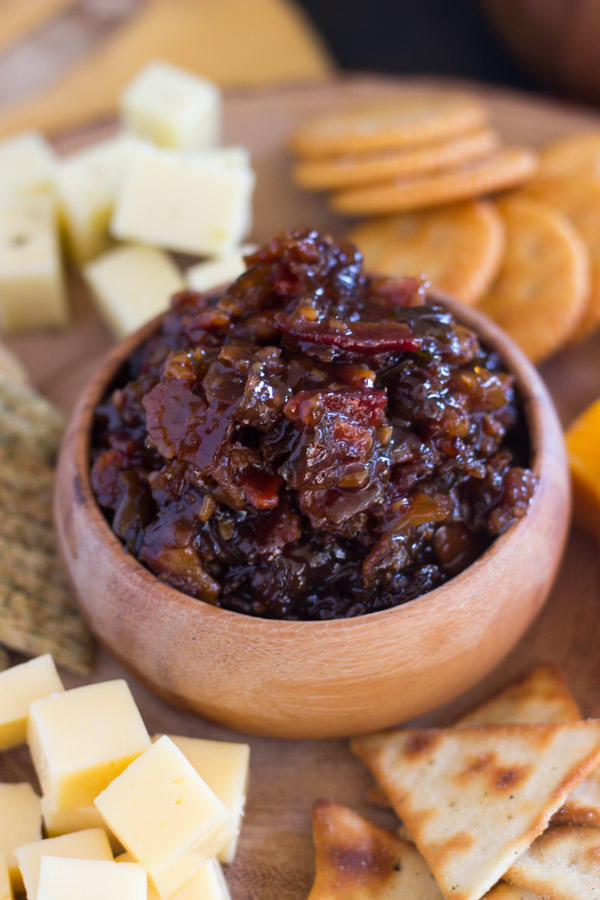 I found Wright® Brand Bacon Hickory Smoked at Walmart, as well as the other ingredients I needed for this recipe, and I also grabbed a package of Hillshire Farm® Lit'l Smokies® Smoked Sausages to add to the appetizer tray. The convenience factor of shopping at Walmart is unmatched since there's one close to my house, and I can count on staying within my budget.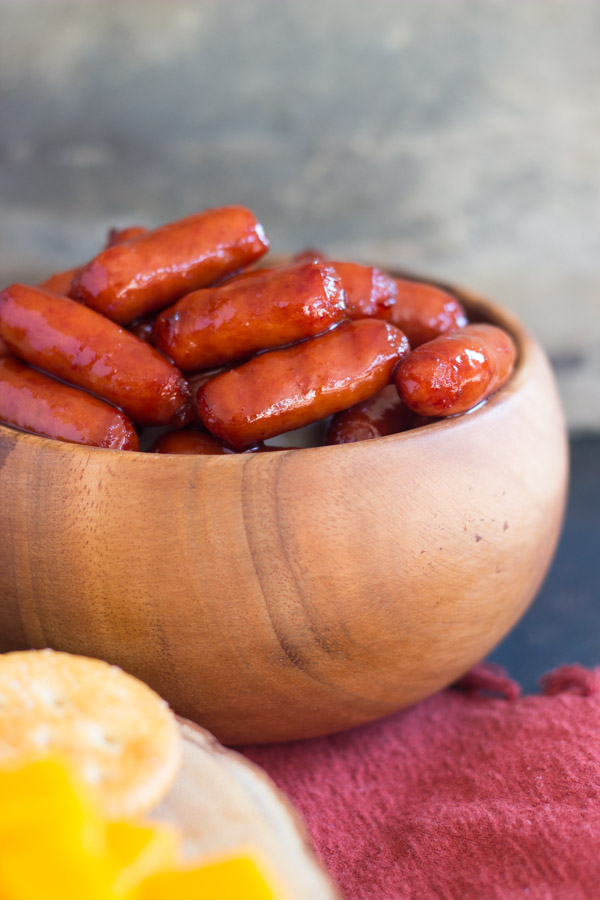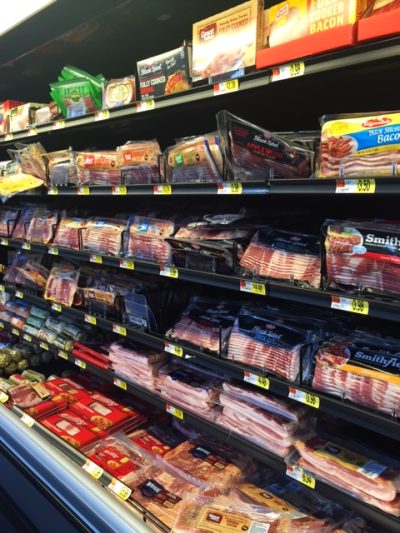 I never won't – yes, a double negative for emphasis! – serve this at a holiday party, or ANY party. It will always be a holiday staple from here on out. It's an absolute must. I couldn't deprive my guests of it.
Maybe this is over-the-top, but if someone tells me they're having a party, and it doesn't include bacon jam, I'm not going.
It's easy to make, and it's ready to eat in a little over a half hour. You can actually make it ahead of time though, and it will store in the refrigerator for about a week. With all the last-minute things that must be done for holiday meals and parties, you will need recipes that you can make in advance so that your holiday is stress-free.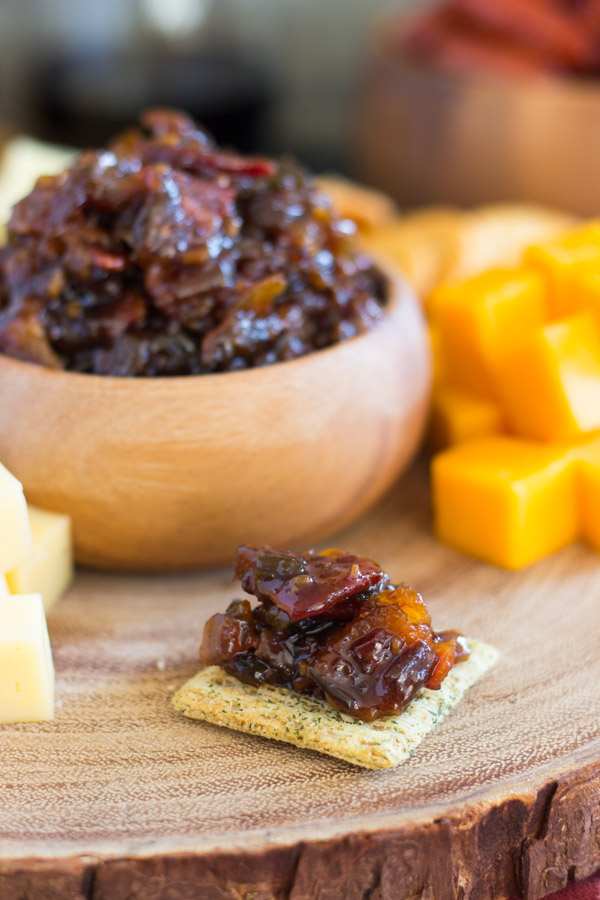 Setting aside 30-40 minutes to prep this Whiskey Maple Bacon Jam a few days before your holiday dinner will free up time on the big day so that you can visit with your guests. The best part of the holidays is spending time with friends and family, and this will help keep you out of the kitchen.
Everything else on the appetizer tray can also be super simple – a variety of cheeses and crackers, as well as other meats, and it will make for an elegant and diverse tray. But the star of the show will be this Whiskey Maple Bacon Jam.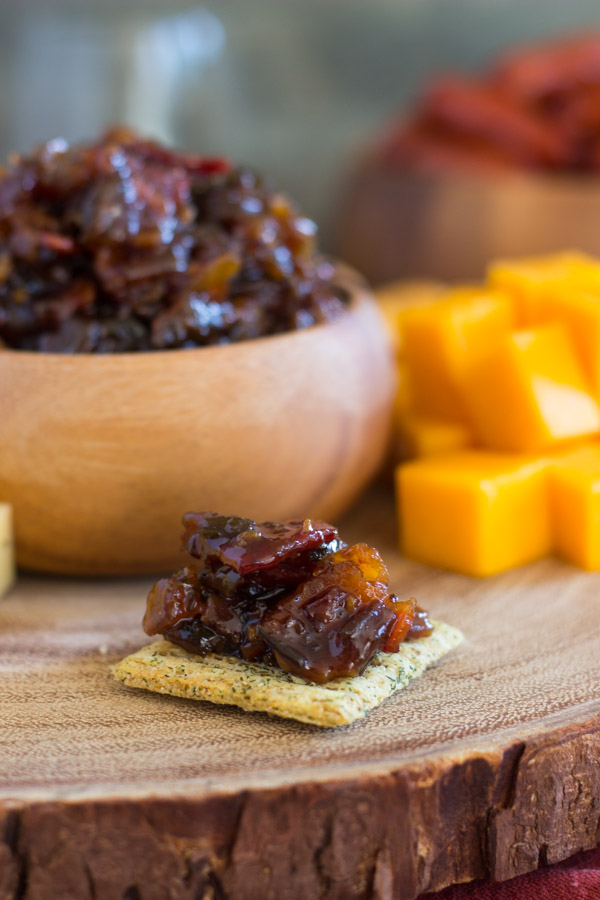 By the way, this recipe fills a 16 oz. jelly jar perfectly, so this would also be an incredible gift. Last year, within my extended family, we agreed to exchange food gifts. If we agree to those same terms this year, then spoiler alert: this is what everyone is getting. 🙂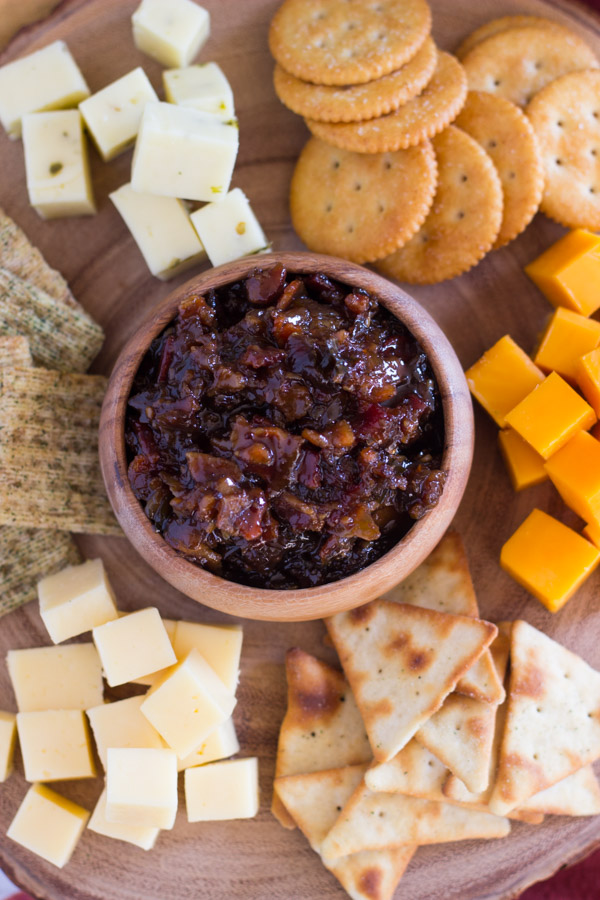 Whiskey Maple Bacon Jam
Author:
Sarah @ The Gold Lining Girl
Serves:
2 cups/6-8 servings
Ingredients
1½ lbs. bacon, reserve 3 tbsp. bacon grease
1 medium yellow onion, chopped
½ medium purple onion, chopped
2 teaspoons minced garlic
10 shallots, finely chopped
½ tsp. chili powder
1 tsp. paprika
¼ tsp. salt
¼ tsp. pepper
½ c. maple whiskey
½ c. maple syrup
¼ c. balsamic vinegar
½ c. packed brown sugar
Directions
In a large skillet, cook bacon over medium-high heat until crisp.
Drain on paper towels, and discard all but 3 tbsp. drippings.
Crumble bacon into ¼-inch bits, and set aside.
Add the yellow and purple onion to the skillet.
Cook on medium until soft, golden, and nearly caramelized, about 7-8 minutes.
Add the garlic and shallots, cooking until soft, about 4-5 minutes.
Add the chili powder, paprika, salt, and pepper to the skillet, stirring to combine.
Remove from heat, and add the maple whiskey and maple syrup.
Return to heat, allow to bubble, and cook for 2-3 minutes, stirring constantly, or until thickened.
Add balsamic vinegar and brown sugar to the skillet.
Cook an additional 2-3 minutes, stirring constantly, or until sugar is nearly dissolved.
Reduce heat to low, and stir in the crumbled bacon.
Cook for an additional 8-10 minutes, stirring occasionally.
Remove from heat and cool.
Serve with crackers. Store in the refrigerator.