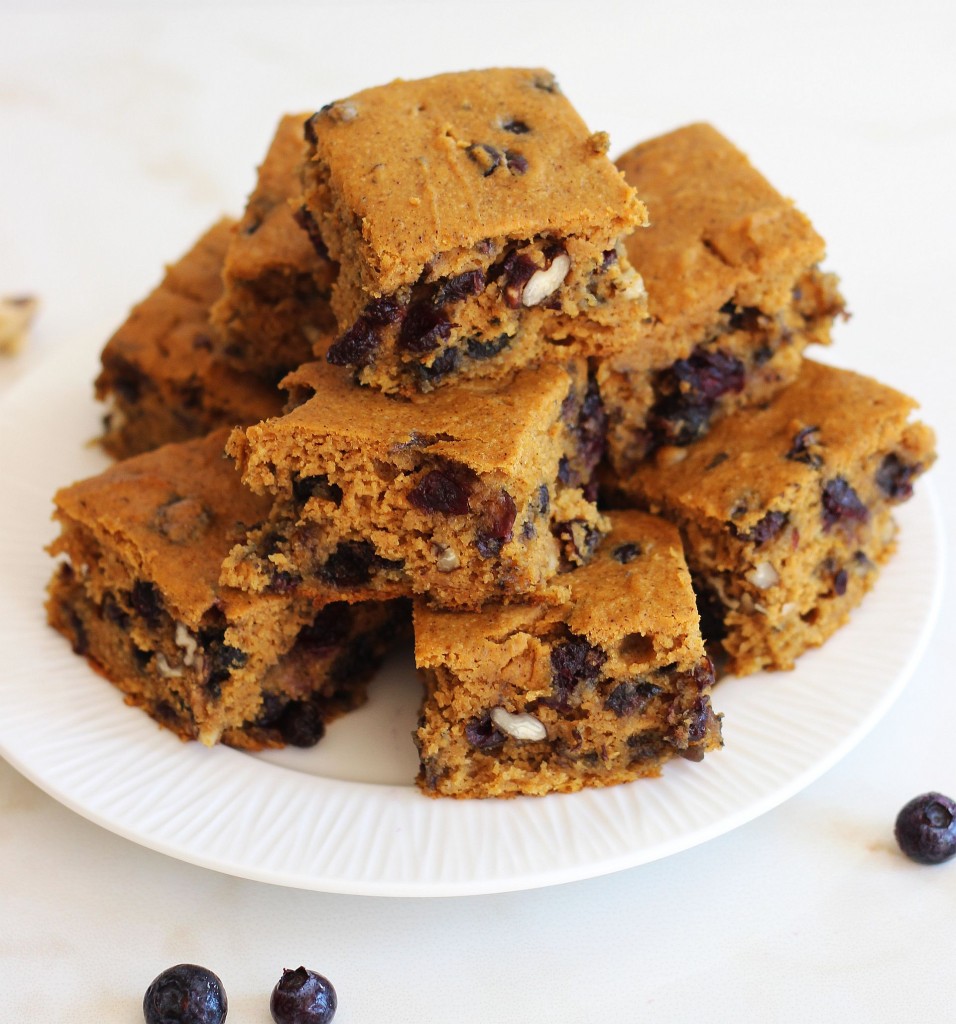 I didn't post something with pumpkin yesterday. It was a landmark moment! I diverged from that ingredient for one day. But in keeping with a consistent pattern here, it's back! Hooray! It's ridiculous, but I'm still not sick of pumpkin. Are you? The novelty hasn't worn off yet for me.
Today though, I'm bringing you something genuinely healthy. It's not one of those recipes where it's actually dessert disguised as breakfast. Or dessert disguised as fruit. This is legitimate health food.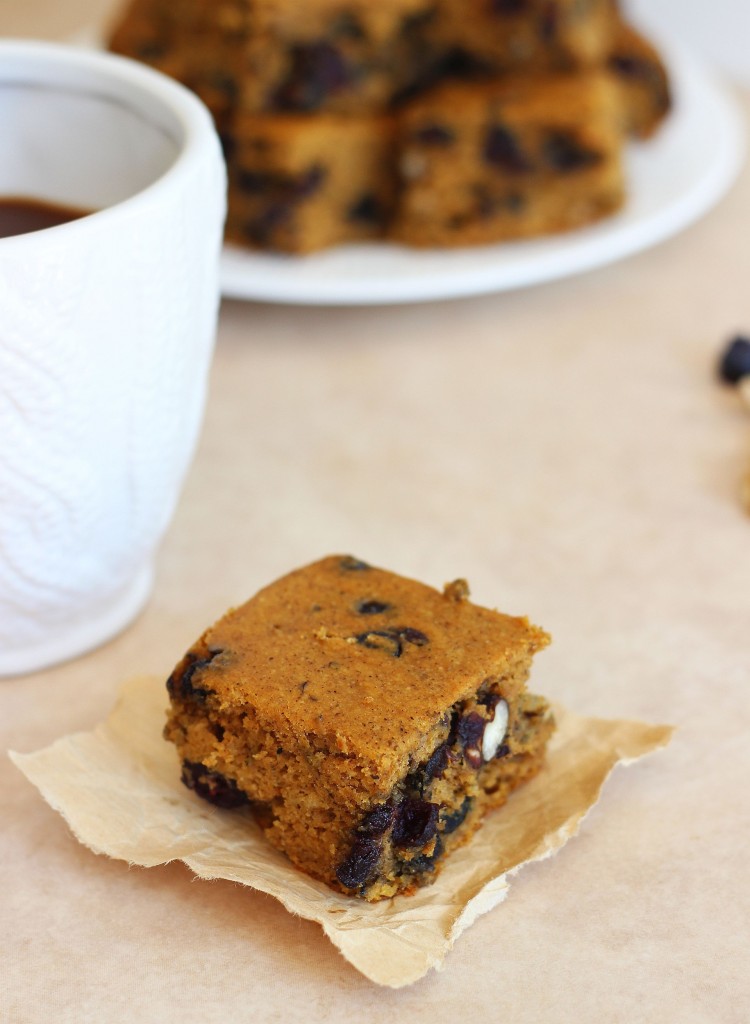 It probably doesn't seem congruent with how many desserts I post here, but we do eat pretty healthfully most of the time. I swear we do. We take a lot of desserts to family events, or we freeze stuff. It gets spaced out. In between, I bake healthier alternatives.
On Sundays, S.O. and I cook and prepare food to pack for lunches for the week, and these bars are a staple. They're very versatile, so you can mix up what gets tossed in as 'extras' like fruit and nuts. We make them at least once/month. More accurately, I make them. He just eats them. I'm not complaining though because he has to do the real dirty work like touch raw meat and stuff. No thanks.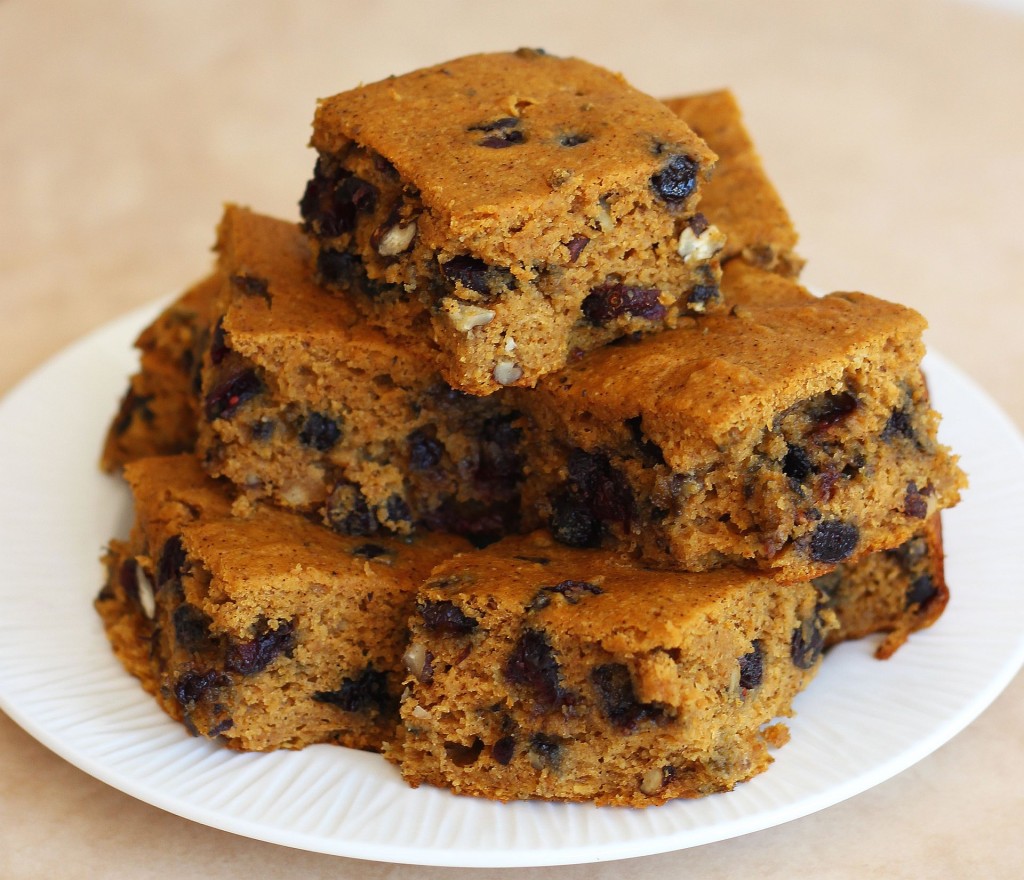 In a million years, you'd never guess that these are healthy. They are stuffed with so many good-for-you foods though. They are so moist and delicious, and the flavors are amazing. They're like the best pumpkin muffins you've ever had, but in bar form, plus nuts, blueberries, and cranberries. Btw, I have to point out that blueberries and pumpkin are a match made in heaven. Were you aware of that? This is our favorite version because we're pretty giddy for the blueberry and pumpkin combo. Since these also pack a protein punch, you'll find these are quite filling and stick to your bones!
Did I mention they're ridiculously easy? You don't even need a mixer. You can stir these up by hand, and they're out of the oven in 20 minutes.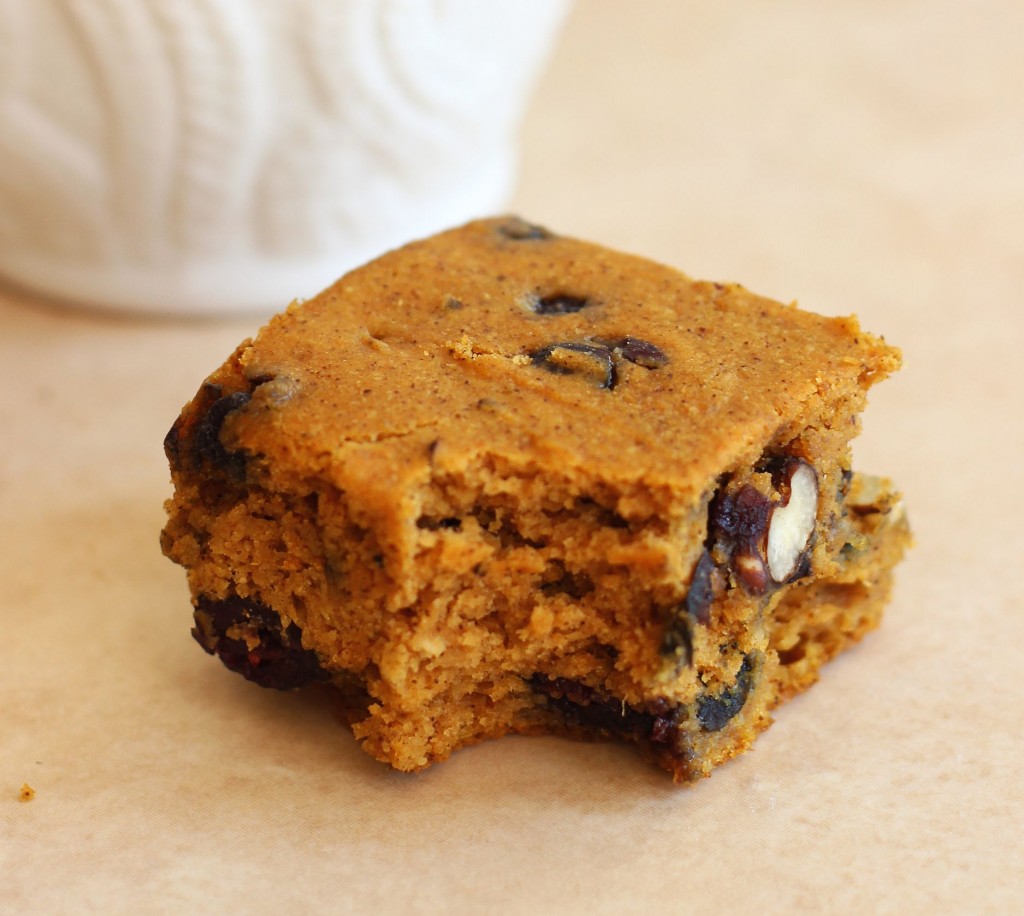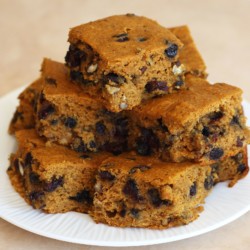 Pumpkin Blueberry and Cranberry Pecan Protein Bars
A moist and delicious pumpkin protein bar with nuts, dried blueberries, dried cranberries, and lots of cinnamon and spices!
Ingredients
1/2

c.

brown sugar

1/2

c.

natural applesauce

1 -15

oz.

can pumpkin puree

4

egg whites

or 1/2 c. pasteurized egg whites

1/2

c.

unsweetened almond milk

or water

2

tsp.

vanilla

2

c.

oat flour

2

generous scoops vanilla protein powder

sometimes I use a Cinnabun flavor by Trutein

1

tsp.

cinnamon

1

tsp.

pumpkin pie spice

1/2

tsp.

ginger

1

tsp.

baking powder

1

tsp.

baking soda

pinch

of salt

1/2

c.

chopped walnuts or pecans

1

c.

dried blueberries

1/2

c.

dried cranberries
Instructions
In a large bowl, combine brown sugar, applesauce, pumpkin, egg whites, almond milk, and vanilla.

In another large bowl, combine oat flour, protein powder, spices, baking powder, baking soda, and salt.

Add dry ingredients to wet ingredients, and mix until just combined.

Stir in nuts, blueberries, and cranberries.

Spread into a greased 9x13 pan.

Bake at 350 degrees for 18-22 min, or until edges are golden brown and a toothpick inserted near center comes out clean.

Cool. Cut into bars. Enjoy!
Notes
My favorite brands of protein powder to bake with are Trutein and BSN Lean Dessert protein. I typically make these with Trutein's Cinnabun or Vanilla flavors.
Adapted from this awesome recipe.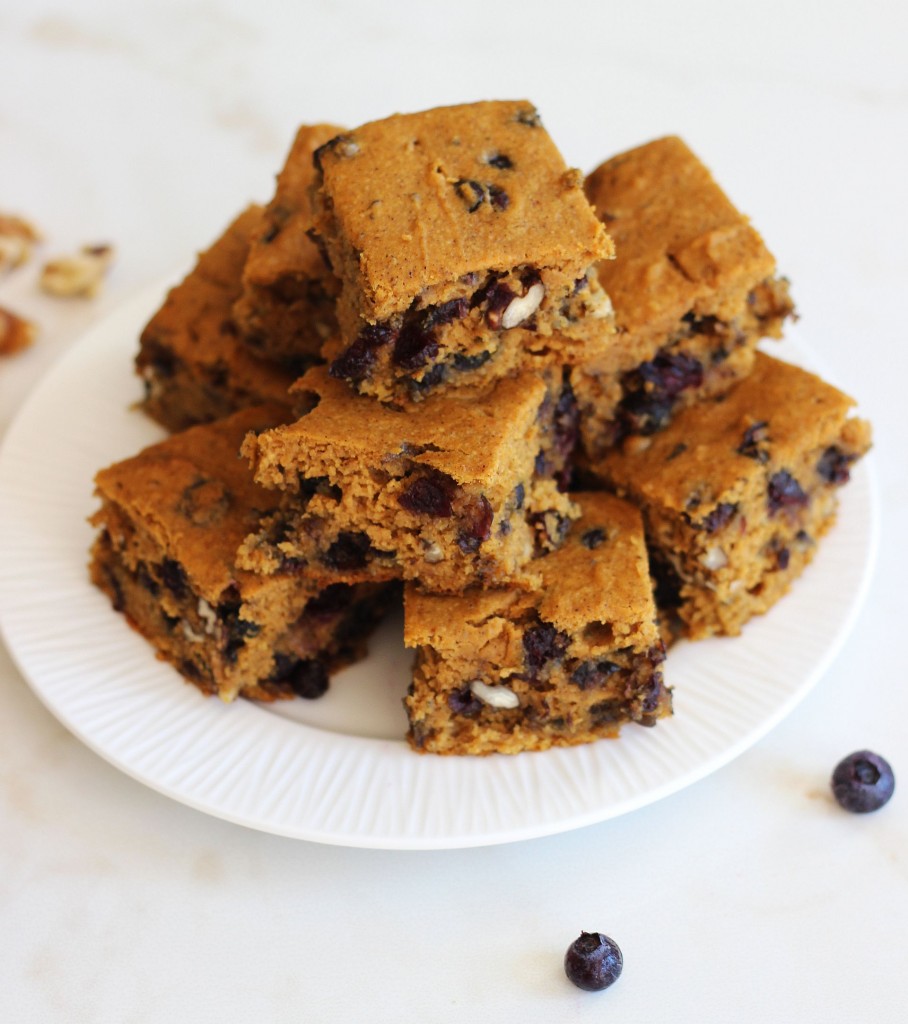 Just look at 'em. Do they look healthy? They totally are though!