Box brownie mix is doctored up as a perfect St. Patrick's Day dessert, with Bailey's Irish Cream, malted milk powder, and a Chocolate Irish Cream Frosting!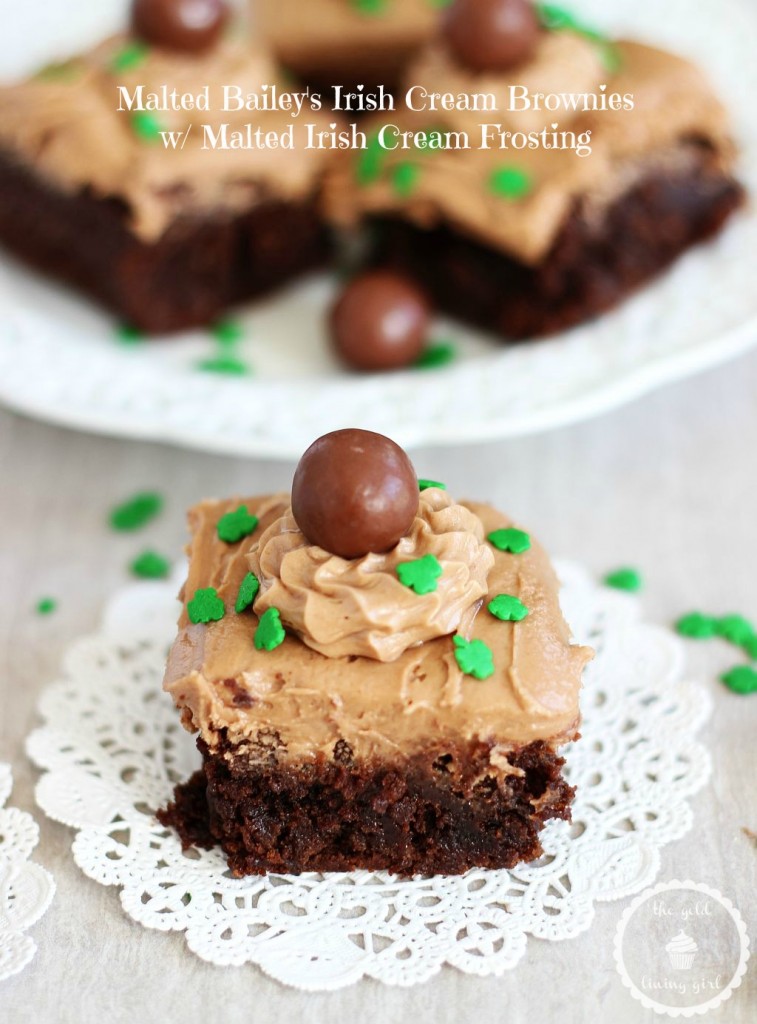 Confession: I'm really struggling with St. Patrick's Day baking!!! I'm having a hard time getting things going with Guinness and Bailey's. I feel like I don't know what to do with these things besides drink them. Maybe that sounds like cause for concern? It's not. We're not big drinkers. Just wine. And I hardly think that counts… it's basically juice.
Instead, besides a handful of St. Patty's appropriate recipes, I've been all about fruit lately. Fruit and coconut and all things light and refreshing. Pineapple, mango, kiwi. Because that makes perfect sense in the month of February. Wrong.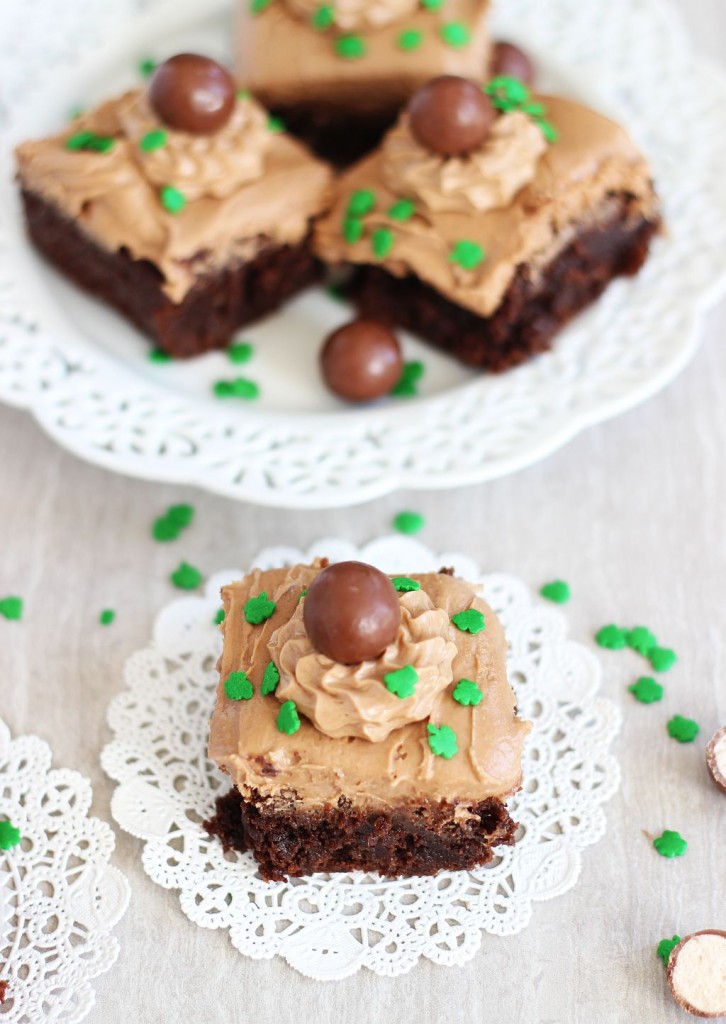 It's the coldest day we've had this winter (I'm in Florida – I won't even tell you what our 'coldest' day temperature is – I know yours are worse!), and yet I can't stop thinking about strawberry shortcake, key lime pie, and the like.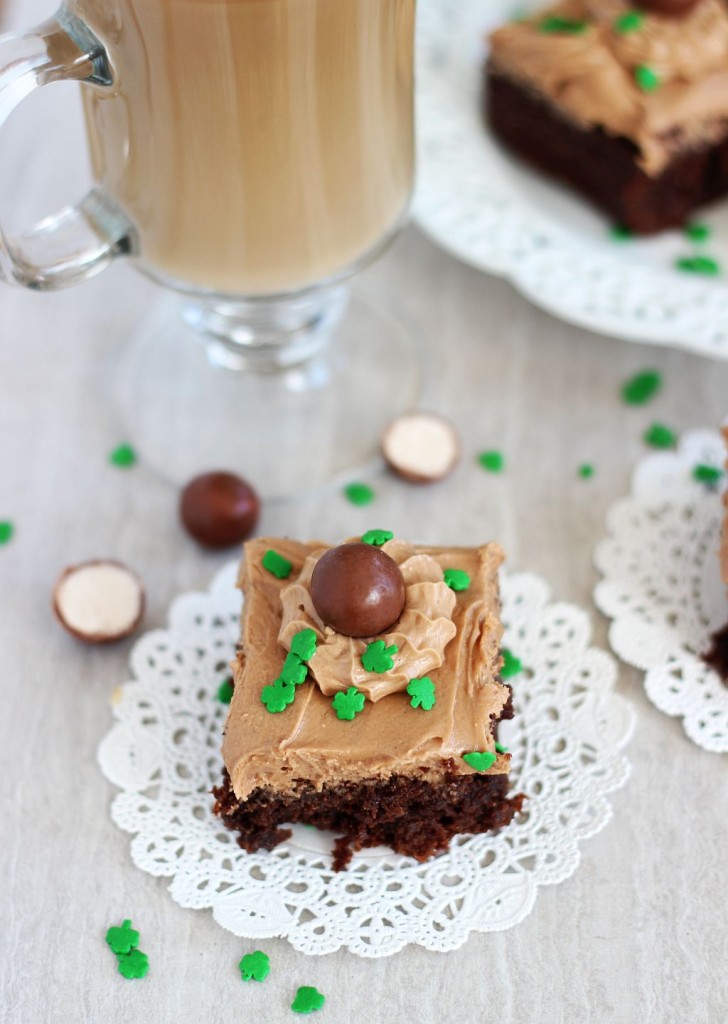 Who, besides me, is thinking about rum, pineapple, and coconut? Nobody, that's who. Florida in February feels kinda spring-like though (except for today!), so I've got it in my head that summer is around the corner. Also wrong. It's far, far away. If you live here, that's actually a good thing, of course. We don't exactly love summer, but all the other seasons are stellar, so it's worth enduring.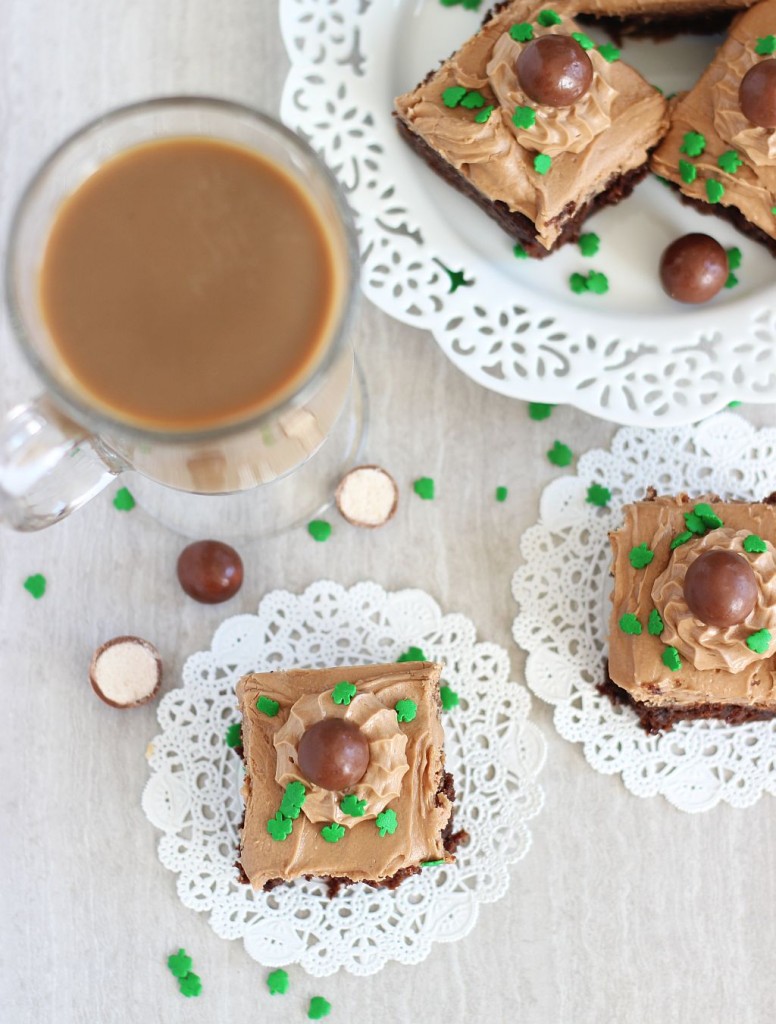 Come June, I'll be alllll set for fresh and fruity stuff, but I'm coming up dry  for St. Patty's Day. Pun intended.
Nevertheless, I did manage to mix up these brownies and they were the fudgiest brownies I've probably ever had. They were so gooey and moist. I'm not into crispy and cake-like brownies, so these were right up my alley. If you like a dense and fudgy brownie, these are it.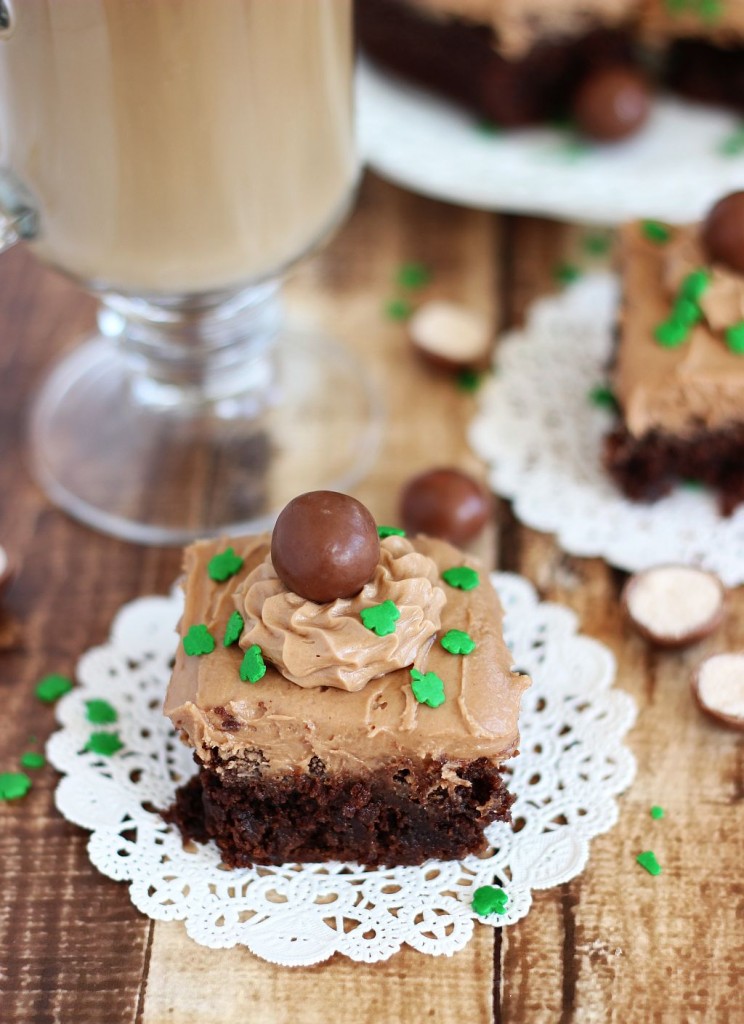 They're made with Bailey's Irish Cream both in the batter, and in the frosting. You can't miss the Bailey's, and the flavor is very much noticeable, but it's also not going to knock you over with an alcoholic bite. Unless you want it to… I'm sure you could work some more in!
There's a lot of Bailey's brownies out there. You have your pick of recipes. However, I thought that malted flavors might blend well with Bailey's and cocoa, and would put a unique spin on the concept of Bailey's in brownies. I'm happy to report that chopped malted milk balls and malted milk powder put an extra special flavor element into these brownies. We made them twice just this week, and they will definitely make another appearance on St. Patty's Day!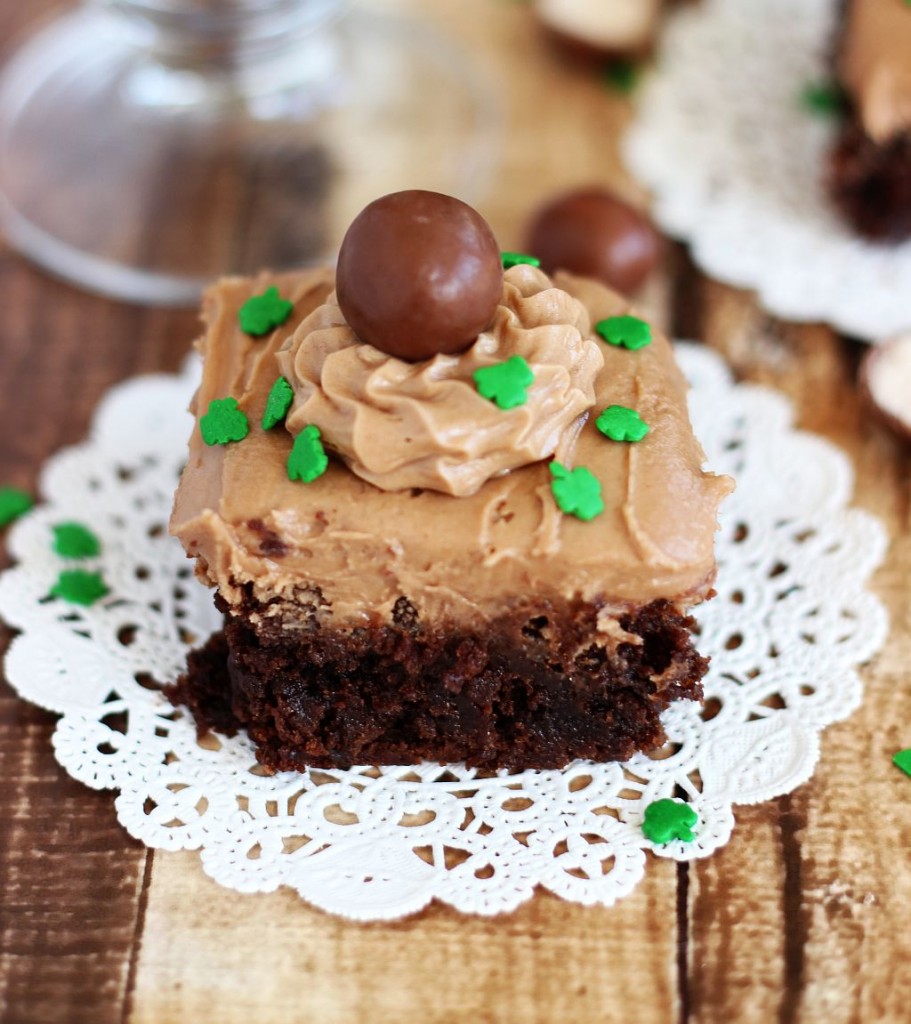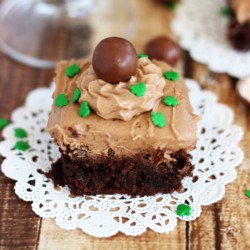 Malted Bailey's Irish Cream Brownies with Chocolate Irish Cream Frosting
Box brownie mix is doctored up with Bailey's Irish Cream, malted milk powder, and a Bailey's Irish Cream Frosting!
Ingredients
Brownies:
1 -

box brownie mix

1

c.

Bailey's Irish Cream

1/3

c.

oil

1

egg

1/2

c.

malted milk powder

1

c.

chopped malted milk balls

like Whoppers
Frosting:
1/2

c.

butter

softened

1/3

c.

Bailey's Irish Cream

2

tbsp.

cocoa powder

1

c.

malted milk powder

4

c.

powdered sugar
Instructions
For brownies:
In a large bowl, combine brownie mix, Bailey's, oil, egg, and malted milk powder; mix well.

Fold in malted milk balls.

Spread in a well-greased 8x8 inch baking pan.

Bake at 350 degrees for 30-35 minutes, or until a toothpick inserted near center comes out clean.

Cool completely on a wire rack.
For frosting:
In a large mixing bowl, combine all frosting ingredients.

Beat until light and fluffy.

Frost cooled brownies. Enjoy!