We just got our girl scout cookies delivered yesterday!!! I ate two Samoas last night, and had three Thin Mints for breakfast today! I think each Samoa works out to be obnoxiously expensive per cookie, but they are totally worth it!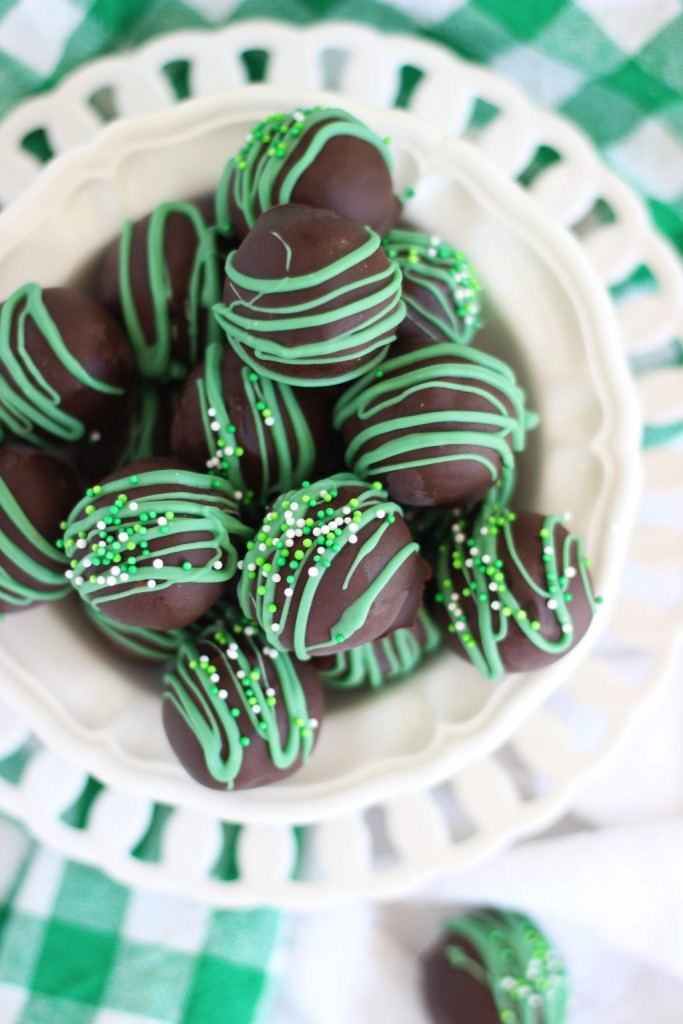 We ordered 5 boxes of cookies, and I immediately regretted that we didn't get more. You know… you can freeze them for months.
Although, our freezer is already stuffed to the brim with half-eaten desserts, so maybe it's better this way.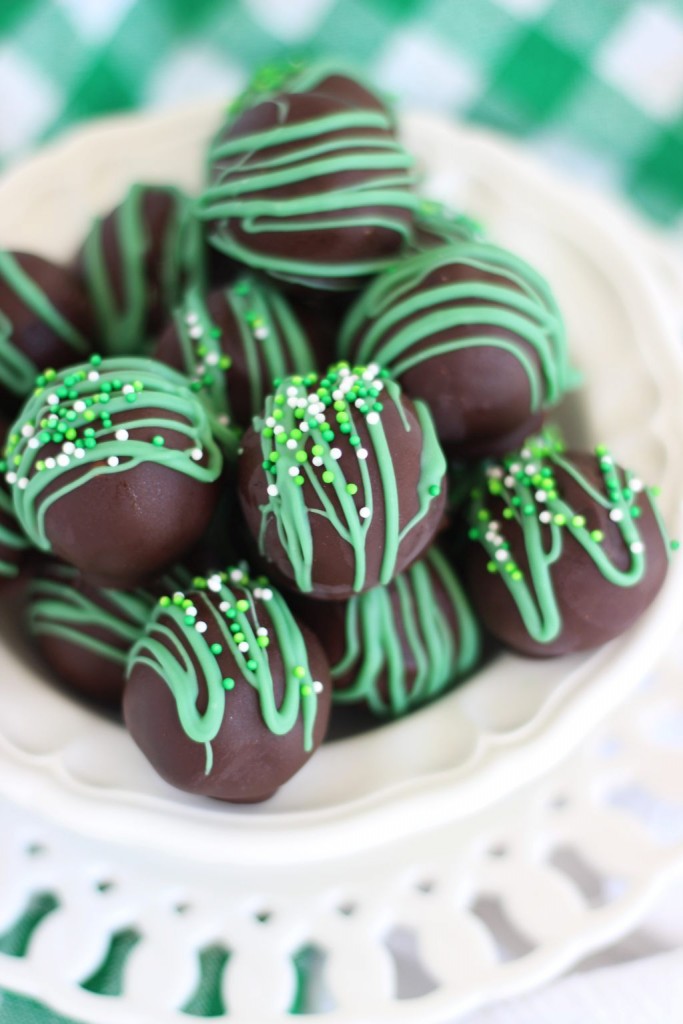 What a perfect time to share these Thin Mint Truffles. Not only do they honor 'girl scout cookie season,' which is an actual event to plan for in the food blogging world, but they're also sort of appropriate for St. Patty's Day too since they are mint, and have some green color.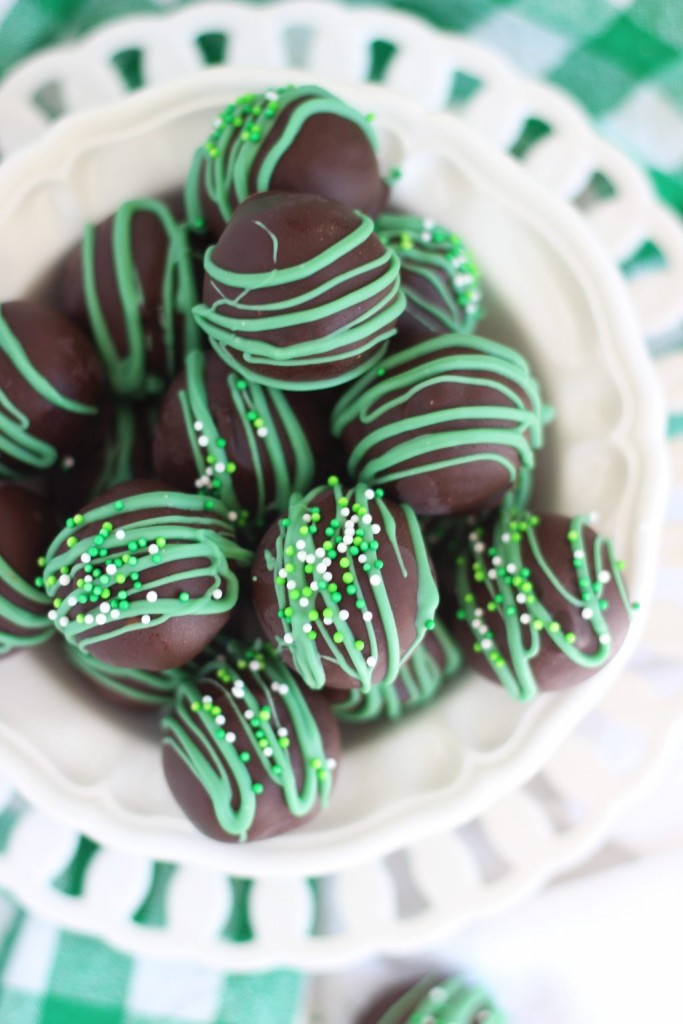 These Thin Mint Truffles aren't all that different from the recipe for Oreo Cookie Balls. You start with crushed cookie crumbs, add cream cheese, and roll into balls. Dunk in chocolate, and that's it. They're no-bake and simple to make. Basically, substitute crushed Thin Mints for Oreos, add a little mint extract, and you've got these instead.
When I made these, I used Grasshopper cookies instead of real Thin Mints. For one thing, I didn't have real Thin Mints yet. But also, I only ordered a precious few boxes of them, and I felt that crushing them up all as soon as they arrived might be a little sad. Thin Mints are such a novelty to have around, that I hated the idea of immediately demolishing them.
So… the good news is, you can actually make these truffles year-round if you use Grasshopper cookies!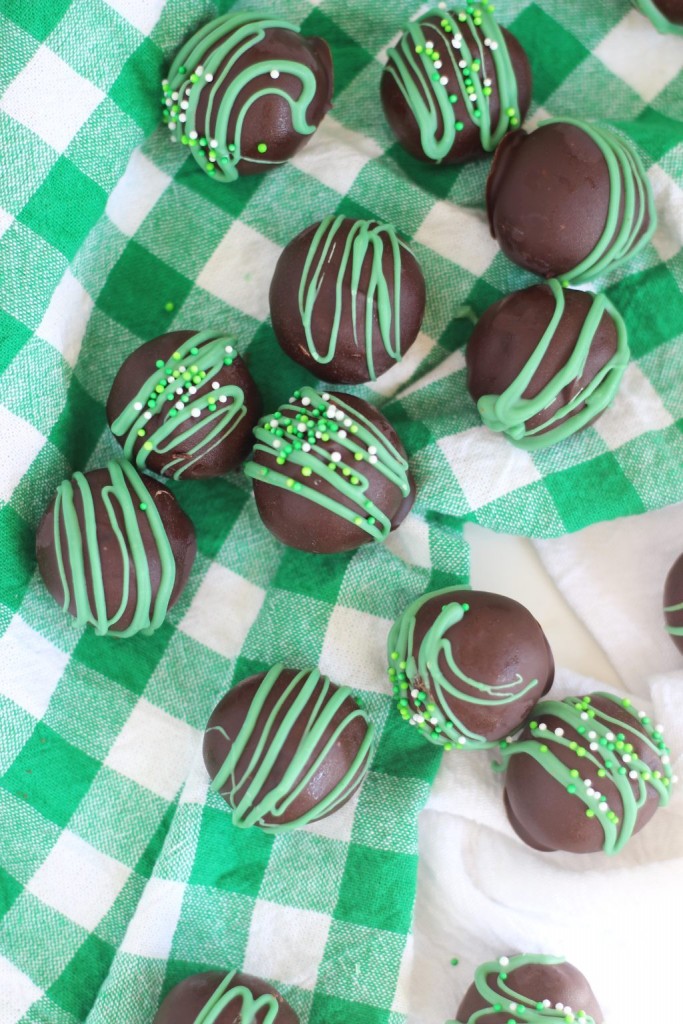 The completed truffles sat in the refrigerator for two days before I got the chance to photograph them, and their presence was such torture for S.O. Every time he opened the fridge door, he was disappointed when they still had a "No!" sticky note taped to the container. Needless to say, they're a HIT!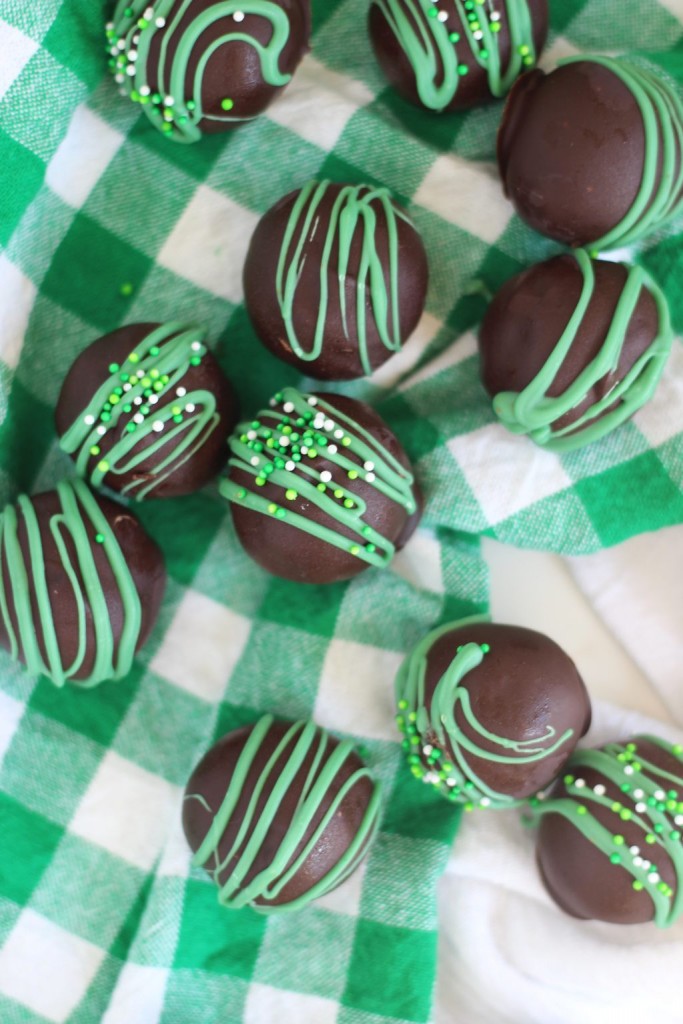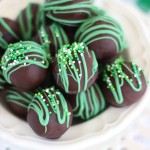 Thin Mint Truffles
Simple no-bake Thin Mint Truffles that only requires a handful of ingredients!
Ingredients
1 - 10

oz.

package Grasshopper cookies or Thin Mints

4

oz.

reduced-fat cream cheese

softened

1/2

tsp.

mint extract

8

oz.

semi-sweet baking chocolate or melting chocolate - not chocolate chips

must be baking or melting chocolate

green chocolate wafers

for drizzling
Instructions
In a food processor or chopper, pulse the cookies into fine crumbs.

In a medium bowl, combine cookie crumbs, cream cheese, and mint extract until well-mixed.

Line a large cookie sheet with parchment paper.

Roll the dough into scant 1-inch balls.

Place in the freezer for at least an hour - ideally you want the cookie balls to be nearly frozen solid, and definitely thoroughly chilled.

In a small saucepan over low heat, melt the semi-sweet chocolate.

Removing only 2-3 truffles at a time from the freezer, dunk them in the melted chocolate using a toothpick, and tap off any excess chocolate.

Place on the parchment paper, and allow to set.

In another small saucepan over low heat, melt the green chocolate wafers.

Drizzle over the truffles, and allow to set. EAT!
Recipe Notes
Store in the refrigerator for up to a week. They freeze well.