These Green Ombre St. Patrick's Day Cupcakes are so fun, but so easy. Made with white cake mix and homemade buttercream, these have 3 colorful layers, and are a favorite at St. Patrick's Day parties. 
Follow along on Pinterest to easily view all the blog recipes!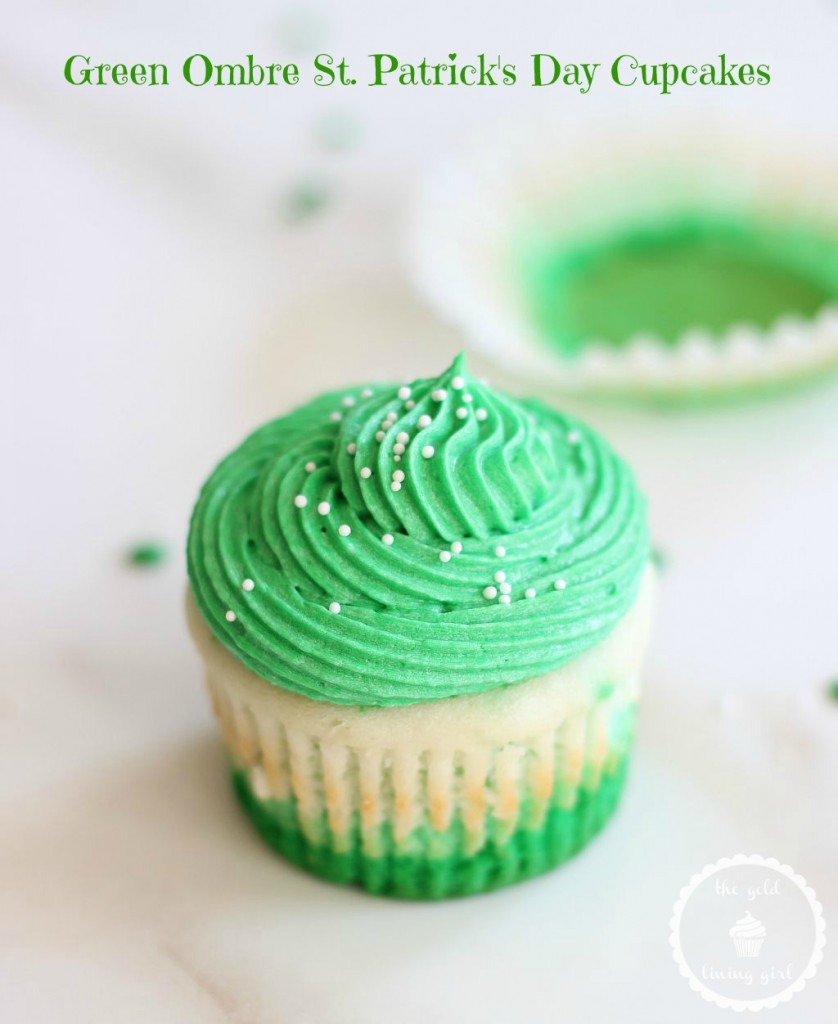 Basic boxed white cake mix + basic buttercream + a TON of green food coloring. It won't get simpler than these Green Ombre St. Patrick's Day Cupcakes.
They are green for no other reason than St. Patrick's Day. Green. Lots of GREEN! Perfectly festive!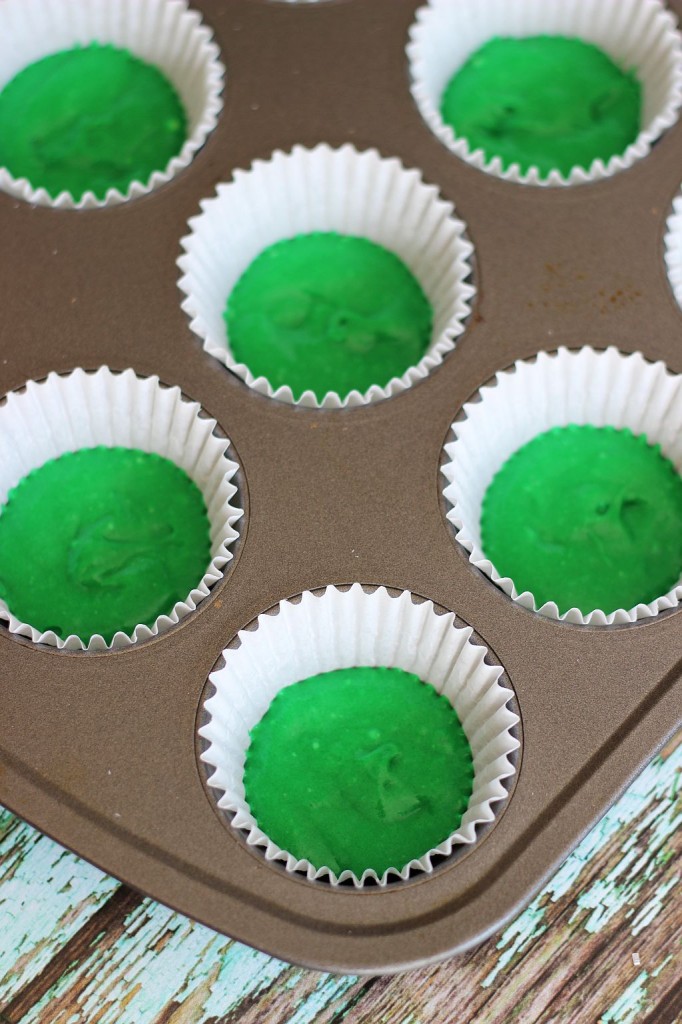 I used a cake mix. You aren't cake mix snobs though, right? You know you like cake mix cakes! Sure, it's not from scratch, but it's still really delicious, and as I've said before, sometimes it's okay to take the shortcuts. Not everything has to be gourmet, made-from-scratch, slaved-in-the-kitchen-all-day, ALL the time. You always need easy and fast dessert options in your bag of tricks.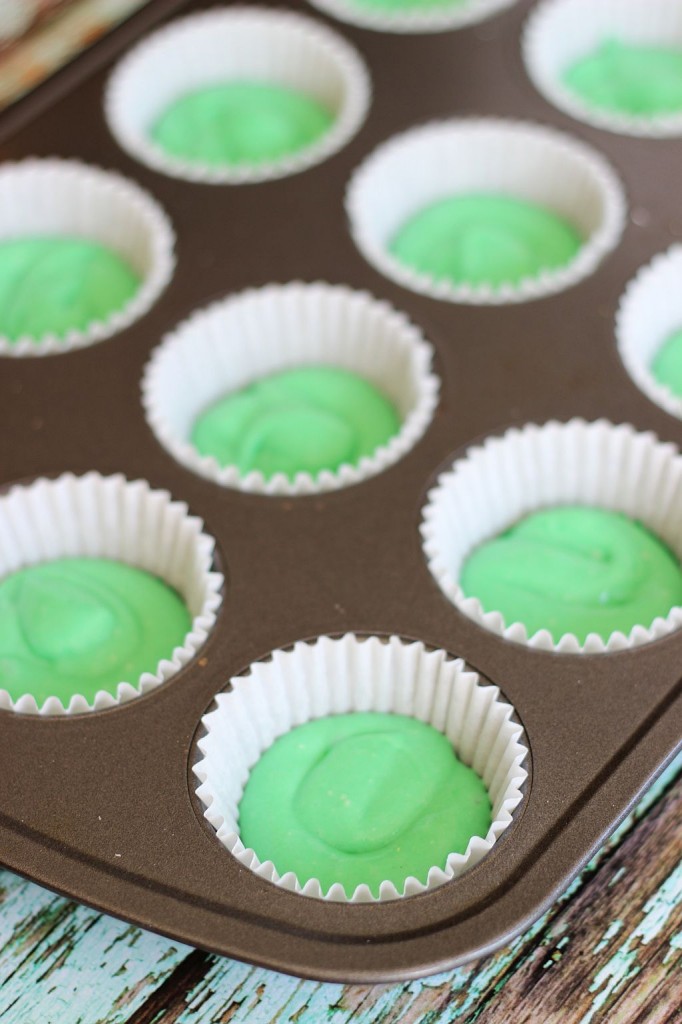 Simple white cake with delicious, rich, fluffy homemade buttercream… because even if I use a cake mix, I would NEVER skimp on making frosting from scratch. It's just a thing I have. Frosting from scratch is a must.
I think a great frosting can elevate almost any recipe – that's why I have separate posts for Nutella Buttercream, Cookie Butter Frosting, and Peanut Butter Frosting. Frosting is everything!
Oh geez, nearly forgot the ever important Brown Butter Frosting!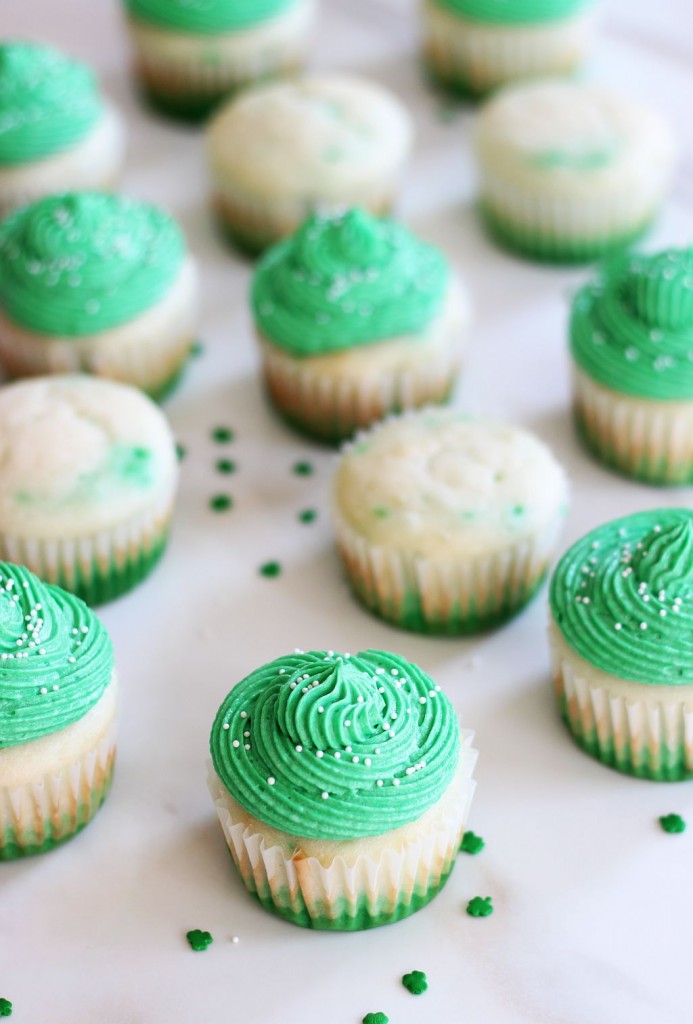 Anyway, I will occasionally use the prepared stuff in a pinch, but I'm a ready-made frosting snob. Not a cake mix snob, but a frosting snob. The frosting is the best part though, so it has to be done right. I know you get it.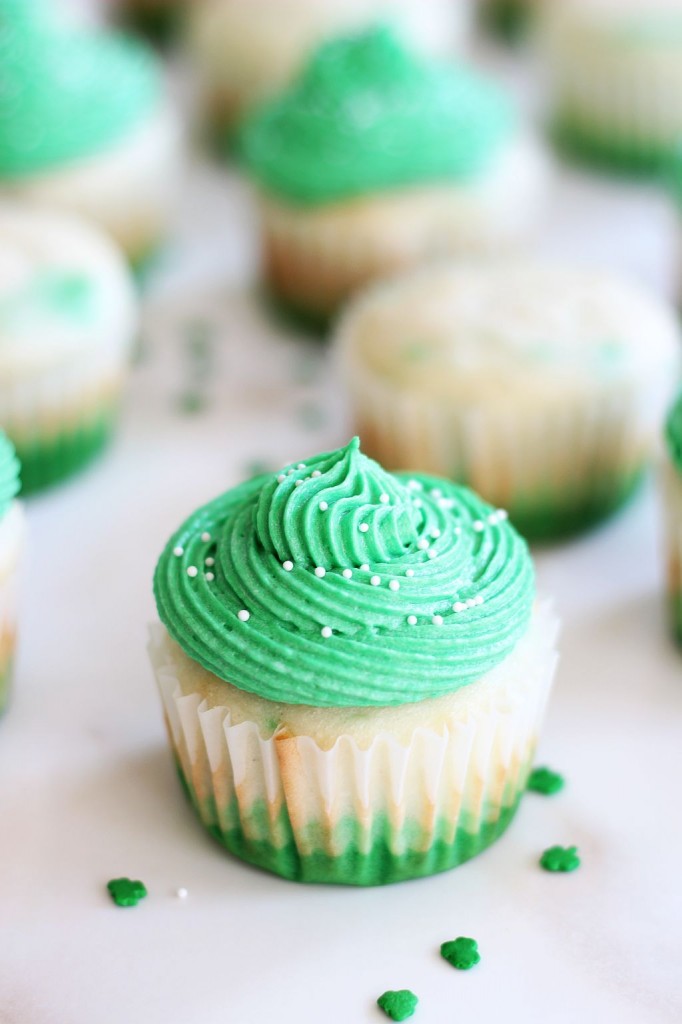 I just wanted to make cupcakes that would be bright and fun, and would be easy to make. I think kids would love these, right?
They scream St. Patrick's Day! Colorful green cake in an ombre effect, in the spirit of St. Patty's. Mission accomplished, yes? These Green Ombre St. Patrick's Day Cupcakes are so cute and festive.
The ombre layers aren't perfect. They are a little wonky in places. Doesn't impact the fun of them though! Or the taste!
I collected all my St. Patrick's Day Recipes in one place, so check it out if you want to see everything I have for that holiday in one spot!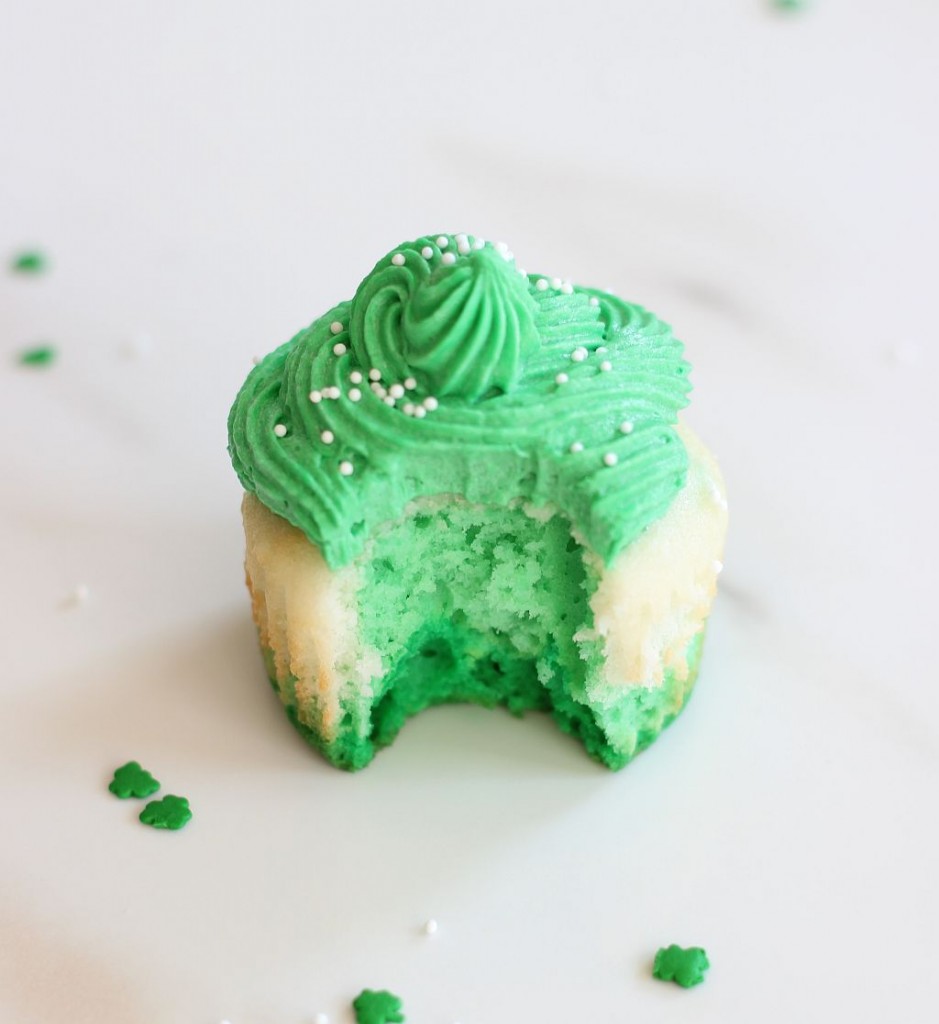 Green Ombre St. Patrick's Day Cupcakes
Green ombre cupcakes to celebrate St. Patrick's Day! Made with white cake mix and homemade buttercream, these have 3 colorful layers!
Ingredients
1 -

box white cake mix

prepared according to package instructions (For me, this included 1 c. water, 1/4 c. vegetable oil, and 3 egg whites)

green food coloring

I used Americolor Gel Paste in Leaf Green

1

c.

butter

softened

3 1/2

c.

powdered sugar

2

tsp.

vanilla

1-2

tbsp.

milk or water
Instructions
For cupcakes:
Place paper cupcake liners in each of 24 regular-sized muffin cups.

Prepare white cake mix according to package instructions.

Divide batter evenly among 3 bowls.

Using the food coloring, color one bowl of batter a darker green, one bowl a lighter/medium green, and leave one bowl plain white. You could actually make the final layer an even lighter shade of green if you prefer, but I wanted a starker contrast between the cupcake and the green frosting on top, so I left it plain!

Divide the darker green batter evenly among muffin cups, about 2 tbsp. of batter, or 1 scoop with a standard cookie scoop. Tap the pan on the counter to evenly spread and distribute the batter.

Divide the lighter/medium green batter evenly among muffin cups, using the same method.

Repeat with plain white batter.

Bake cupcakes at 350 degrees for 16-18 minutes, or until the edges of the cupcakes are golden brown.

Cool in pan on wire racks for about 10 minutes, then remove cupcakes from pan, and cool completely.
For buttercream:
In a large mixing bowl, combine butter and sugar.

Mix on low until well-blended.

Add vanilla and milk, and beat on medium speed for 3-4 minutes, adding more milk if needed to achieve a thick and fluffy consistency.

Add green food coloring to desired color, and pipe onto cooled cupcakes. Enjoy!