How cute are these Watermelon Cake Balls? Okay, they don't taste like watermelon, but they are damn adorable, and you need these at your 4th of July get-togethers and summer BBQs! They may not taste like watermelon, but these Watermelon Cake Balls are super delectable bites of moist cake with chocolate chips and a dunk of white chocolate!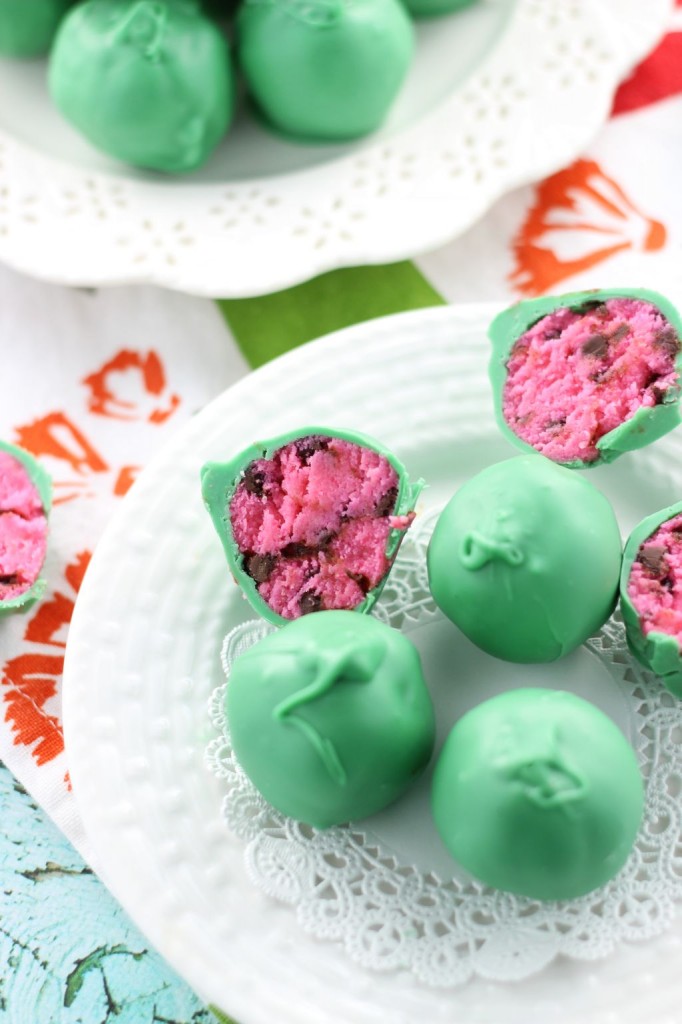 I intended to share these Watermelon Cake Balls before the 4th of July, but you know how I am with best laid plans! They don't happen. But I have a big picnic coming up this weekend to celebrate my Gma's 90th birthday, so it got me thinking about picnic foods, and I think these super cute Watermelon Cake Balls are a fantastic picnic food.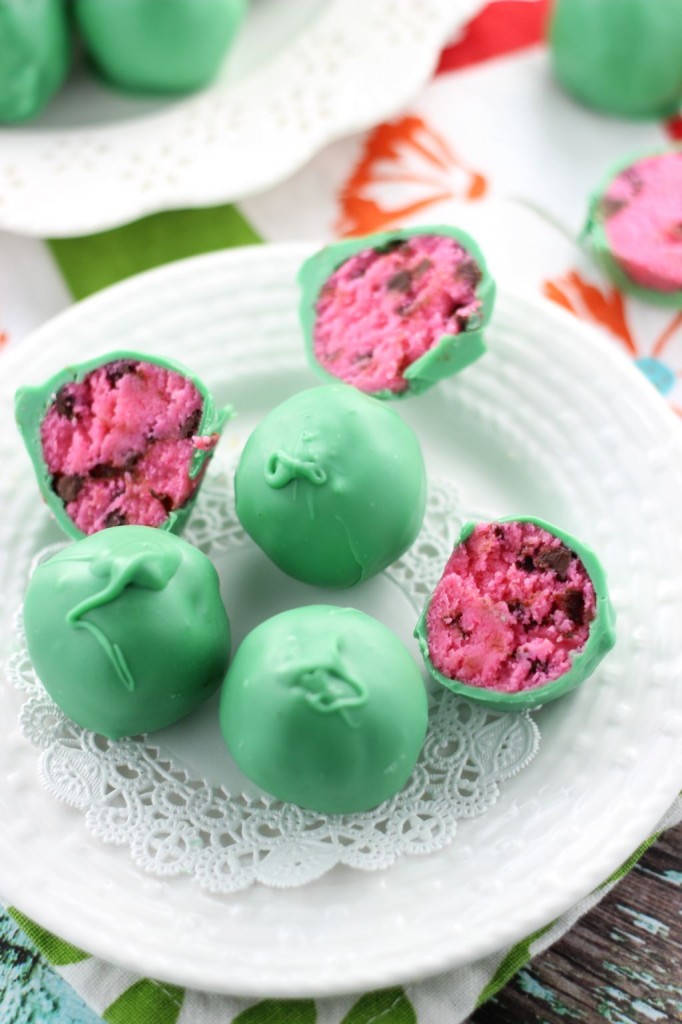 The ingredient list is short, so they're a cinch to make, and they're just summery and adorable. They're also basically just cake, frosting, and chocolate, sooooooo… what are you waiting for? Get thee to the kitchen. You won't be in there for long, I promise. You barely have to bake at all. I can barely even call this a recipe. It's simply a charming and clever idea (that I wish I'd come up with on my own, but I have Pinterest to thank) that executes incredibly easily. It also happens to taste amazing because, again, it's cake, frosting, and chocolate. There's nowhere to go wrong in the flavor department.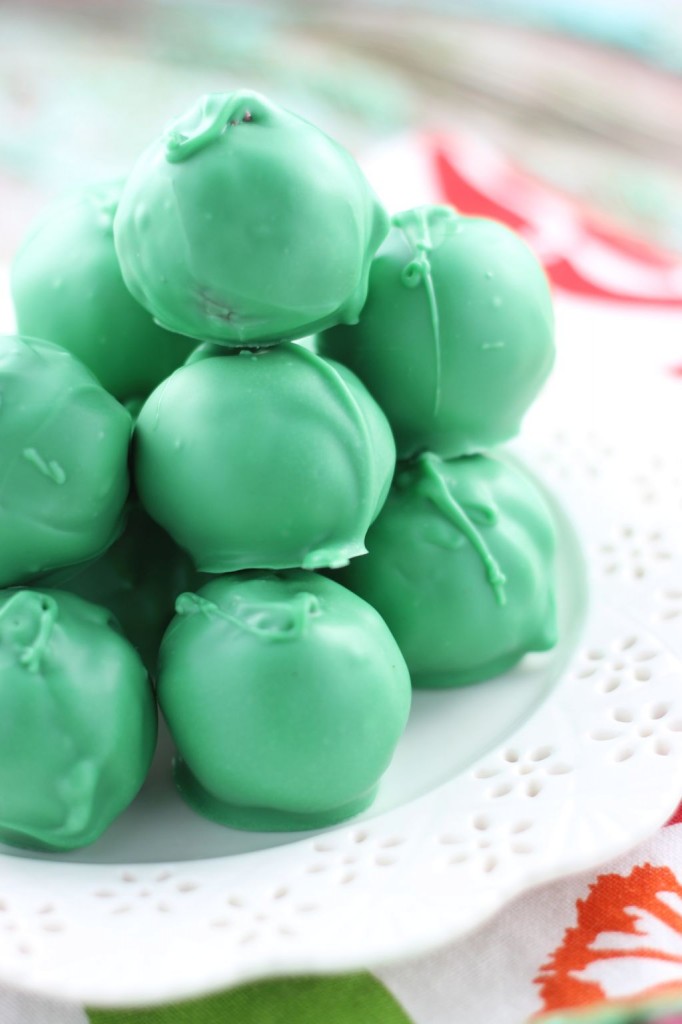 Okay, okay, they aren't the *perfect* picnic food because, well, the chocolate's gonna melt on ya, that's true. BUT, they are otherwise portable, pre-portioned, and relatively non-messy. Besides that pesky chocolate coating (you neeeed the chocolate though… it's chocolate!), they are a picnic-friendly dessert. They look like watermelons, so I deem them picnic food. Cool? Cool.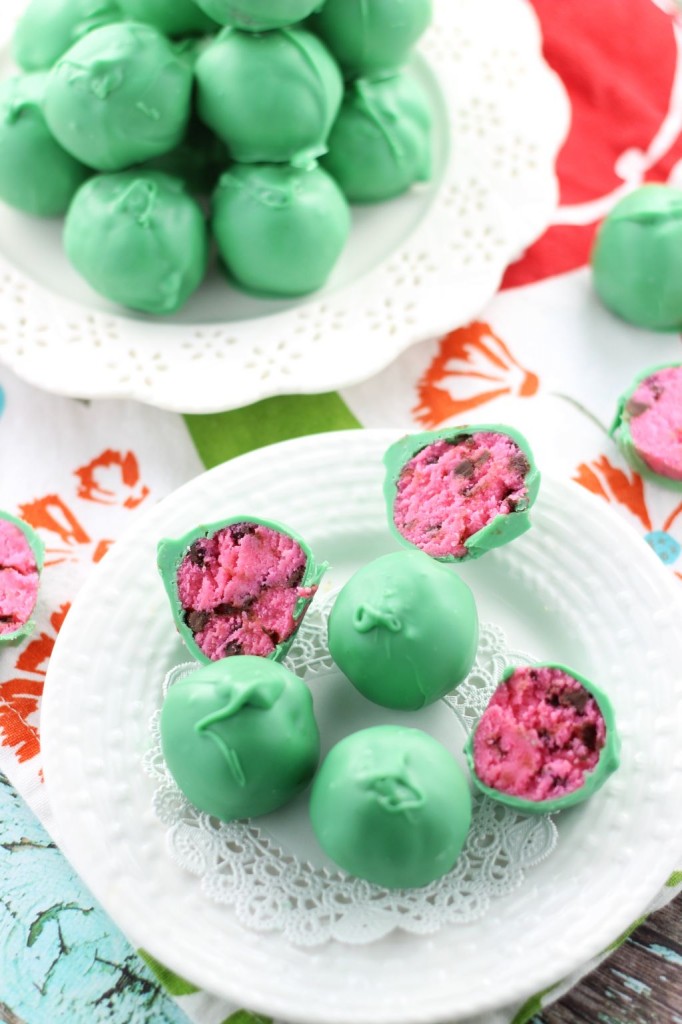 Since I'm on vacation this week and am too consumed with shopping, eating, and playing with my Gma's new kitten, I'll spare you any more of my rambling and will cut to the chase: see recipe below for Watermelon Cake Balls. It's also 91 degrees and I am living mostly without air-conditioning, so it's not that easy to put together coherent thoughts. 🙂 Bottom line is, if you like cake and you like cute food, these are for you.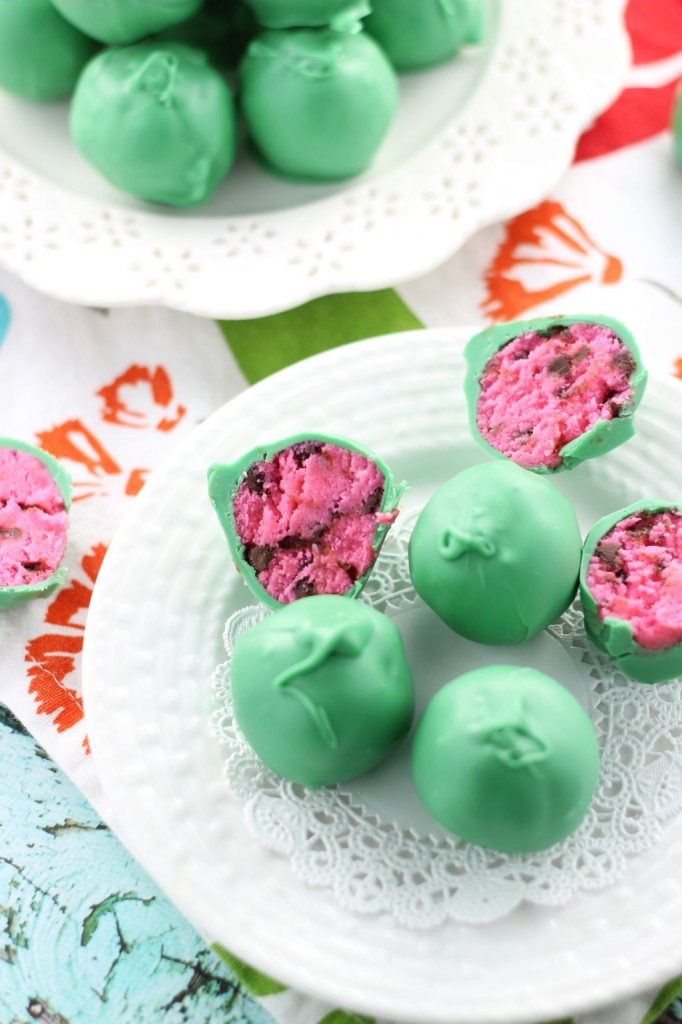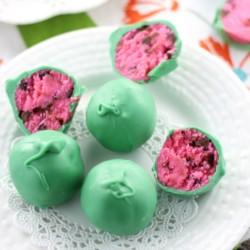 Watermelon Cake Balls
Simple cake balls decorated to look like watermelons!
Ingredients
1

box strawberry cake mix

or use vanilla + several drops of pink or red food coloring

3

large eggs

1

c.

water

1/3

c.

vegetable oil

1

c.

prepared buttercream frosting

1/2

c.

mini semi-sweet chocolate chips

1 - 12

oz.

bag green candy melts

I used Wilton, purchased from Michaels
Instructions
Prepare and bake the cake according to package instructions. (For me, the ingredients included cake mix, eggs, water, and vegetable oil.)

Allow cake to cool completely, then break apart into crumbs in a large bowl.

Add frosting, several tablespoons at a time, to cake crumbs.

Mix well, and continue adding frosting until it reaches a consistency that it can easily be rolled into balls.

Line a baking sheet with parchment or waxed paper.

Roll the dough into 1-inch balls and place them an inch apart on the baking sheet.

Place in the freezer for at least 30 minutes.

In a small pot over low heat, melt the candy melts.

Using toothpicks, cake ball sticks, or a dipper, dunk the cake balls, one at a time, into the chocolate, thoroughly coating all edges, and allowing excess chocolate to drip off the cake balls.

Carefully set them back onto the baking sheet.

Allow chocolate to set - about 20-30 minutes.

Store in refrigerator. Enjoy!
Oh, I should also mention that these Watermelon Cake Balls are actually strawberry-flavored. 😉 Prepare your taste buds accordingly.