My Grandma's Cheesy Potatoes recipe is a simple casserole that dresses up hash browns with lots of cheese, sour cream, and a crunchy corn flake topping! Grandma's Cheesy Potatoes is the best soul-warming comfort food!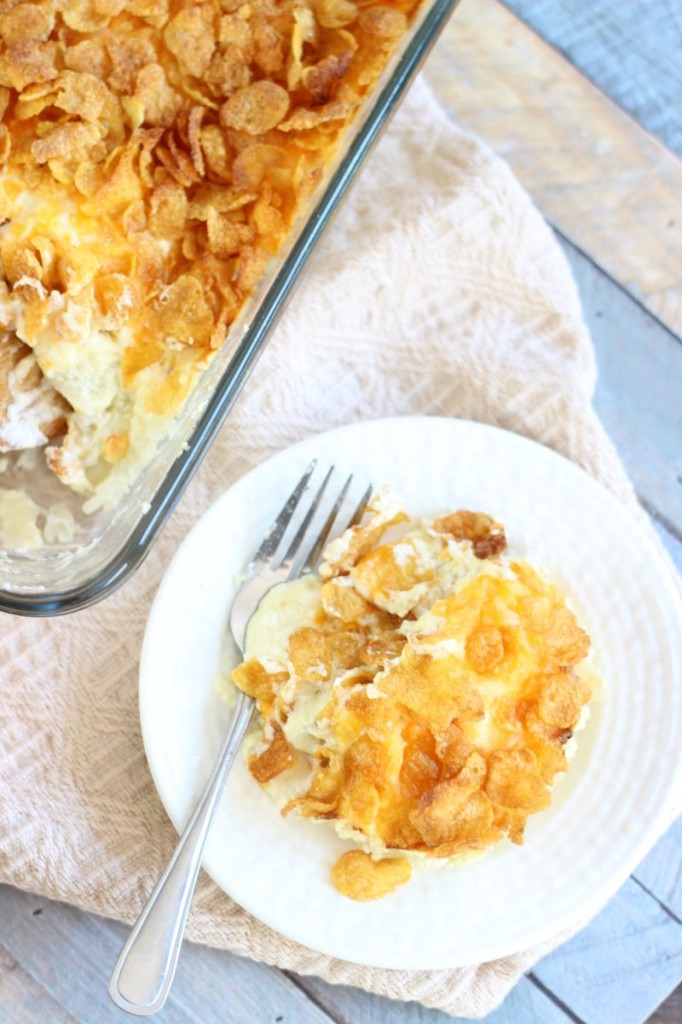 This past weekend was Thanksgiving for me and my family. I usually go up to Erie to visit my family for an 'early' Thanksgiving. It spreads out my visits so that I'm not right back up there a few weeks later for Christmas, and it gets me out of traveling during the week of actual Thanksgiving. That is one of the toughest travel weeks of the year, and I like to avoid the airport fray if I can!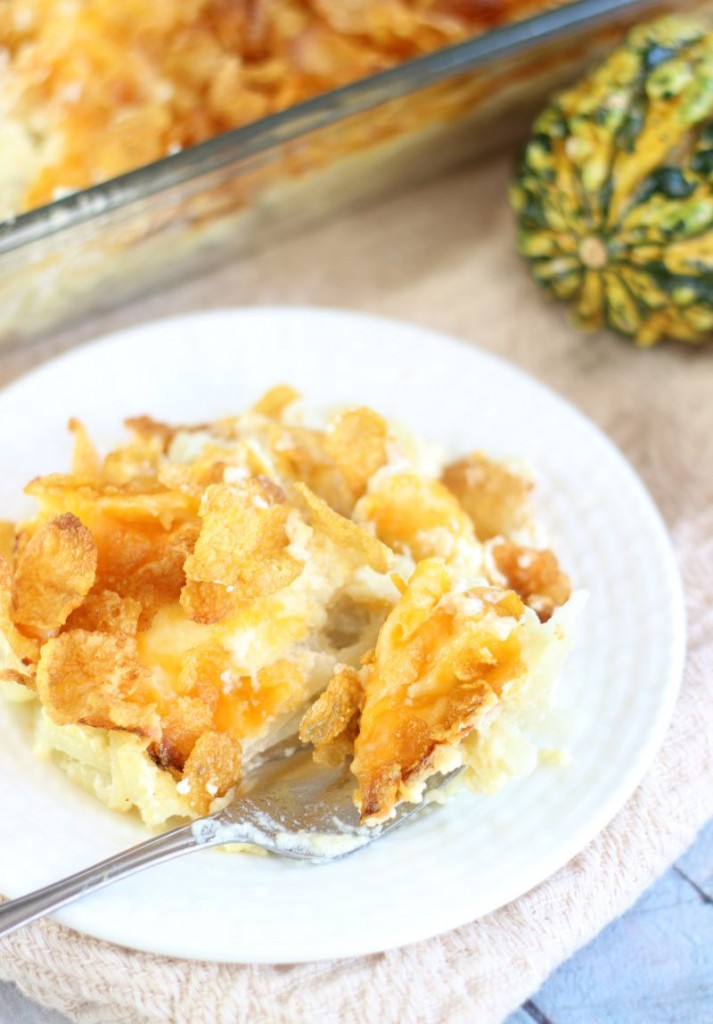 The day after 'Thanksgiving,' we eat leftovers all day long, and then help my Gma get out her Christmas decorations. Sure, November 8th is pretty early to get out Christmas decorations, but now it's tradition. Every year she says that she's not going to get out as many decorations as the year before, but as soon as we start unpacking boxes, she gradually decides that she can surely find a spot for all her holiday items.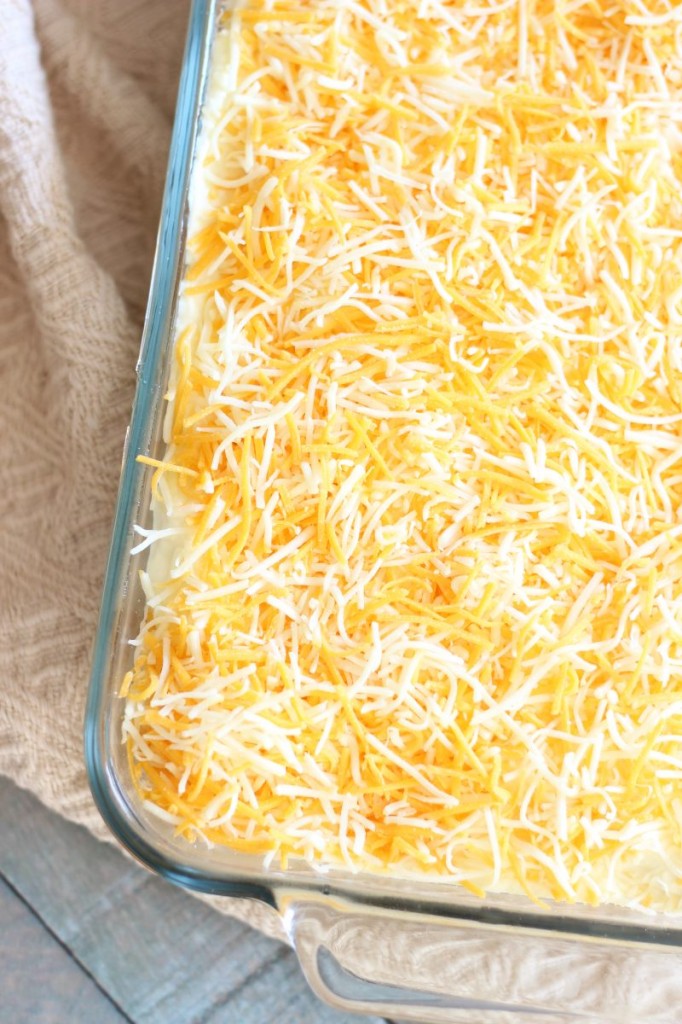 For our meal, besides preparing the usual holiday suspects like turkey, stuffing, and cranberry sauce, we also have at least one variation on potatoes. Oftentimes we have several. Whether they are basic mashed potatoes, candied sweet potatoes (or this Tropical Sweet Potato Casserole), my Grandma's famous Cream Cheese, Bacon, and Sour Cream Mashed Potatoes, or Grandma's Cheesy Potatoes… potatoes abound.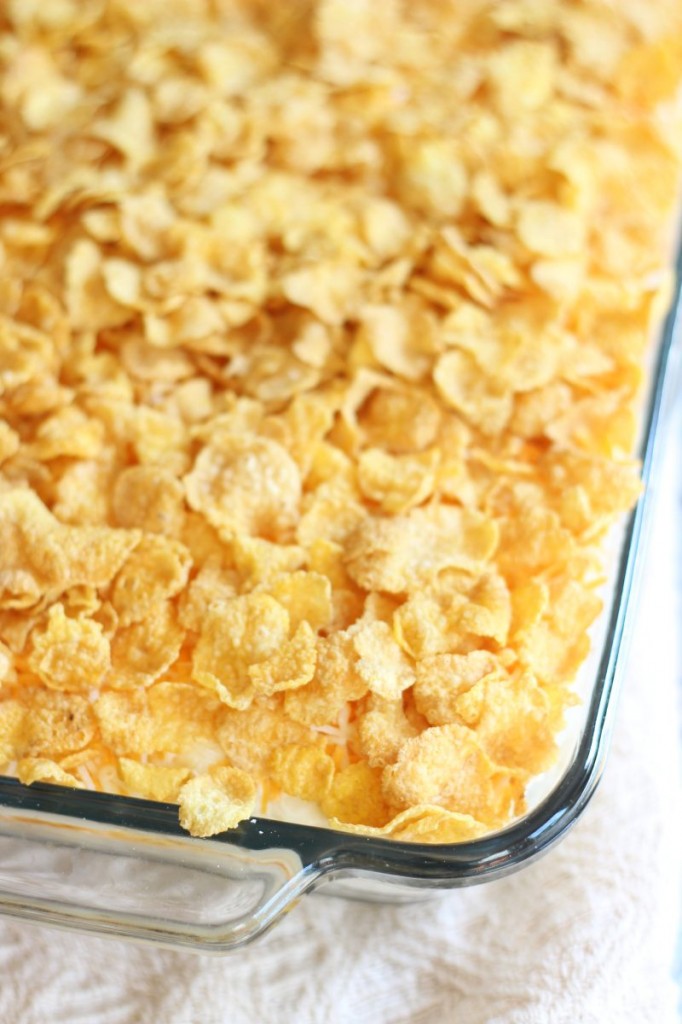 My Gma hasn't made her Cheesy Potatoes in a while, but they are a staple that get worked into the holidays every so often. I was reminded how much I like Grandma's Cheesy Potatoes recipe when I was flipping through our family cookbook recently, and with the holidays approaching, I decided to make them.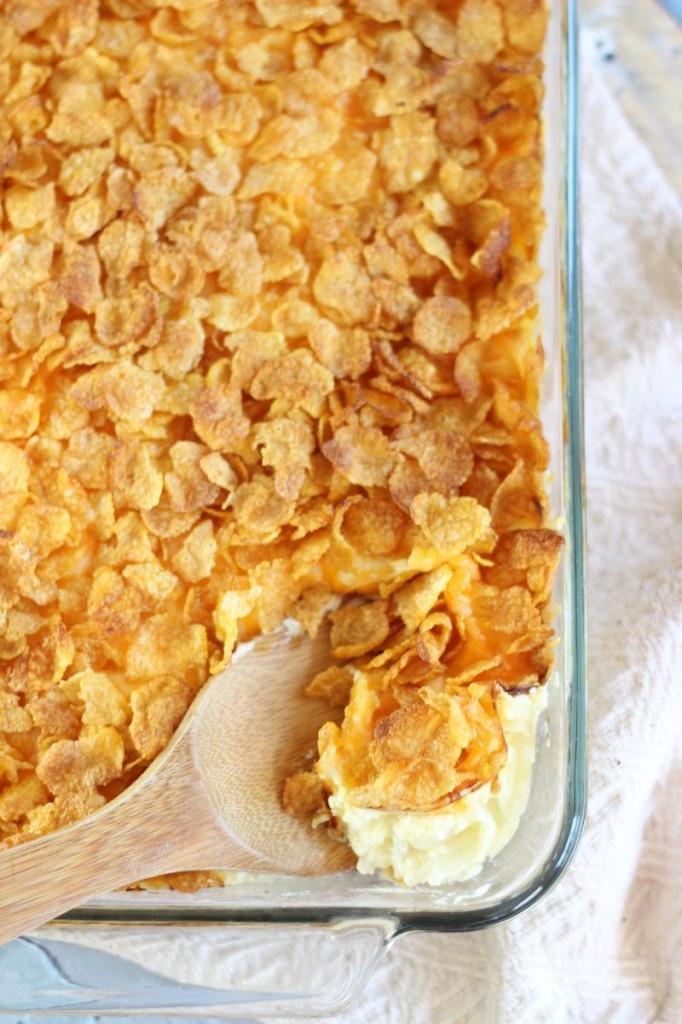 Grandma's Cheesy Potatoes could not be simpler. It's got a short ingredient list, and everything is easy to find. You'll slap together sour cream, cream of chicken soup, and cheese, for the creamiest and cheesiest potatoes you can find. And they have a crispy, toasted corn flake topping for a little crunch.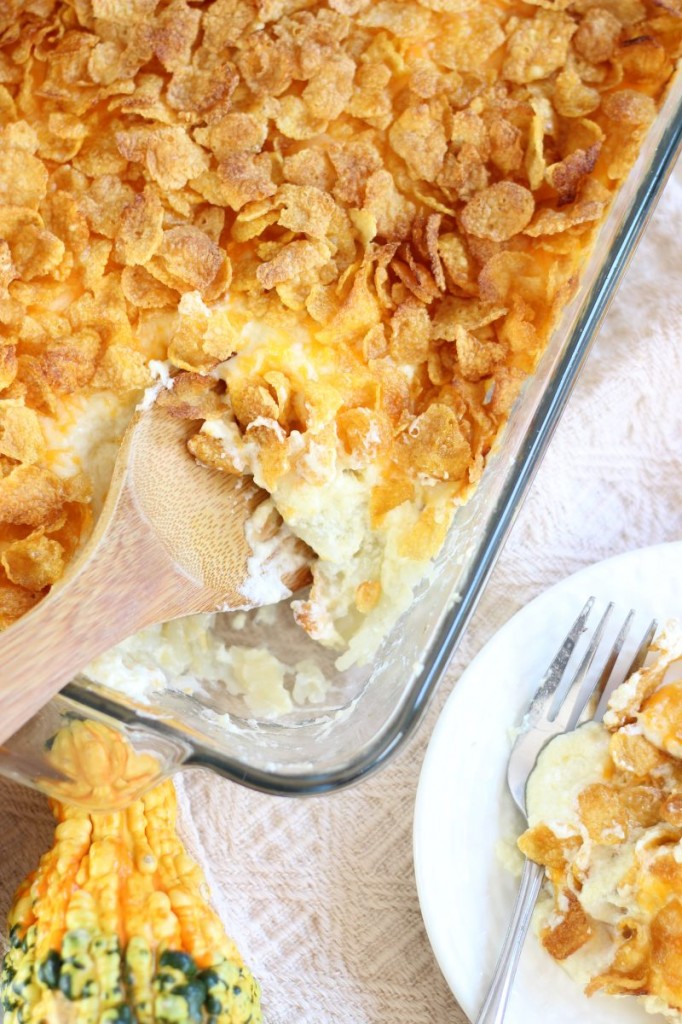 If you're hosting family dinners or entertaining friends for the holidays, then Grandma's Cheesy Potatoes will be one thing on the menu that you can count on to be a crowd-pleaser!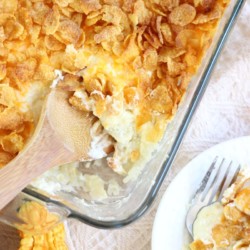 Grandma's Cheesy Potatoes
With hash browns, lots of cheese, sour cream, and a crunchy corn flake topping!
Ingredients
1 - 36

oz.

bag frozen hash brown potatoes

1

can cream of chicken soup

1 - 15

oz.

container light sour cream

1/2

c.

melted butter

2 - 3

c.

Kraft Natural Shredded Cheese Colby & Monterey Jack

2 - 3

c.

corn flakes cereal
Instructions
In a large bowl, combine soup, sour cream, and butter.

Stir in hash browns, and mix until evenly distributed.

Spread mixture evenly into the bottom of a lightly greased 9x13-inch glass baking dish.

Sprinkle with cheese.

Sprinkle with corn flakes.

Bake at 375 degrees for 45-55 minutes, or until corn flakes are lightly browned, and the casserole is bubbling.

Remove from heat, and serve!