Mint chocolate swirl bark with Mint Oreos and Andes Mints!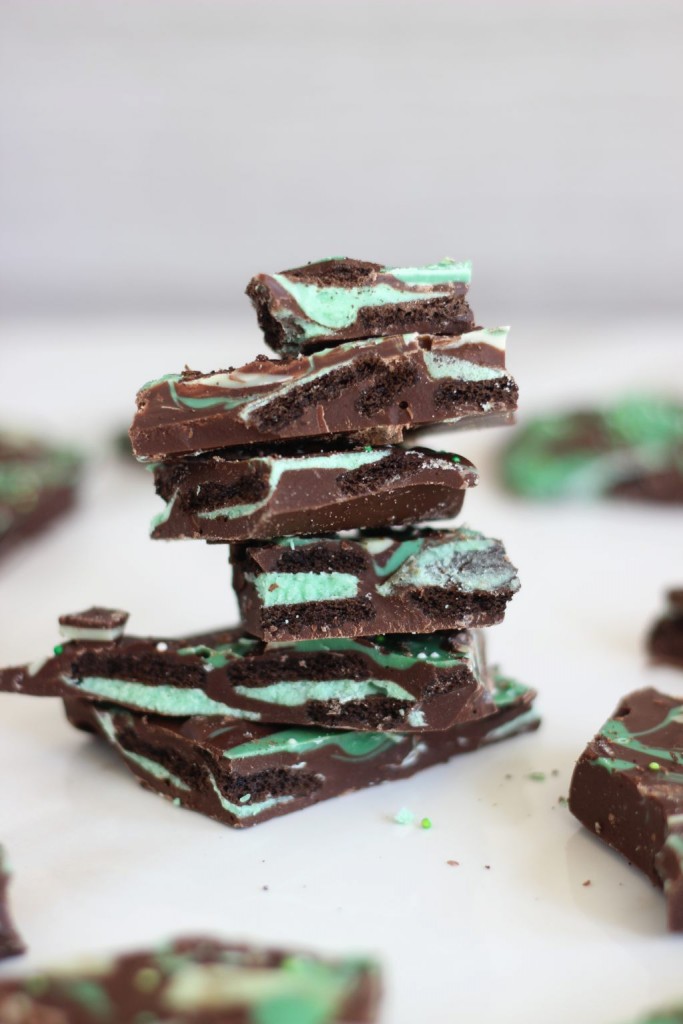 Making chocolate bark is now a regular thing for me. I make a chocolate bark for every holiday/season these days. I really didn't understand the appeal before – like, it's just chocolate.
Now I get it. It's CHOCOLATE!!! Decked out with whatever you choose – candies, cookies, bark, dried fruit. Whatever you want. The world is your oyster.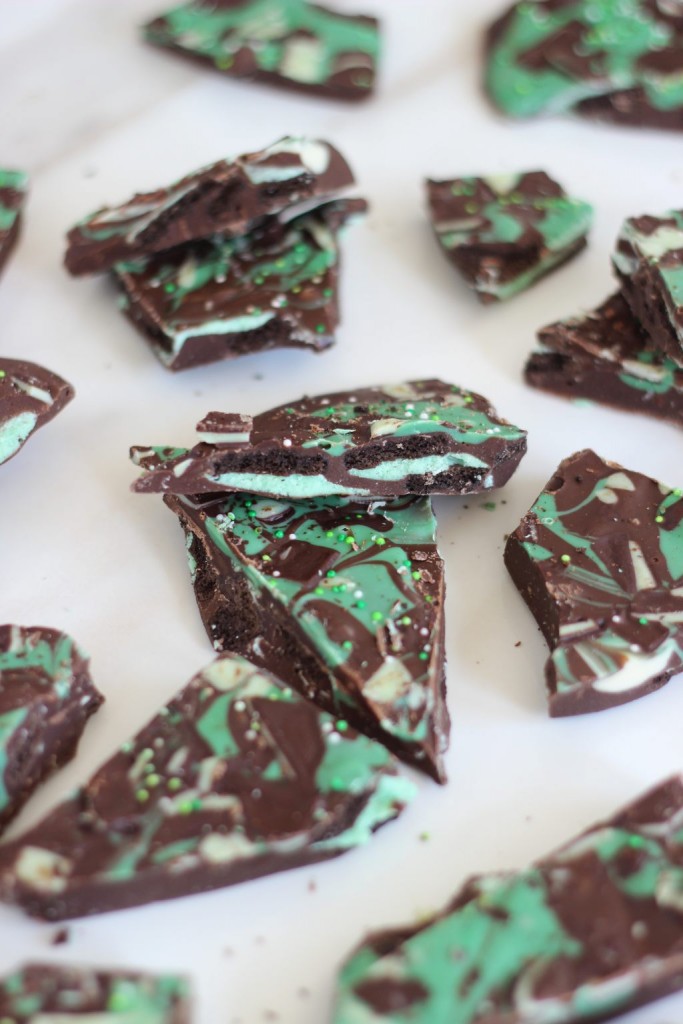 I guess that's the fun – it's a blank canvas! I thought it was so ordinary and simple. And it is, but that's what actually makes it so great!
Therefore, it's totally fitting to make a bark with St. Patty's day in mind! This Mint Chocolate Bark with lots of green swirls and sprinkles is festive, but it's also completely delicious.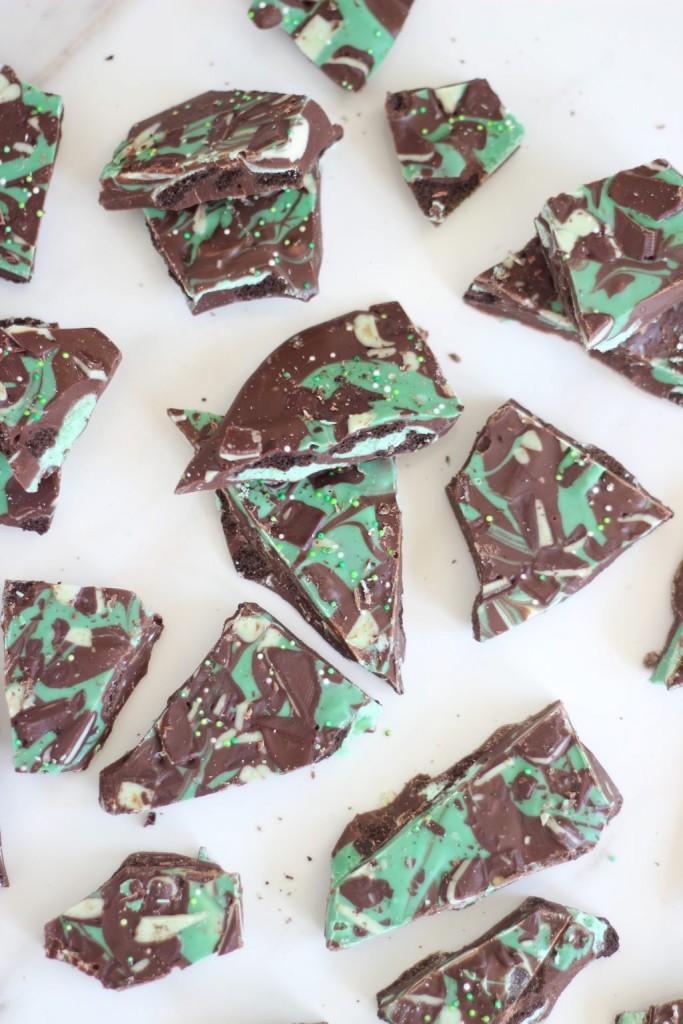 This Mint Chocolate Bark starts with a slab of milk chocolate, with a touch of mint extract, and I folded in chopped Mint Oreos, and then swirled it with green candy melts (just for color!), and topped with chopped Andes mints (= more mint chocolate goodness!).
The Mint Oreos make this bark. They are absolutely the best part! When you get a crunchy bite of a Mint Oreo covered in chocolate and melted Andes Mints… it's divine.
I stored this in the back of the refrigerator, away from my S.O.'s sight, and I ended up eating basically ALL of it by myself. It was great. He always gets to the good stuff first, so this was a rarity!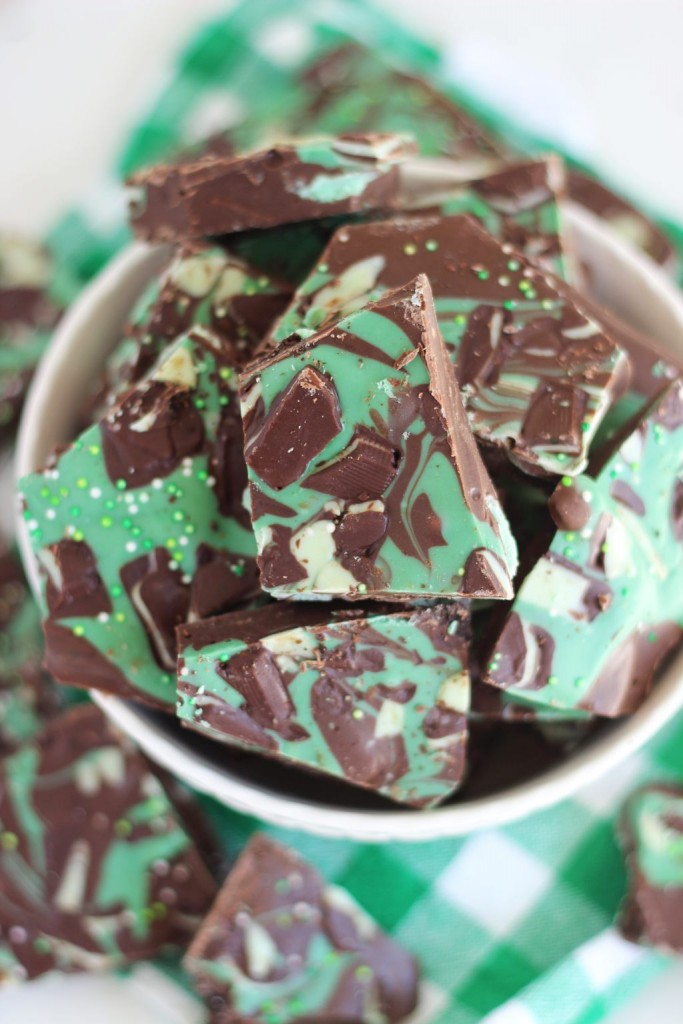 Ready in minutes, you can throw this pretty bark together, and what is better than mint and chocolate and Oreos together to celebrate St. Patty's day??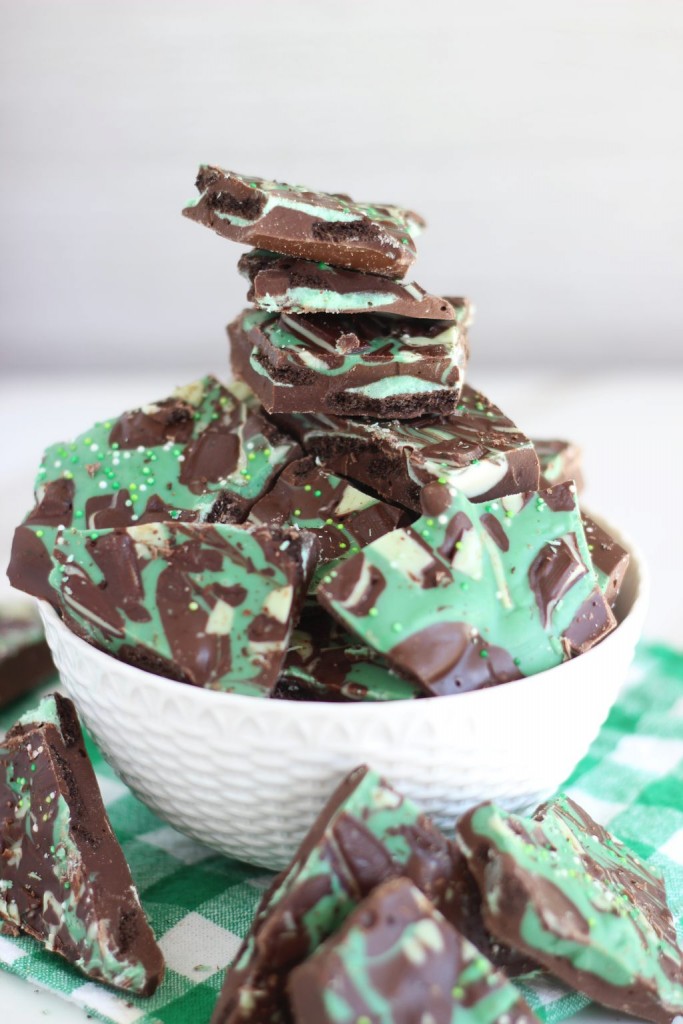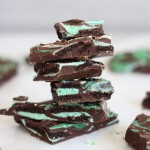 Mint Chocolate Bark
Ingredients
1 - 24

oz.

package chocolate almond bark

broken into pieces

1

tsp.

mint extract

1 - 15

oz.

package Mint Oreos

coarsely chopped

1 - 12

oz.

package green candy melts

1 - 4

oz.

package Andes mints

coarsely chopped

green sprinkles

optional
Instructions
Line a large baking sheet with parchment paper.

In a large saucepan over low heat, heat the chocolate almond bark until melted and smooth.

Stir in the mint extract.

Fold in the chopped Oreos.

Spread onto the parchment paper in an even layer.

In a small saucepan over low heat, heat the green candy melts until melted and smooth.

Drizzle over the chocolate layer, swirling lightly with a knife or toothpick.

Sprinkle with chopped Andes mints and sprinkles.

Allow to set completely, and break into pieces.