Cake mix orange sweet rolls, packed with brown sugar and orange marmalade, with a sweet orange cream cheese glaze!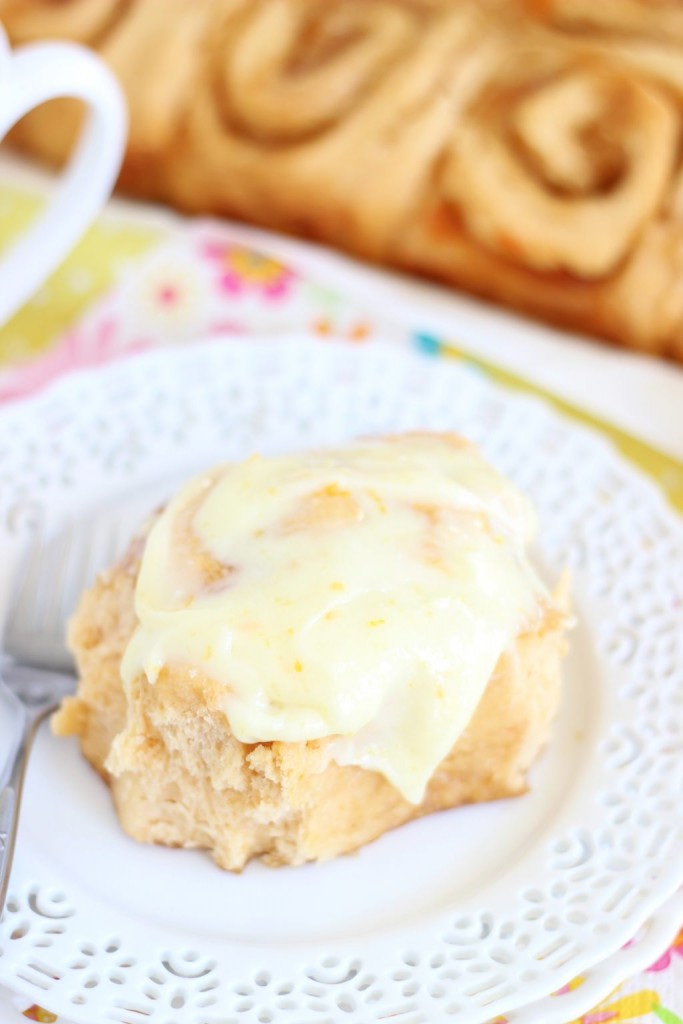 Happy Saturday!! I've spent the last two evenings engrossed in the NFL draft, and I'm pretty pleased with the Bills picks so far. I'm also excited for the three Penn State players that were drafted… alumni pride.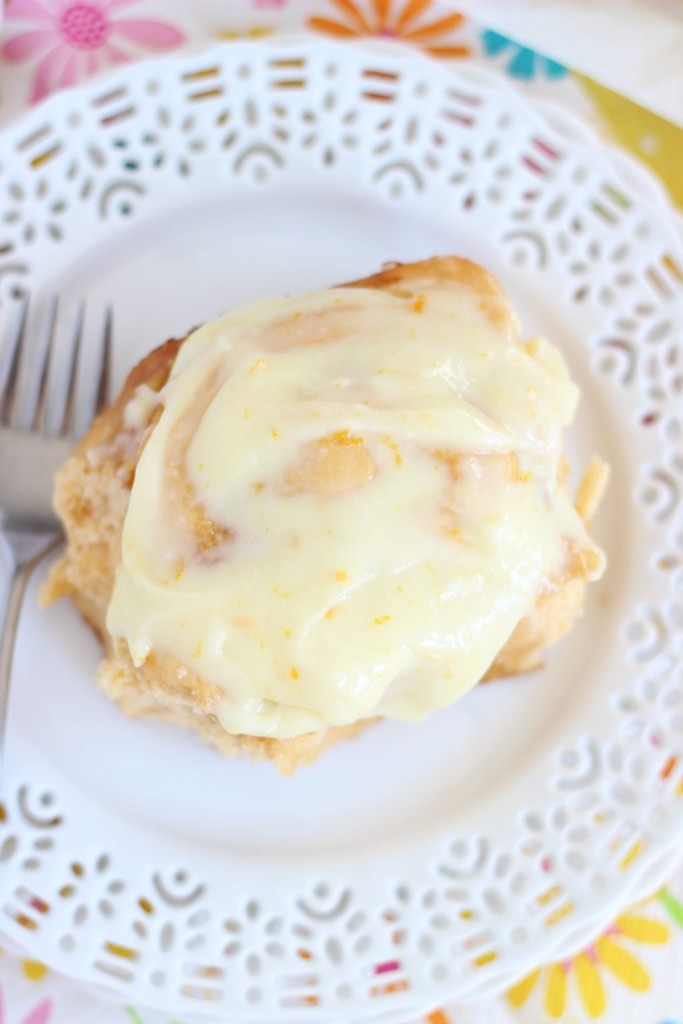 But my eyes are starting to cross as we're getting into the later rounds, and it's all running together. I really need to take a break from watching, and I have no idea who most of the players are at this point, but I can't seem to stop. I cling to anything football-related when it's not football season. Anything to get my fix.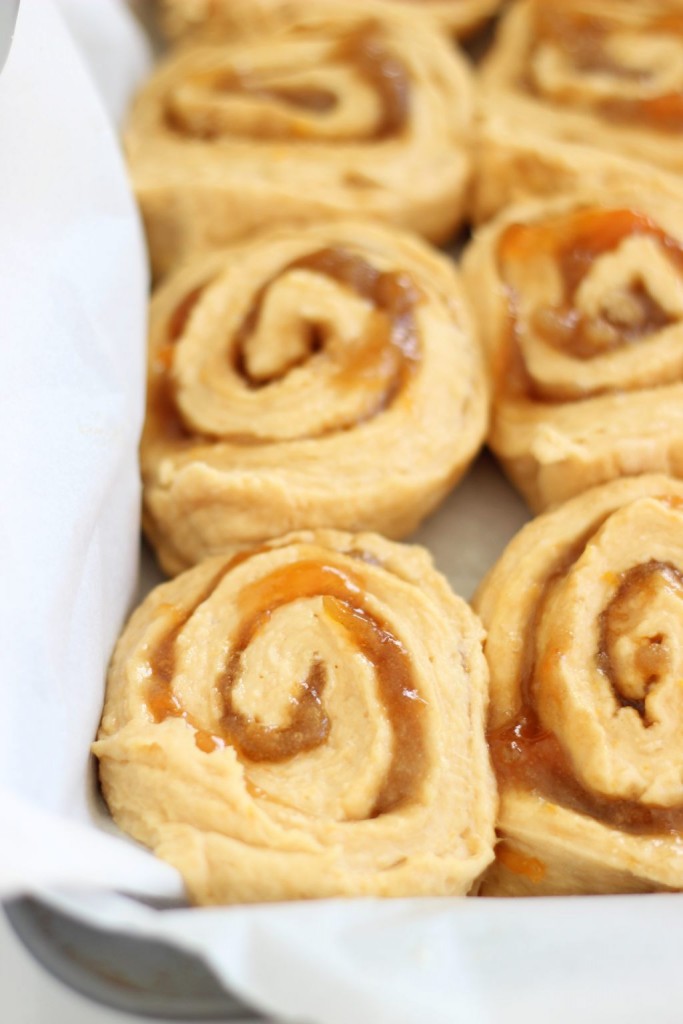 At least I've managed to shop online for summer work clothes in-between being glued to the draft, but I still don't really consider that productive activity. Meanwhile, a handful of desserts and baked goods are sitting on the counter waiting to be devoured, but not until the photos are taken.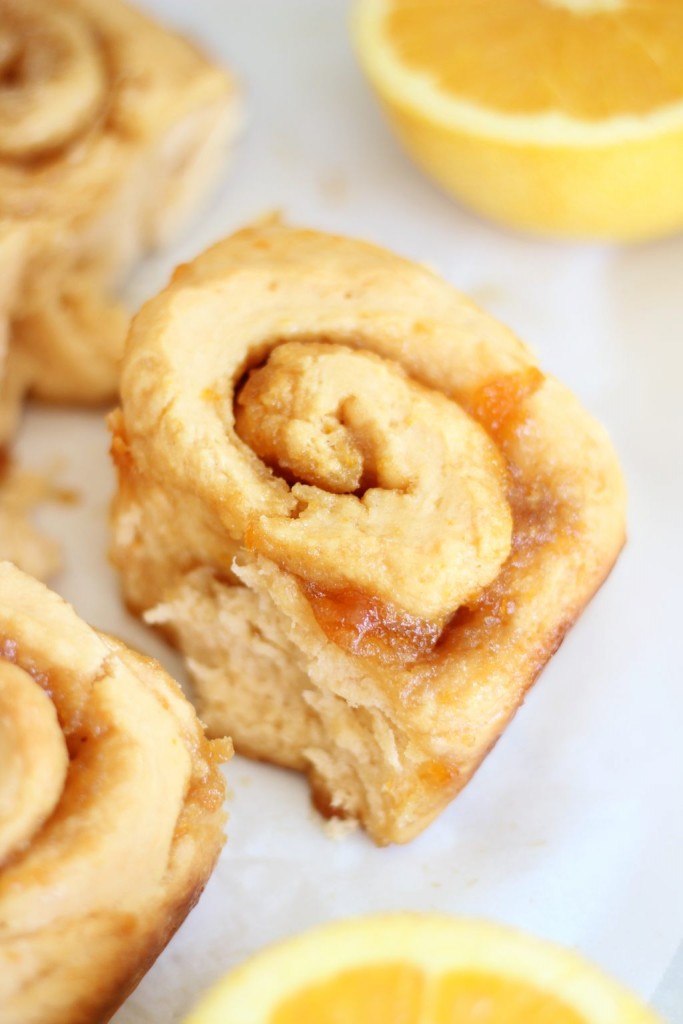 Please don't make me get up to do that! I need to be in the right mood to take pictures of food, and that mood is not this one. Lazy weekend morning after a long work week. I know you feel me.
BUT, if I get the photos done, then I could potentially have the PB&J blondie torte for breakfast. You just wait. That recipe is going to be so good.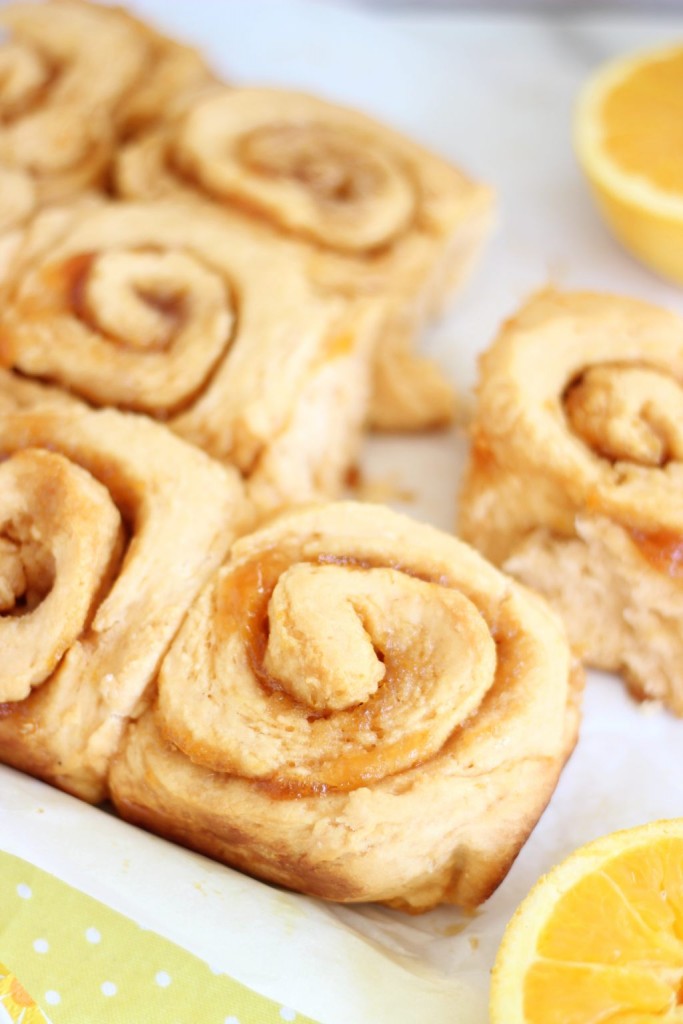 Other weekend brunch ideas? (Since PB&J blondie torte is probably better kept as dessert only). These Orange Sweet Rolls, of course.
I made Lemon Raspberry Sweet Rolls with Lemon Mascarpone Frosting for weekend brunch a few months ago, and I was in love with how fluffy and pillowy they are. Especially considering they start with a cake mix. Yep, cake mix. They still require yeast though, and it lends a really soft, chewy, and pillowy texture to the rolls. They practically melt-in-your-mouth.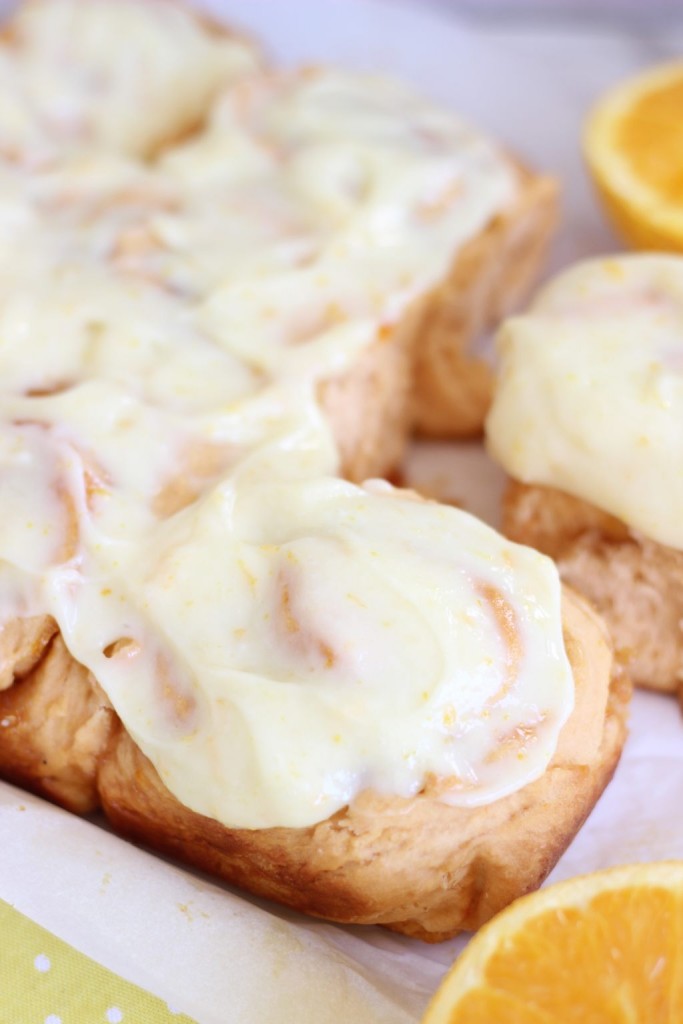 Do not fear yeast. I fear yeast. It senses my fear, and is uncooperative because of it. If I can make these though, anyone can.
You don't really get a short-cut by using the cake mix, since they're still yeast-based too, but what I absolutely love about using cake mix is that the dough has strong flavor right out of the gate. Orange cake mix = more orangey sweet rolls. Add fresh orange zest and marmalade, and you've embedded orange flavor in basically every possible way. More = better, right? Right.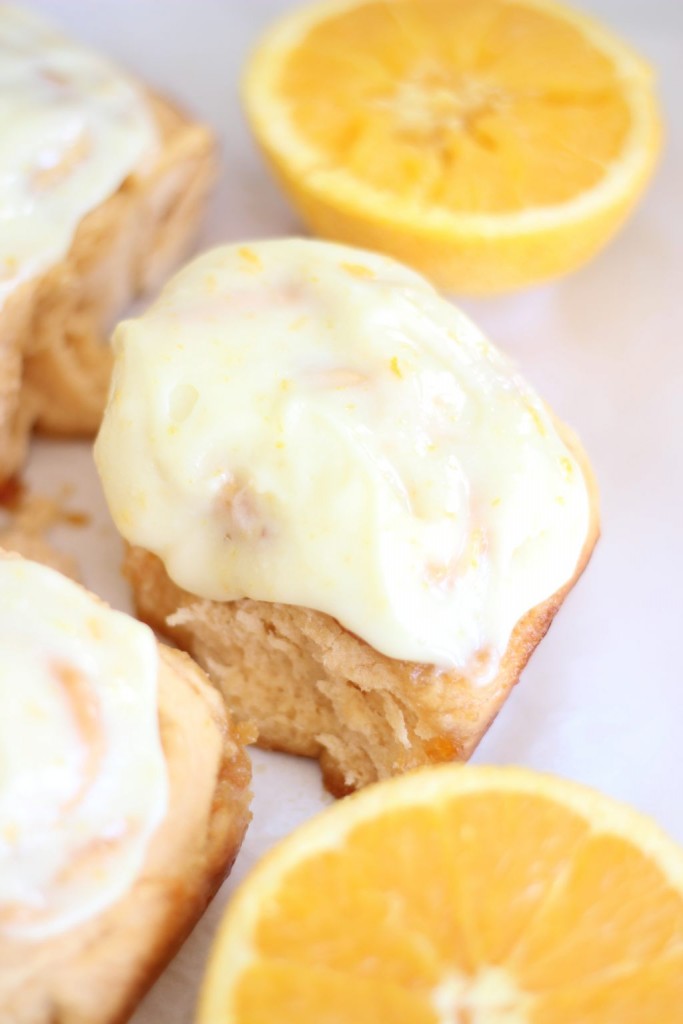 So we've established that these sweet rolls are packed with orange flavor, and are pillowy soft. Not persuaded yet? Of course you are, but just in case – they're topped with orange cream cheese glaze. Does that seal the deal?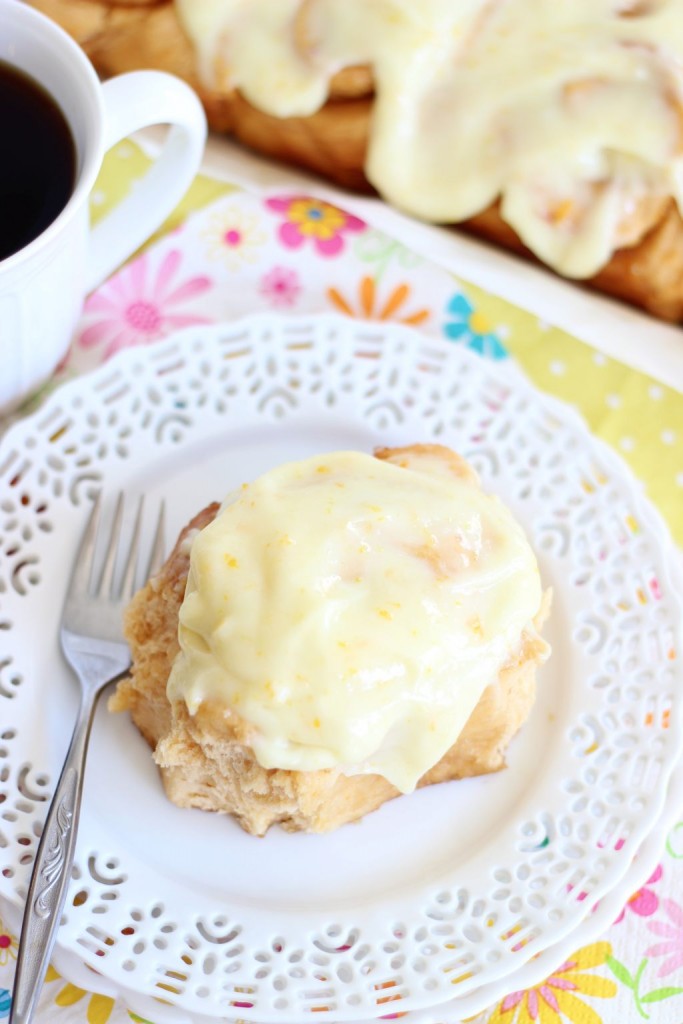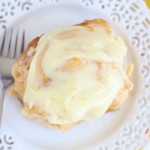 Orange Sweet Rolls with Orange Cream Cheese Glaze
Total Time
2
hours
20
minutes
Ingredients
Orange Sweet Rolls:
zest of 1 orange

divided

2

packets active dry yeast

2 1/2

c.

warm water

1

box orange cake mix

5

c.

all-purpose flour

1/4

c.

butter

melted

1/2

c.

packed brown sugar

1/2

c.

orange marmalade
Orange Cream Cheese Glaze:
1 - 8

oz.

package reduced-fat cream cheese

softened

1

c.

powdered sugar

3-4

tbsp.

fresh orange juice

1/2

tsp.

orange extract
Instructions
Orange Sweet Rolls:
In a medium bowl, combine yeast and warm water, stirring until yeast is dissolved.

In a large bowl, whisk together orange cake mix and flour.

Add the yeast mixture and 1 tsp. of the orange zest to the cake mix mixture, and stir with a sturdy wooden spoon, or use your hands, until ingredients are combined.

Lightly grease the top, and cover with plastic wrap.

Let the dough rise for 1 hour, then punch it down, and let it rise again for another 30 minutes.

Lightly grease a 9x13-inch pan and an 8-inch square pan.

Turn the dough out onto a lightly floured surface, and roll it into a large rectangle. Mine was enormous - approximately 18x24 inches, and just over ¼-inch thick.

Brush the dough with the melted butter, sprinkle evenly with brown sugar, and drop the orange marmalade by small spoonful.

Roll the dough from the shorter side, so that it forms a log approximately 18 inches long.

Cut into 16 equal-sized pieces. It will get messy, but you can use two hands to lift each piece into the pans. I use a knife with a large blade and 'face', so that right after I cut a slice, it can rest on the knife blade and I can just transfer or shift it into the pan. Place 4 in the smaller pan, and 12 in the larger pan.

Bake at 350 degrees for 15-20 minutes, or until the rolls are golden brown at the edges. My rolls were quite large, and it took about 18 minutes, but I think this can vary depending on how you cut the rolls.
Orange Cream Cheese Glaze:
In a small mixing bowl, beat cream cheese til creamy.

Add powdered sugar, orange juice, orange extract, and all remaining orange zest that wasn't used in the sweet roll dough.

Drizzle onto the warm rolls. Serve immediately.