Doctored up spice cake, infused with whiskey, topped with walnuts and a whiskey glaze. This Whiskey Walnut Spice Cake is boozy and festive, and as easy as it is pretty.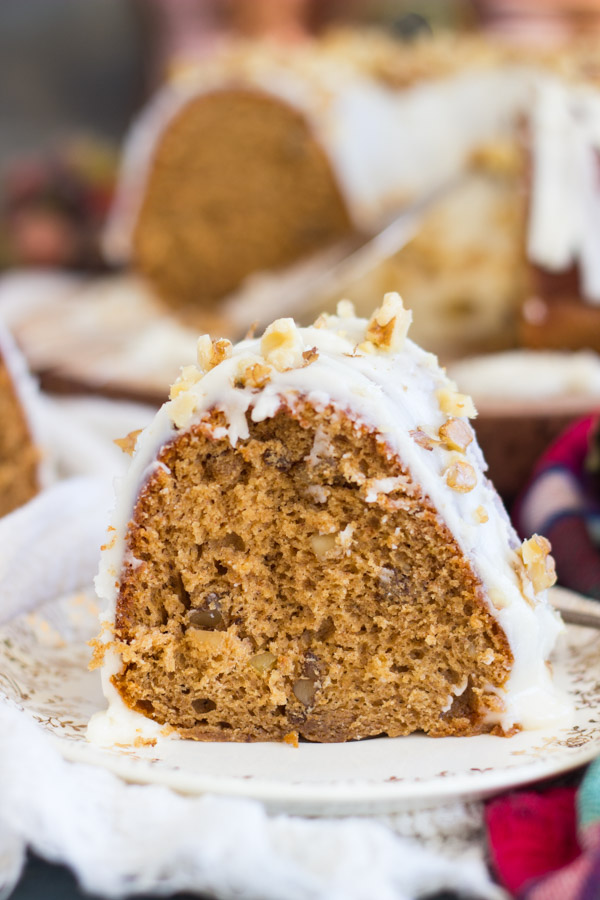 This is my new favorite cake. It's as moist as you can find, and it's drunken. That formula adds up to a great cake, especially for the holidays. Everyone can use a little extra booze in their lives around the holidays.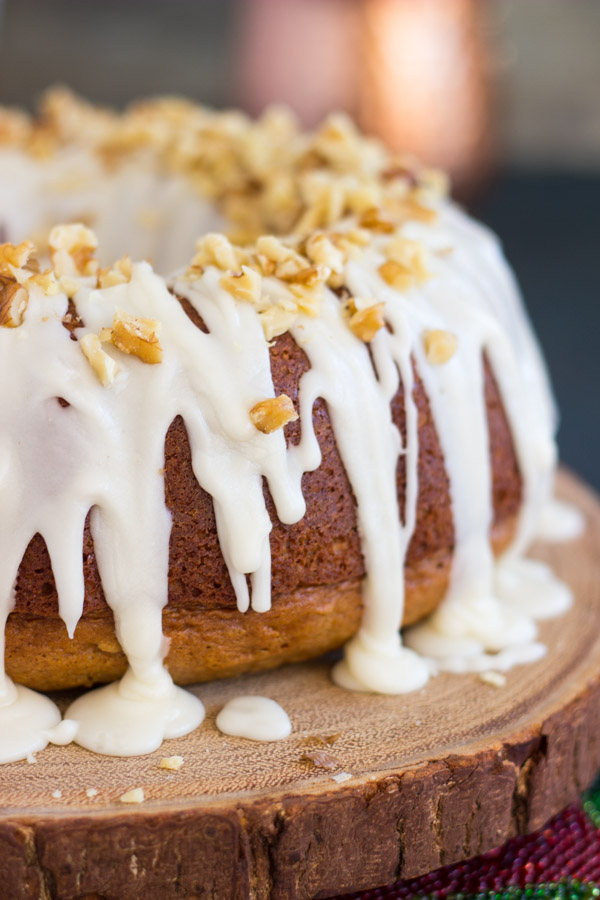 I love to doctor up cake mix. Sorry if you find that to be baking sacrilege, but I am such a fan of cake mix, and I won't quit. I think with a few extra ingredients, you can turn a ho-hum, ordinary cake mix into something extraordinary and special.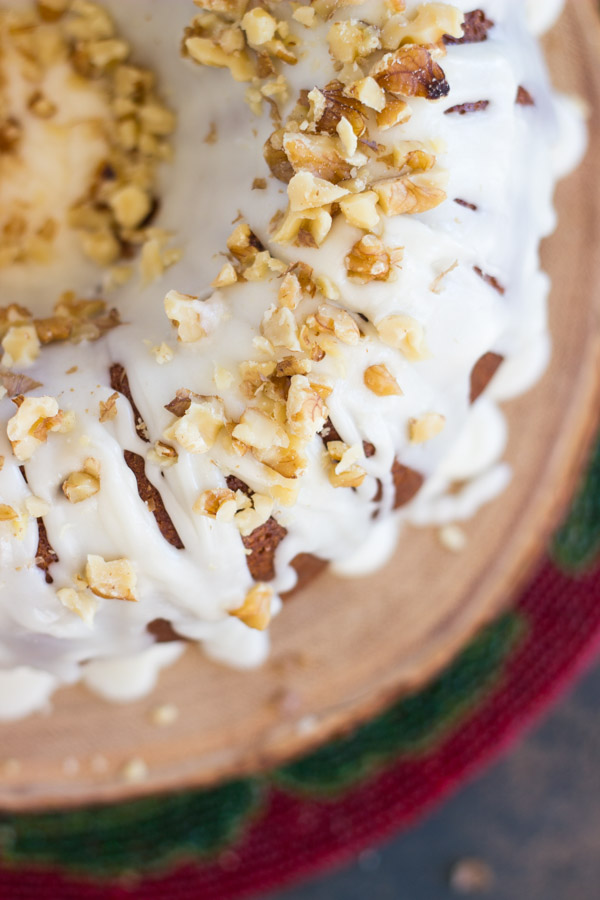 Spruced up cake mix recipes have so many benefits, besides the short-cut and time-savings, you get to start with a built-in flavor. I used spice cake for this recipe, for example, but I have many a fantastic recipe that starts with lemon or orange or key lime cake mix. You can even use them to make cookies.
My Grandma's Pistachio Bread starts with cake mix, and it's been the foundation for a bunch of other great breads and cakes too.
I don't know why I always get on a tangent about my love for cake mix whenever I share a recipe that includes one.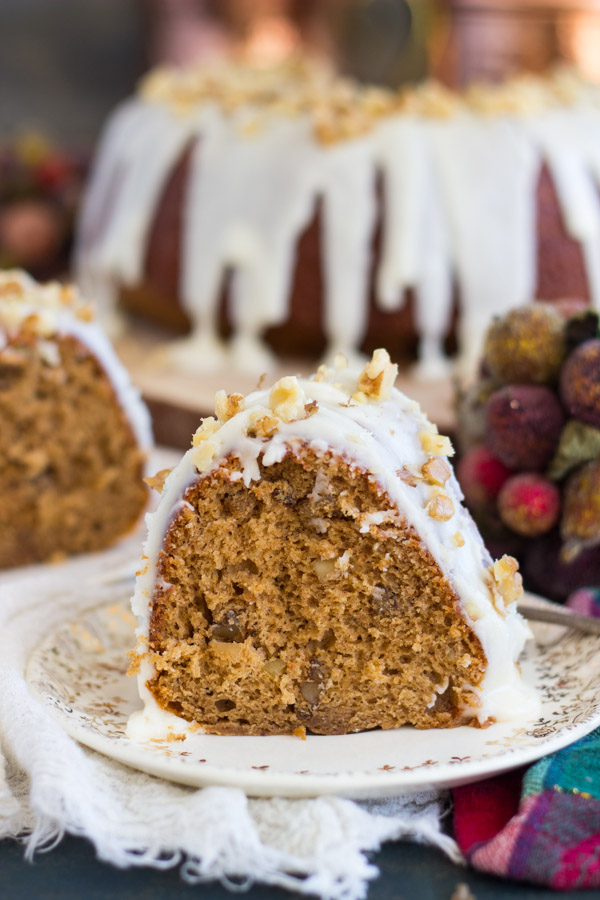 Anyway, this is my current favorite way to makeover a cake mix: liquor. I only wish I'd shared this sooner.
This cake is unbelievably simple to make, and the ingredients are all really simple too. It doesn't require a laundry list of weird stuff. The only thing that you might not ordinarily have on hand would be the whiskey. Tell me you have whiskey in your house!! It's important to our friendship that you are a person who has whiskey on hand.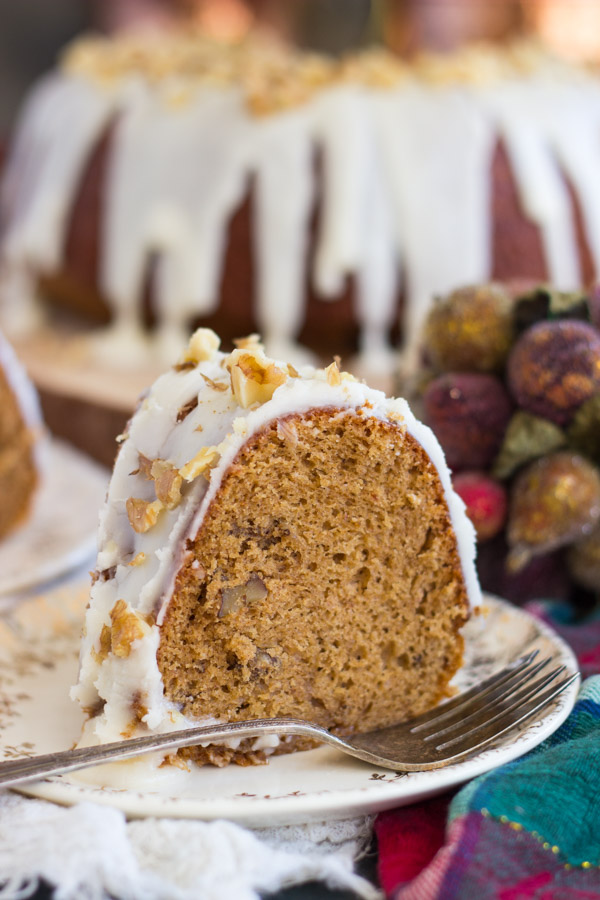 Just kidding. Truth be told, I kinda hate whiskey to drink, unless it's Fireball, but I absolutely love to bake with it. Even if you're not a whiskey person, this cake is still for you.
The whiskey doesn't smack you in the face, although you will know it's there. The biting edge isn't there though, but the flavor remains, and it is *perfect* with spice cake and walnuts. It has a rustic feel, but festive and celebratory and jolly too.
I love everything about the flavors. Spice cake and whiskey and walnuts. And the whiskey butter glaze on top is pure heaven. You can poke a few holes in the cake and pour the glaze over while it's warm, or wait til it cools, and it is more of an icing. Either way is great.
It's easy, easy, easy, and it makes a tremendous impression. Don't skip it for the holidays!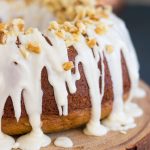 Whiskey Walnut Spice Cake
Doctored up spice cake, with whiskey and walnuts, and a whiskey glaze. This cake is boozy and flavorful!
Ingredients
Whiskey Walnut Spice cake:
1

box spice cake mix

1 - 3.4

oz.

box instant vanilla pudding mix

1/2

c.

vegetable oil

1/2

c.

whiskey

1/2

c.

milk

4

eggs

1 1/2

c.

chopped walnuts

divided
Whiskey glaze:
4

tbsp.

butter

melted

1/3

c.

whiskey

1

tsp.

vanilla

4 - 5

c.

powdered sugar
Instructions
Whiskey Walnut Spice cake:
In a large bowl, whisk together cake mix, pudding mix, vegetable oil, whiskey, milk, and eggs.

Stir in 1 1/4 c. walnuts.

Pour into a greased 10-cup bundt pan.

Bake at 325 for 40-50 minutes, or until edges are brown, and a toothpick inserted near the center comes out clean.

Remove to a wire rack to cool for 15 minutes before inverting onto a serving platter to cool completely.

Prepare glaze.
Whiskey glaze:
In a medium bowl, whisk together melted butter, whiskey, vanilla, and 4 cups powdered sugar. Add additional powdered sugar, as needed.

Drizzle over cooled cake.

Sprinkle with remaining walnuts.

Cut and serve.