Super simple homemade Chicken Potstickers recipe with sesame sauce! These rival your favorite restaurant, but they're a cinch to make at home!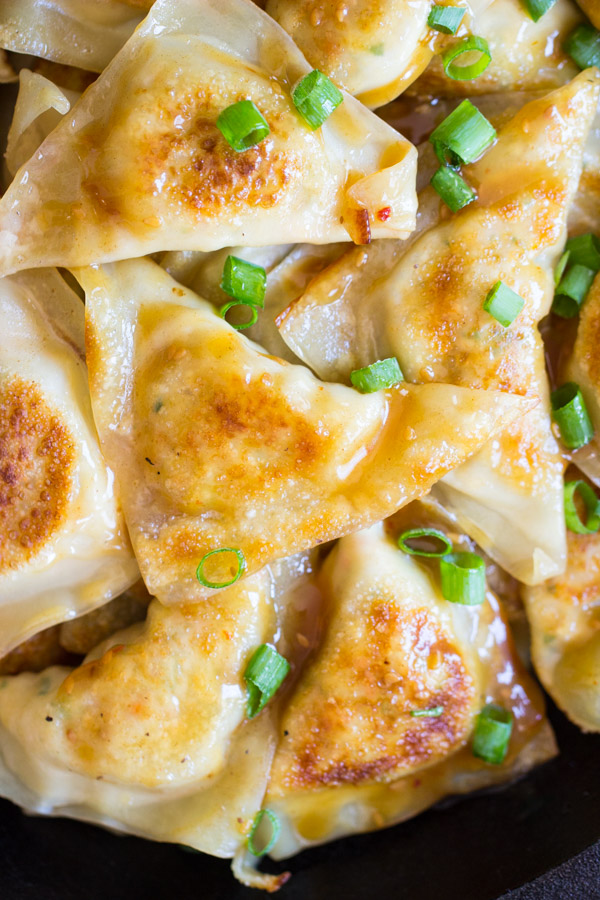 Hey friends! How's life? I hope you had a great weekend! For all you moms out there, I hope you were spoiled rotten. 🙂
I'm super excited for today's recipe. I've wanted to create a Chicken Potstickers recipe for forever.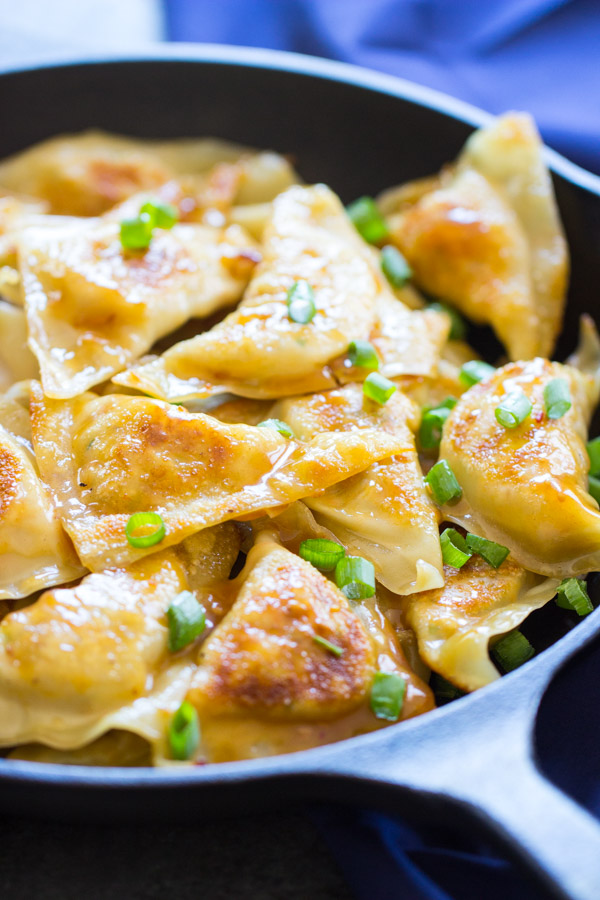 There's very few meals that we don't make from scratch. We don't eat out much because we just like to eat at home, and we usually cook. It's not always elaborate, that's for sure, but we do like to prep and cook our food whenever time permits.
Given that, it's extremely rare that we pick up meals that are packaged or frozen or whatever. There's a few limited exceptions to that rule: ravioli (although we do make those from scratch occasionally) and potstickers.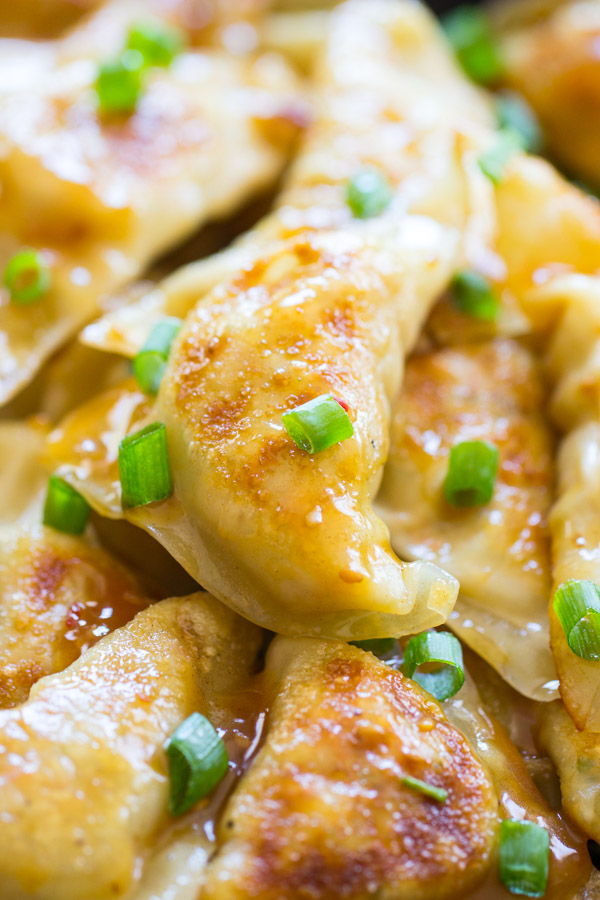 Those are two things that we have in our freezer at all times, and they're back-up dinner for us when we don't feel like cooking from scratch.
I know those are really random frozen foods to keep on hand, but hey, that's us. Now, I absolutely LOVE potstickers. It's an odd food to have such a strong affinity for, but I'm almost obsessed (and I do not throw around that word). We keep 3 or 4 bags of chicken potstickers in the freezer so I have them on hand when the mood strikes.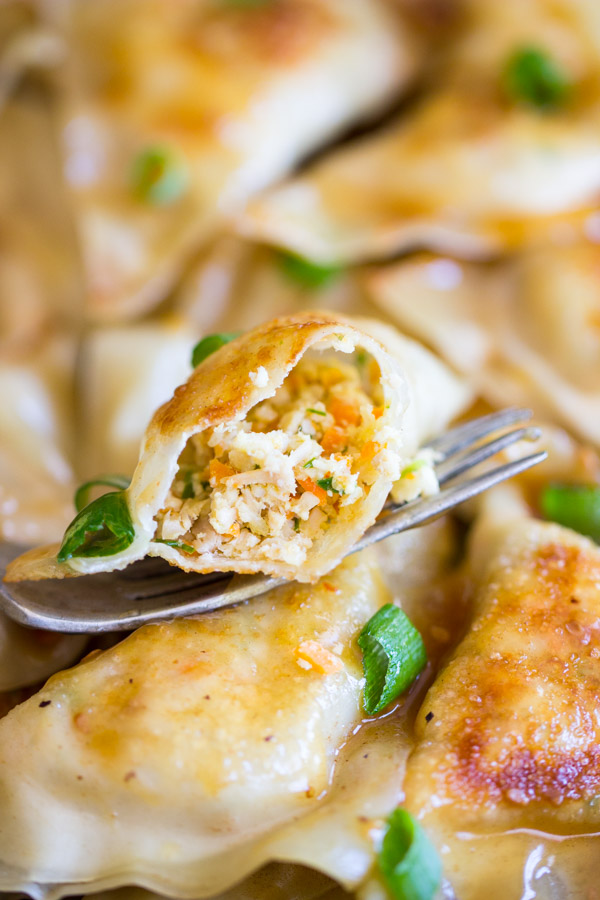 All of that said, I've wanted to try my hand at a homemade Chicken Potstickers recipe for a long time. I know they're not that hard or terribly time-consuming, and I want to have a from-scratch recipe that I can tailor and tweak. And when I say 'from-scratch', I mean everything but the wonton wrappers. Yeah, I'm not making those.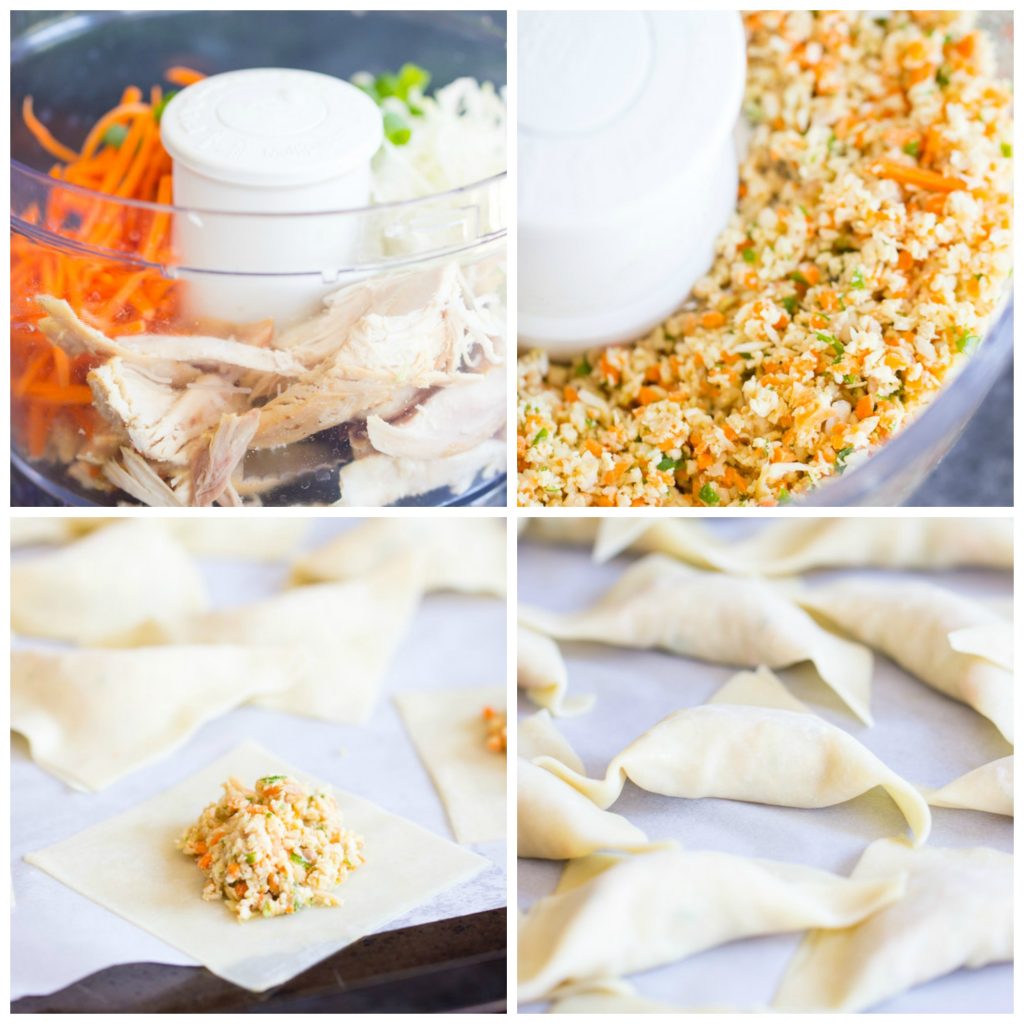 I made these potstickers from half of a rotisserie chicken, added some veggies, garlic, green onion, and then a few other odds and ends: sesame oil, soy sauce, ginger, and as bottle of store-bought sesame sauce.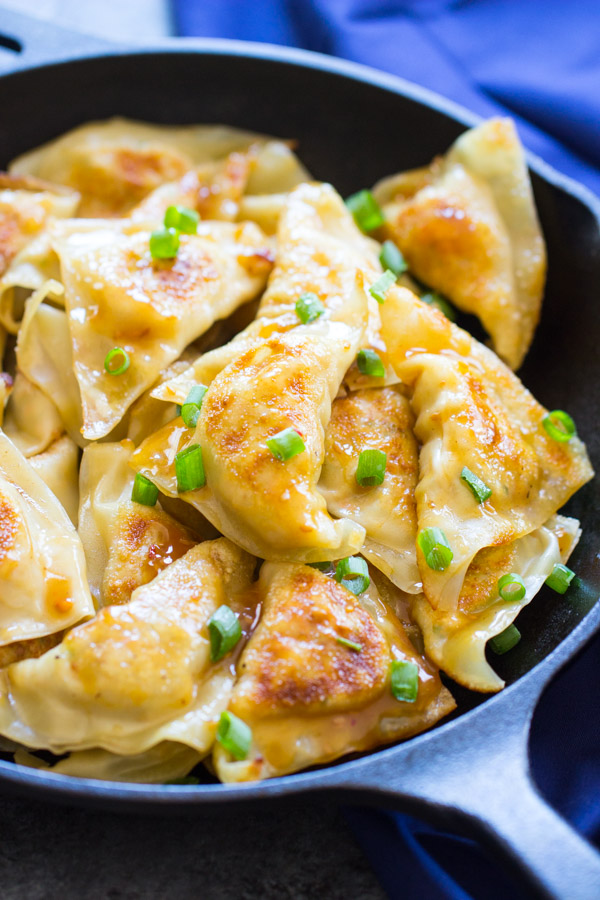 These are EASY. The potstickers take a little time to wrap, but they're quite simple. This was such a delicious meal, and I'm so happy to have a chicken potsticker recipe that I can make so I don't have to rely on the frozen ones. These were way better than the frozen ones anyway. We are already excited to make this Chicken Potstickers recipe again!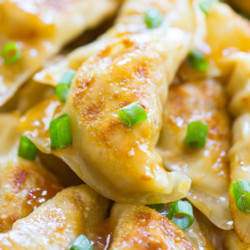 Sesame Chicken Potstickers Recipe
Sesame Chicken Potstickers Recipe! Super simple homemade chicken potstickers with sesame sauce! These rival your favorite restaurant!
Ingredients
1/2

rotisserie chicken

bones and skin removed

1

c.

loosely packed shredded carrots

1

c.

loosely packed shredded cabbage

1/4

c.

chopped green onion

2

cloves

garlic

peeled

3

tbsp.

sesame oil

2

tbsp.

soy sauce

3

tbsp.

P.F. Chang's® Home Menu Sesame Sauce

1/4

tsp.

ginger

salt + pepper

to taste

1 - 12

oz.

package

36 wonton wrappers

2

tbsp.

butter

2

tbsp.

chopped green onion

for garnish

1

tbsp.

sesame seeds

for garnish

1

bottle

P.F. Chang's Sesame Sauce (or similar)

for dipping and drizzling
Instructions
Combine chicken, shredded carrots, shredded cabbage, chopped green onion, and garlic cloves in a food processor.

Pulse until minced.

Stir in sesame oil, soy sauce, sesame sauce, ginger, salt, and pepper.

To assemble potstickers, place wonton wrappers on parchment paper.

Spoon a heaping teaspoonful of chicken mixture into the center of each wrapper.

Dip you finger into a small bowl of water, and run it around the edges of the wonton. Fold into a triangle, and seal the edges firmly.

In a large skillet over medium heat, melt the butter.

Add potstickers in a single layer, and saute until they're golden brown on each side, about 2 minutes. They brown quickly! They'll steam quickly inside, and they'll be quite hot after only 2 minutes of cooking on each side!

Serve immediately, garnished with green onion, sesame seeds, and sesame sauce.