This Chocolate Chip Pudding Cookies recipe calls for mostly simple pantry ingredients, and produces a thick, soft, fudgy, and over-the-top chocolate cookie! These Triple Chocolate Chip Pudding Cookies are such an easy and fast way to get a mega chocolate fix!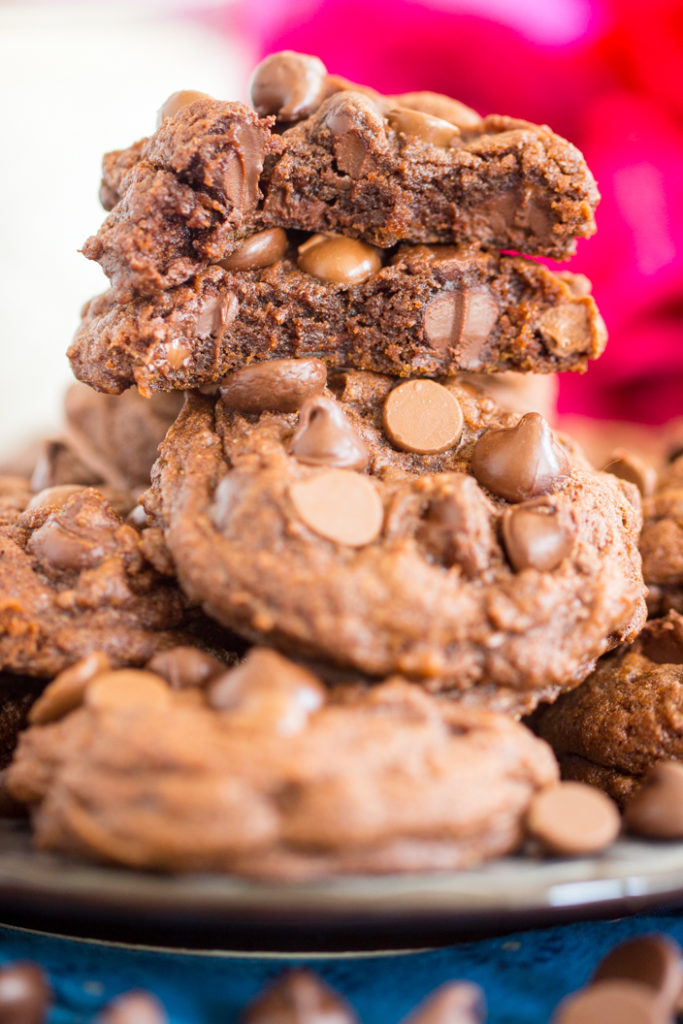 To easily view all of the blog recipes, follow along on Pinterest!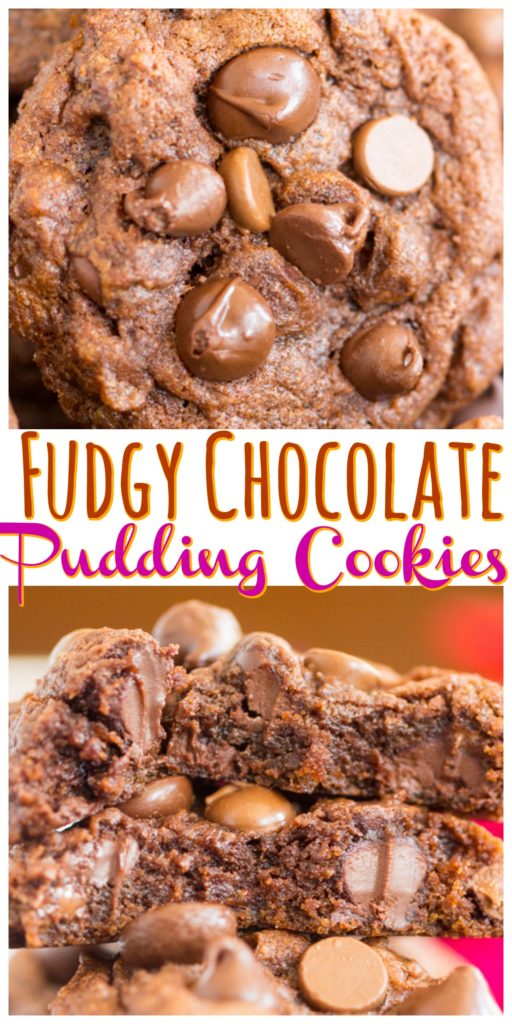 It's time for a cookie. I feel like this is the first place my mind goes lately when I have a craving for something sweet: I just want a cookie.
It's also time for chocolate. It's been a good minute since I've posted anything with chocolate. I'm really not even a big chocolate person, but I've reached that place where chocolate = comfort. Hence the 4 bags of Dove Dark Chocolate promises delivered via Shipt yesterday.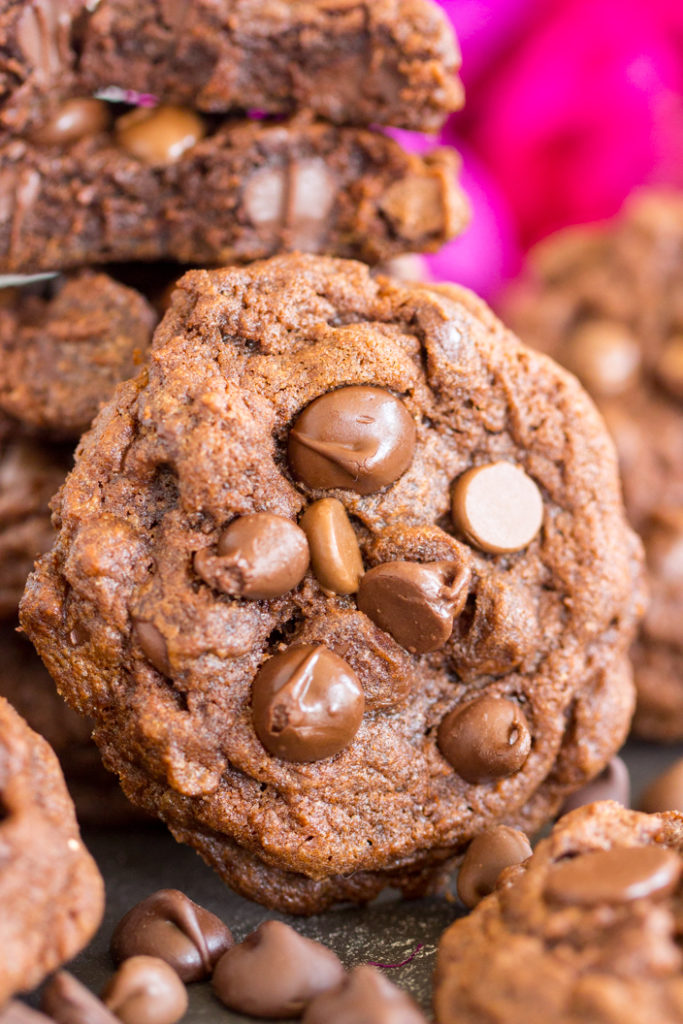 These Chocolate Chip Pudding Cookies are a bit inspired by what already existed in my pantry when quarantine started, as many upcoming recipes will be. Somehow I'd accumulated 8 or so boxes of chocolate instant pudding mix.
In fact, I had a box with an expiration date back to 2012! That might be the oldest foodstuff in my house. I think it surpasses any of our herbs and spices in age, and you know how those are always the stragglers in a kitchen.
I don't know how this happened, but I made it a baking mission to use some up…. excluding the box from 2012, of course. I also had excess of other flavors, so I was brainstorming general recipe ideas for instant pudding mix.
I remembered these
Pistachio Pudding Cookies
that I shared like 6 years ago, and it inspired today's
Chocolate Chip Pudding Cookies
.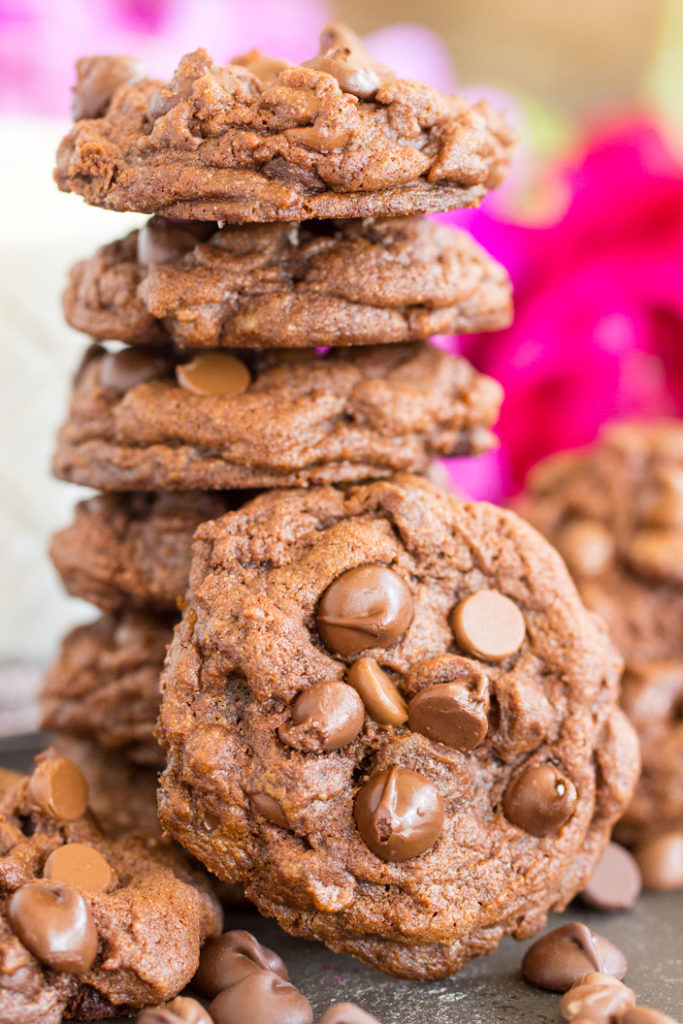 WHAT TO EXPECT FROM PUDDING MIX COOKIES:
One of the biggest draws to pudding cookies is that they are soooo soft. One of the softest cookies I know. The edges are delightfully crispy, but the heart of the cookies are very soft with chewy middles.
In the case of
Chocolate Pudding Cookies
, because they are so soft and chewy, but also chocolate-y, they have a fudgy, brownie-like vibe about them. Fudgy brownie cookies, if you will.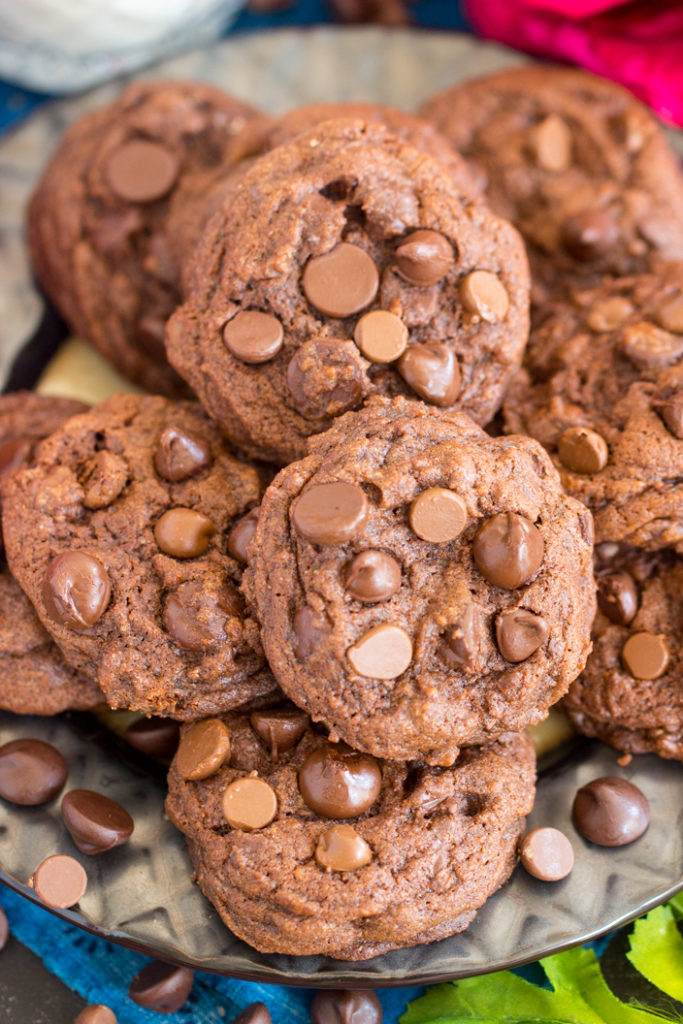 All the more effectuated by an abundance of chocolate chips. Three kinds of chocolate…. Triple Chocolate Chip Pudding Cookies!
If your house is anything like mine, maybe you also have a few partially-used bags of baking chips lying around. I always manage to have fractions of bags remaining. If not, you will now! In another exercise in using things up, I gathered together my half-bags of chocolate chips.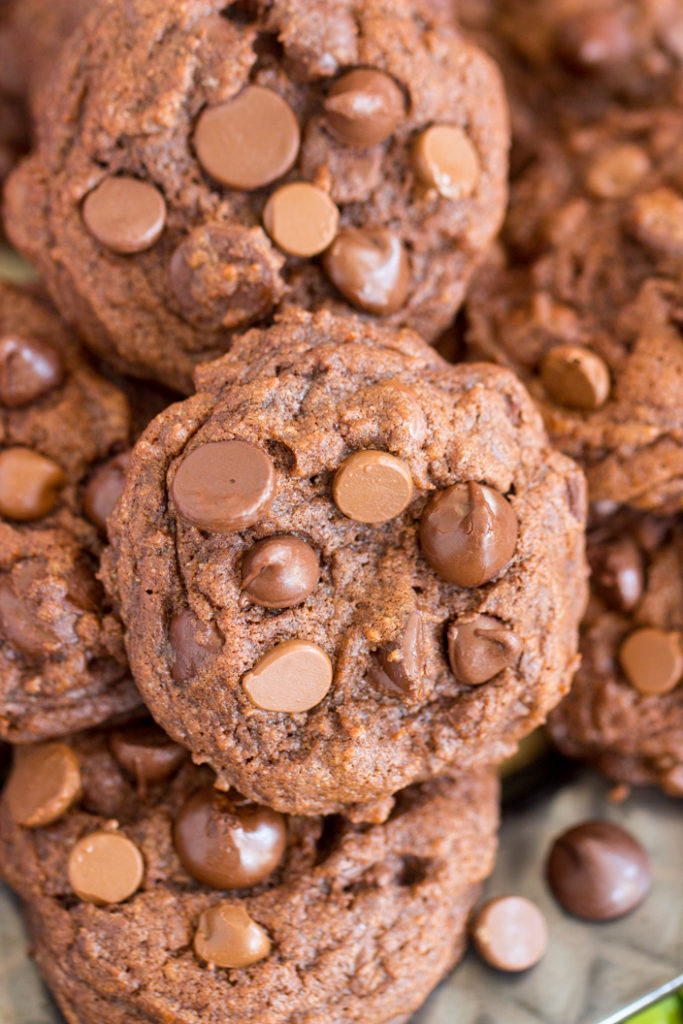 I like the trifecta here: milk, semi-sweet, and dark. The diversity in chocolates is noticeable and appreciated. I highly recommend the blend. I think it gives these cookies distinct depth. Besides that these cookies become a general sea of melty chocolate goodness, they also have a level of sophistication in all their chocolate glory!!
However, we're living in strange times, so use whatever you have on hand. At the end of the day, these are delicious
chocolate cookies
, and you'd be hard-pressed to go wrong.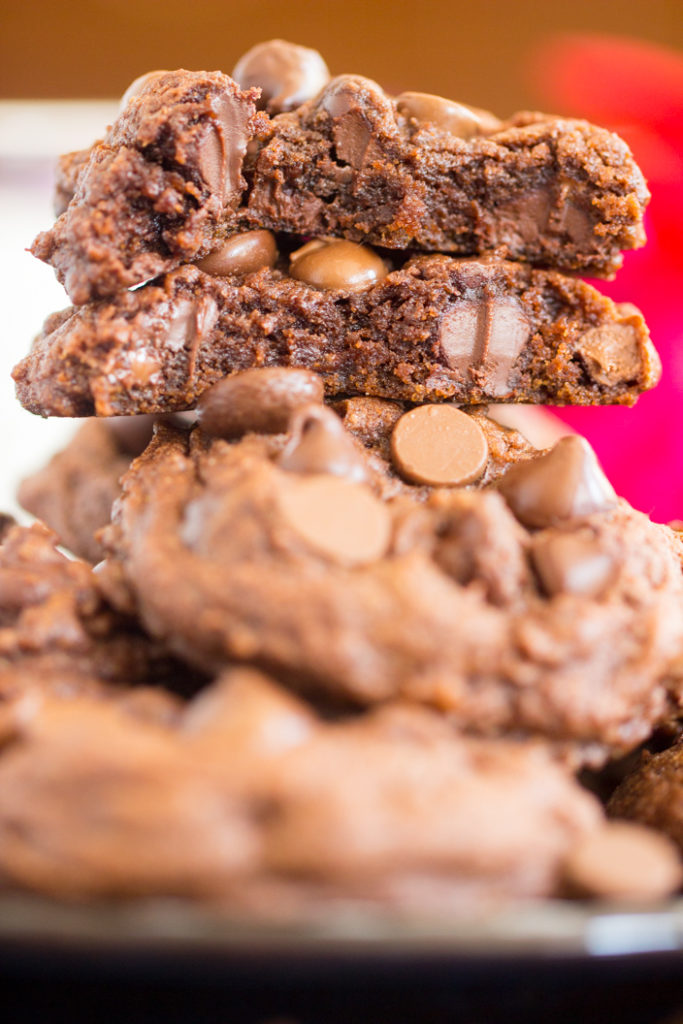 These
Triple Chocolate Chip Pudding Cookies
are unbeatable when they're slightly warm from the oven and the chocolate is melty and gooey. Once these have completely cooled and set, it's still easy to achieve that with 5-6 seconds in the microwave. That's really all it takes to revive them back to that straight-out-of-the-oven state of perfection!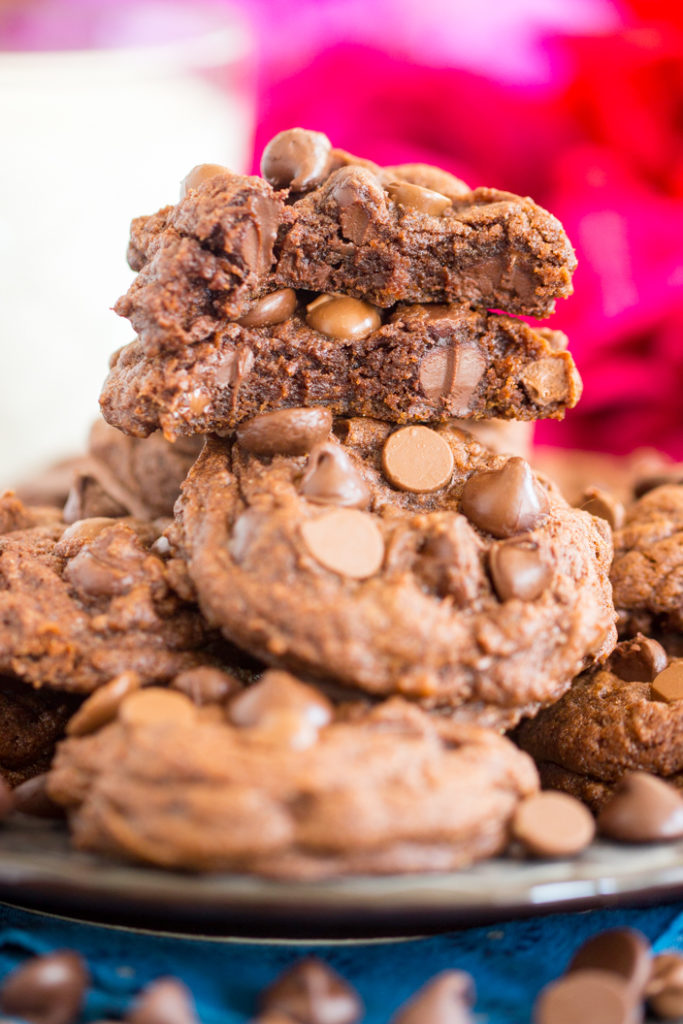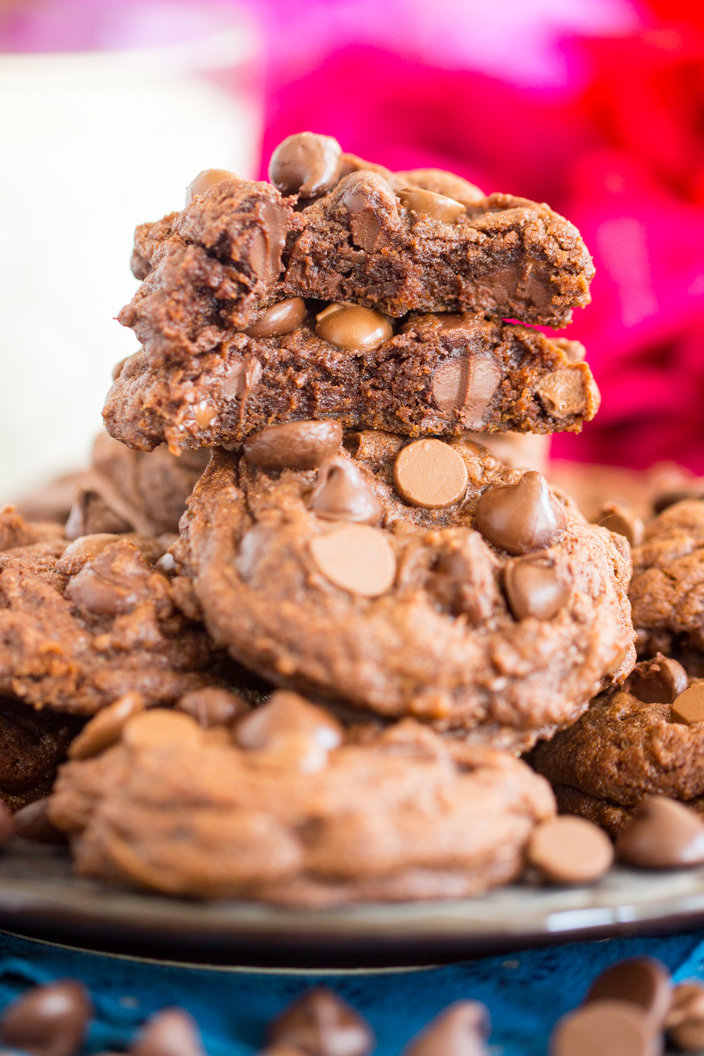 PUDDING COOKIES VARIATIONS:
*Add peanut butter chips or chopped peanut butter cups.
*Substitute with white chocolate chips for a fun twist on black & whites.
*Add a cup each of coconut and chopped pecans for a German Chocolate theme.
*Add a shot of espresso or a teaspoon of instant coffee for a mocha effect.
*Nevermind the options when you start switching up the flavor of pudding mix for pudding cookies!
BAKING AND PREPARATION TIPS FOR PUDDING MIX COOKIES:
If you have parchment paper or silicone baking mats, they are wonderful because cookies don't stick to them at all. No grease needed. In my experience, I also find that cookies don't spread as much, especially on silicone mats, so you get a puffier, taller cookie. I never bake without them.
My other tip for a thicker, fatter cookie is to use a cookie scoop. Not only will your dough balls be uniform, resulting in even baking, consistent cookie size, and very round cookies, but I find that it also stacks the dough a bit higher and taller, which makes for taller cookies overall.
A cookie scoop makes drop cookies an easier experience altogether — it's one of my favorite kitchen tools.
HOW TO STORE CHOCOLATE CHIP PUDDING COOKIES:
In a tightly-sealed container in a cool dry, place. Alternatively, I like to use gallon-sized Ziploc bags. Less clean-up when the cookies are gone. They'll stay fresh for about a week at room temperature. At 3-4 days, they get a bit crumbly, but they're still delish.
They'll freeze beautifully for a few months. Just wrap them really well. I'm partial to the combo of plastic wrap or Ziploc bag, plus a layer or two of foil. I like to pair storage methods for good measure.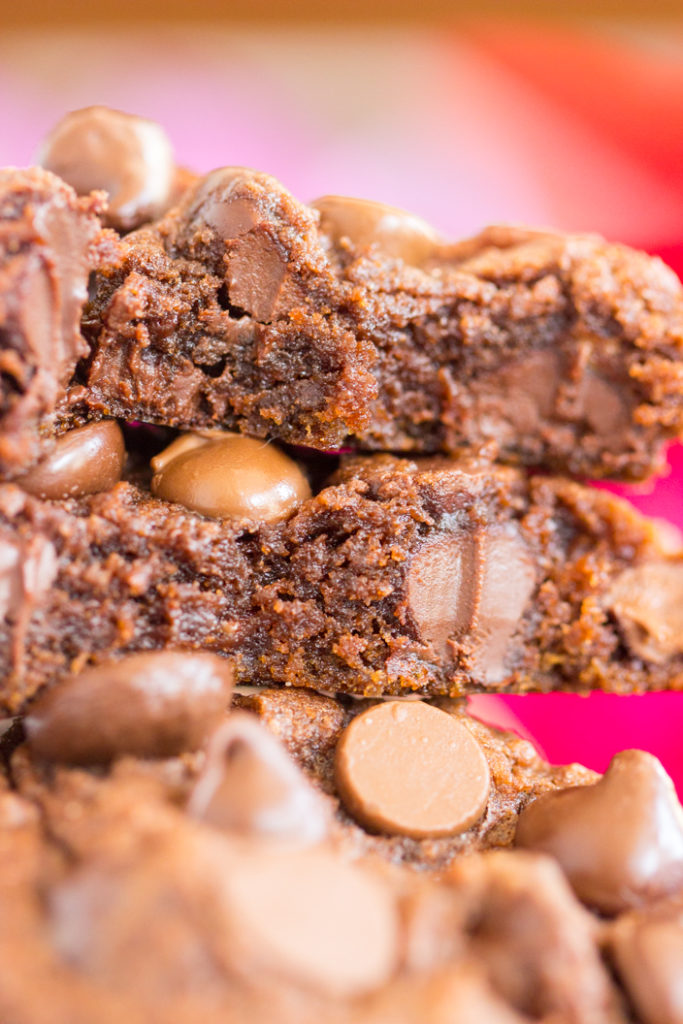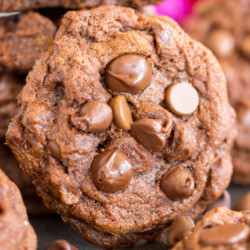 Triple Chocolate Chip Pudding Cookies
This Chocolate Chip Pudding Cookies recipe calls for mostly simple pantry ingredients, and produces a thick, soft, fudgy, and over-the-top chocolate cookie! These Triple Chocolate Chip Pudding Cookies are such an easy and fast way to get a mega chocolate fix! 
Ingredients
1

cup

butter

softened

1

cup

packed brown sugar

2

large

eggs

1

tsp.

vanilla extract

2

cups

all-purpose flour

3.4

oz.

box instant chocolate pudding mix

just the dry mix

2

tbsp.

cocoa powder

1

tsp.

baking soda

2

cups

assorted chocolate chips + additional for pressing into cookies right out of the oven, if desired

I used 2/3 cup semi-sweet, 2/3 cup milk chocolate, and 2/3 cup dark chocolate chips
Instructions
In a large mixing bowl, beat butter and brown sugar until creamy.

Add eggs and vanilla, beating until combined.

In a medium bowl, whisk together flour, dry pudding mix, cocoa powder, and baking soda.

Add dry ingredients to the mixing bowl, and beat until just combined. Do not overmix because it results in tough cookies! Beat until only just blended together. Dough will be very thick.

Line cookie sheets with parchment paper or silicone baking mats. If neither are on hand, lightly grease the cookie sheets.

Drop dough by rounded tablespoonfuls about two inches apart. If you have a cookie scoop available, I love that it produces very uniform, consistent, round cookies.

Bake at 350 degrees for 10-12 minutes or until edges of cookies are lightly browned, and the centers appear mostly set. Lightly tapping the center of a cookie, it should feel mostly set, and not gooey.

Remove from heat, and cool for 2-3 minutes on baking sheets before removing to a wire rack. Cookies are very soft and fragile straight from the oven -- cool on cookie sheets before transferring.

If desired, press a few additional chocolate chips into the tops of cookies while cooling on the cookie sheets. This is mainly for looks!

Allow to cool and set completely on wire racks.

Store in a tightly-sealed container in a cool, dry place for up to a week.
Notes
Cookies freeze beautifully for 3-4 months. My favorite way to store cookies in the freezer is by carefully stacking them (once completely cooled and set) in vertical stacks of 3-4 cookies in a gallon-sized ziploc bag. Then I wrap the bag in two layers of foil, and mark the name of the recipe and the date on top of the foil with a Sharpie!
More chocolate desserts for your chocolate fix!