Classic apple crisp, spiked with Fireball whiskey for a boozy kick! This Fireball Apple Crisp is loaded with sweet cinnamon-y apples, topped with buttery, brown sugar streusel, and the Fireball whiskey does not go unnoticed.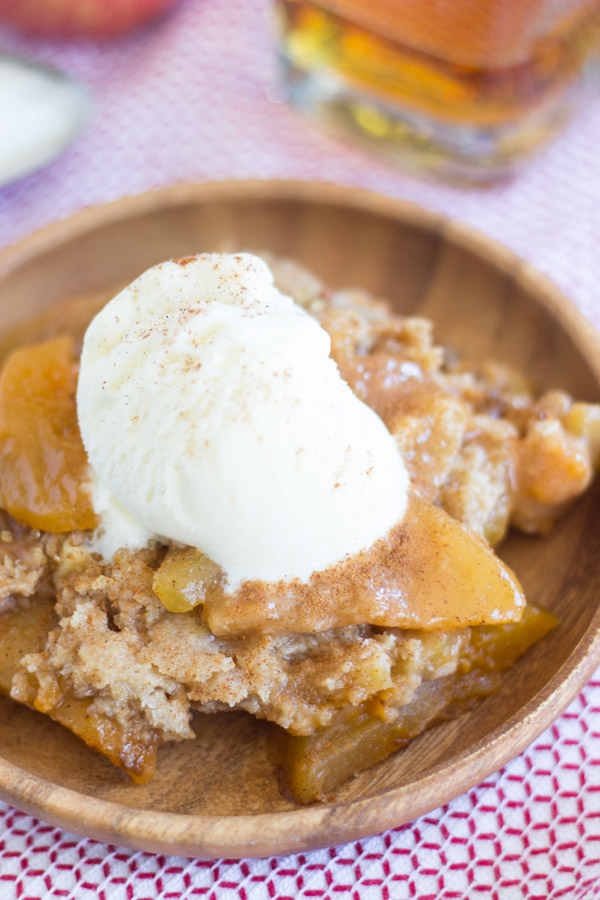 I am so in love with this Fireball Whiskey Caramel Sauce that I couldn't stop myself from making something else with Fireball. Earlier in the season, I'd brainstormed a few Fireball ideas for fall, and was only going to share one of them – the caramel sauce – but that sauce is so.ridiculously.good that I couldn't resist experimenting more with Fireball. I wanted to include it in some type of baked good this time around.
You know that I always have to do twos and threes of things.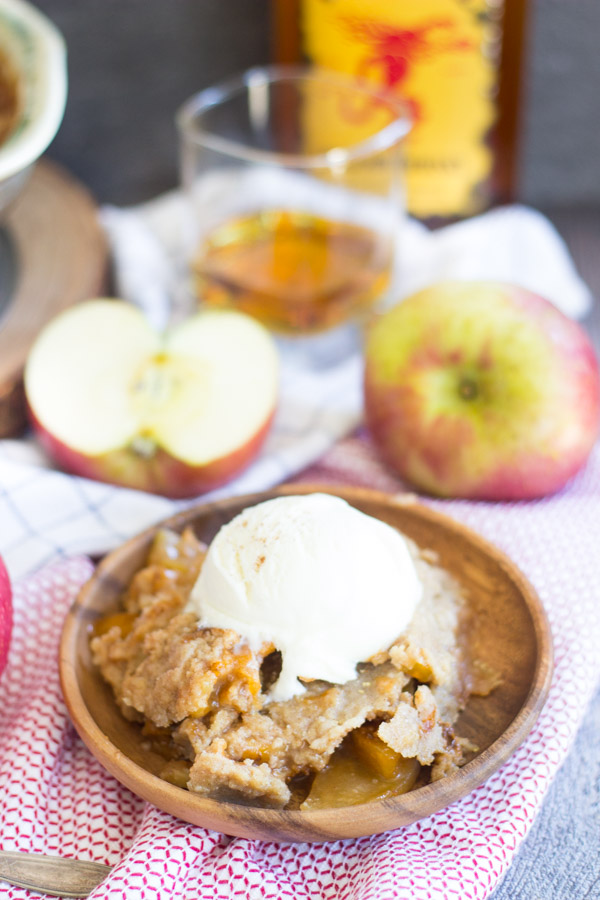 I based this Fireball Apple Crisp recipe from my Apple & Tart Cherry Crisp. That's been my go-to apple crisp recipe for about a decade, and so it makes for a great starting point for another apple crisp variation. The apples bake up soft and nicely spiced. They bake in a bath of apple cider, so it enhances the flavor of the apples. I love the cherries in that recipe because they are tart, but sweet, and they get very plump and juicy as they bake.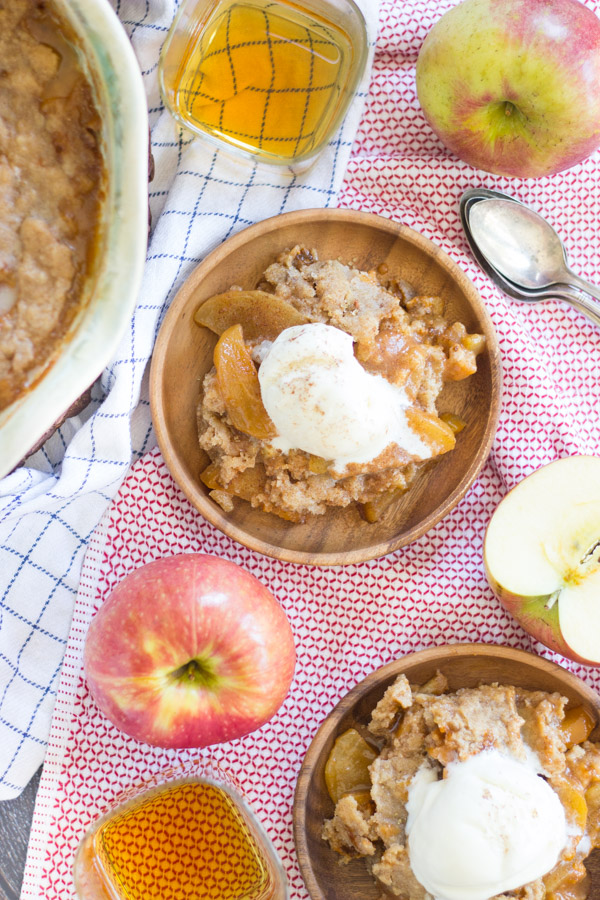 The topping is a little crispy and crunchy. It's still soft too, but when you press on it with a spoon, it sort of breaks. A fissure of cinnamon, butter, and brown sugar. It's amazing what cinnamon, butter, brown sugar, and some flour can turn into when they're put altogether. Simple ingredients, but extraordinary results.
I substituted part of the apple cider in my original apple crisp recipe with Fireball. That's one of only a few changes I made, but it was all the difference. The cinnamon whiskey isn't too boozy, but is just enough to add some kick.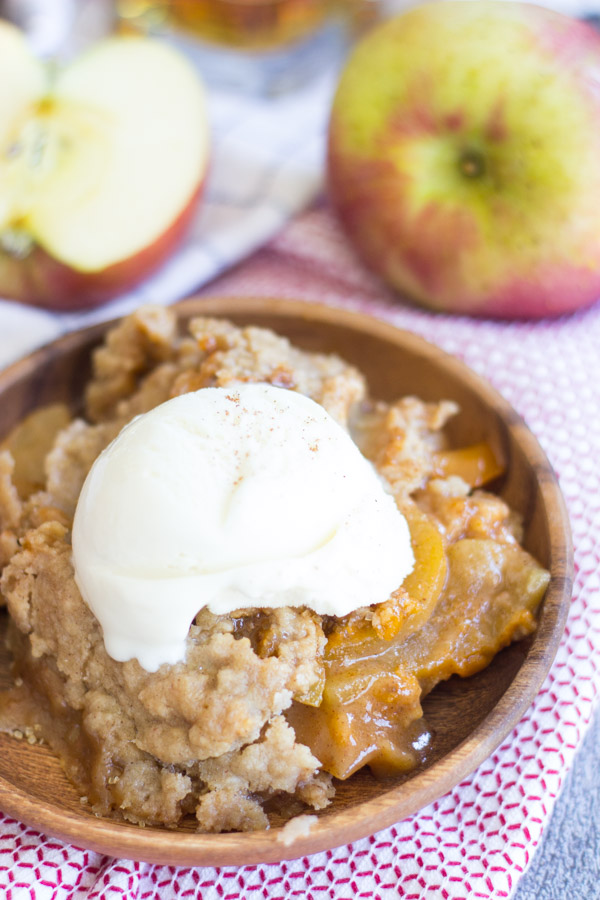 And the whole aroma of this apple crisp is so intoxicating (no pun intended). The sweet cinnamon apples with the cinnamon booze are just the most amazing scent in your kitchen. It needs to be a candle. You won't believe how the Fireball impacts this dessert.
I love fruit anyway, but fruit drenched and baked in cinnamon whiskey? Favorite form of fruit.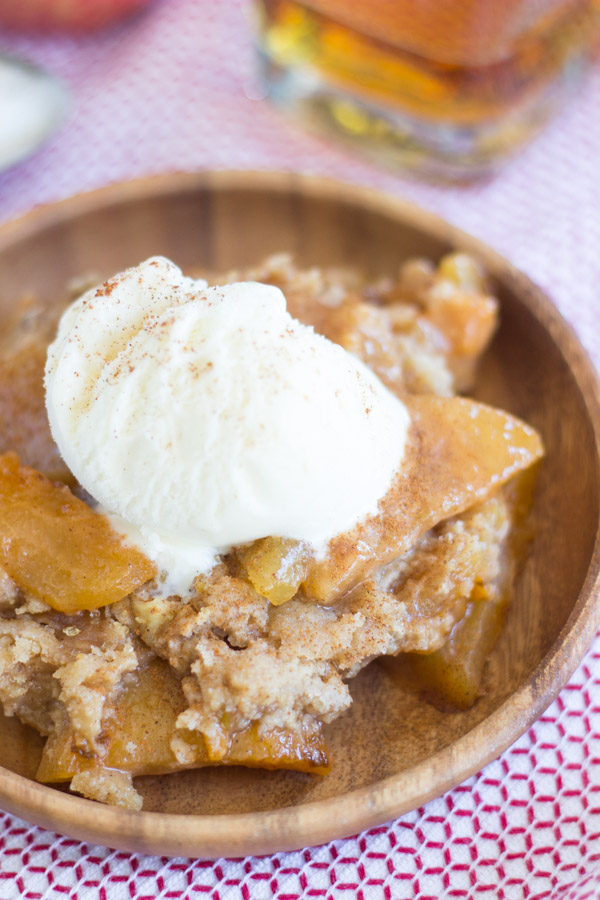 Fireball Apple Crisp
Classic apple crisp, spiked with Fireball whiskey for a boozy kick! It's got extra cinnamon flare!
Author:
Sarah @ The Gold Lining Girl
Ingredients
3 large Granny Smith apples, peeled and sliced
2 large Fuji apples, peeled and sliced
¾ c. + 3 tbsp. packed brown sugar
¾ c. + 1 tbsp. oat flour, whole wheat flour, or all-purpose flour
1 c. cinnamon chips (optional)
¼ c. apple cider (or water will work too)
⅓ c. Fireball whiskey
1 tsp. cinnamon
6 tbsp. cold butter
vanilla ice cream or whipped cream
Directions
In a large bowl, toss apples with 3 tbsp. brown sugar and 1 tbsp. flour.
Add cinnamon chips, and toss to mix.
Transfer to a lightly greased 2-qt. baking dish.
In a small bowl, combine apple cider and Fireball.
Pour the Fireball mixture over the apples in the baking dish.
In a medium bowl, combine remaining brown sugar, flour, and cinnamon.
Cut in butter until the mixture resembles coarse crumbles.
Sprinkle evenly over apples.
Bake at 350 degrees for 45-50 minutes or until golden brown on the top.
Serve warm with ice cream or whipped cream.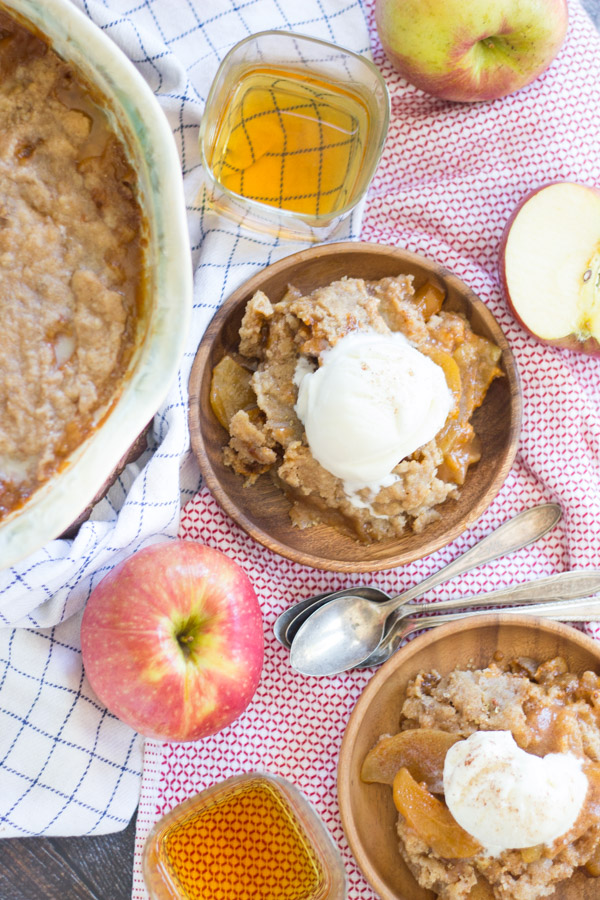 Top it with a scoop of ice cream, and have a shot of Fireball on the side. Do it.
If I'd had any of this Fireball Whiskey Caramel Sauce left, I'd douse it in that too.