Here's the deal: I have clipped countless recipes for icebox cookies and shortbread cookies with colorful ribbons, stripes, and patterns, but I've never really made them. I've made A LOT of baked goods over the years, and some of them were quite complicated. Yet, I've always found it intimidating to make patterned shortbread cookies like these checkerboards, these pinwheels, or these Neapolitans slices. I don't know why I find them so daunting. I've made far more complicated candies, truffles, souffles, and heck, I've even taken cake decorating classes, but a simple slice-and-bake cookie was confounding me. It was time to get over it. I finally conquered my pathetic fear of fancy shortbread cookies and tested the waters. I figured, what's the worst that could happen? Just a recipe flop. And that's not so bad. It's happened many times before! Luckily, they weren't a baking failure and turned out GREAT.
I opted to venture into the world of colorful, layered shortbread cookies with a rendition of Italian Spumoni cookies. In typical fashion, I took approximately four different recipes for Italian Spumoni cookies, plucked my favorite bits from each, and smashed them all into one. After several batches of trial and error, I landed on this particular version. They are a keeper. They're rich, buttery, and delicate. These meld together the three traditional flavors of Spumoni ice cream: cherry, vanilla, and pistachio. Gaaah. The flavors blend together so perfectly. My S.O.'s stepfather is quite a foodie and we've had a number of family dinners where his love of Spumoni has been a hot topic of conversation! I can't wait for him to try these. And you too, my friends! I hope you enjoy them!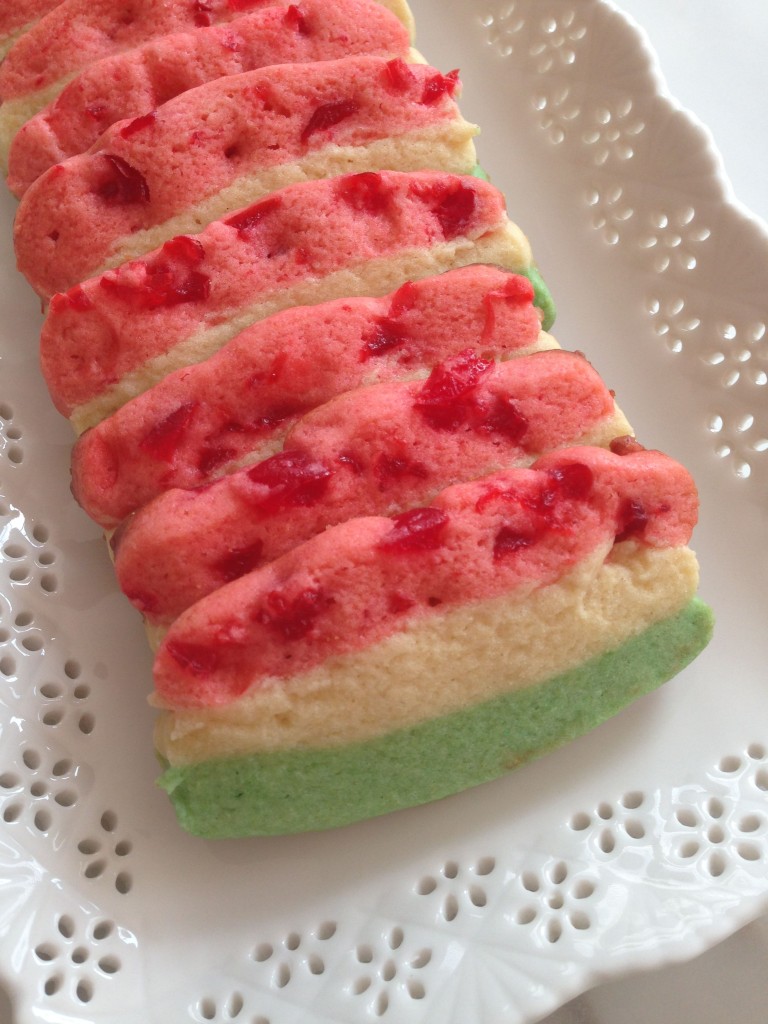 Italian Spumoni Cookies:
1 c. butter, softened
1 c. sugar
1 egg
1 tsp. vanilla extract
1 tsp. almond extract
2 1/2 c. flour
1/2 tsp. baking powder
1/2 tsp. salt
1/3 c. chopped maraschino cherries, drained 
2-3 drops red food coloring
1/3 c. chopped pistachio nuts
3 tbsp. pistachio pudding mix
2-3 drops green food coloring
In a large mixing bowl, combine butter, sugar, egg, and the extracts. Beat at medium speed until creamy. Add flour, baking powder, and salt. Beat until well-blended. Divide dough into thirds. Add chopped maraschino cherries and red food coloring to one of the thirds. Mix well by hand. Add pistachio nuts, pistachio pudding mix, and green food coloring to another third of the dough. Mix well by hand. Shape each third of dough on separate sheets of lightly floured wax paper into logs approximately 1 1/2 inch in diameter and approximately 16 inches long. Flatten each log into a rectangle approximately 3-4 inches wide. You will have 3 rectangles of 4×16. Layer the dough on a single piece of plastic food wrap by lining up the rectangles and flipping them one on top of the other. Start with pistachio as the bottom layer, flip the plain layer on top of pistachio, and flip the maraschino cherry layer on top of the plain layer. Wrap securely in plastic wrap and refrigerate until firm, at least 3 hours.
Cut the rectangle widthwise with a sharp knife  into 1/4 inch slices. Place slices 1 inch apart on ungreased cookie sheets. Bake at 350 degrees for 9-11 minutes or until edges are lightly brown. Cool completely.
Yield: Approximately 30 cookies.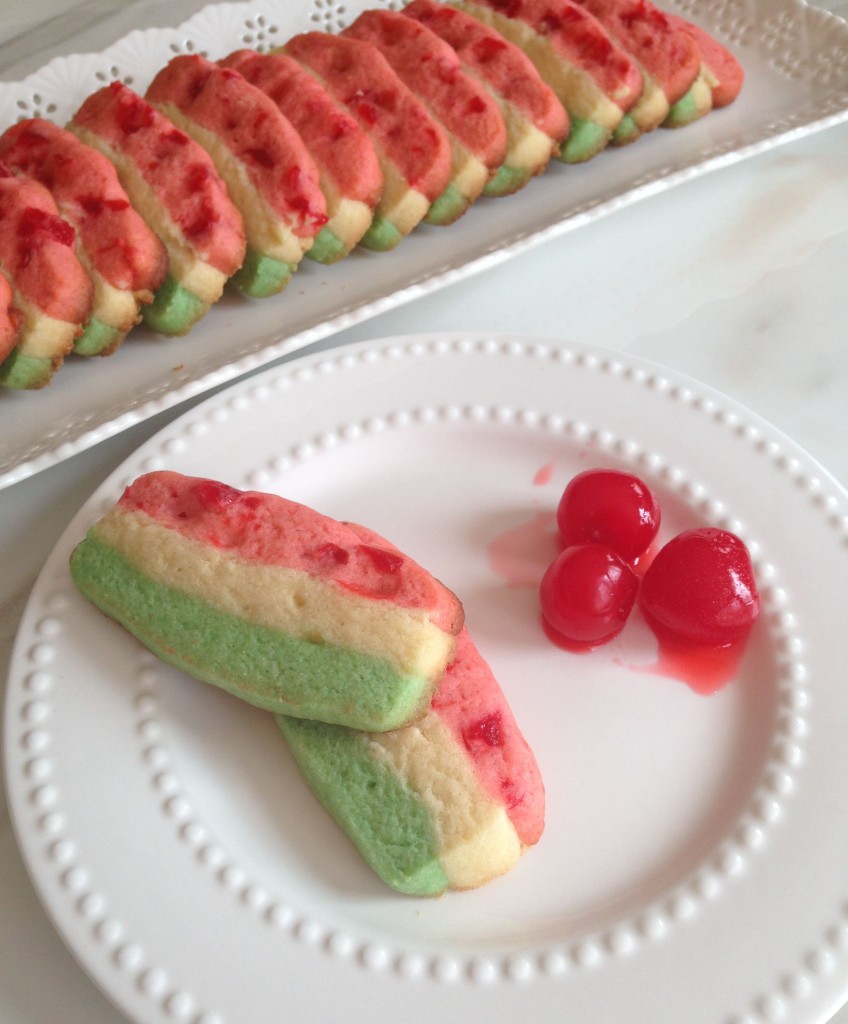 Recipe adapted mostly from Land O Lakes Spumoni Slices.