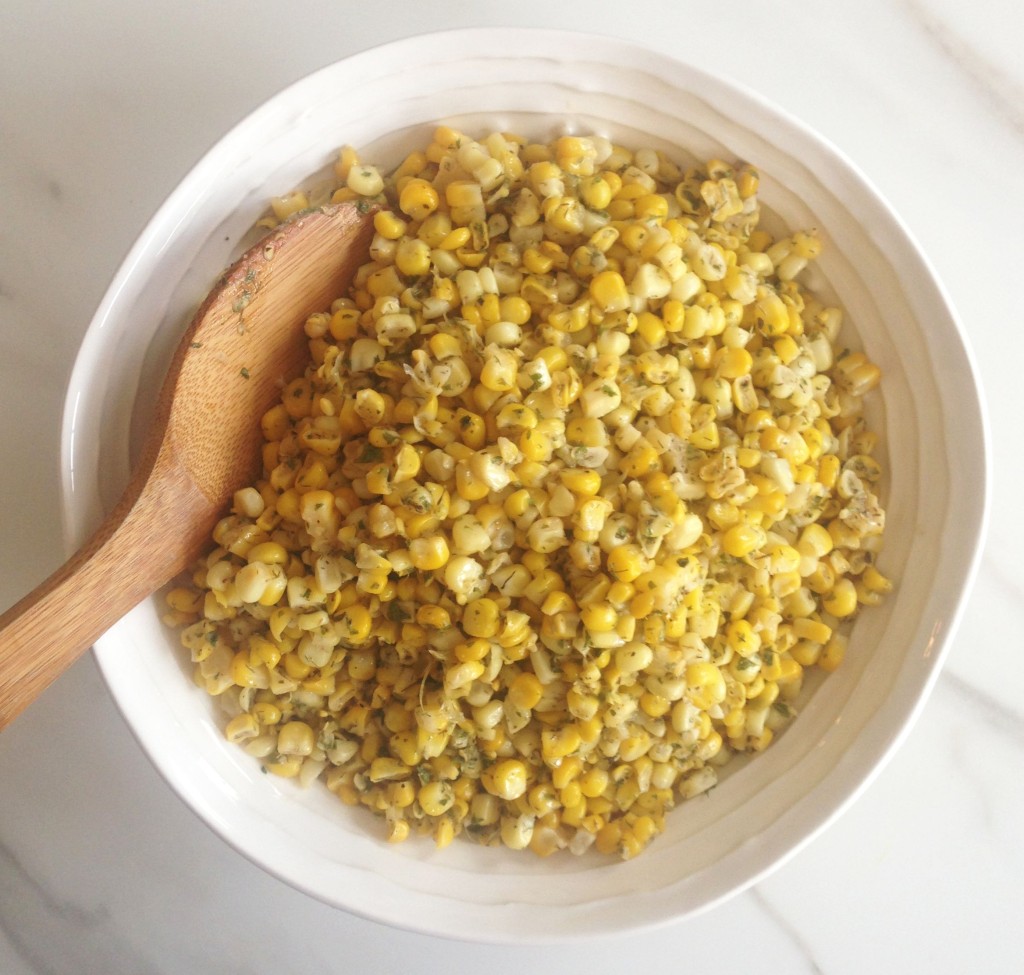 I don't really like vegetables and I kind of don't understand people who do. If they are doctored up with a whole mess of butter and/or cheese, then I guess they can be good. But without those artery-cloggers, I'm not a huge fan. Hi broccoli and asparagus, I pick fruit over you any day. No competition. Don't get me wrong… I still eat veggies because they are an "important part of a well-balanced diet" (Ha!), but I don't really enjoy it. The only true exceptions are corn and peas. Because, well, they are the vegetables with the most sugar content and the least nutritionally beneficial. So OF COURSE I would like them.
If I was designing a planet, I would make donuts and s'mores the most nutritionally sound foods. I'm not questioning our maker, I'm just sayin'. I like me some sugar.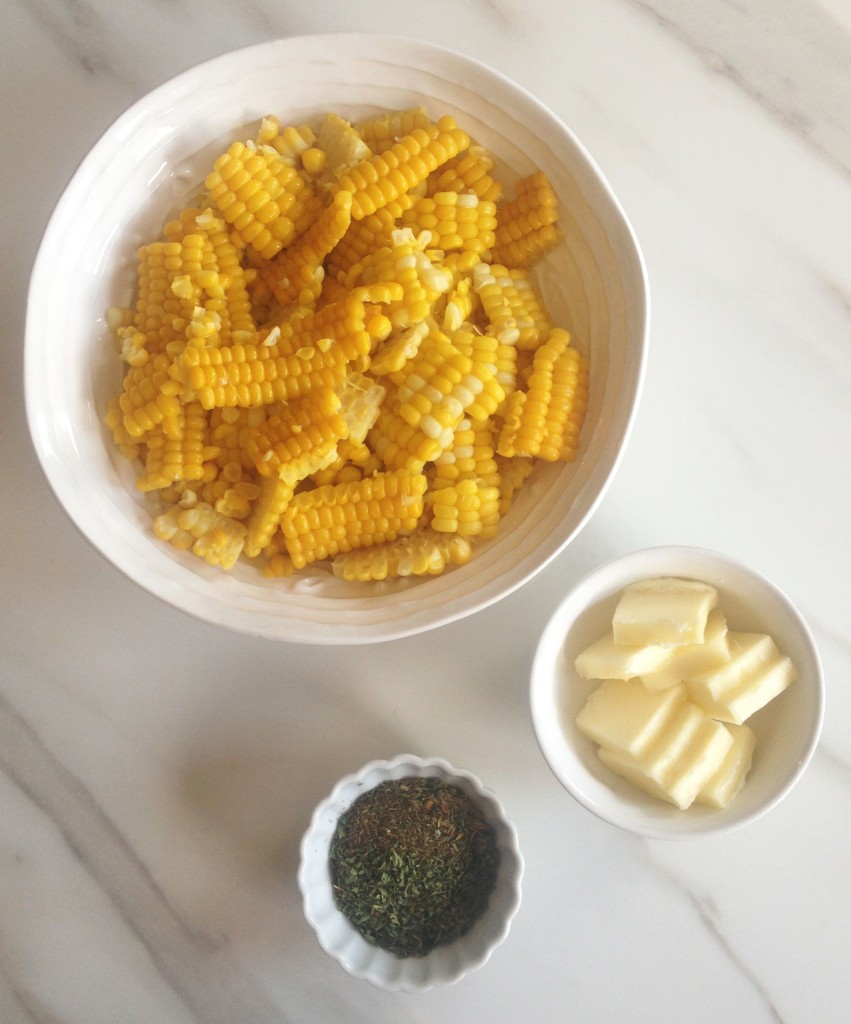 Thank goodness for corn though. Especially corn on the cob. All day, every day. Butter, salt. That's it. I'm completely content with corn composing all of my meals in the summer. I see no problem. One evening when I was 6 or 7, my family and I ate dinner outside at a picnic table in the yard underneath a cluster of trees. The main course of our meal was forgettable, but I still recall eating a half dozen ears of corn. I could.not.stop. At some point, my family all went inside and left me at the table. I sat there eating ear after ear. It was ridiculous. I don't know how my small person's body had the capacity for all that corn at my young age. But it just went on and on and ON. There are hardly better foods on the planet.
Admittedly, corn doesn't need any help. It's delicious all on its own. It's even more amazing with a little butter and salt. That's as far as a person ever needs to go with it. Fully acknowledging that, I still urge you to try this Buttery Herbed Corn at least once. Just once. Give it a single try. There's like 8,000 herbs in this recipe. Hear me out. They all come together and marry perfectly, enhancing the natural deliciousness and awesome flavor of corn. It does things to plain corn that you don't realize are possible. It's a fantastic summer side dish. You will not regret giving this a shot.
I made a batch of this for myself and S.O. It lasted exactly 1 day. All gone.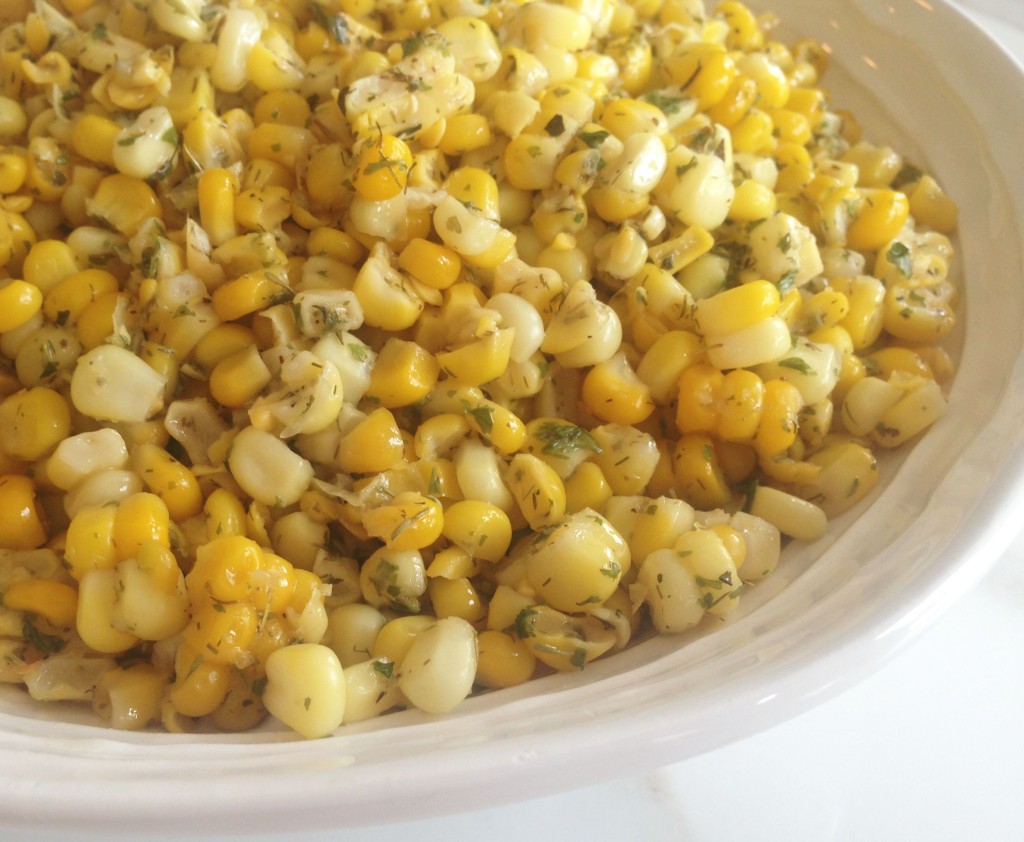 Buttery Herbed Corn:
6 ears of corn, boiled, drained, cut off the cob
1/2 c. butter
2 tsp. dried parsley
1 1/2 tsp. salt
1 tsp. dill weed
1/2 tsp. garlic powder
1/2 tsp. Italian seasoning
1/4 tsp. thyme
Mix spices together in a small bowl. In a large bowl, while the corn is still warm, mix together the corn and butter until the butter is melted. Stir in the spices and mix until well-blended. Serve. Enjoy!