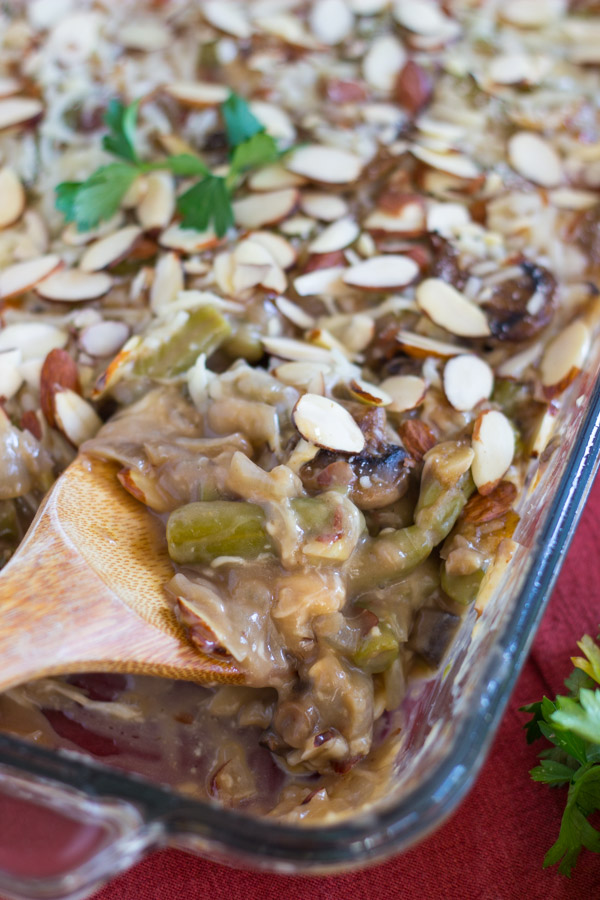 Green bean casserole gets spruced up with fresh onions and mushrooms, balsamic vinegar, Parmesan cheese, and a garnish of slivered almonds. This Cheesy Green Bean Casserole Amandine will wow your holiday guests.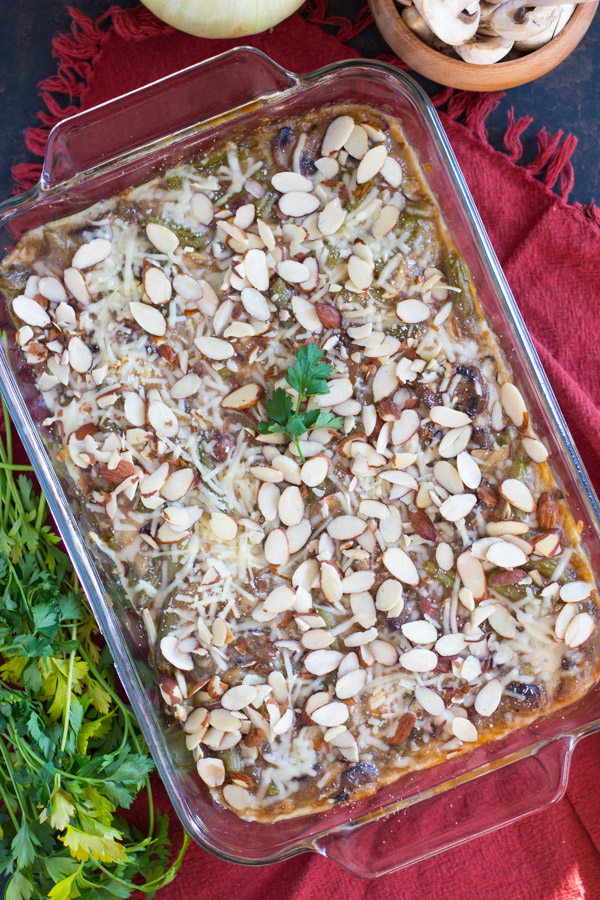 I just got back from Pennsylvania a few days ago for an annual 'early Thanksgiving' dinner with my family.
I celebrated an early Thanksgiving with my family on November 5th. Yes, that's super early, but it's so hectic and crazy and expensive to travel the week of actual Thanksgiving, that we get together a few weeks ahead every year.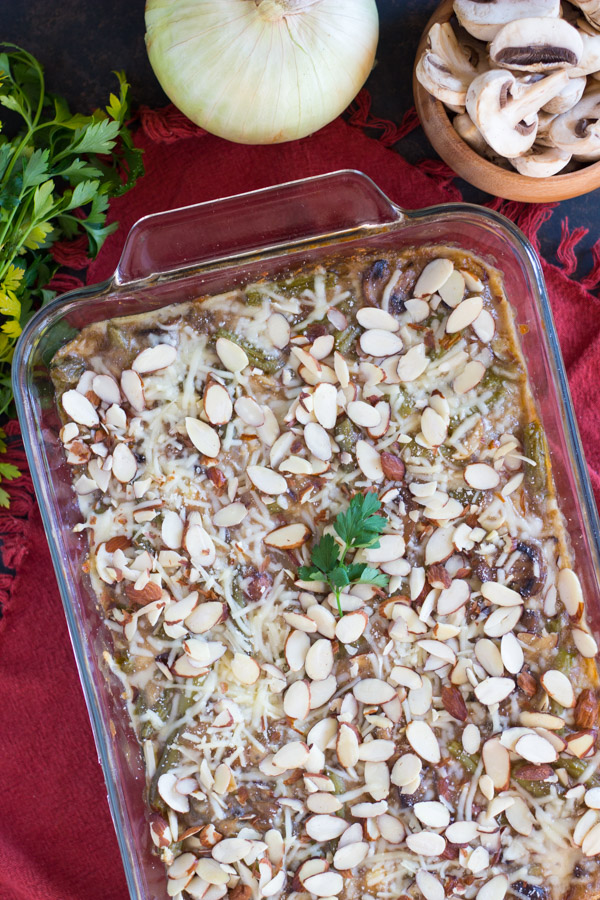 Then I'm also not turning around for my Christmas trip a few short weeks later. It spreads out the visits, and it spreads out the travel.
You'd think it wouldn't really feel like Thanksgiving, but it does to me. Not everyone in the family feels that way, but it definitely does to me. Maybe that's because I've been making fall desserts and pies since early August? Maybe. My mind is always a season ahead. As I said a few days ago, I'm already on to Christmas in many ways!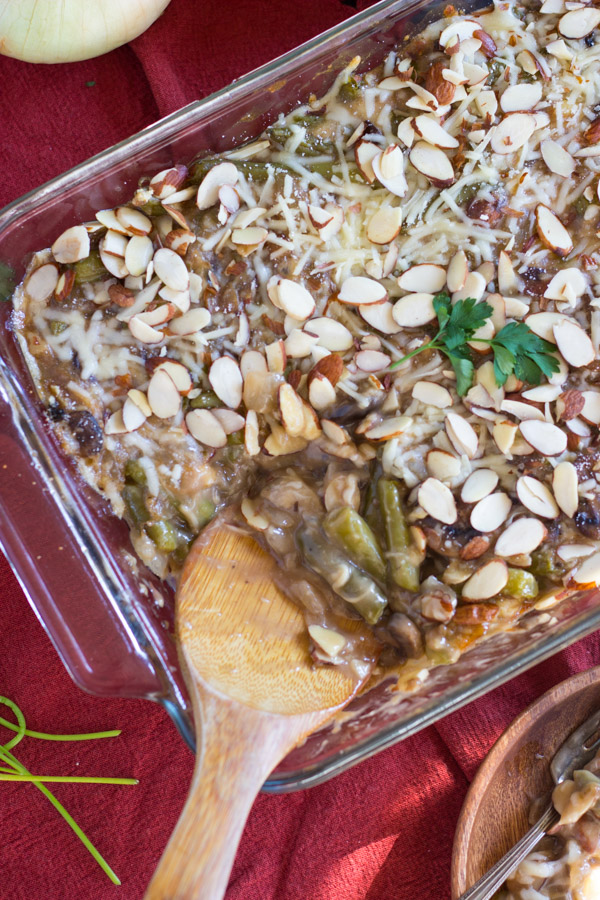 We still watch football (college) all day, sometimes we play cards or a board game, sometimes we just sit around and talk. This year we watched football, and also found ourselves smashing open geodes in my brother's driveway. Actually, I just watched, but it was quite entertaining. Regardless of the activities of the day, we enjoy each other's company, and we enjoy a satisfying meal together.
We make a traditional Thanksgiving dinner, complete with canned cranberry sauce and green bean casserole. Generally, it cannot change or deviate from tradition, or some people in the family (I'm not naming names) become squeaky wheels. We stick to all the traditional dishes, and we keep it simple.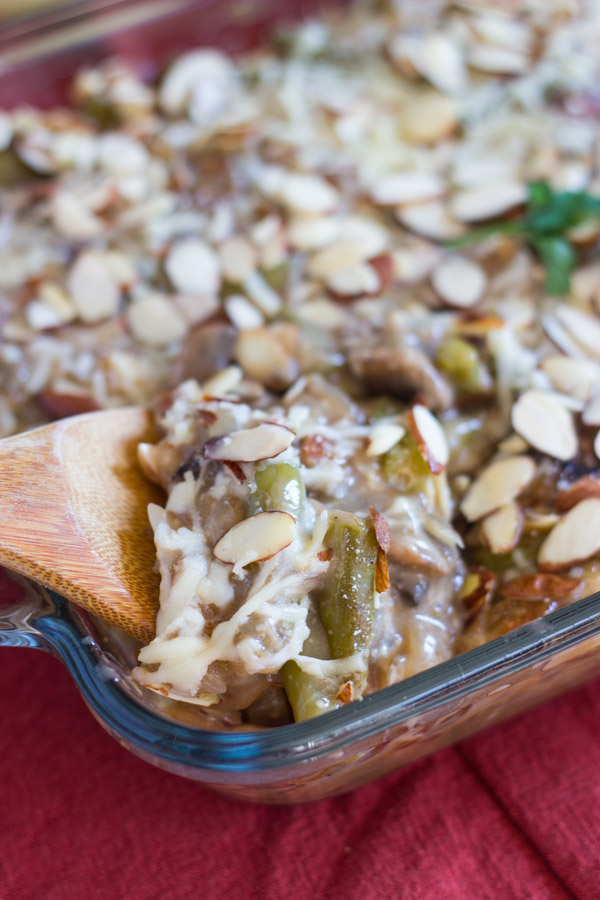 That said, it's nice to put slightly new spins on classic recipes. This Cheesy Green Bean Casserole Amandine is still a recognizable, familiar comfort food that we love to include in our Thanksgiving menu, except this version has a small makeover.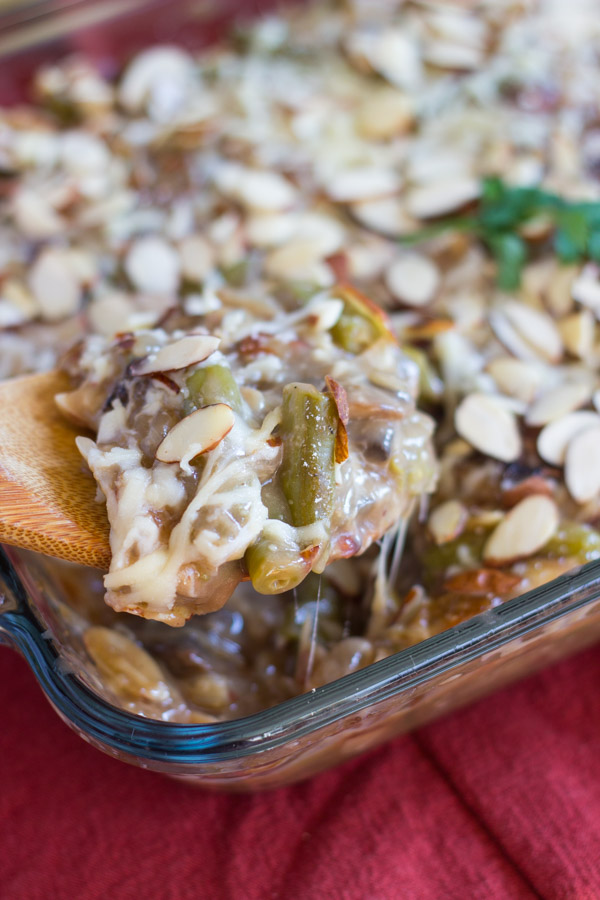 I love this Cheesy Green Bean Casserole Amandine twist on the classic version, and it only took a few ingredients to transform it. I first sauteed fresh onions and mushrooms so that this side dish was abundant with veggies. I also spiked this casserole with a few tablespoons of balsamic vinegar. I didn't use a lot, but the flavor really comes through, and it really brightens up this casserole.
I threw in slivered almonds for a little crunch, and shredded Parmesan cheese because… cheese. What casserole isn't better with cheese? Anything with 'cheesy' in the title is going to be a winner, right?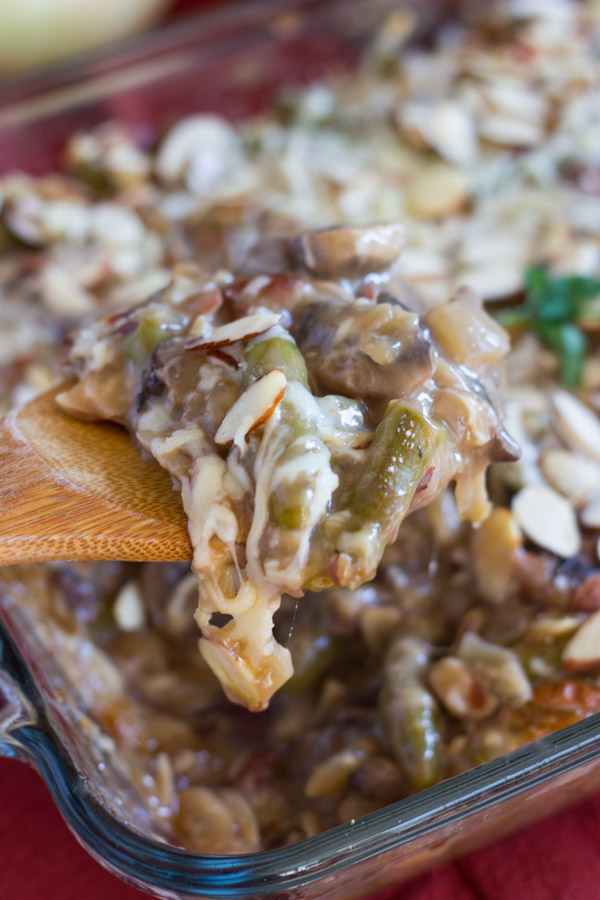 It takes about 10 minutes longer to make than the original version, but this Cheesy Green Bean Casserole Amandine is worth the effort! Guests will be super impressed with this new spin on a classic recipe.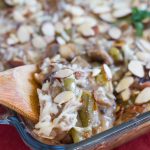 Cheesy Green Bean Casserole Amandine
Ingredients
2

tbsp.

butter

1

medium yellow onion

chopped

1 - 8

oz.

package sliced white mushrooms

1 - 10.5

oz.

can Campbell's® Cream of Mushroom Soup

1/2

c.

Swanson® Chicken broth

3

tbsp.

balsamic vinegar

1

c.

shredded Parmesan cheese

divided

1/2

c.

slivered almonds

divided

2 - 14.5

oz.

cans Del Monte® Blue Lake® Cut Green Beans

well-drained
Instructions
In a large skillet over medium-high heat, melt the butter.

Add the onions and mushrooms, cooking until soft and golden.

In a large bowl, stir together cooked onions and mushrooms, cream of mushroom soup, chicken broth, balsamic vinegar, 1/2 c. Parmesan cheese, and 1/4 c. slivered almonds.

Fold in the green beans.

Spread into a lightly greased 2-qt. baking dish.

Bake at 350 degrees for 30 minutes, or until edges are bubbling.

Sprinkle with remaining Parmesan cheese and almonds.

Return to the oven for 4-5 minutes, or until cheese is melted, and the almonds are lightly browned.

Serve hot!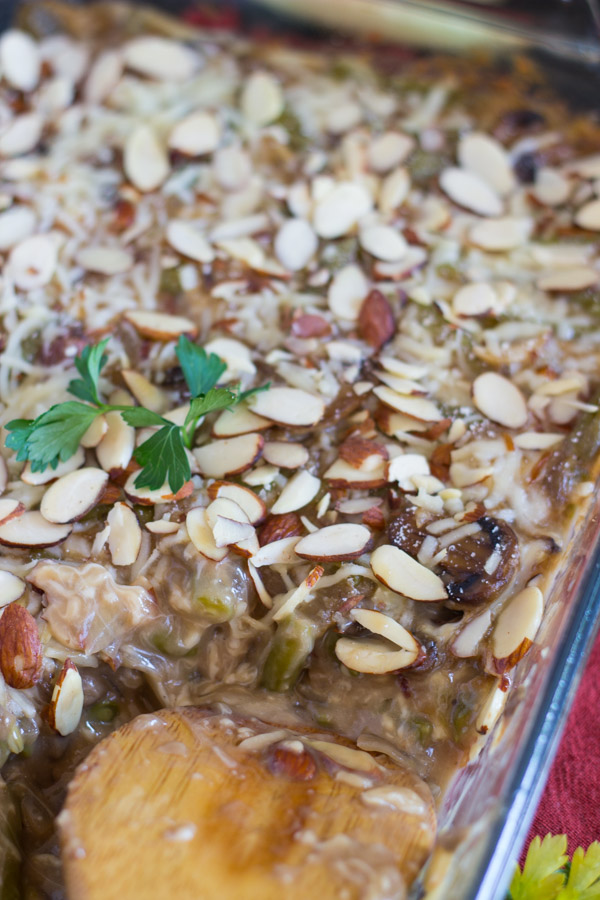 You may also like: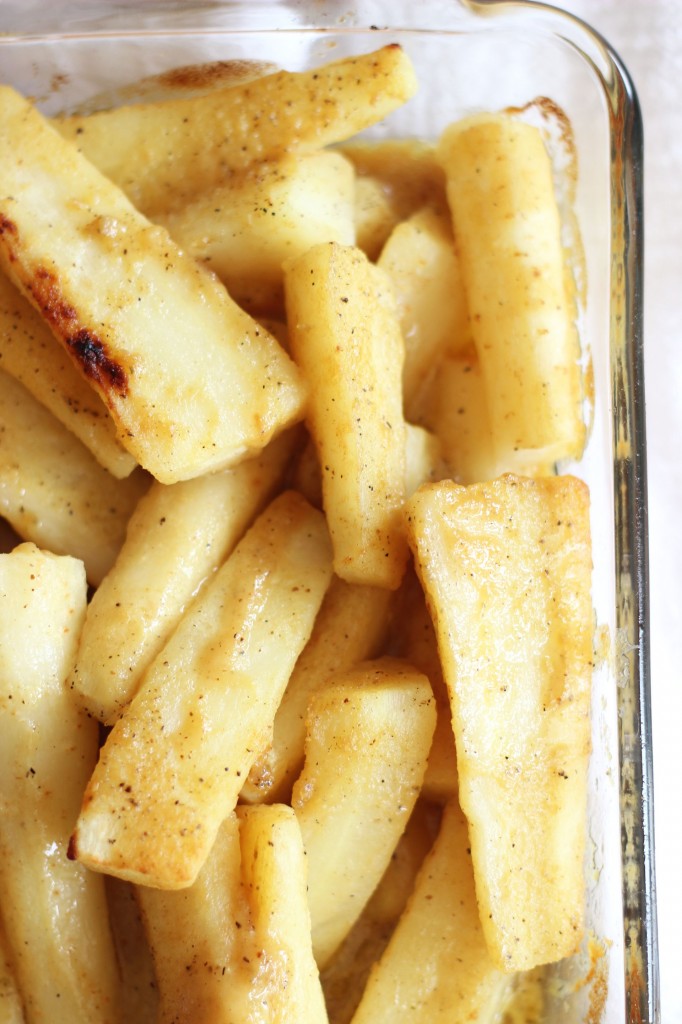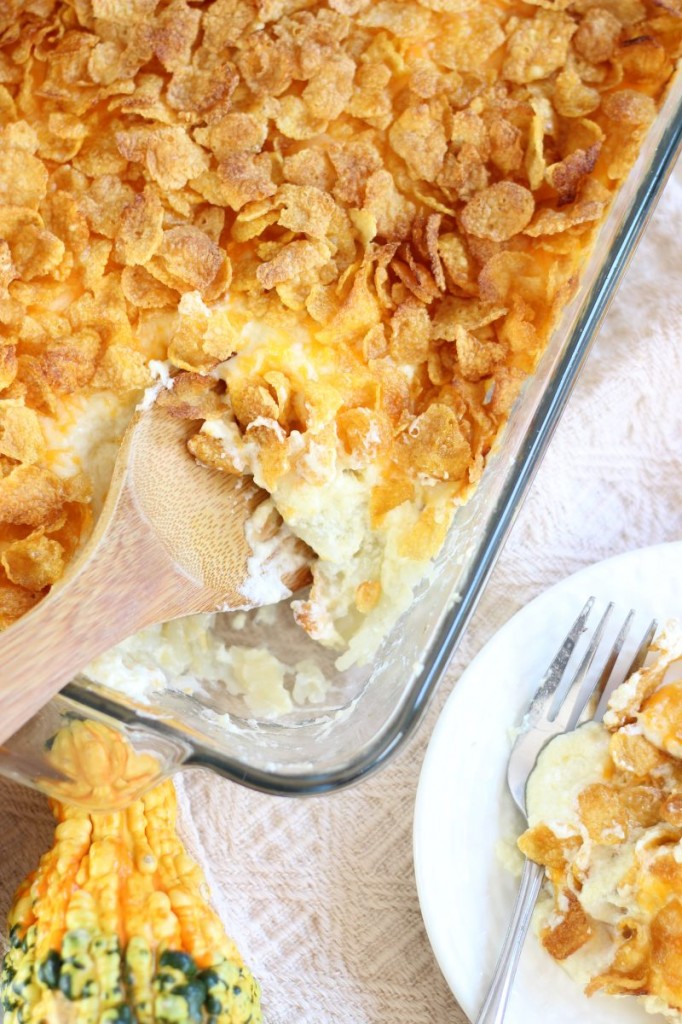 Sweet Potato White Bean Soup with Bacon and Crispy Sage