Buttery Chocolate-Hazelnut Thumbprints cookies, filled with a ridiculous semi-sweet chocolate ganache, spiked with Kahlua! These Chocolate Hazelnut Thumbprints with Kahlua Ganache need a spot on your cookie tray for the holidays.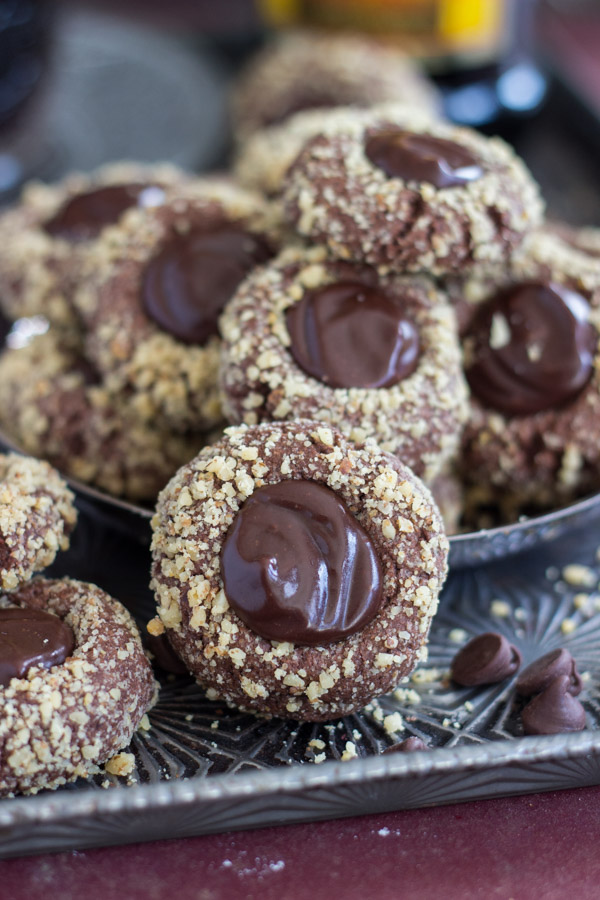 I have so many cookie recipes and Christmas desserts coming up, it isn't even funny. I hope I can get them all posted by Christmas, but as usual, I have probably over-baked and over-prepared, and made more than I have time to post for you.
It's a fun problem to have though! Get ready for a cookie-palooza coming up. Starting with these lovely Chocolate Hazelnut Thumbprints with Kahlua Ganache!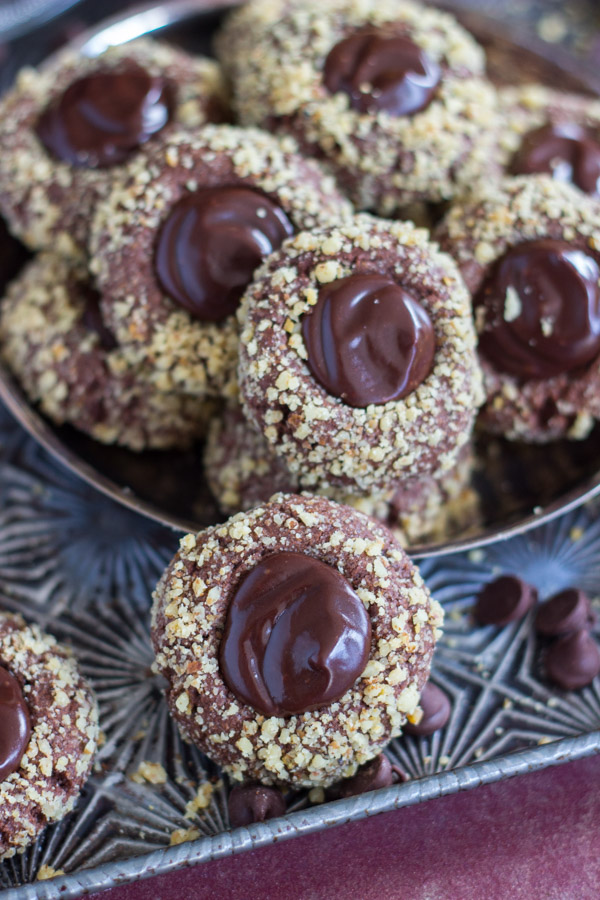 My waistline is paying for it, and the freezer is bursting at the seams. And we are still weeks away from Christmas, so I have a lot of sugar-consuming in my near future.
I'm visiting family in Indianapolis this weekend, and I was so excited that I could carefully pack a bunch of cookies to take with me, and I could unload a lot of baked goods on my sweet-tooth family, but of course, I forgot them in the freezer.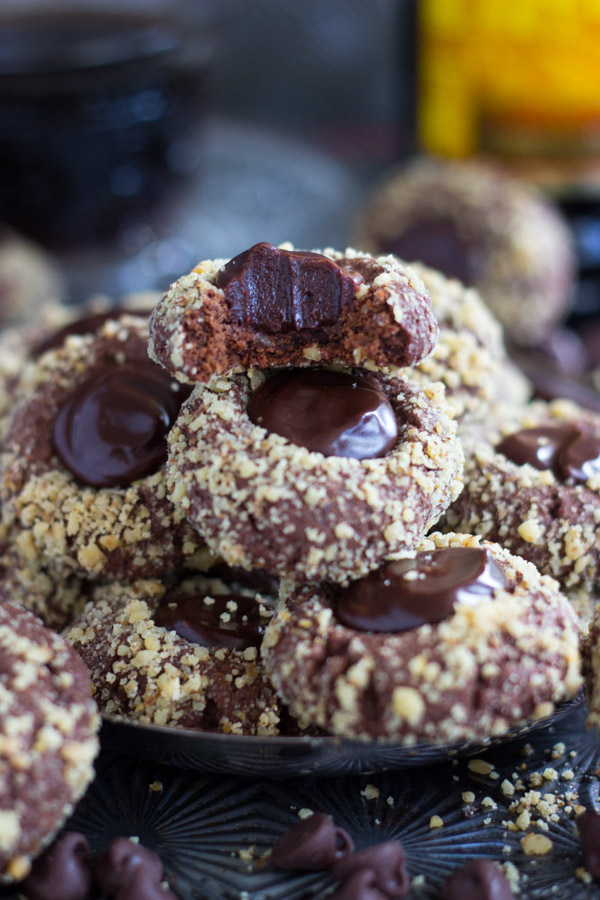 We made an extremely last minute, improptu trip to Indy for the Big Ten Championship game this weekend when my alma mater, Penn State, unexpectedly won the Big Ten East division, making it into the championship. We are so excited – more specifically, I am super excited. S.O. is excited too, but doesn't share quite as much as enthusiasm as I do. He's more of an NFL guy.
After painstakingly wrapping up cookies so they'd make the trip without shattering, I'm bummed that I left them behind. My family will be even more so!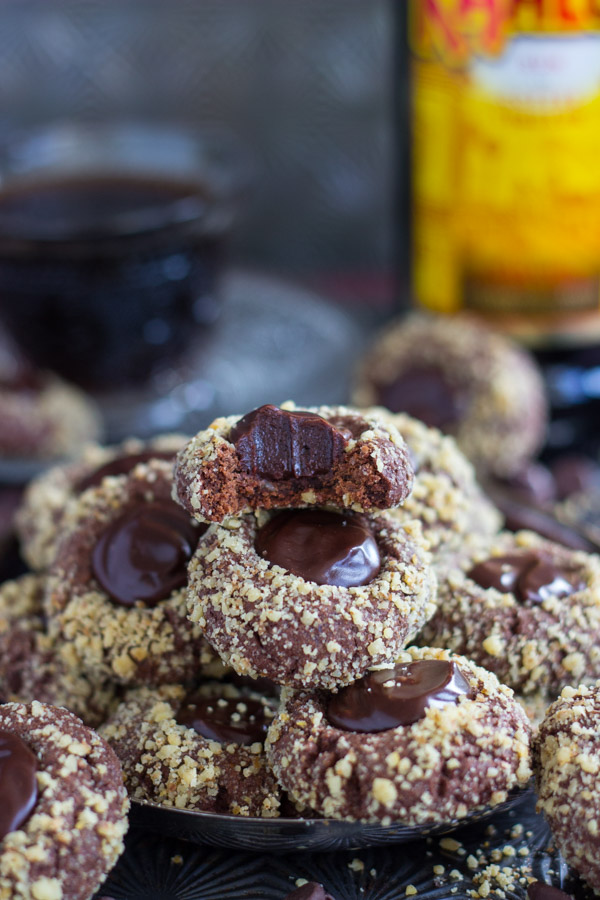 One of them was these Chocolate Hazelnut Thumbprints with Kahula Ganache. I wanted these to have a coffee-like theme, and yet, I didn't actually include coffee or espresso in the cookies. Probably a good thing, since not everyone really likes coffee, but may really like Kahlua and hazelnuts.
I've made a similar chocolate thumbprint cookie for Christmas, and it was these Dark Chocolate Peppermint Patty Thumbprints. They're a soft and chewy chocolate cookie, but they're sturdy enough to hold a big dollop of ganache in the center. You know how thumbprints are distinctly a little bit denser than most cookies so that the centers will hold up with filling!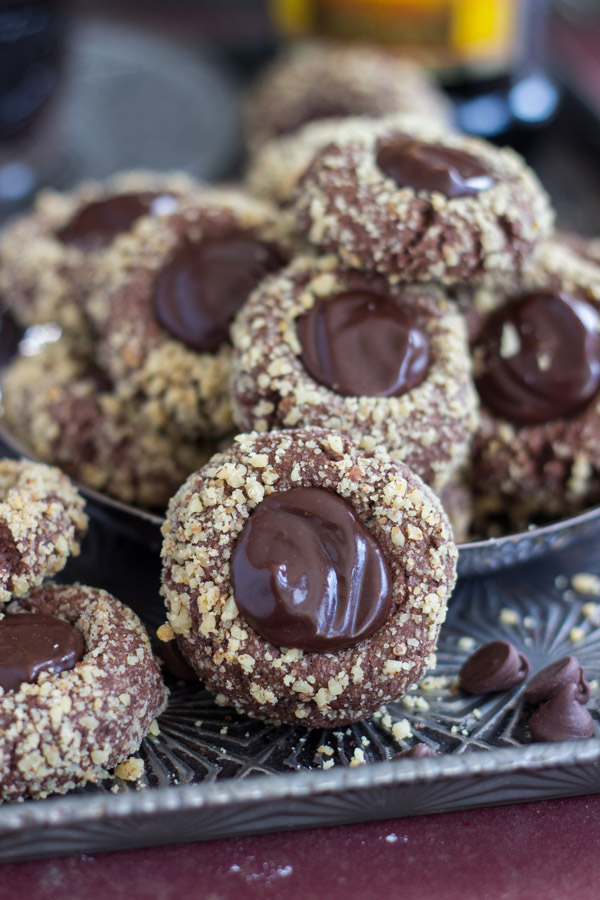 These Chocolate Hazelnut Thumbprints with Kahlua Ganache are dusted with finely chopped hazelnuts, and filled with a semi-sweet chocolate ganache, spiked with Kahlua. Ganache is one of the best foods in the world without booze, but is that much more ridiculous when given a boozy jolt.
Thumbprints are a favorite holiday cookie of mine – the possibilities and variations are so limitless. They're always really pretty on a cookie tray, and these feature such a nice flavor combo!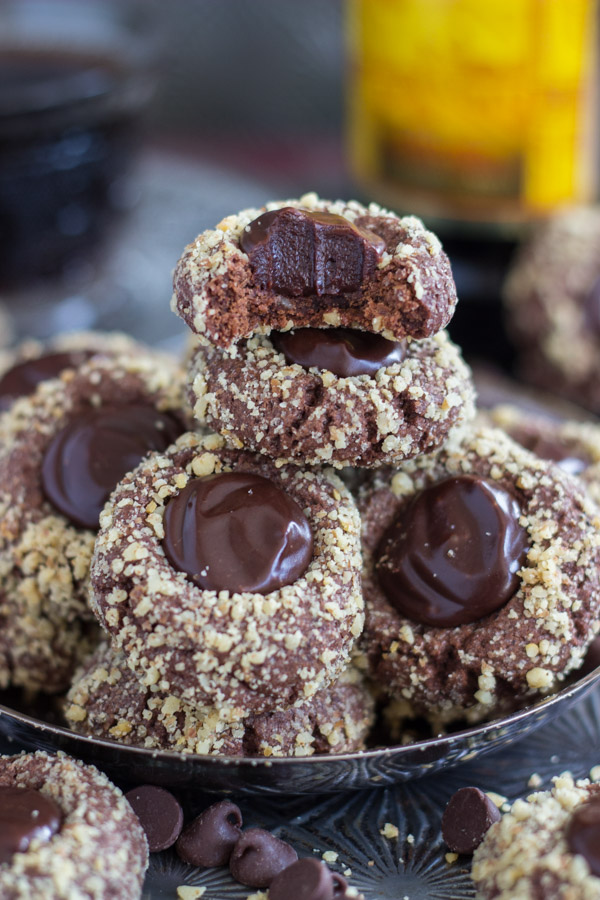 If you also love thumbprint cookies, check out these Snickerdoodle Thumbprints with Cookie Butter Buttercream. That buttercream is insane! And these Chocolate-Covered Strawberry Thumbprints are AMAZING. They're filled with strawberry jam and ganache. They're crazy good.
Lastly, some popular Christmas cookies around here are these Cracked Top Ginger Cookies, which we love so much that we make them year-round. And you can't go wrong with Classic Sugar Cookies – so thick, chewy, buttery, and rich! One of the BEST cookies I've ever had!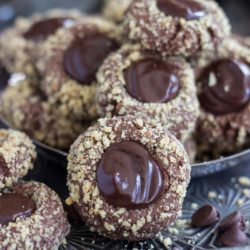 Chocolate Hazelnut Thumbprints with Kahlua Ganache
Ingredients
For Chocolate Hazelnut Thumbprints:
1/2

c.

butter

softened

2/3

c.

sugar

1

egg yolk

2

tbsp.

milk

1

tsp.

vanilla

1

c.

flour

1/3

c.

baking cocoa

1/4

tsp.

salt

1/2

c.

finely chopped hazelnuts
For Kahlua ganache:
1

c.

semi-sweet chocolate chips

1/4

c.

heavy cream

3

tbsp.

butter

2

tbsp.

Kahlua or coffee liqueur
Instructions
For Chocolate Hazelnut Thumbprints:
In a large mixing bowl, combine butter and sugar. Cream until light and fluffy.

Beat in egg yolk, milk, and vanilla.

In a large bowl, whisk together flour, cocoa, and salt.

Add dry ingredients to the wet ingredients in the mixing bowl, and beat until just combined.

Refrigerate for 1 hour or until dough easily forms into a ball.

Shape into 1-inch balls.

Roll each ball in the chopped hazelnuts until well-coated.

Place each ball 2 inches apart on greased baking sheets.

Press an indentation in the center of each dough ball using your thumb or the end of a wooden spoon.

Bake at 350 degrees for 10-12 minutes, or until set when you lightly touch an edge (carefully).

Remove cookies to wire racks to cool completely.

Prepare ganache.
For Kahlua ganache:
In a small microwave-safe bowl, combine chocolate chips, heavy cream, and butter.

Microwave on high at 30-second intervals until chocolate is melted and the mixture is smooth.

Whisk in Kahlua.

Pipe or spoon into the center of each cookie.

Allow 10-15 minutes for the ganache to slightly set. Devour.
If you try these Chocolate Hazelnut Thumbprints with Kahlua Ganache, let me know! I hope you love them. 🙂