With Kahlua, vodka, and eggnog, this three-ingredient holiday boozy beverage is a delicious and intoxicating spin on a White Russian! Try an Eggnog White Russian for a festive holiday version.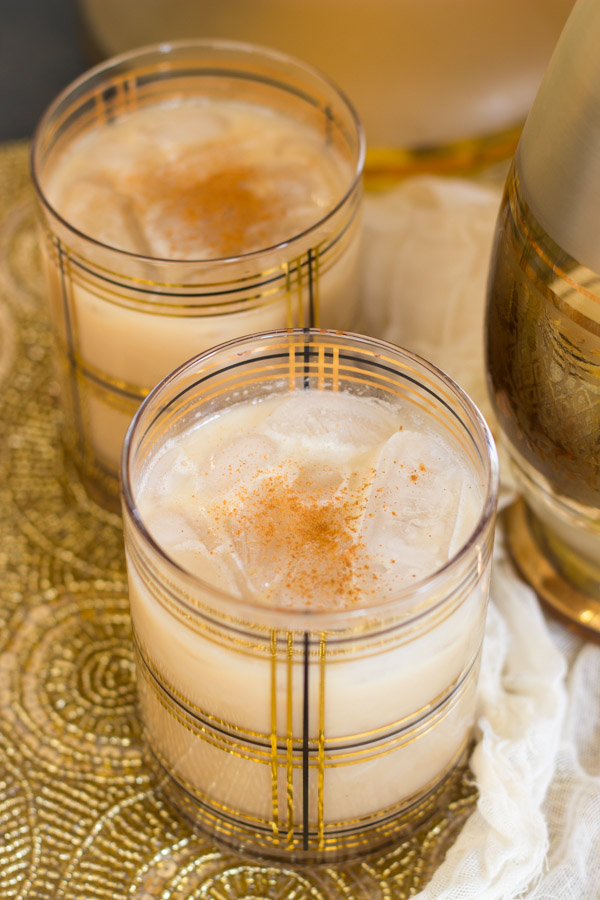 Does anyone else feel like they need a drink now more than they did before Christmas? Just me?
It's always such a hectic day, and there is months of build-up to Christmas, then all of a sudden, it's over! So sad that Christmas is over, but it's a nice relief too. And I'll still watch Elf a few more times either way, so that will keep the holiday spirit kicking for a little while longer.
What was the highlight of your day? Tell me your favorite part of Christmas.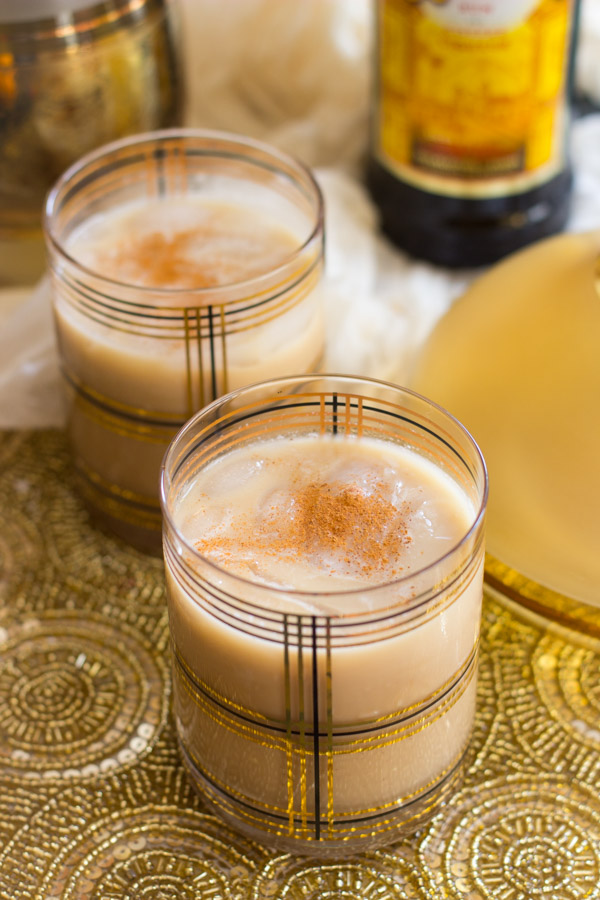 So I bought a quart of eggnog before Christmas to make this No-Bake Eggnog Pie with Gingersnap Crust. Not only is it a great pie, but as I talked about a few times previously, my Gma's oven is/was broken. It's actually fixed now, but we didn't initially expect to have it fixed for Christmas, so we planned a full dessert spread of no-bake recipes.
My Gma pounded the whole quart in about a day, so by the time I was ready to make the pie, we needed to buy more eggnog. This time, I learned my lesson, and bought a gallon. She's always loved it, but this year she's flying through it.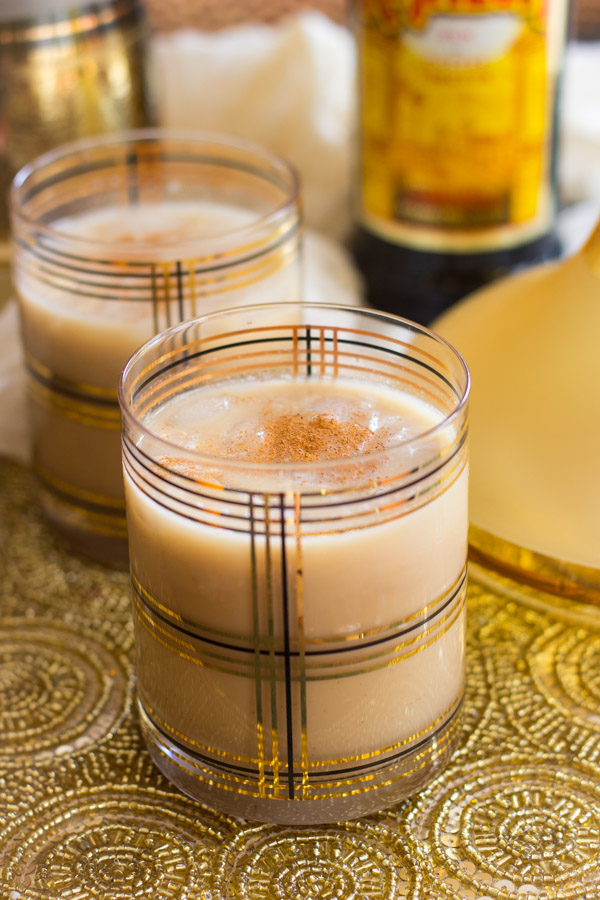 With a lot of eggnog around, I was inspired to prepare a few cocktails with it. One of the first ideas that came to mind was a White Russian, sub eggnog for cream. So simple, but such a fun twist on a classic White Russian. Just prepare a White Russian as you normally would, combining vodka and Kahlua at the bottom of the glass, but then top it off with eggnog instead of cream.
If you're also feeling wilted and sluggish this week after all the build-up to the holiday, throw a shot of espresso in your beverage too. Cannot hurt.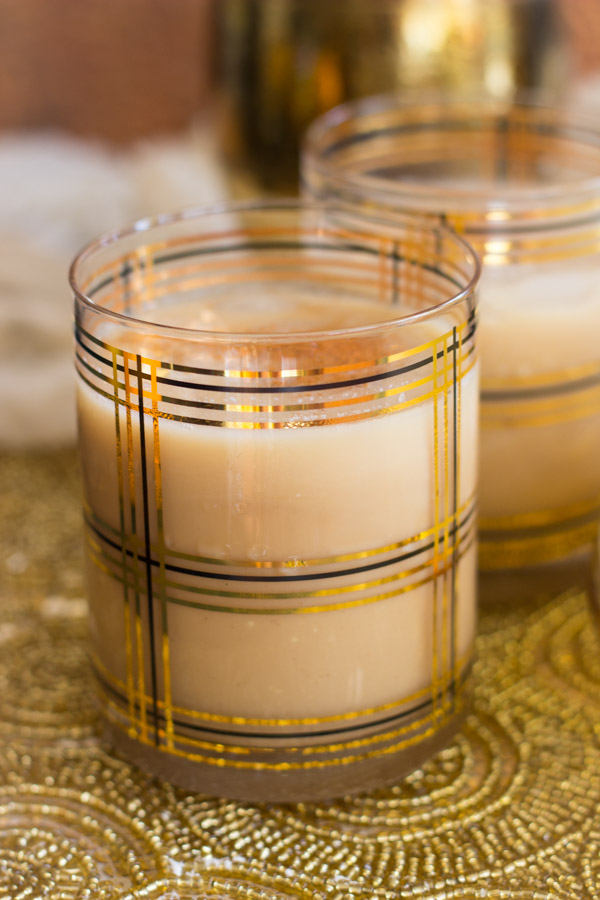 The proportions here can depend a little on your, um, personal preferences, but I aimed for the conventional 2 parts vodka to 1 part Kahlua, and then 1 part eggnog. Seriously, just pour, sip, pour, sip, and tweak as you see fit. However it ends up getting prepared, everyone will feel a little calmer and more relaxed in minutes.
I think we all need that to wind down from a big holiday, no? I hope you all had the merriest of Christmases!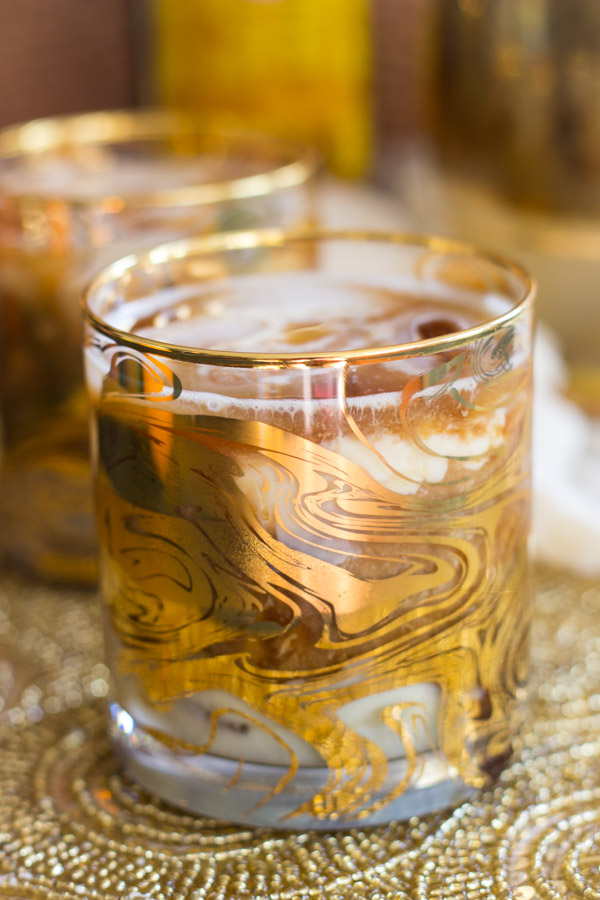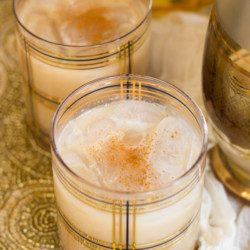 Eggnog White Russian
With Kahlua, vodka, and eggnog, these three ingredient holiday boozy beverage is a delicious spin on a white russian!
Ingredients
1

part Kahlua

2

parts vodka

1

part eggnog
Instructions
Fill two rocks glasses with ice.

Add Kahlua and vodka, and stir.

Top off with a layer of eggnog.

Serve layered, or stir to mix. Drink immediately!
I know this glassware doesn't highlight the beverage enough, so I had to switch it to different glasses, but aren't these glasses just the coolest?? I still like the pictures, even if the glasses take away from the drink. 🙂