Classic chicken noodle soup gets a fresh makeover with this Lemon Dill Chicken Noodle Soup. You'll love this quick and easy version that's brightened up with lemon and dill!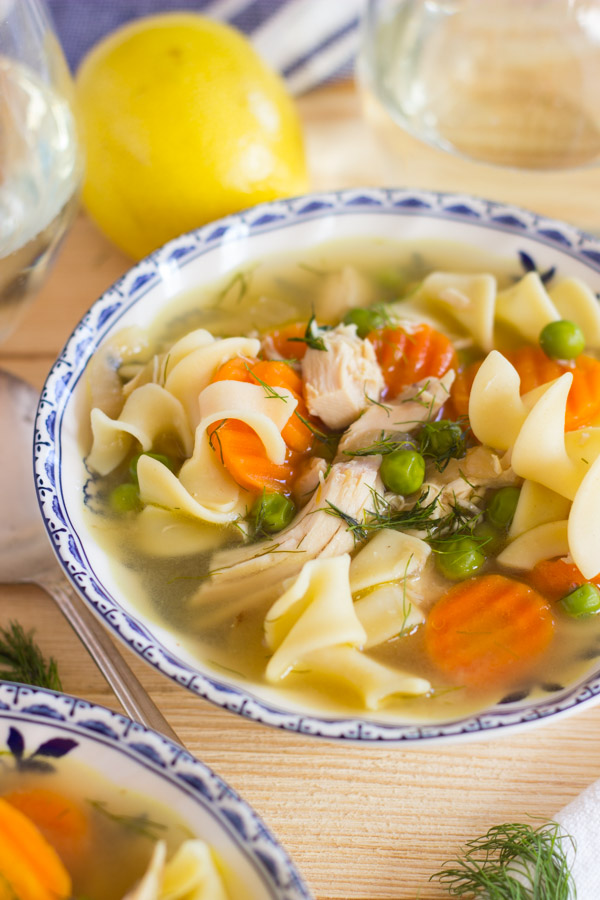 Good morning! Did you enjoy a three-day weekend? Going back to work after the holidays is so hard. It's nice to have a day off shortly after to try to shake off any last remaining holiday fog. I finally got my Christmas stuff down, and most of it is packed away. As much as I miss Christmastime, I can't wait to get the decorations out of the house.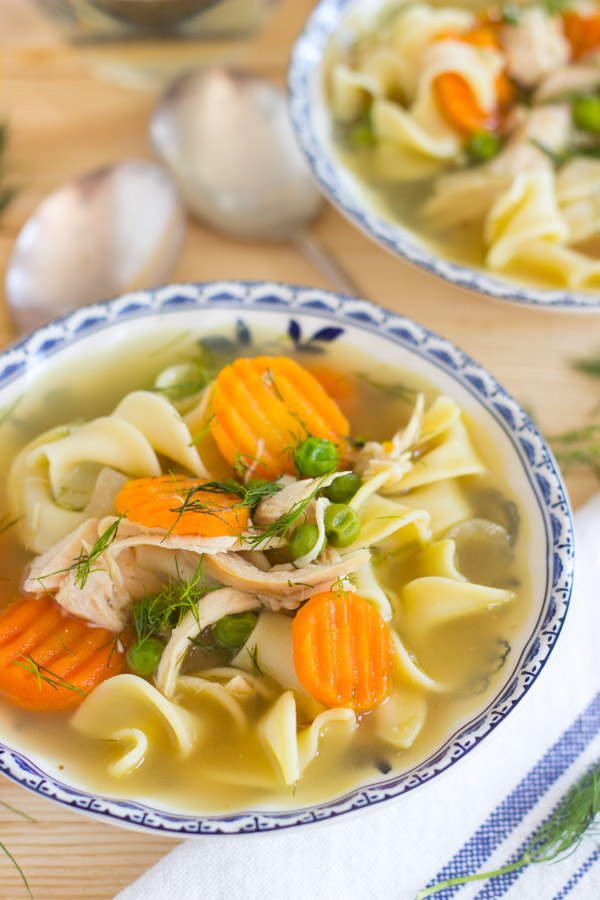 Some of my friends were off yesterday, some of them were not. I know that I took full advantage of the extra day off from work, and got a TON of stuff done. I woke up at 6:30am, totally out of character for me to be up that early, and I was an Energizer Bunny from the minute I woke up.
I filmed a few videos of older recipes that I can't wait to edit. I also made about 6 new recipes, and I'll have those coming in the next few weeks. I've got a few more slow-cooker, soup, and comfort food-type recipes for you, and a few Super Bowl odds and ends.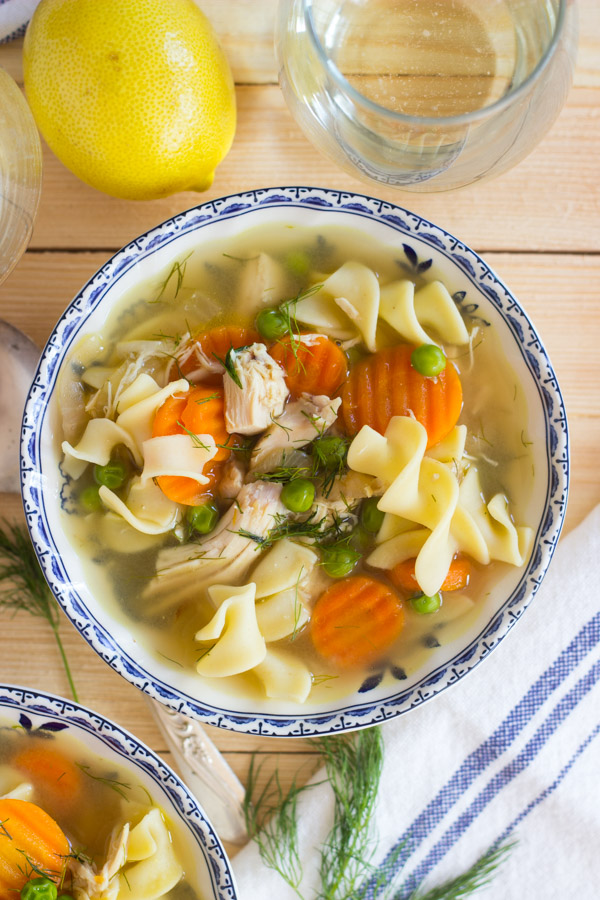 I should be working on Valentine's Day, but I've still got a hangover from churning out recipes for fall and Christmas – I can't seem to get my head around putting together anything for Valentine's Day! NO ONE is ready to think about another holiday yet, right?
I also managed to get to the gym, and I went to IKEA, picked up three wheel-around cart things, and assembled all three of them.
I find that I usually follow up very productive days with extremely unproductive days though. Today I woke up, and I don't feel like doing anything.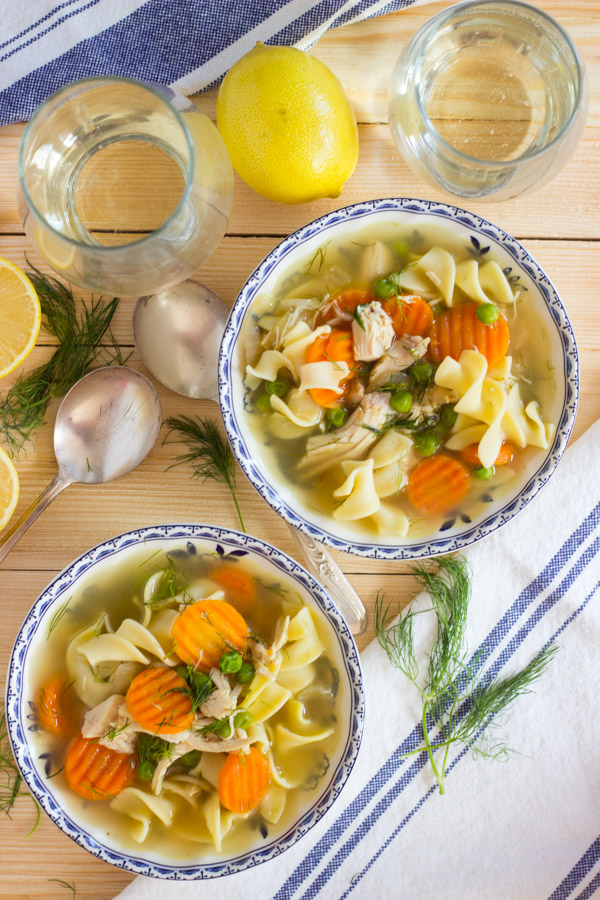 I'm sharing this Lemon Dill Chicken Noodle Soup recipe today because we made it again on Sunday, and will be eating it all week. Soup is my most favorite comfort food in all the world.
If I'm traveling for work, I always want a hot meal, and I track down somewhere to find soup – usually some form of chicken noodle. If I'm feeling even slightly under the weather, I crave soup. I'm a soup person through and through. Always have been, and always will be. I'll eat soup on a sizzling summer day in Florida. I love it.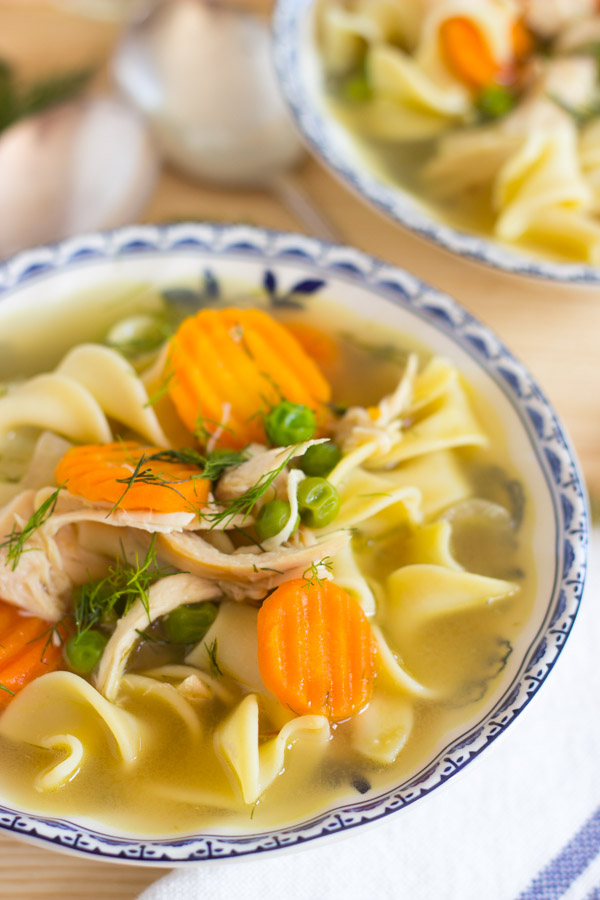 We make chicken noodle soup at least twice/month, and we've got a number of variations. My personal favorite twist on the classic is this Lemon Dill Chicken Noodle Soup. I LOVE dill, and it's got to be my favorite herb. With fresh dill, and a few squeezes of lemon, this is a vibrant and spring-ish version of chicken noodle soup.
Still cozy, filling, and comforting, loaded with veggies, but with lemon and dill to spruce up a traditional recipe. It's absurdly easy, and you'll get a good many meals out of it.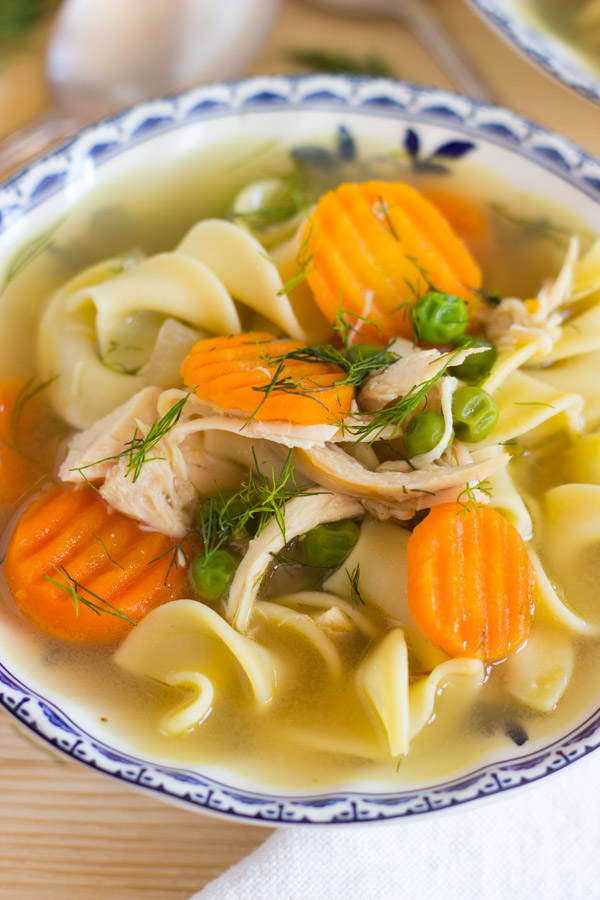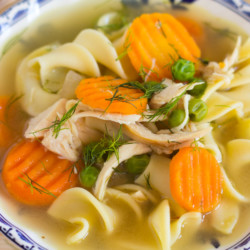 Lemon Dill Chicken Noodle Soup
Classic chicken noodle soup gets a fresh makeover. You'll love this quick and easy version that's brightened up with lemon and dill!
Ingredients
2

tbsp.

butter

1

large yellow onion

sliced

10

c.

chicken broth

1

rotisserie chicken

deboned, shredded, or about 3 c. shredded cooked chicken

1 - 12

oz.

package frozen sliced carrots

4

c.

eggnog noodles

1 - 10

or 12 oz. package frozen peas

1/2

c.

chopped fresh dill

juice of 2 lemons
Instructions
In a large stockpot over medium-high heat, melt the butter.

Add onion, and cook until soft and golden brown, about 10 minutes.

Add chicken broth, rotisserie chicken, carrots, and egg noodles.

Bring to a simmer, and cook for 6-8 minutes, or until egg noodles are nearly tender, and carrots are heated through.

Add peas, and simmer for 2-3 minutes.

Stir in dill and lemon juice.

Serve!