The richest and chewiest brown sugar maple pecan blondies, layered with maple cream cheese frosting!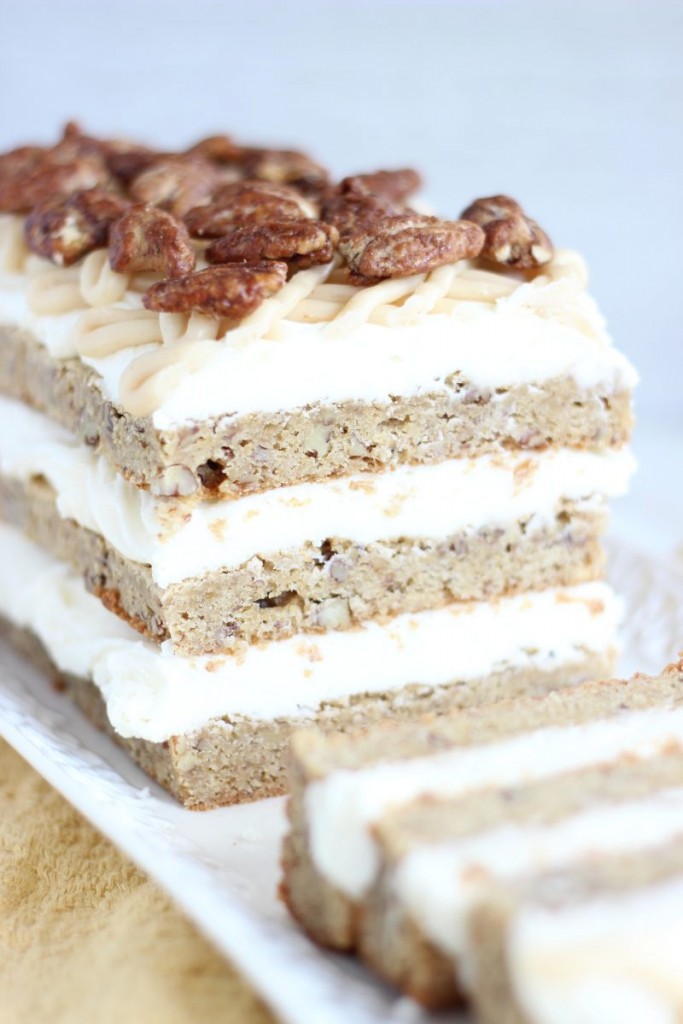 I made a batch of these Maple Pecan Blondies a few months ago for crumbling into sundae parfaits, and I was BLOWN AWAY by how good these are.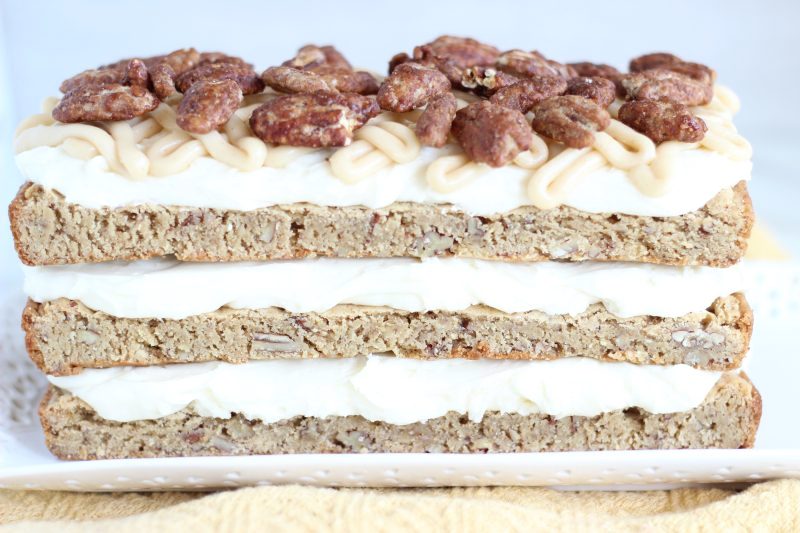 I really love Maple Pecan Blondies, but I hadn't ever found the perfect recipe. They were either too floury, or not chewy enough. Too dense or dry or crispy. I just wasn't happy with my options. I wanted to find the ultimate dream recipe, and I finally found it, thanks to Cook's Illustrated. I slightly adapted the basic blondies recipe to my liking, and it is unreal.
All you taste in these blondies is the good stuff, no filler. What comes through is the brown sugar, butter, pecans, and maple. Those flavors are all front and center, and strong. They are as chewy as can be. I don't know of a cookie or bar recipe that has more chewiness. Rich, buttery, and chewy. So, so good.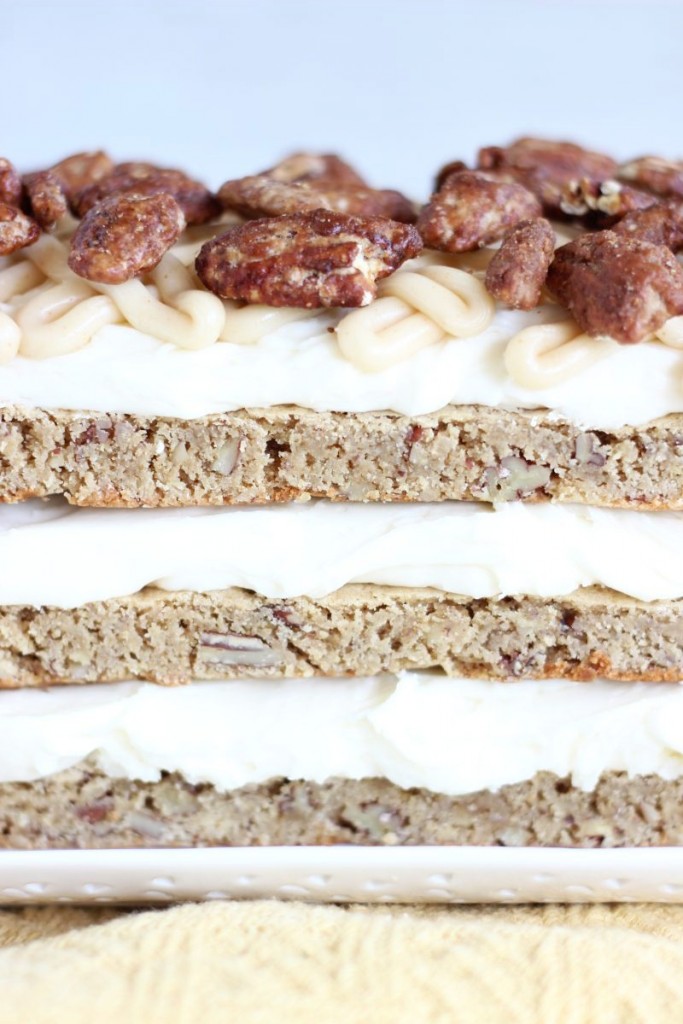 Your entire kitchen will smell so strongly of brown sugar, pecans, and maple once you bake a batch of these. Actually, your entire house. The scent needs to be a candle. Bakery scents are my favorite for candles, and this needs its own candle.
The house smells like a bakery much of the time anyway, and even when it doesn't smell that way, I want it too, so let's figure out how to get this in a candle.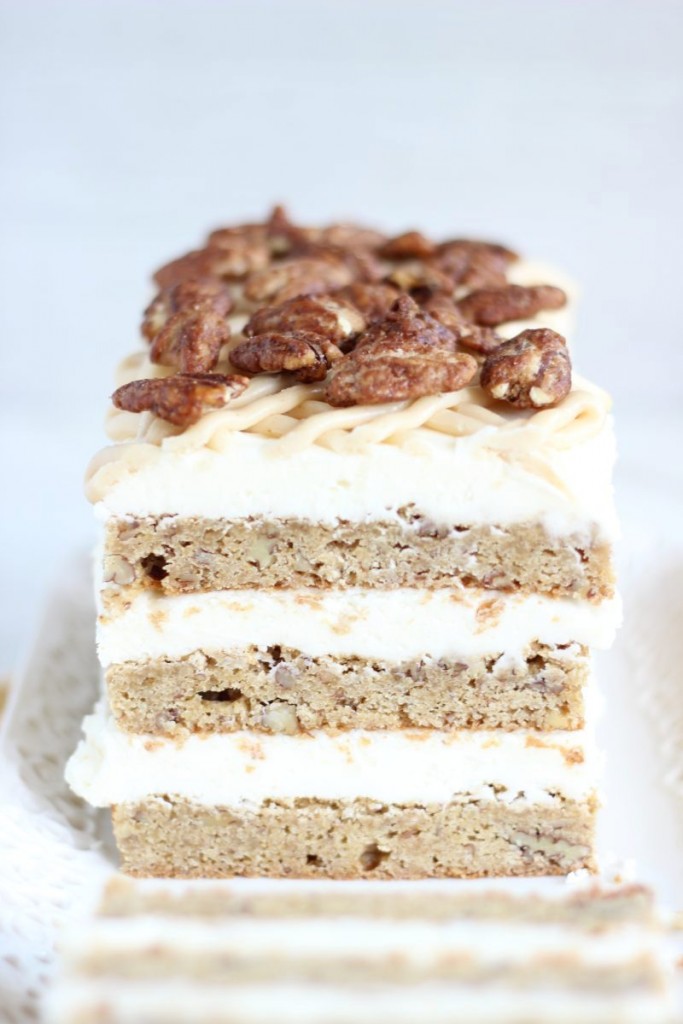 I love the blondies so much that I wanted to make a tray of them into a torte, a la this Peanut Butter Cup Brownie Torte or like this Red Velvet Brownie Torte. I'm really into turning bar cookies or brownies into tortes.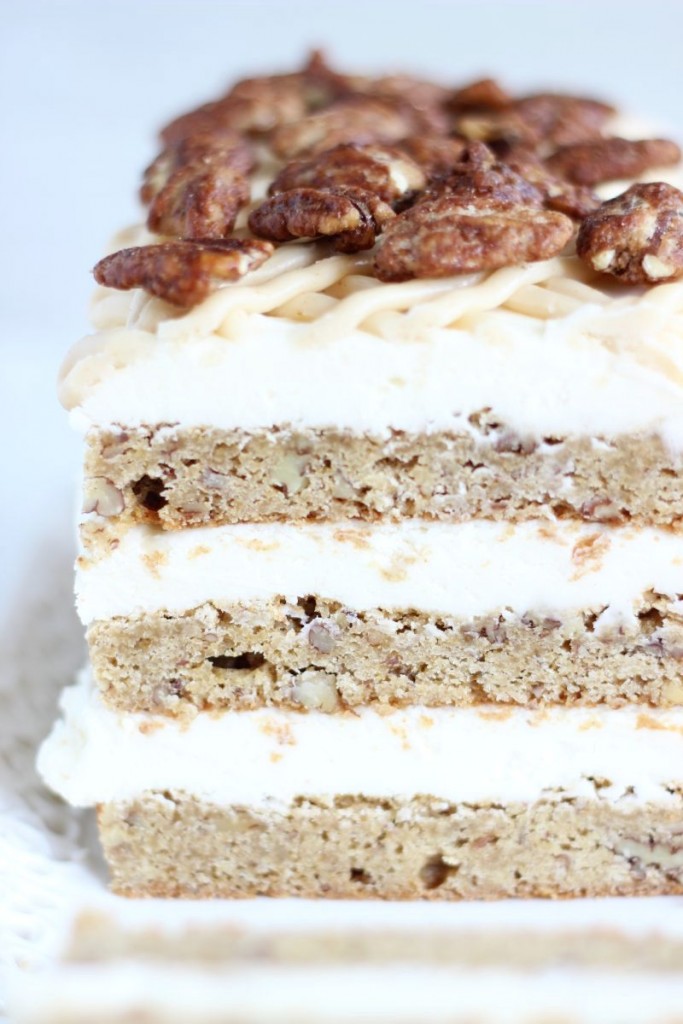 With layers of lush cream cheese frosting spiked with a little maple extract, these blondies made for an amazing torte. They have enough structure that they hold up well with the weight of the frosting, but they are also soft enough that this torte slices easily and beautifully. Cream cheese frosting is a perfect pairing for the sweet blondies because it provided tang and dimension.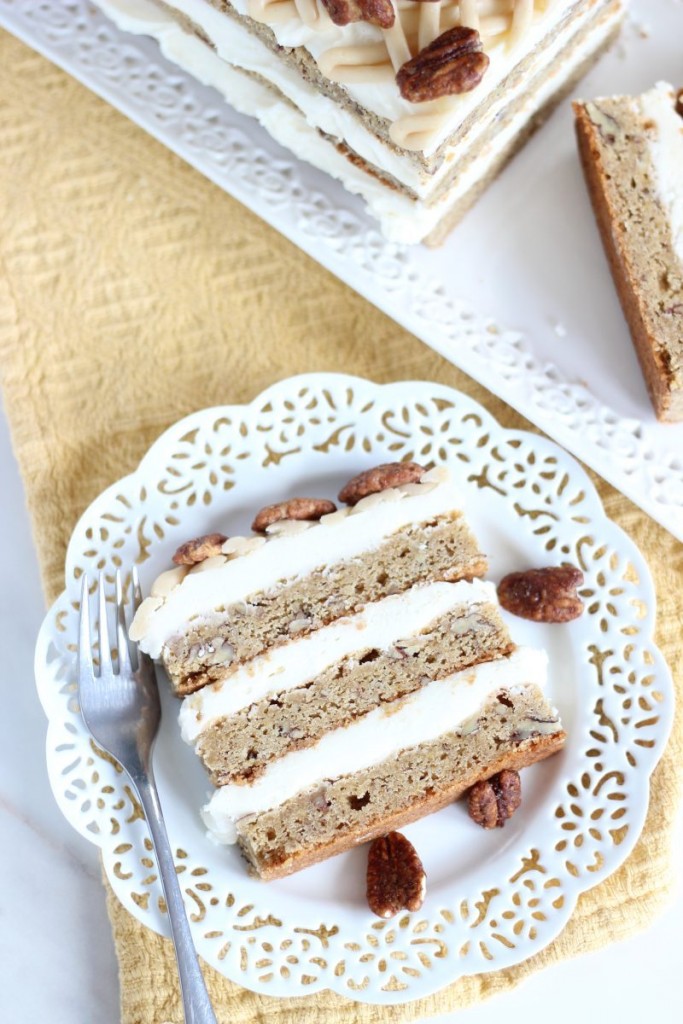 I topped the torte with pecan pralines for garnish, and they were nice for added crunch. I also had leftover brown butter icing from another upcoming recipe, and I decided to drizzle it on top for a bit of decoration and color. It was a whimsical decision – I didn't want to waste the icing.
I don't include the brown butter icing below because it was kind of a throw-in, but I will say that it really added a nice caramel-like touch to this dessert. I can't say enough about my love for brown butter, so I definitely recommend going the extra mile. You could even drizzle a little on top of each layer of cream cheese frosting, and it would be dynamite, but the torte sure doesn't need it. Icing recipe here, here, and here.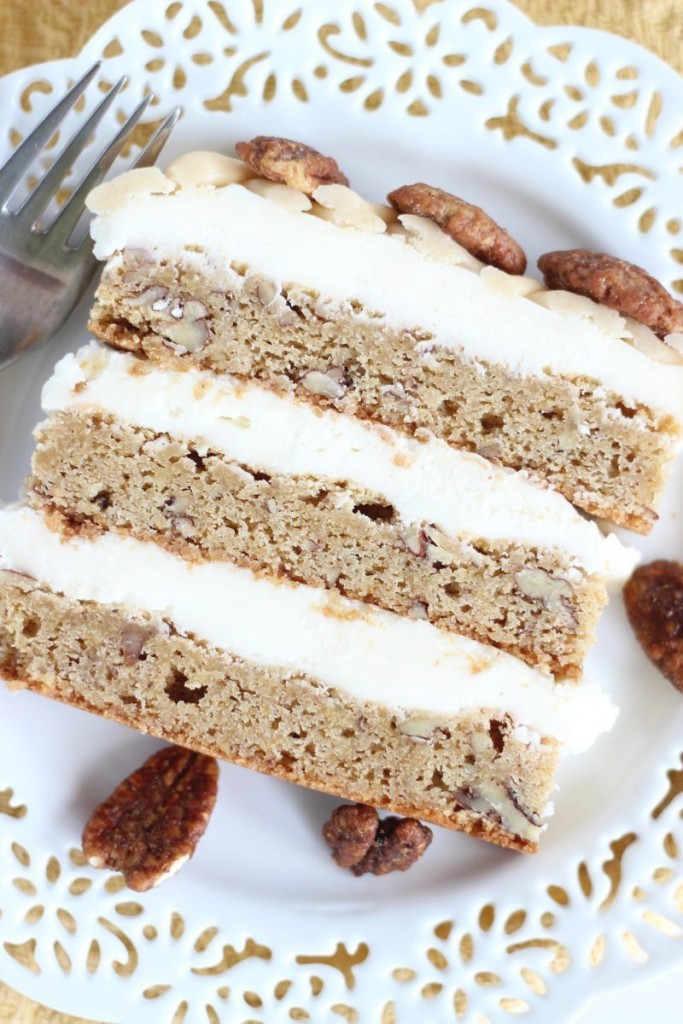 All in all, one of the best things coming out of the kitchen recently, and a total success. I am looking forward to making this again in the fall when I start craving all sorts of maple pecan desserts!
Maple Pecan Blondie Torte with Maple Cream Cheese Frosting
The richest and chewiest brown sugar maple pecan blondies, layered with maple cream cheese frosting!
Ingredients
For blondies:
1 1/2

c.

all-purpose flour

1

tsp.

baking powder

1/2

tsp.

salt

1 1/2

c.

packed brown sugar

3/4

c.

unsalted butter

melted and cooled

2

large eggs

2

tsp.

maple extract

1

c.

chopped pecans
For frosting:
1 - 8

oz.

package reduced-fat cream cheese

softened

1/2

c.

butter

softened

4

c.

powdered sugar

1

tsp.

vanilla

2

tsp.

maple extract

2-3

tbsp.

milk

1/3

c.

praline pecans

optional garnish
Instructions
For blondies:
In a large bowl, whisk together flour, baking powder, and salt.

In a medium bowl, whisk together brown sugar, butter, eggs, and maple extract.

Fold the wet ingredients into the dry ingredients, mixing until just combined.

Fold in the pecans being careful not to overmix. The mixture will be quite thick.

Line a 9x13-inch pan with several sheets of foil, allowing it to overhang the edges. Spray with cooking spray.

Spread batter evenly into the bottom of the pan.

Bake at 350 degrees for 22-25 minutes, or until edges are golden brown, the top is shiny and crackled, and a toothpick inserted near the center comes out clean.

Cool completely in pan on a wire rack.

Carefully lift the blondies out of the pan with the foil edges.
For frosting:
In a large mixing bowl, beat cream cheese and butter until fluffy.

Add powdered sugar and extracts, beating until combined.

Add 1 tbsp. milk, and beat until combined, adding more milk as needed to achieve desired consistency.

Beat for 3-4 minutes, or until light and fluffy.
To assemble:
To assemble torte, cut the tray of blondies horizontally into 3 large pieces. They will each be approximately 9x4 inches.

On a serving platter, carefully lift out and place one of the brownie pieces.

Spread about 1 c. frosting onto the blondie layer.

Carefully top with a second layer of blondie, and second layer of frosting. Repeat for third layer.

Refrigerate for about 2 hours to firm the torte before slicing and serving.

Garnish with praline pecans, if desired. DEVOUR.
Notes
I had leftover brown butter icing from making another recipe, so I drizzled a little on top. To find that recipe, see here: http://thegoldlininggirl.com/2014/09/pumpkin-cookie-recipe-brown-butter-icing/
I find maple extract easily at Walmart, it's the Watkins brand. It can also be found on Amazon.