SUPER easy, only a few ingredients, and with massive swirls of peanut butter & preserves, this No-Churn Peanut Butter & Jelly Ice Cream will be a summertime hit!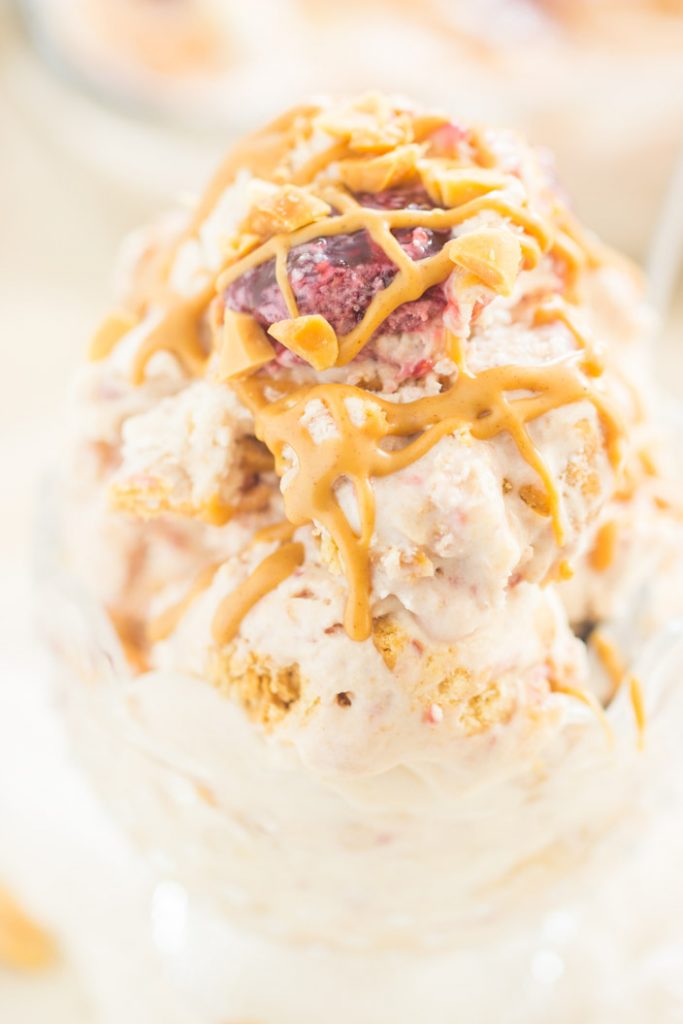 Hello!! Today's recipe is such an exciting one. I want to call it life-changing, but that sounds a bit dramatic. But honestly, I do think it's kinda life-changing. If you're like me, you'll lose your mind over the simplicity of this easy No-Churn Peanut Butter & Jelly Ice Cream.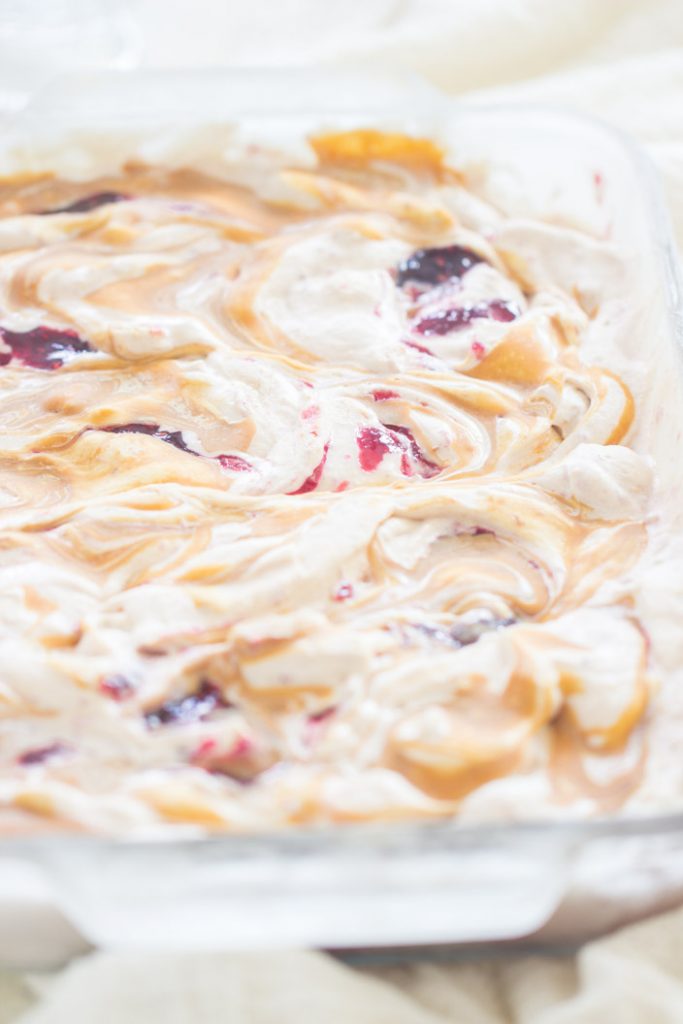 I discovered recently that a person can make no-churn ice cream with only two ingredients. Did you know this?? I just found out, and my ice cream game is forever changed. I actually never had an 'ice cream game' in the first place, so now I have one, and it's a really good start.
Anyway, super simple basic homemade ice cream recipe: sweetened condensed milk and heavy cream. Whip the heavy cream into whipped cream, fold it into sweetened condensed milk, and you've got short-cut homemade ice cream. It's brilliant.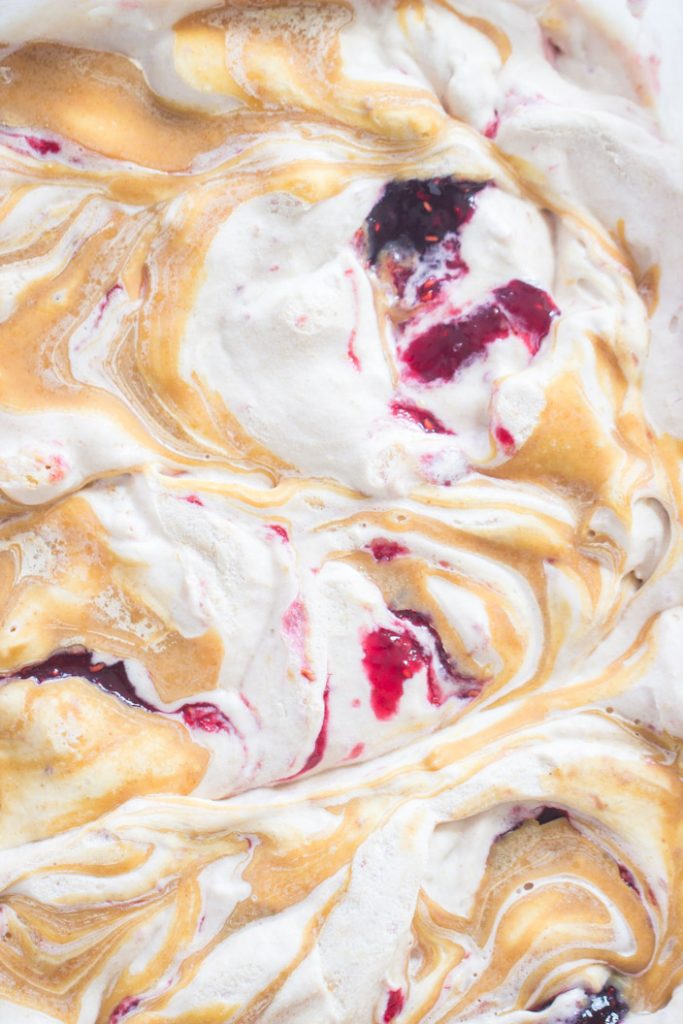 You can use that simple base ice cream recipe to make an overwhelming amount of other ice cream recipes, and my mind is already churning (ha!) with a host of ways that I will adapt this.
I would argue that one more ingredient doesn't hurt, and that's vanilla extract.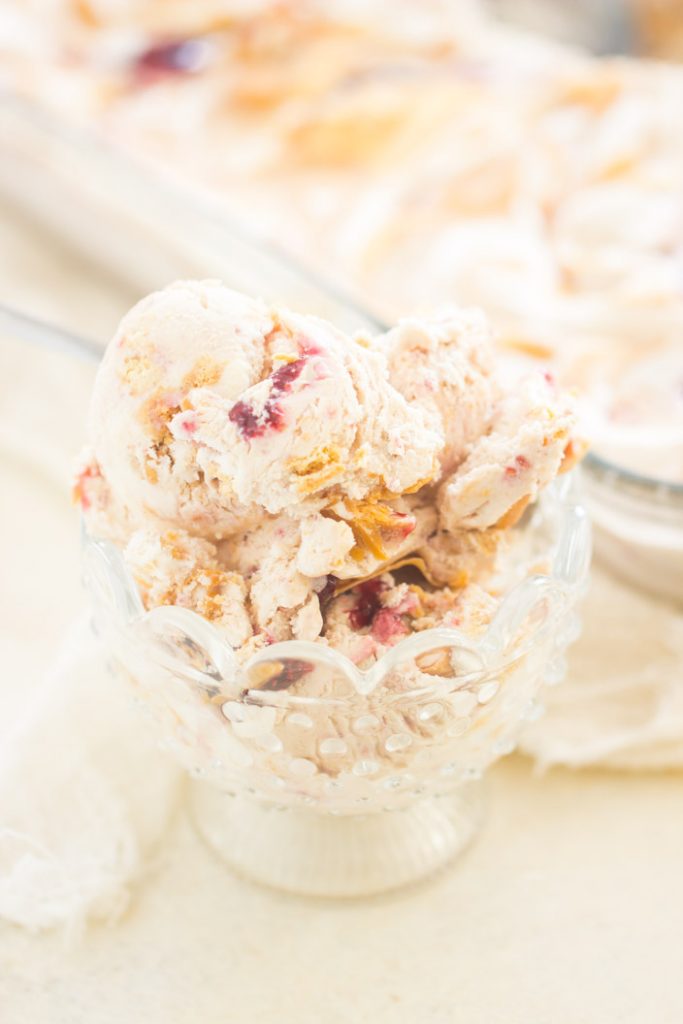 To create this No-Churn Peanut Butter & Jelly Ice Cream, I needed only three additional ingredients on top of the simple base: Nutter Butter cookies, peanut butter, and raspberry preserves (or whatever your preference when it comes to jam!).
Swirls and swirls of jam and peanut butter, broken up with crunchy bites of peanut butter sandwich cookies. This No-Churn Peanut Butter & Jelly Ice Cream recipe is the very definition of 'quick & easy', requiring only a few minutes of prep (besides some chill time in the freezer!) and it's also one of the very best ways to take a classic favorite combo – PB&J – and make it into a simple, delectable dessert!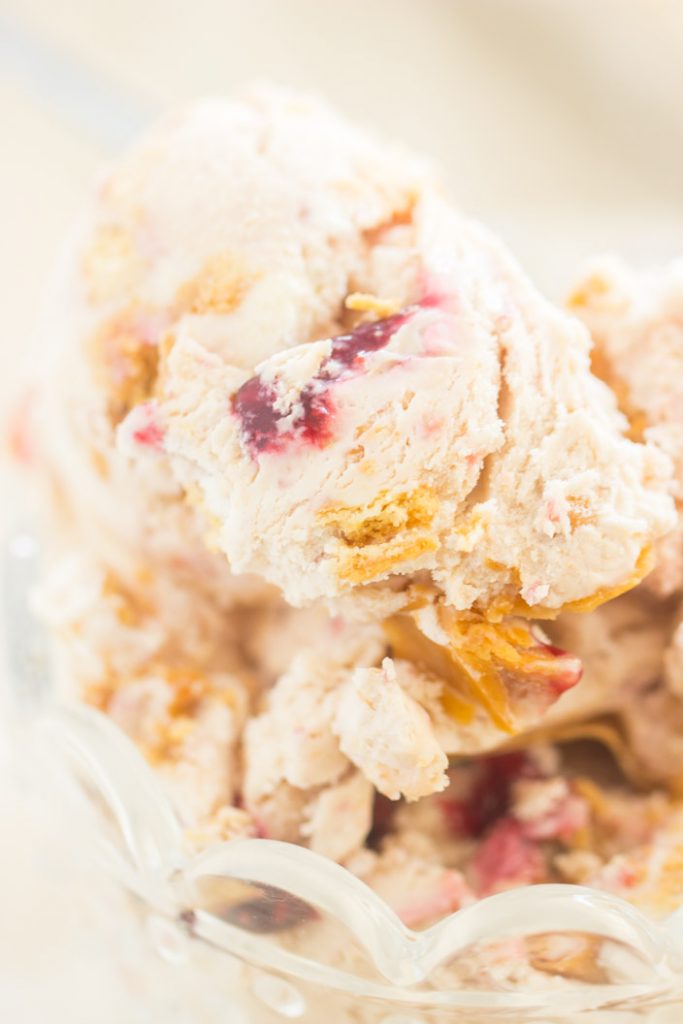 With summer finally approaching, you need some easy ice cream desserts, and this No-Churn Peanut Butter & Jelly Ice Cream is a GREAT one.
For other PB&J treats, I have a bunch, least of all, these Peanut Butter & Jelly Cupcakes, Peanut Butter & Jelly Sweet Rolls, Peanut Butter & Jelly Thumbprints, Peanut Butter & Jelly Bread Pudding, and Peanut Butter & Jelly Monkey Bread! Check 'em out!