From-scratch, homemade, quick & easy stove-top Apple Pie Filling! It's perfectly thick, sweet, gooey, and potent with fall spices. Apple pie without the crust, and there are so many wonderful things you can do with Apple Pie Filling — it's highly versatile… if you don't eat it all with a spoon first.
To easily view all of the blog recipes, follow along on Pinterest!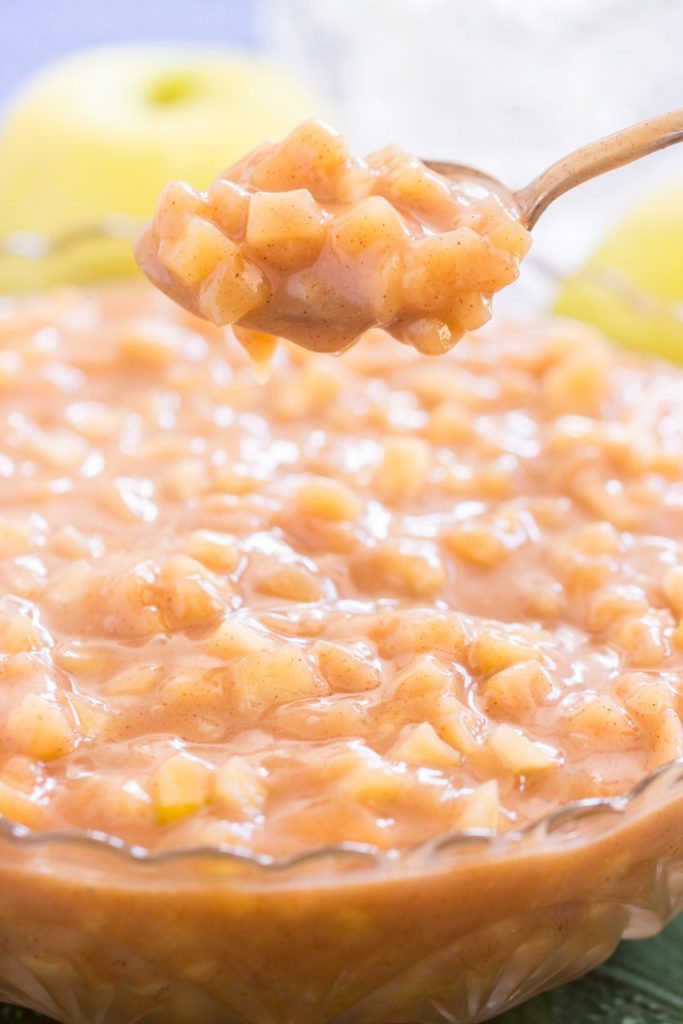 I know you're wondering why a person would need a recipe for Apple Pie Filling separately from an apple pie recipe. Who makes only the filling? I do, and often. You should too.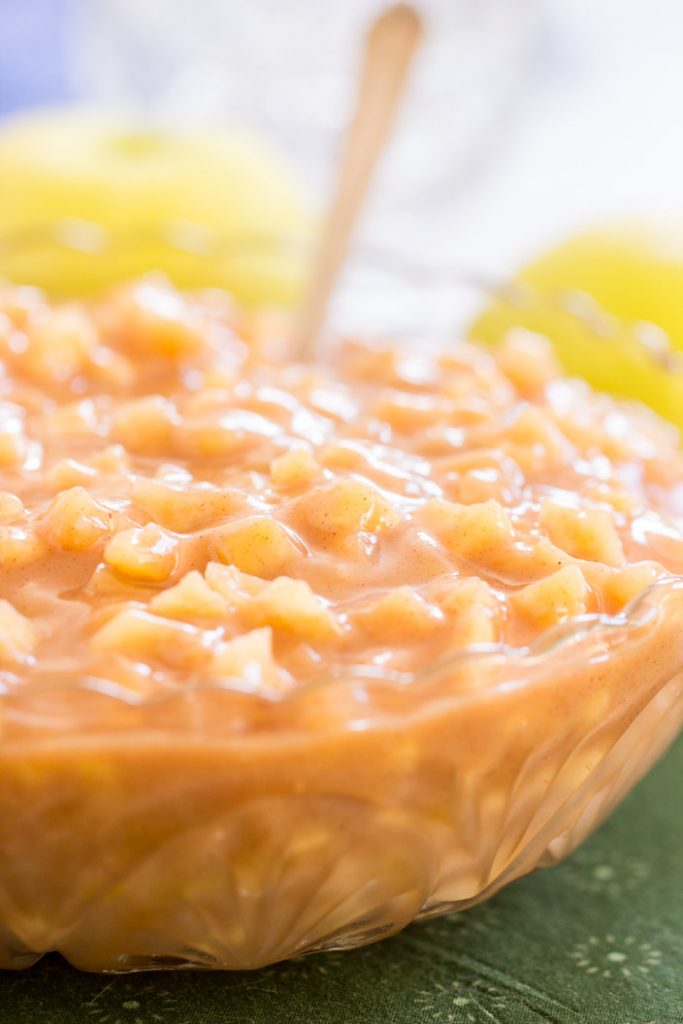 This week I'm going to share a number of reasons why you'd ever want Apple Pie Filling alone — least of all that it's addictive just going to town on it with a large spoon — but also because of how many other recipes you can make with it.
It incorporates beautifully into a great variety of other desserts and baked goods.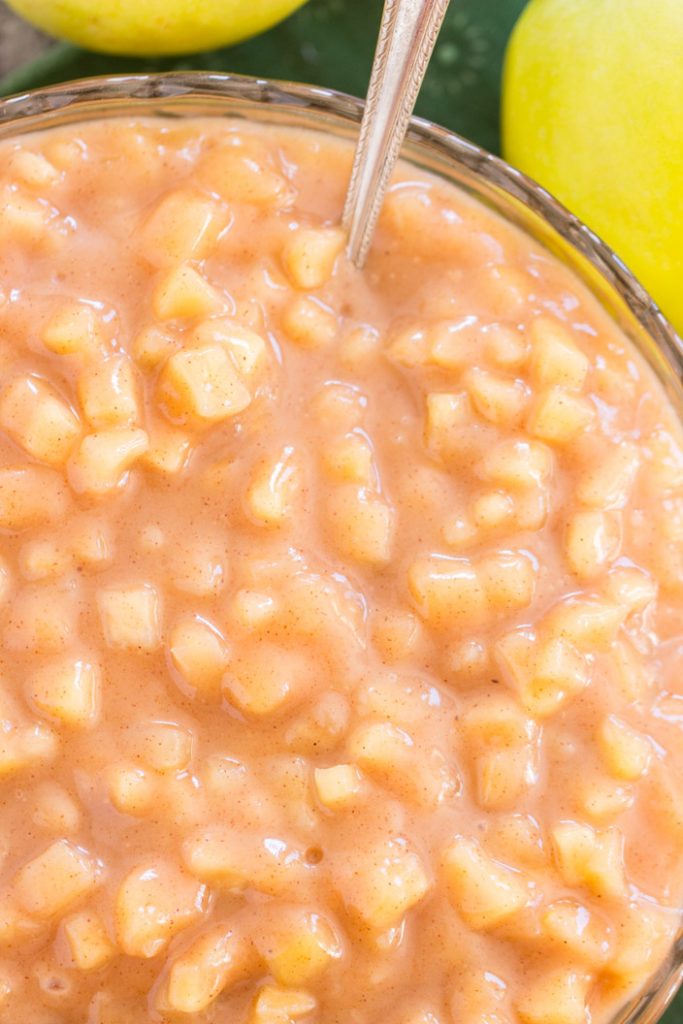 It's so incredibly versatile. Sure, you can make an Apple Pie, that's a no-brainer, but you can fill cupcakes with Apple Pie Filling, as I did with these Apple Pie Cupcakes with Snickerdoodle Frosting. (see below!)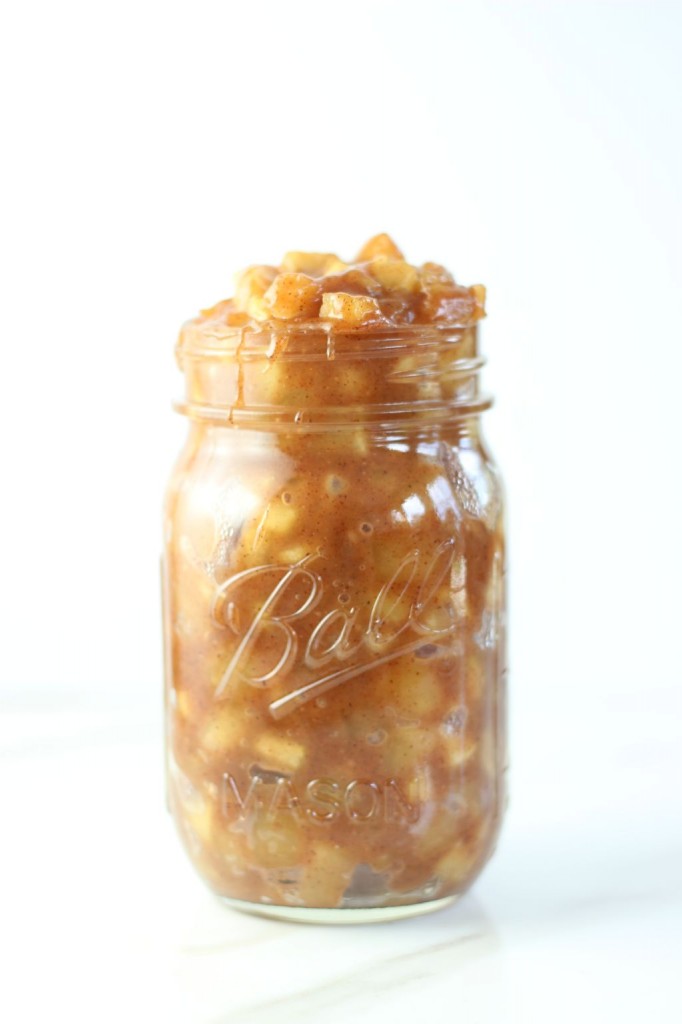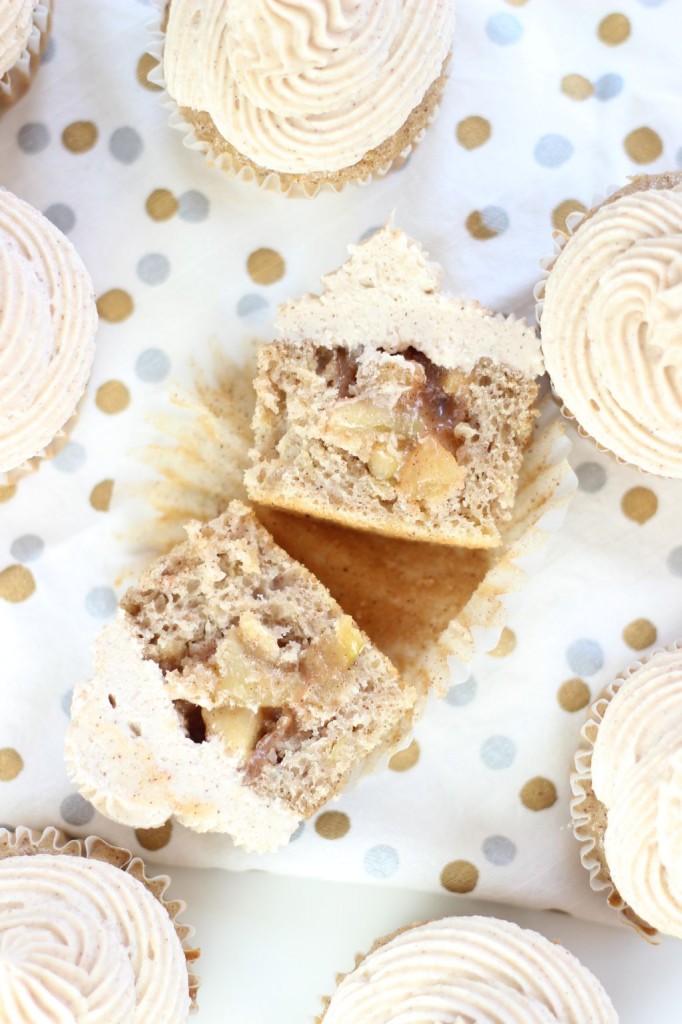 I've also spread it into a casserole dish, topped it with cinnamon rolls, and baked it into this Apple Pie Cinnamon Roll Cobbler, which is delightful because it can serve as either brunch or dessert. I love recipes like that. (see below again!)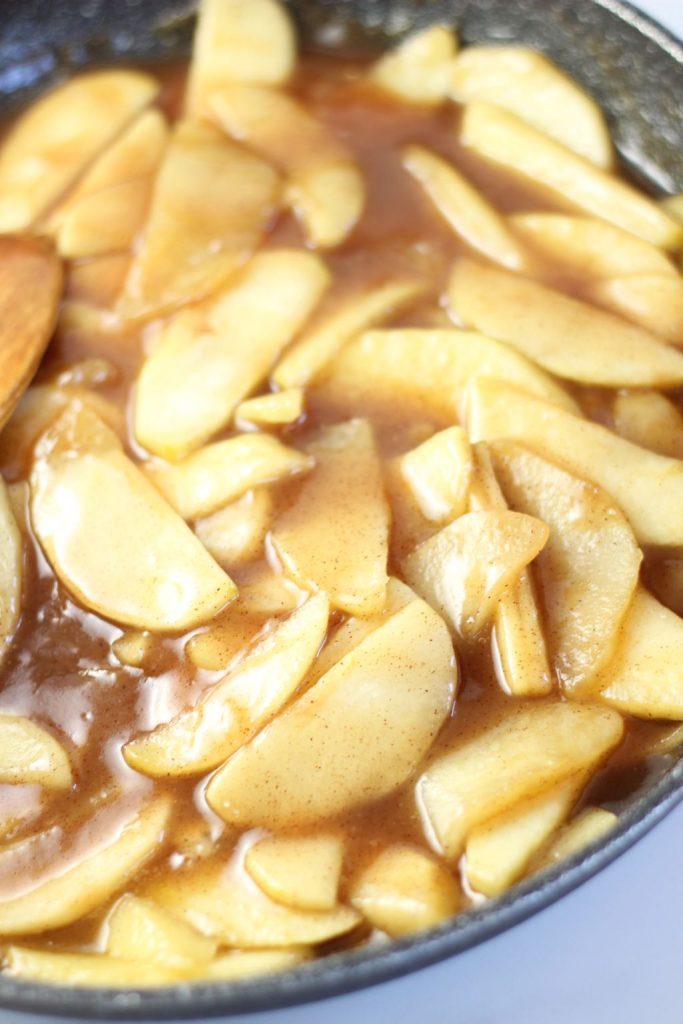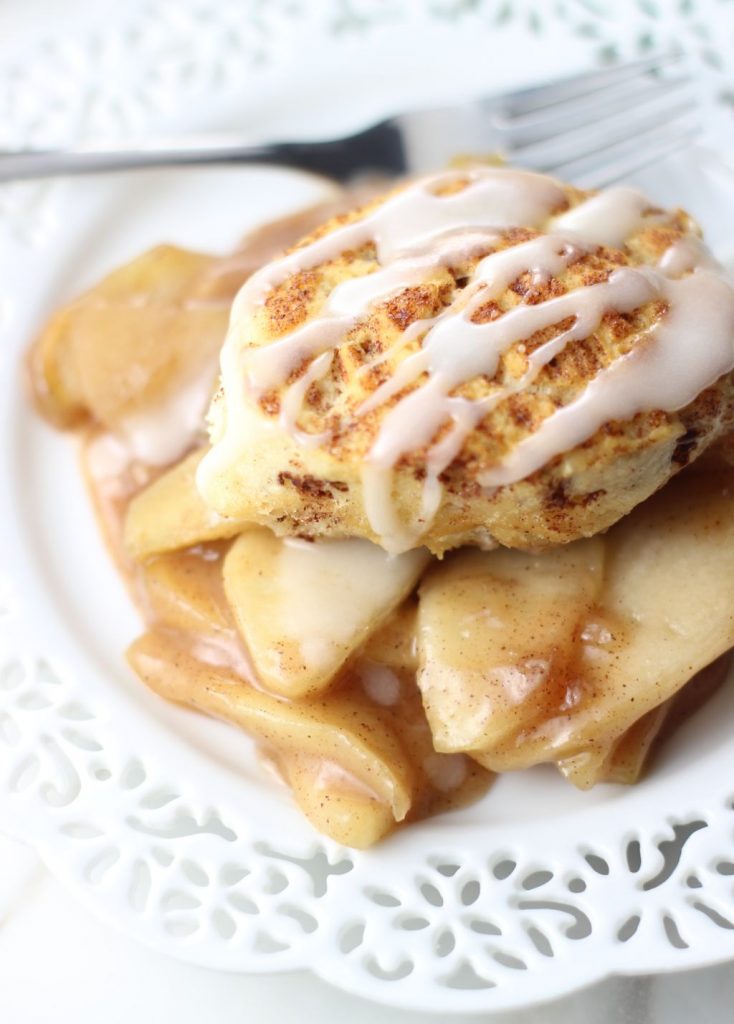 What else? Bundle crescents around this filling, layer it with ice cream or yogurt for parfaits, add a ribbon of it through the center of a bundt cake or coffee cake. And more… you just wait.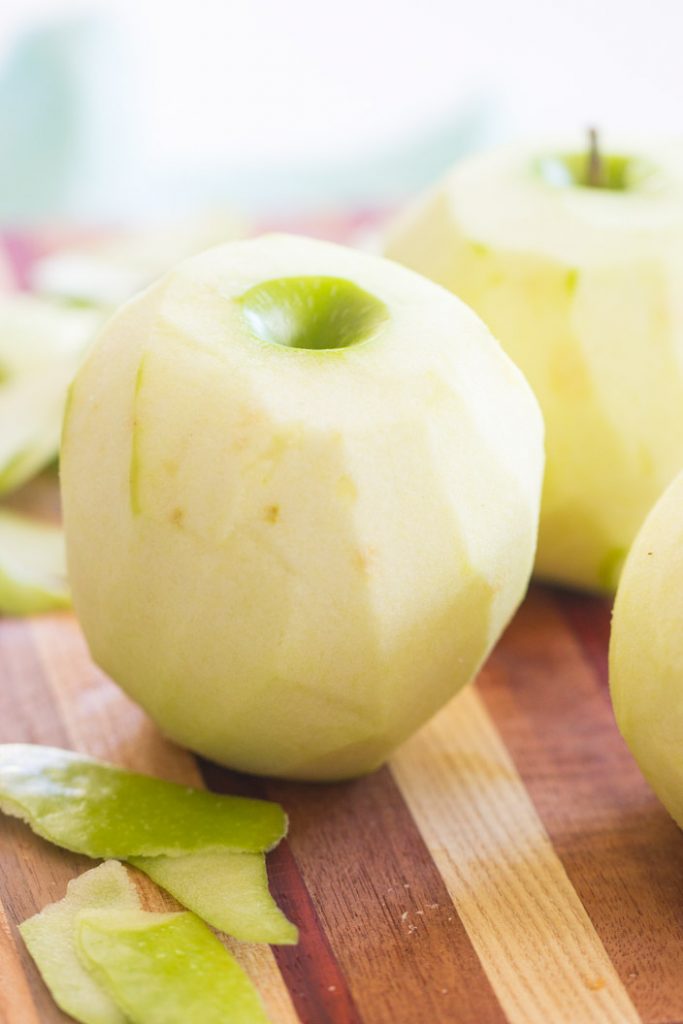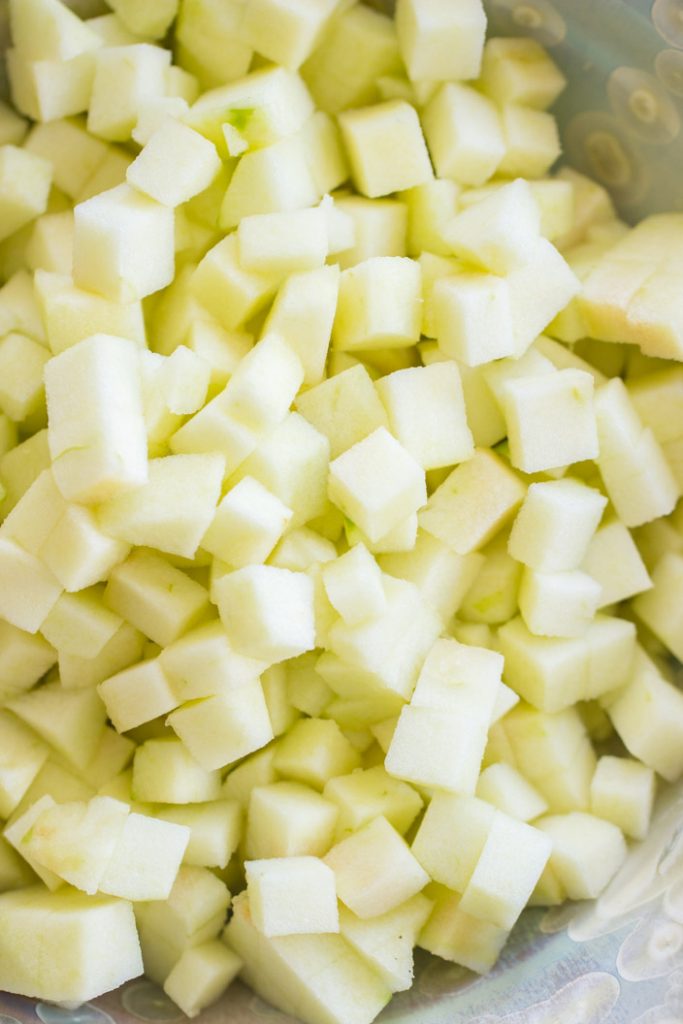 How do I make my Apple Pie Filling? With most apple pie recipes, you just toss sliced apples with cinnamon-sugar, and bake them in a pie crust. We can do better. And this way is 1000x better. This particular recipe breathes so much life into apple pie.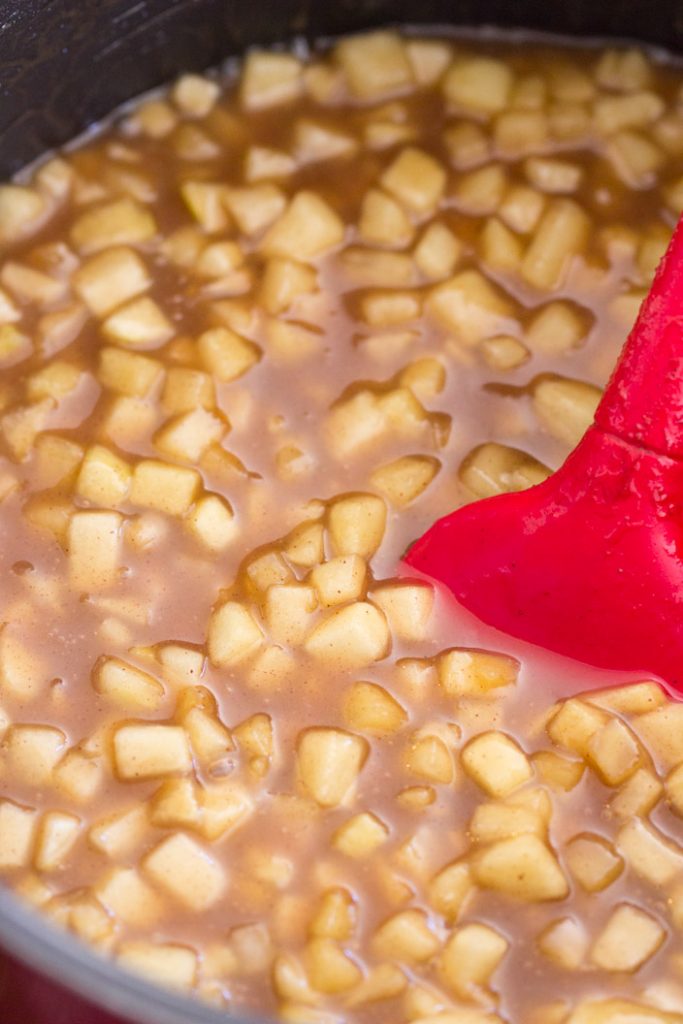 While I've never shared my Mom's apple pie recipe, I have shared this Fireball Apple Pie, and it's very similar. My Mom's apple pie recipe is perfect, and the best there is, and that is NO exaggeration. This Apple Pie Filling is from that pie.
Rather than merely coating sliced apples with cinnamon-sugar, with my Mom's apple pie recipe, you actually cook a syrup on the stove-top — a sweet, slightly tangy, spiced cinnamon syrup, and the apples get doused in it. (see below for an old example)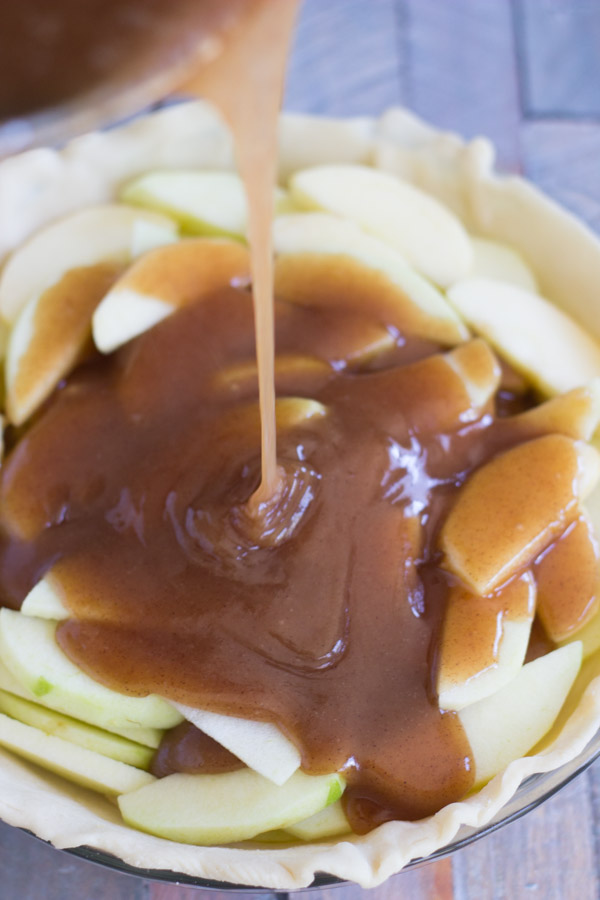 In a pie, the cinnamon syrup softens the apples as they bake, infuses them with goodness, and also makes the pie insanely ooey-gooey. The syrup is A-M-A-Z-I-N-G, and you'll want to eat a whole bowl of it like soup, it's that delicious. It cooks in about 10 minutes, so it's a small extra step in making apple pie, but it's worth it.
Your biggest time commitment is peeling and chopping the apples, which should run you about 10-15 minutes, and then 10-15 minutes of cooking time. You're only a half hour away from eating this. 🙂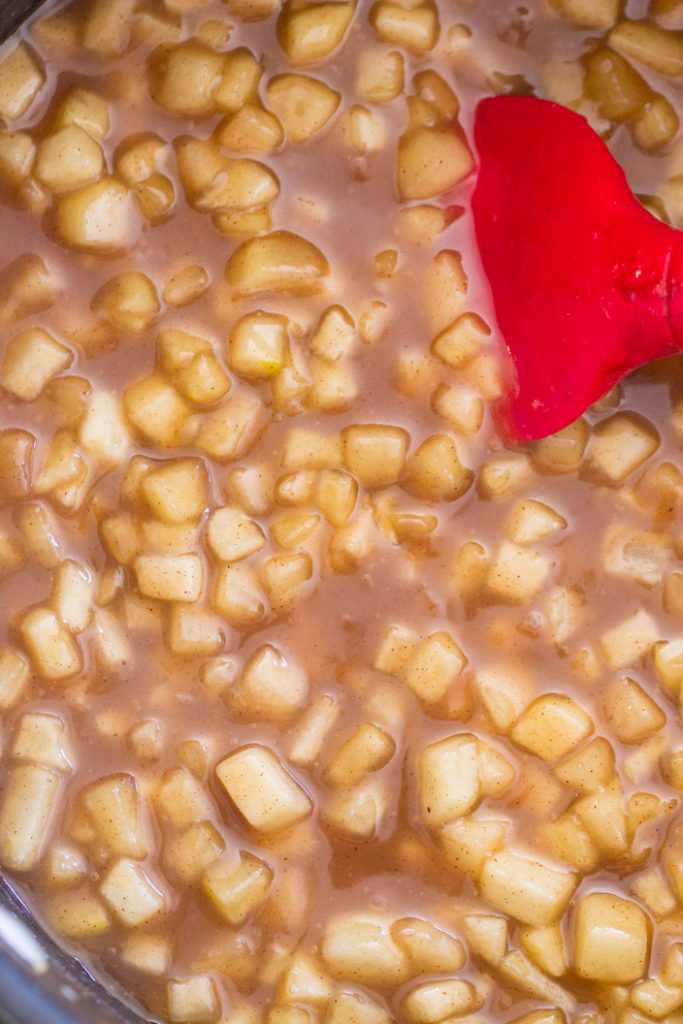 Incidentally, my mom found our family favorite apple pie recipe in a Seventeen magazine when she was a teenager (where she also found the Chocolate Scotcheroos recipe!), and it's the only one we use in my family. It's a recipe from the '60s, but timeless, and tried-and-true.
Anyway, after all that, what I'm trying to tell you is that my Apple Pie Filling is a slight derivative and adaptation of the filling from my mother's most perfect apple pie recipe. It is the only Apple Pie Filling recipe you'll ever want in life, I guarantee it.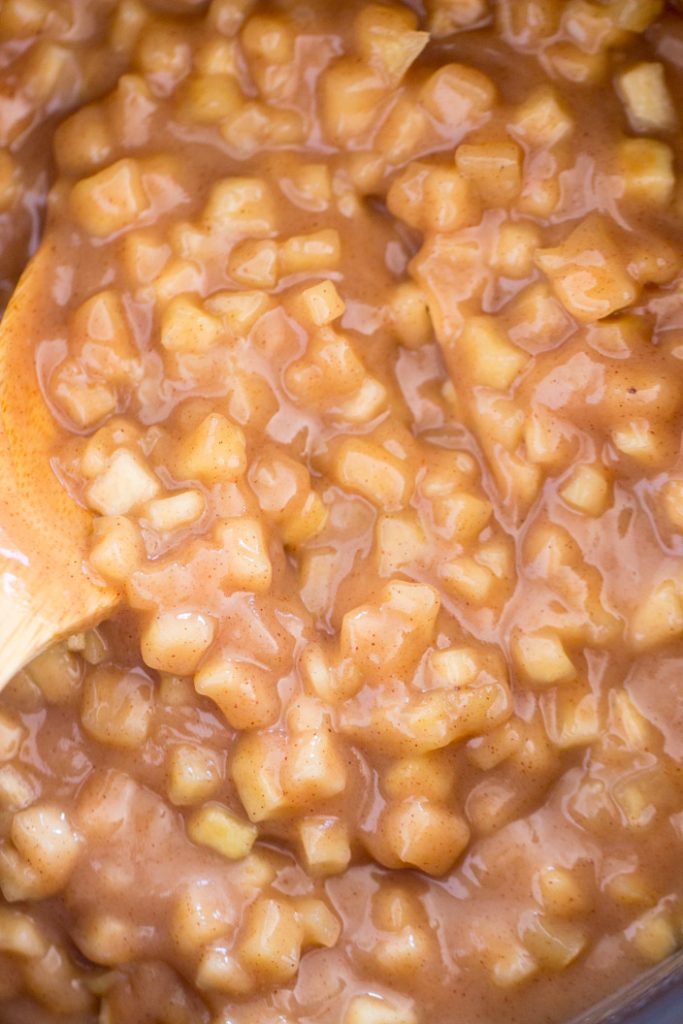 If you try this, let me know, and stay tuned for a few recipes that include it.
Side note: Granny Smith apples are the way to go here. They are my favorite apple for baking in general, and especially here. They're firm, so they hold up well and don't turn to mush when baked/cooked.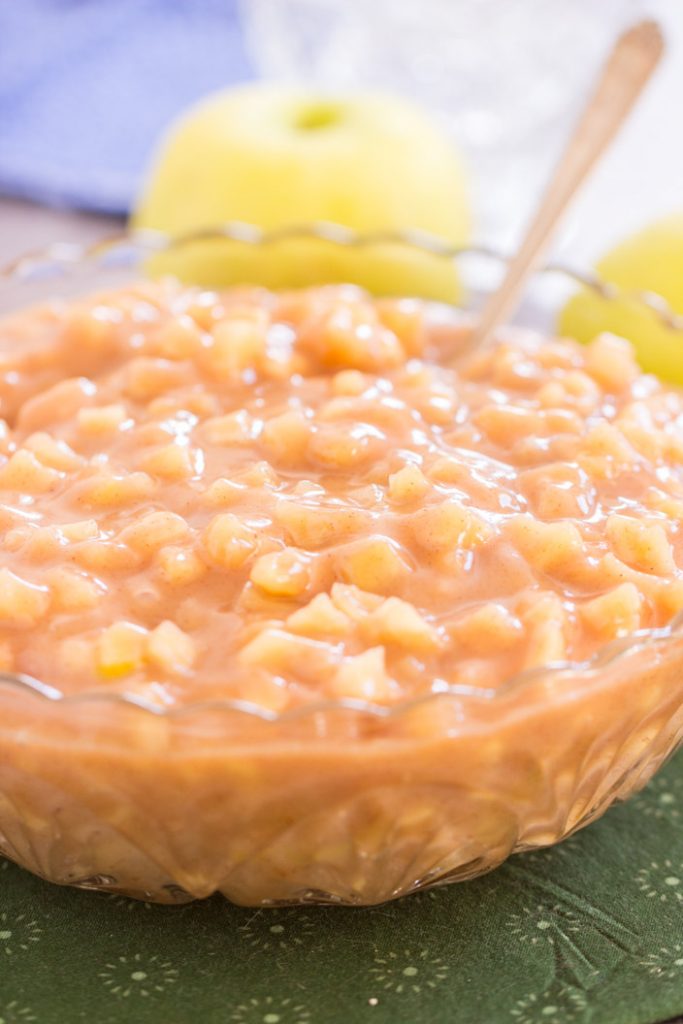 Their tartness is also a benefit because you're already adding a decent amount of sugar to this dessert, and a tart Granny Smith prevents things from being overly sweet. It's all about balance!
I want to also introduce you to my recipes for Crock-Pot Cinnamon Apples and Fireball Crock-Pot Cinnamon Apples. (example below)
They are similar concepts, but this Apple Pie Filling recipe makes actual Apple Pie Filling, and it's something you'll incorporate into a pie or other things versus cinnamon apples that can be a side dish on their own…
BOTH Apple Pie Filling and Cinnamon Apples can be sauces/toppings though.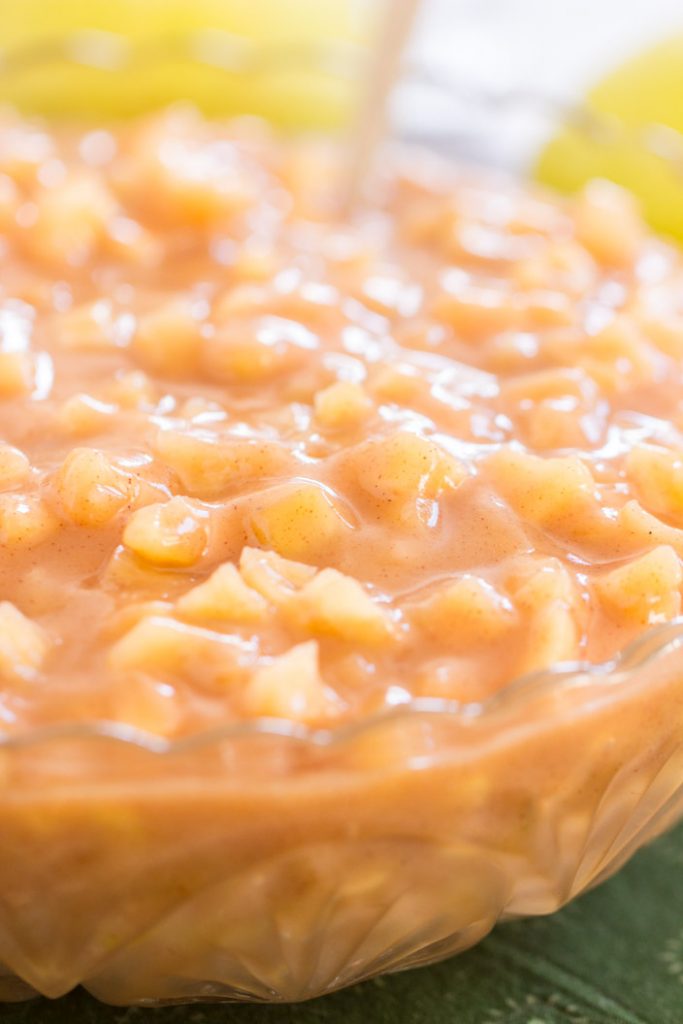 Um, hard to explain… these are very closely related recipes. You can partly decide which you prefer based on preparation method. Slow-cooker versus stove-top. You really can't go wrong either way though.
I hope you're eager to see upcoming recipes incorporating this Apple Pie Filling!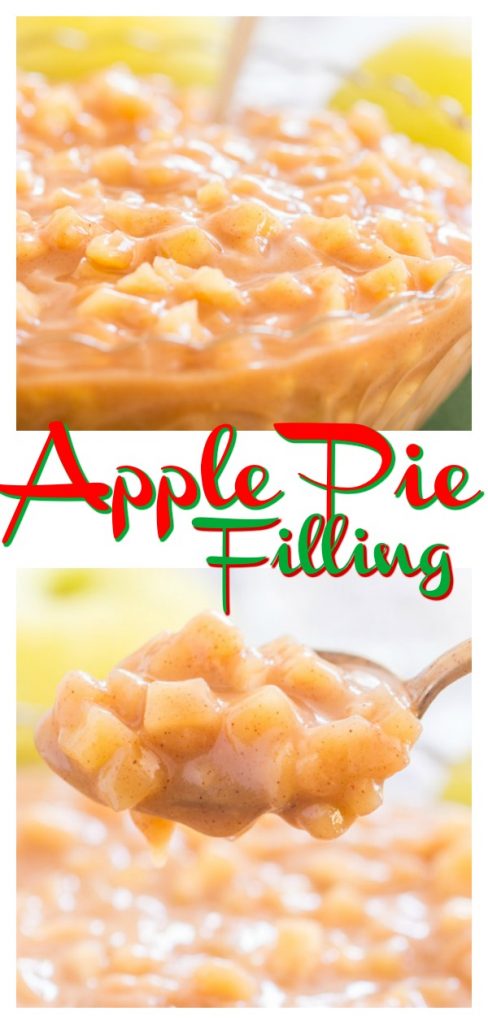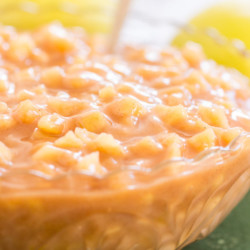 Apple Pie Filling recipe
From-scratch, homemade, quick & easy stove-top Apple Pie Filling! It's perfectly thick, sweet, gooey, and potent with fall spices. Apple pie without the crust, and there are so many wonderful things you can do with Apple Pie Filling -- it's highly versatile... if you don't eat it all with a spoon first.
Ingredients
6

medium Granny Smith apples

peeled and chopped (or sliced, if preferred)

1/2

cup

packed brown sugar

1/2

cup

butter

divided

1

cup

granulated sugar

1/4

cup

all-purpose flour

1/2

tsp.

salt

2/3

cup

water, apple cider, or apple juice

2

tbsp.

apple cider vinegar

2

tsp.

vanilla extract

1

tsp.

cinnamon

1

tsp.

apple pie spice
Instructions
In a large stock pot over medium heat, combine the apples, brown sugar, and 4 tbsp. butter.

Cook for 7-8 minutes, or until apples begin to soften and start to become tender.

Reduce heat to low, and add the granulated sugar, flour, salt, water, and apple cider vinegar.

Stirring frequently, cook until the mixture is thick, bubbly, and syrupy, 4-5 minutes. It should coat the back of a spoon.

Remove from heat, and stir in remaining butter, vanilla, cinnamon, and apple pie spice.

Allow to cool, and store in the refrigerator or freezer in tightly-lidded jelly jars.
Notes
This will fill a 9-inch deep dish pie. Just fill a pie shell, top with a crust, and bake at 400 degrees for 45-50 minutes!