Gooey and sweet apple pie filling topped with glazed cinnamon rolls for a fun twist on traditional cobbler!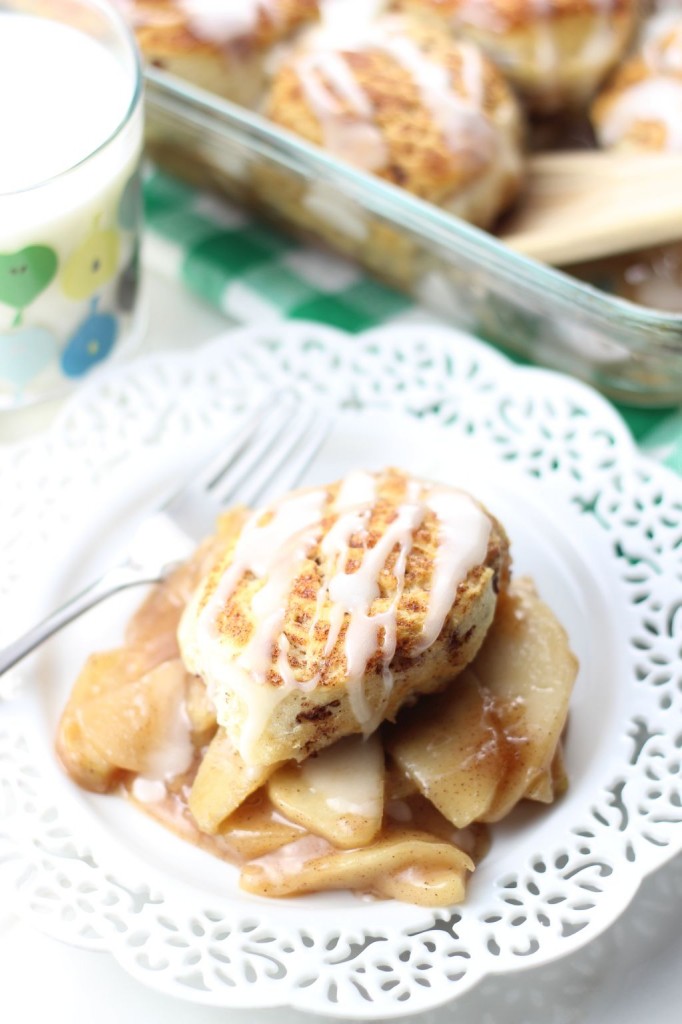 It is almost time. As much as I feel ready for fall, I don't feel ready to post pumpkin recipes yet. I don't know why. I've been shopping online for fall booties for about a month, and I finally found a few light jackets that will get a lot of use, and I've burned through three pumpkin/fall candles already, but I just can't seem to pull the trigger on posting pumpkin recipes. Maybe when September arrives? I actually have 4 or 5 of them all set and ready to go – baking and eating pumpkin things has been no problem for me! We're almost there though.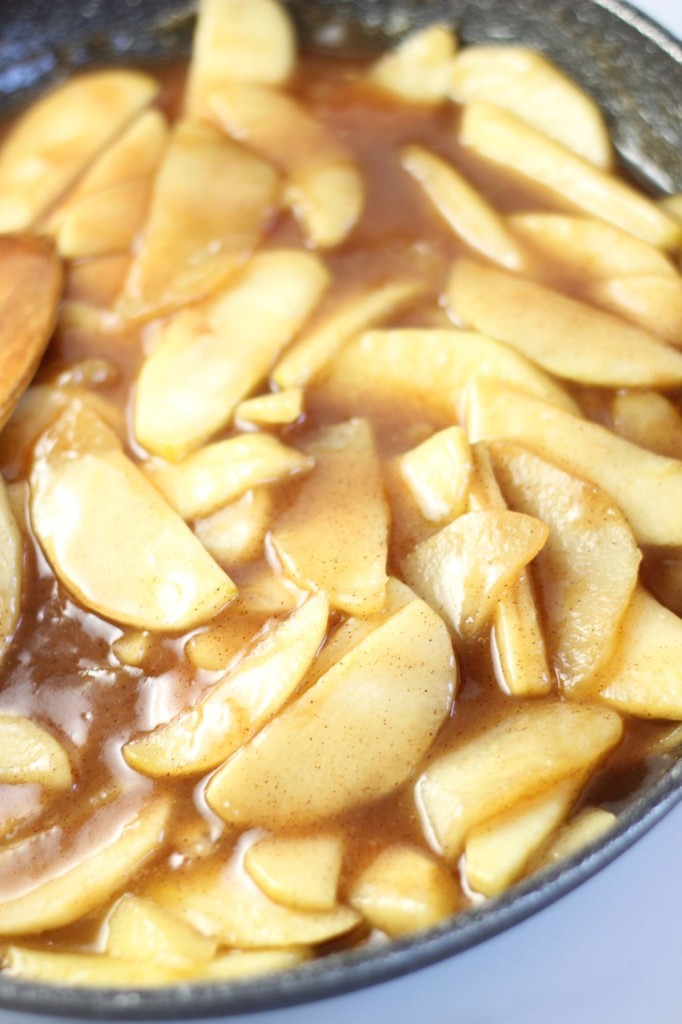 In the meantime, we'll turn to another fall favorite… one that I totally neglected last year: apples. I have a BUNCH of great apple things coming up, and I'm anxious to share them. My planning (or lack thereof) last year was very lopsided. It was all things pumpkin, all the time. Though, nobody complained. 🙂 I think I had one recipe featuring apples through the entirety of the season. This year, I've stepped up my apple game, and my recipe planning was a little more balanced!
That said, I still never plan perfectly well. I always overshoot. Mango Kiwi Pound Cake sandwich anyone? No? Maybe next summer. I'll just stash it away to share in 10 months when June arrives again.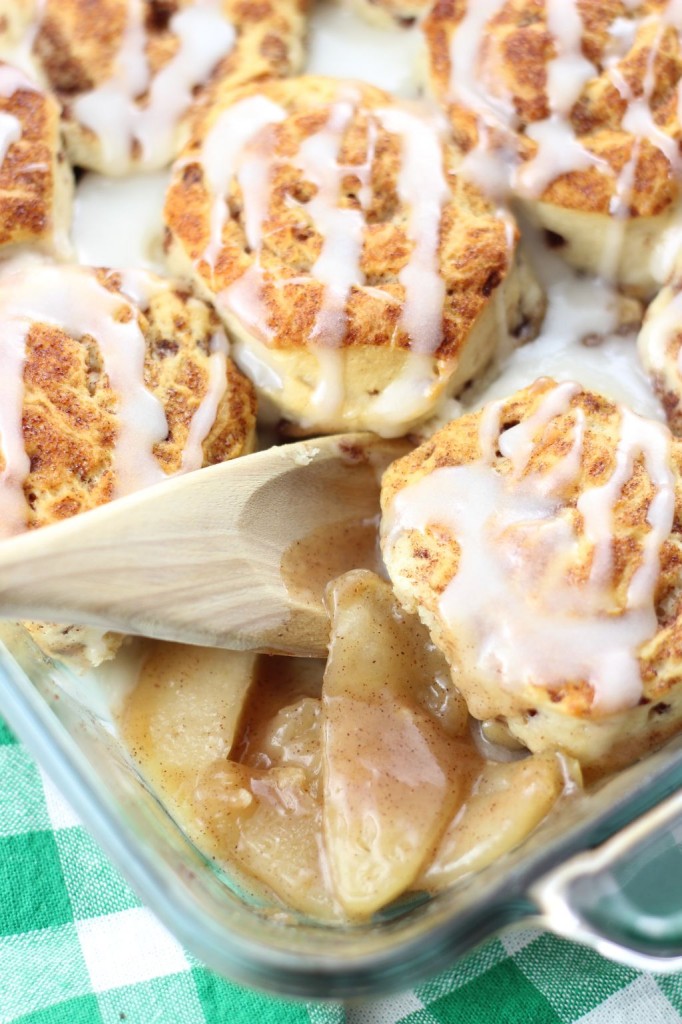 I am kicking off fall baking with one of my favorites first: this Apple Pie Cinnamon Roll Cobbler. I am so proud of this one. It's killer.
It's apple pie filling topped with cinnamon rolls… sooooooo, you know, Apple Pie Cinnamon Roll Cobbler. Forget batter or biscuits as your topping. Snooze fest. Cinnamon Rolls bring traditional cobbler back to life. You can make them from scratch if you'd like. My favorite cinnamon rolls are super simple and quick because they don't require yeast. You can find that recipe here and here.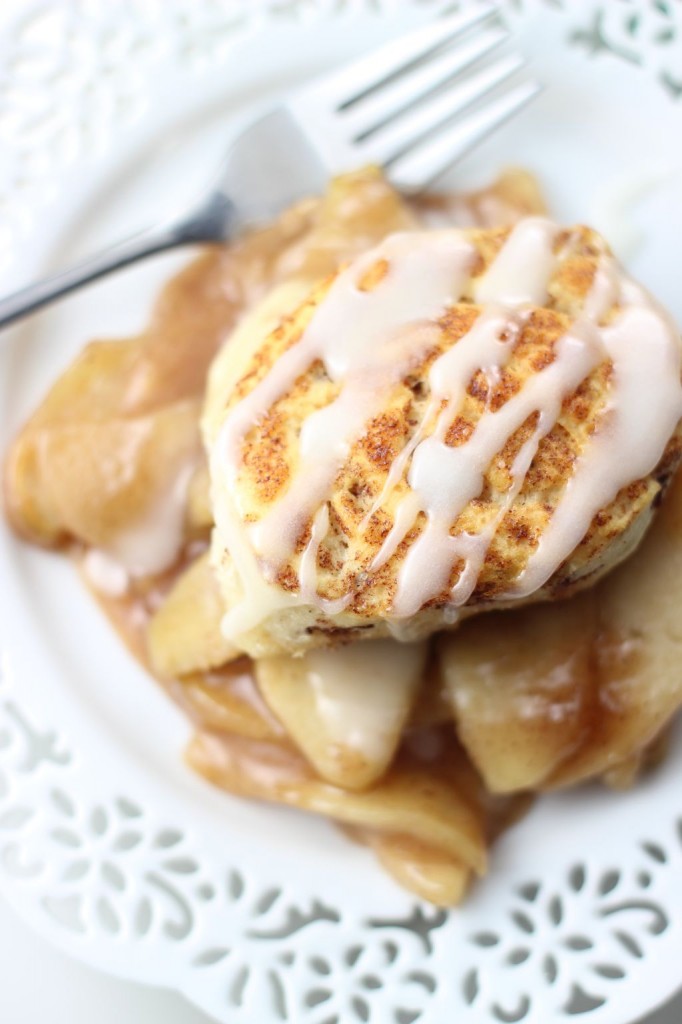 However, we are making the apple pie filling from scratch, so if you want to cut corners, just get the canned cinnamon rolls. You and I both know they are fabulous. No judgment zone here for taking shortcuts. I've confessed my love for canned cinnamon rolls in the past, and nothing about that has changed!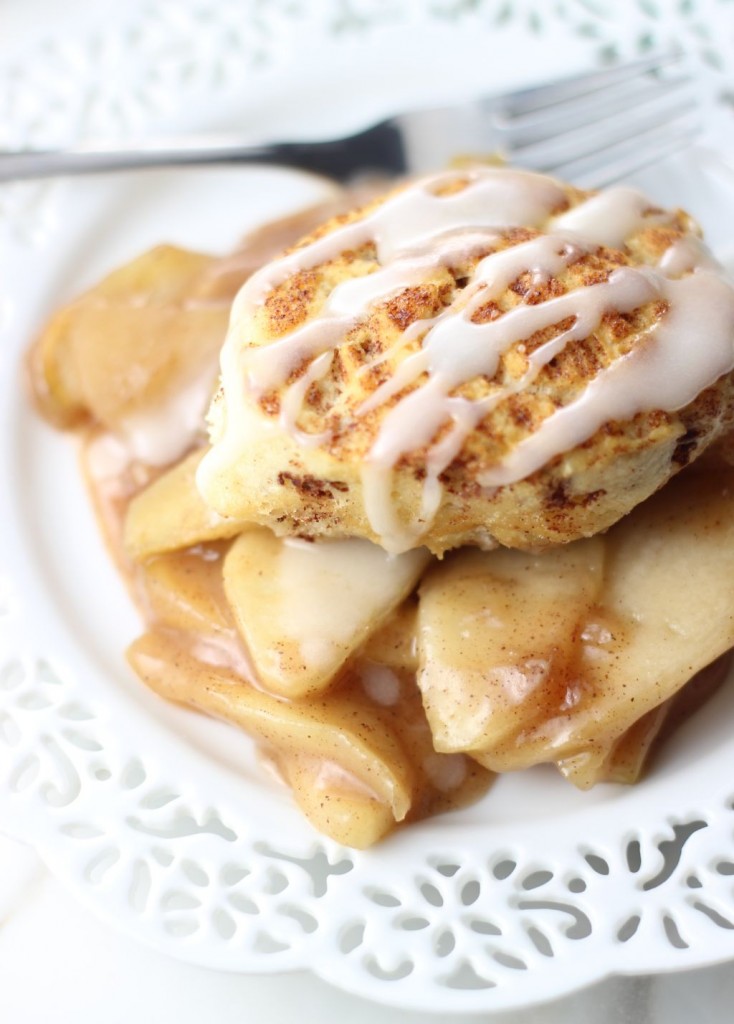 As it is, topping cobbler with glazed cinnamon rolls is just about the best idea ever (obviously, it wasn't mine originally). But the apple pie filling is the star of the show. I based the filling off of my mother's legendary apple pie recipe. A pie recipe that I haven't shared yet here, and maybe I never will. It might be TOO good. I might have to continue safeguarding that one. Her apple pie is the best there ever was. If you tried it, you couldn't deny that to be true.
It's not like most apple pie fillings where you just toss sliced apples with cinnamon and sugar. No. We cook a thick and gooey cinnamon-sugar syrup – an amazing sweet, cinnamon-y, and thick syrup! – that we toss the apples together with. It's a quick and easy syrup (I promise), and something that you end up wanting to eat all on its own. But don't, we need it for the cobbler.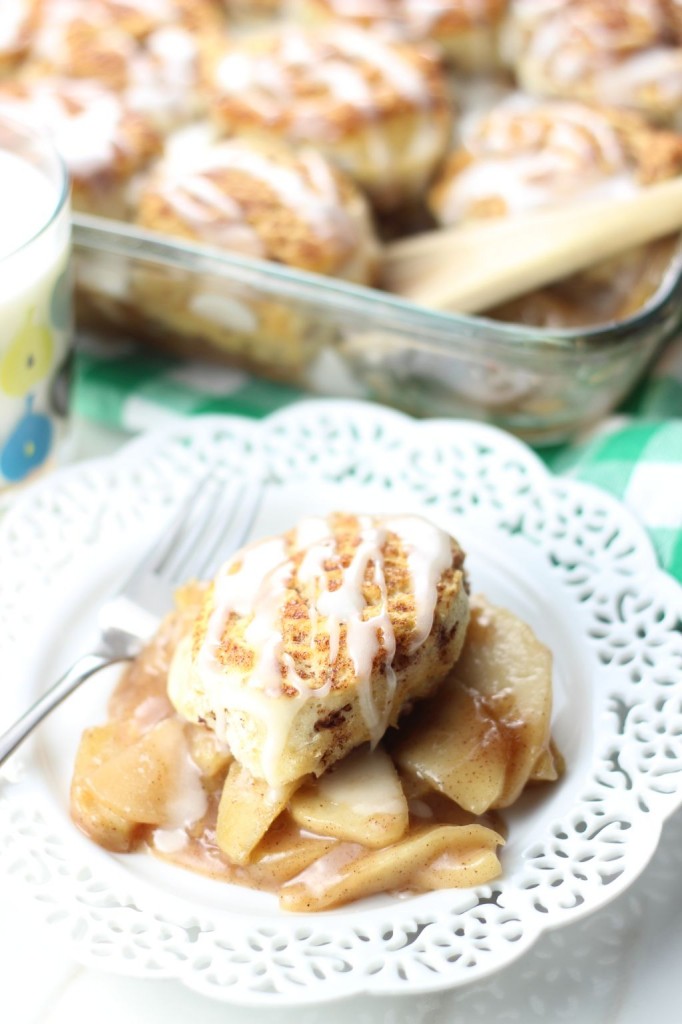 With the *best* apple pie filling out there, and glazed cinnamon rolls on top, this is an unforgettable cobbler that you must try!
Apple Pie Cinnamon Roll Cobbler
Apple pie filling topped with glazed cinnamon rolls for a fun twist on traditional cobbler!
Author:
Sarah @ The Gold Lining Girl
Recipe type:
Dessert or Breakfast
Ingredients
4 Granny Smith apples, peeled, sliced
½ c. packed brown sugar
4 tbsp. unsalted butter
1 c. sugar
¾ c. water
¼ c. flour
1 tsp. cinnamon
1 tbsp. apple cider vinegar
12 unbaked cinnamon rolls with glaze (2 cans of 8, you'll have 4 leftover unless you cram!)
Directions
In a large saucepan over medium heat, combine the apples, brown sugar, and butter.
Cook for 5-6 minutes, or until apples begin to soften and to lightly brown. We are partially cooking and caramelizing them.
Reduce heat to low, and add the sugar, water, flour, cinnamon, and apple cider vinegar.
Stirring frequently, cook until the mixture is thick, bubbly, and syrupy, about 3-4 minutes.
Pour the apple mixture into a lightly greased 8x11 glass baking dish.
Arrange the unbaked cinnamon rolls over the apple filling. No need to leave much space between them.
Bake at 375 degrees for 15-18 minutes, or until the cinnamon rolls are golden brown on top, and the apple filling is bubbly.
Drizzle the cinnamon roll glaze over the top.
Serve immediately, and devour!
Loosely inspired by Taste of Home.