Pina Colada Fudge prepped in 5 minutes! With dried pineapple chunks, coconut, maraschino cherries, and roasted macadamia nuts! Inspired by a favorite summertime beverage!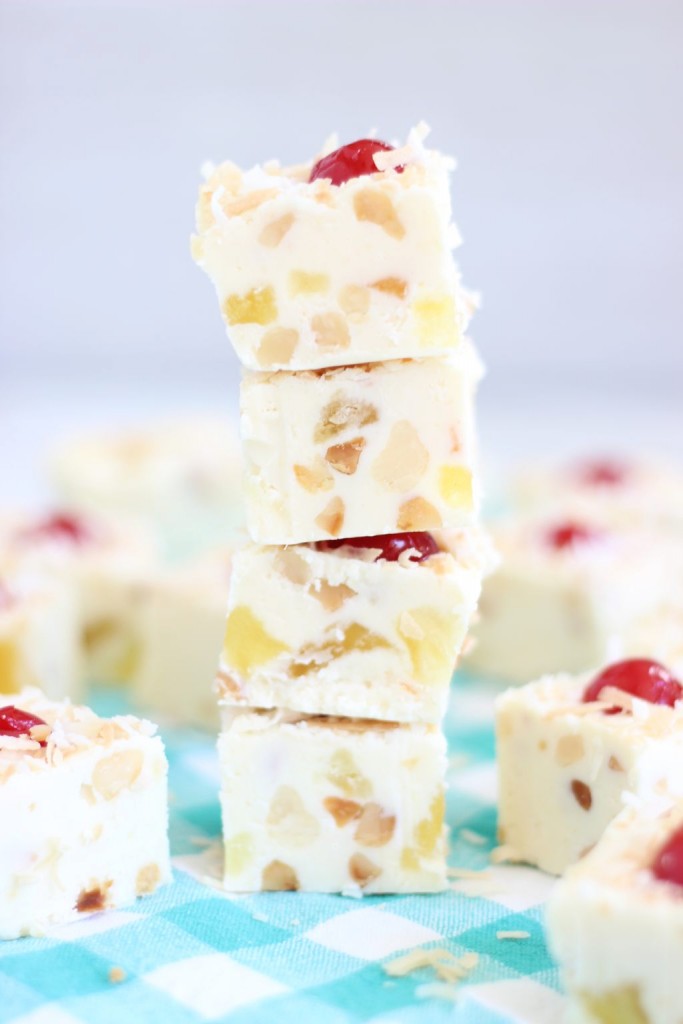 Of all the 5-Minute Fudge recipes on the blog, this one is my favorite. Although I have an equally GREAT one coming up in a few weeks, this 5-Minute Pina Colada Fudge is my top choice so far.
That's really saying a lot since you would think my favorite would be this 5-Minute Peanut Butter Cup Fudge, being such a peanut butter junkie and all.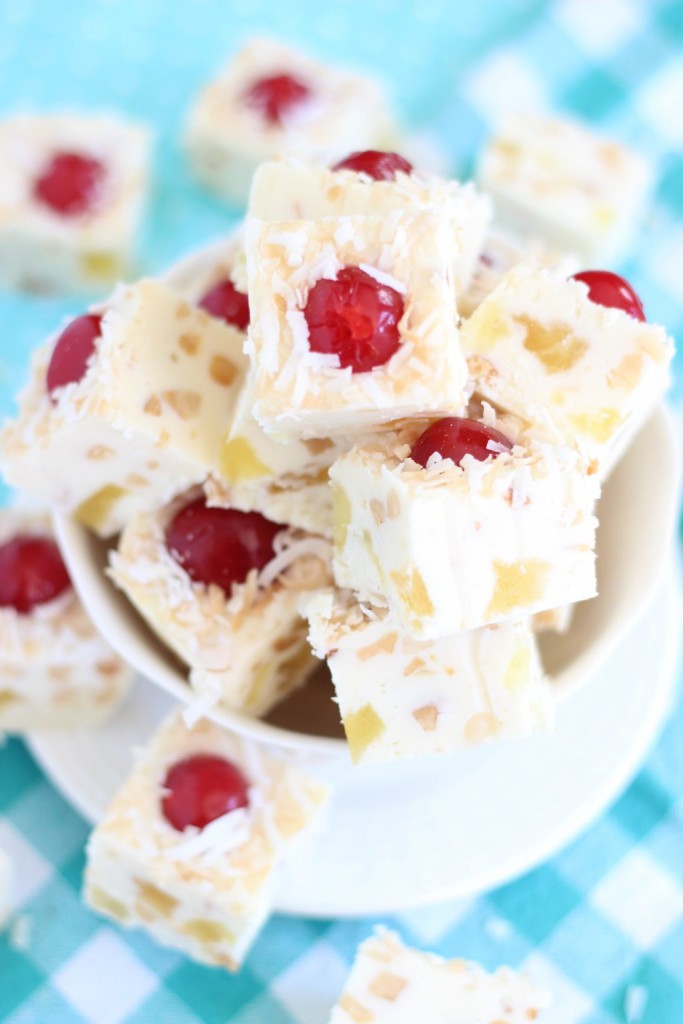 Just to be clear, you seriously only need about 5 minutes to prep this fudge. Maybe 10, if you are the kind of person that tends to dilly-dally. With a little focus, you can make this fudge in under 300 seconds though.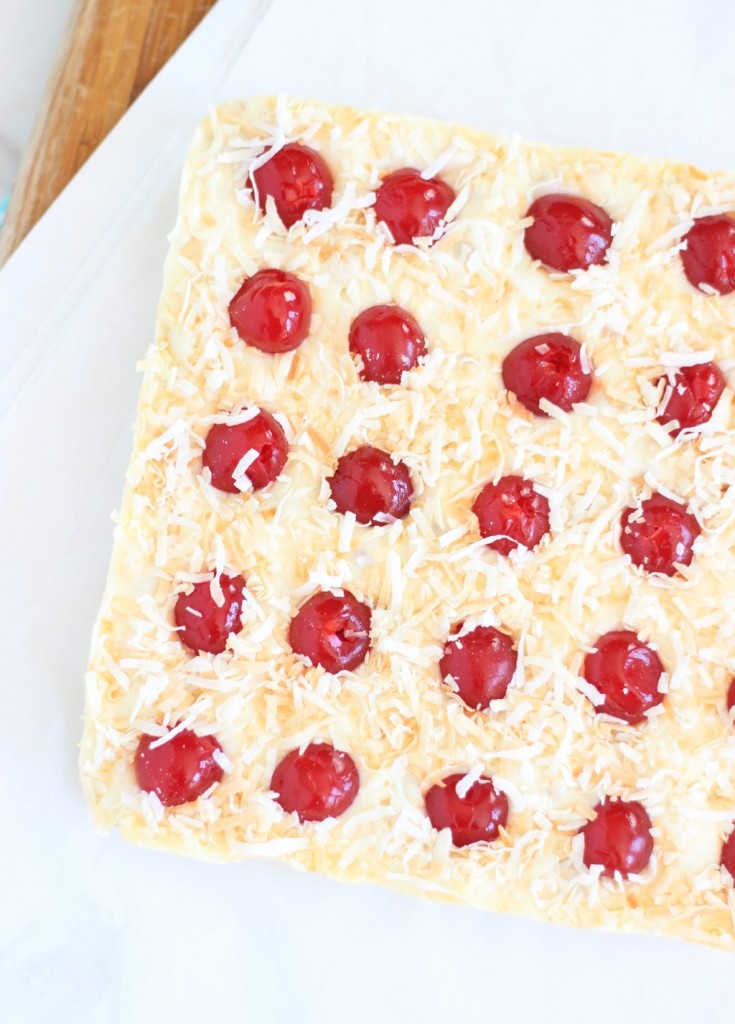 It does have to set, and that takes about 15-20 minutes, but even less if you stick it in the fridge. Does that make this '5-Minute' title a little deceiving? Either way, it's one of the fastest dessert recipes you can find, and you only need a bowl and a microwave.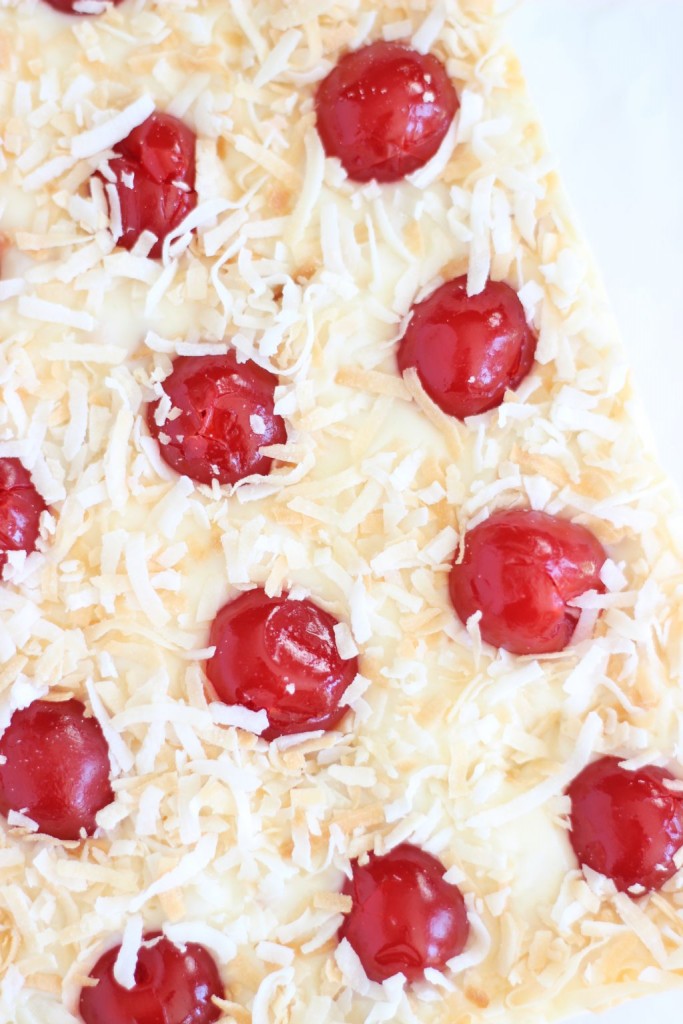 I initially set out to make a pineapple upside-down cake-inspired fudge, and then I just got carried away with adding ingredients. It quickly morphed into a Pina Colada fudge… and you know that process happened very quickly because I made this in under 5 minutes. 🙂 The recipe took a turn, and it paid off. It's amazing.
I started this fudge in the same fashion as all the other 5-Minute versions: prepared frosting and chocolate chips. In this case, cream cheese frosting and white chocolate chips. Simple flavor, sweet, and creamy. Just how a pina colada should be.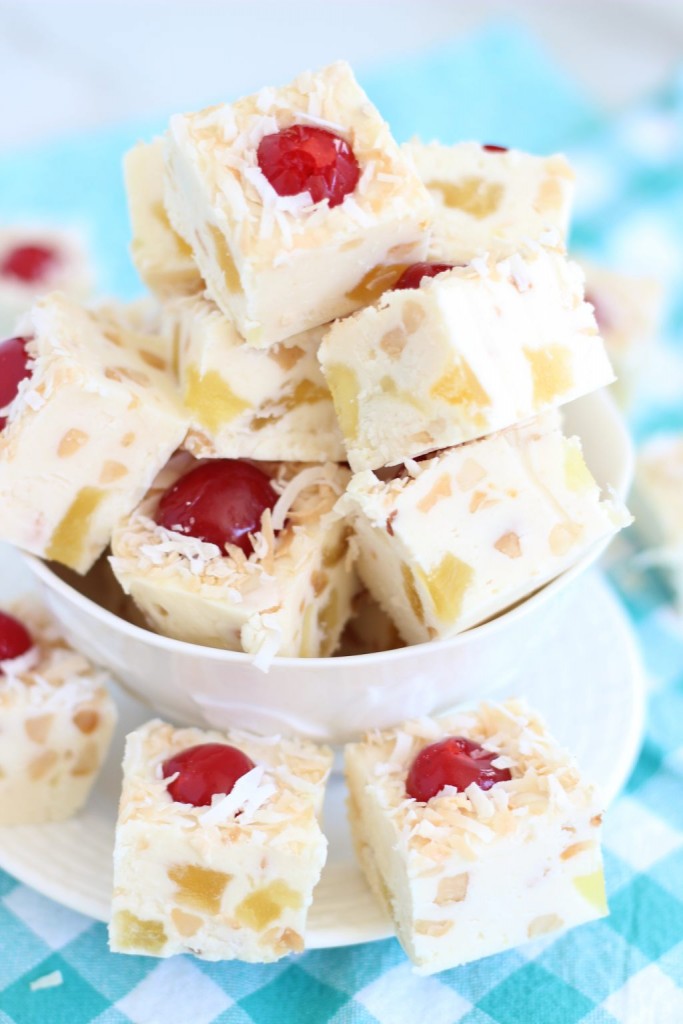 I added a little rum extract, and it enhances the other flavors, without being over-powering. I don't like a ton of rum, or for things to be super 'rummy'. Just a little was perfect.
Between all the shredded coconut, white chocolate chips, dried pineapple, and maraschino cherries, there's a lot of very saccharine items in this fudge. I added roasted and salted macadamia nuts, and it was really nice how the salt cut through all the sweetness!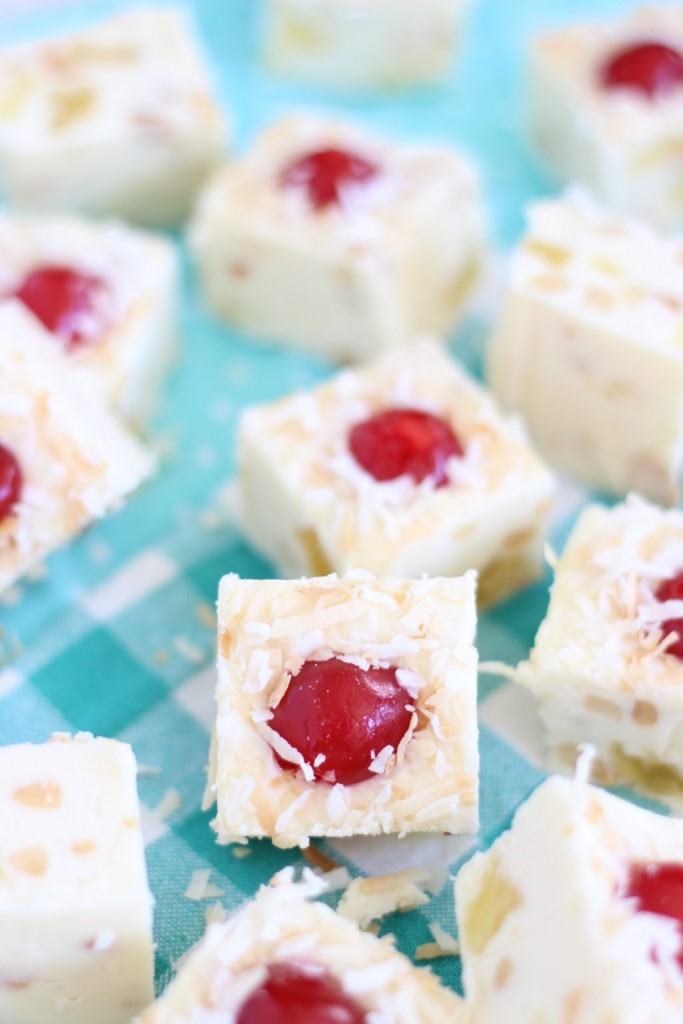 They also added some crunch. Soooo… no, macadamia nuts don't really have a place in pina coladas as a beverage, but they were a total delight in this fudge!
The best part is definitely the maraschino cherry in the center of each piece. Nice touch, huh? The flavors of this fudge were giving me all kinds of summer vibes!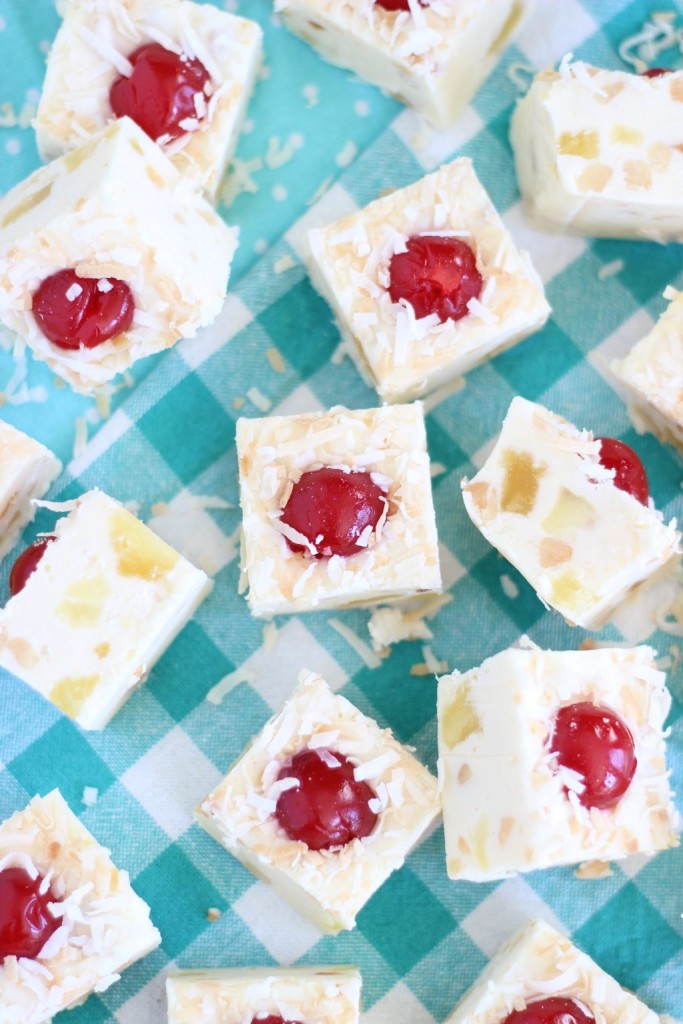 5-Minute Pina Colada Fudge
Author:
Sarah @ The Gold Lining Girl
Ingredients
1 - 16 oz. container prepared cream cheese frosting
1 - 12 oz. package white chocolate chips
3 tbsp. butter
½ tsp. rum extract
6 oz. dried pineapple, chopped
⅓ c. roasted salted macadamia nuts
1 - 10 oz. jar maraschino cherries, well-drained
½ c. toasted shredded coconut
Directions
Line an 8-inch square pan with foil, extending it over the edges of the pan.
Lightly grease the pan.
In a large microwave-safe bowl, combine the frosting, white chocolate chips, and butter.
Microwave on high for 1 minute, stir, then continue microwaving at 30-second intervals until the chips are completely melted and smooth.
Stir in the rum extract, dried pineapple, and macadamia nuts.
Spread evenly into prepared pan.
Working quickly, press maraschino cherries into the fudge in 5 even rows of 5 cherries. When you cut the fudge 5x5, each will have a cherry in the center.
Sprinkle the fudge with toasted coconut, and lightly press down so it adheres.
Allow to set at room temperature for about an hour, or 15-20 minutes in the refrigerator.
Remove from pan by lifting the edges of the foil. Remove the foil.
Cut into squares, and DEVOUR!