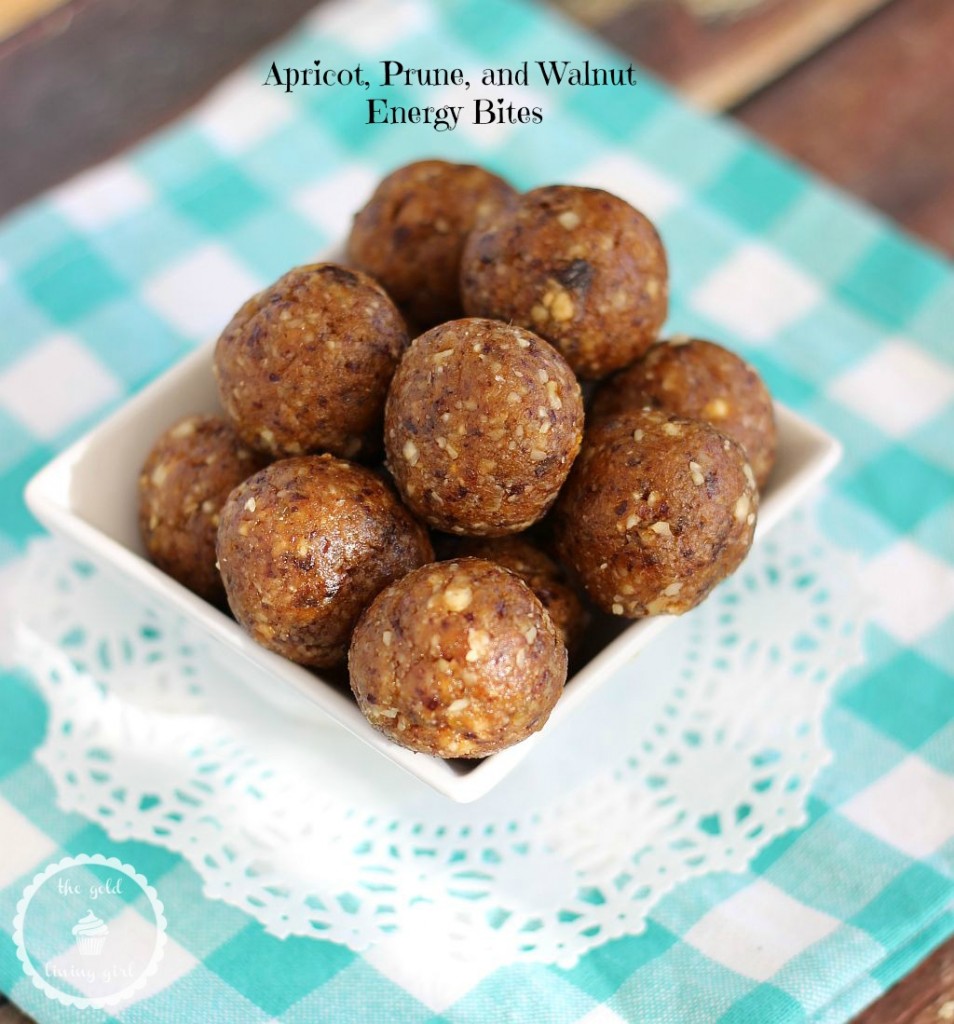 These no-bake, 5-ingredient energy bites are made with walnuts, honey, cinnamon, and dried fruits including apricots and prunes! They're super simple, healthy, and wholesome!
It's cliche, but I do like to renew my commitment to healthy snacking and healthier choices in the new year. When it comes to eating better, I am a planner. It helps so much to prepare. I pack food and snacks to take with me on-the-go, especially because I travel for work. I don't like to rely on fast food when I'm out and about, so I'm always stashing things in my purse or a small cooler. I'm look a food ninja – you never know what I'll bust out, and where it was hiding.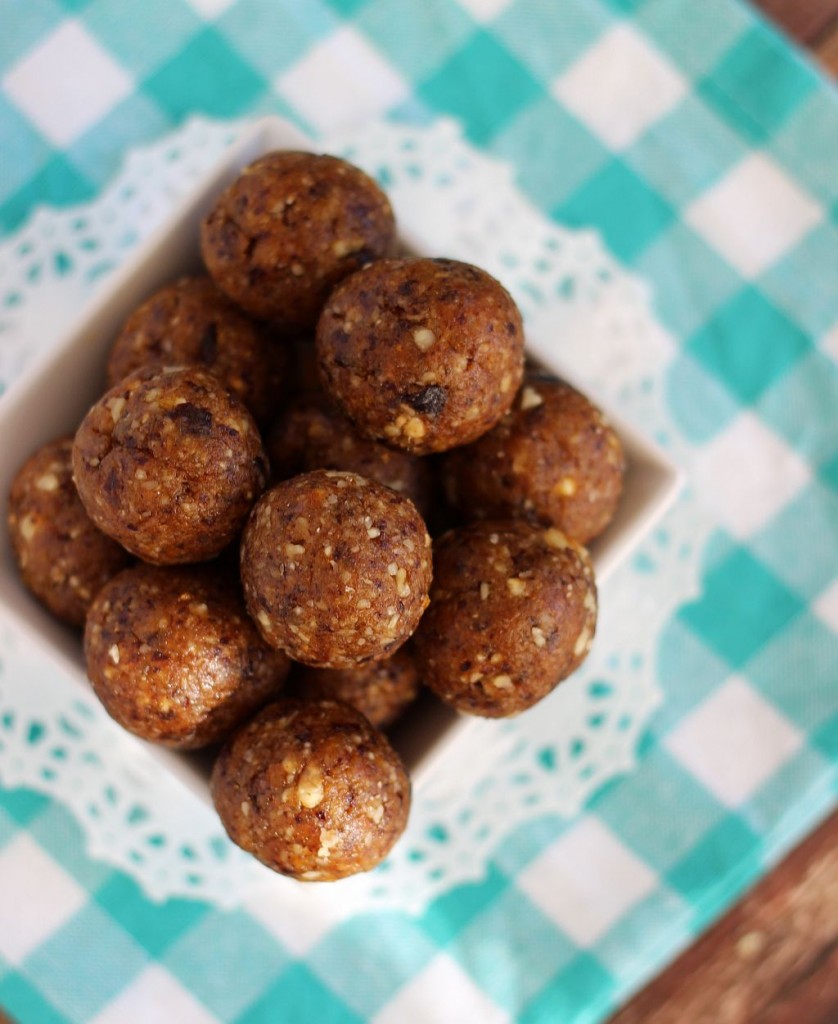 I sometimes get sideways glances from friends and family because of this 'strange' habit, but they are very happy campers when I'm willing to share my secret food stash.
I was traveling earlier this week on a work trip with a new colleague. Whenever she would mention that she was getting hungry, I'd provide her an array of choices to snack on. Initially she thought this behavior was kinda odd, but by the end of our trip, she was quite grateful for healthy snacks on hand!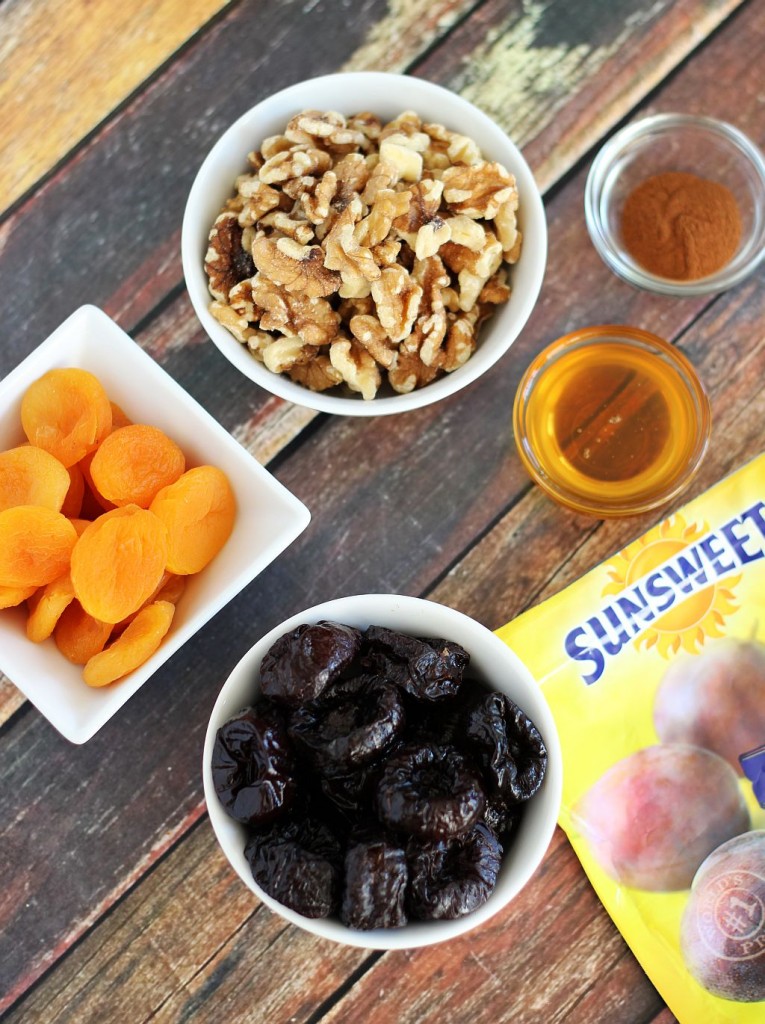 One of the snacks I packed with me is these Apricot, Prune, and Walnut Energy Bites. These are so delicious and they were perfect for a snack or light meal. They stick to my bones and keep me feeling full, while my energy levels hum along too. They are naturally sweet from dried fruits, including apricots and prunes, so they taste more like indulging in a treat! Since they don't take up a lot of space and are quite portable, they were ideal for tucking into my bag.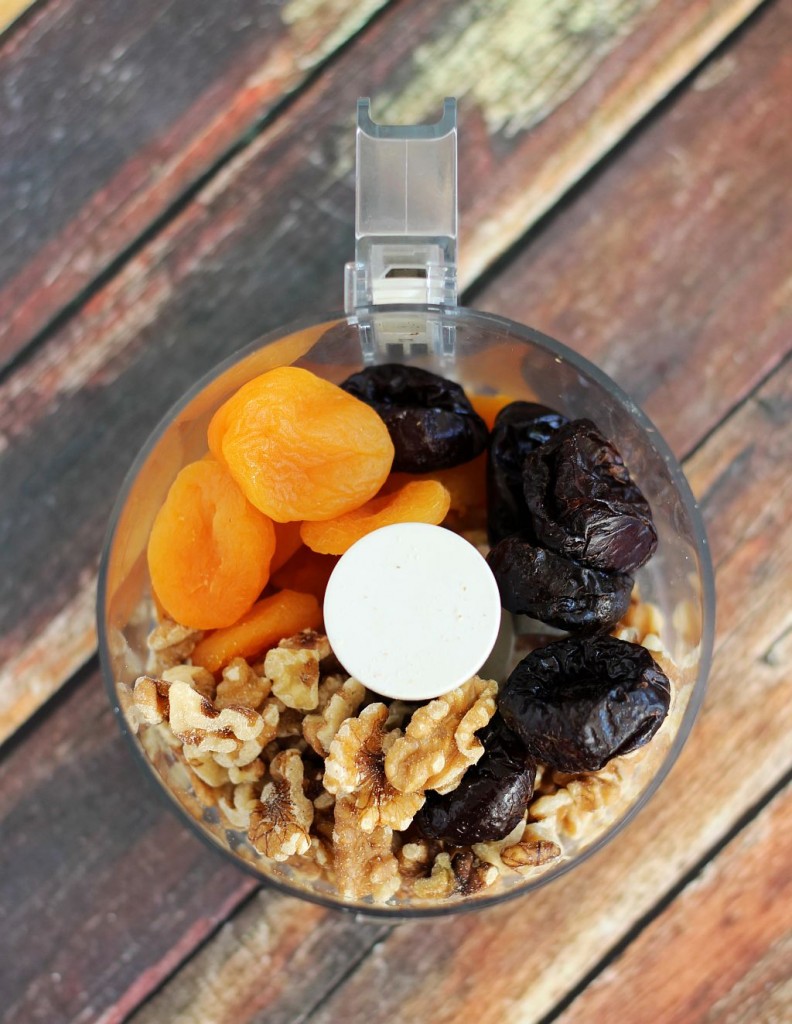 They disappeared quickly. Um, really fast. The good news is that you can make more in about 5 minutes flat. The prep work involved about 30 seconds of pulsing in a food processor. Beyond that, you can eat these as fast as you can roll them into balls. Or, just grab a spoon and go to town. That's perhaps the less portable option, but equally delicious!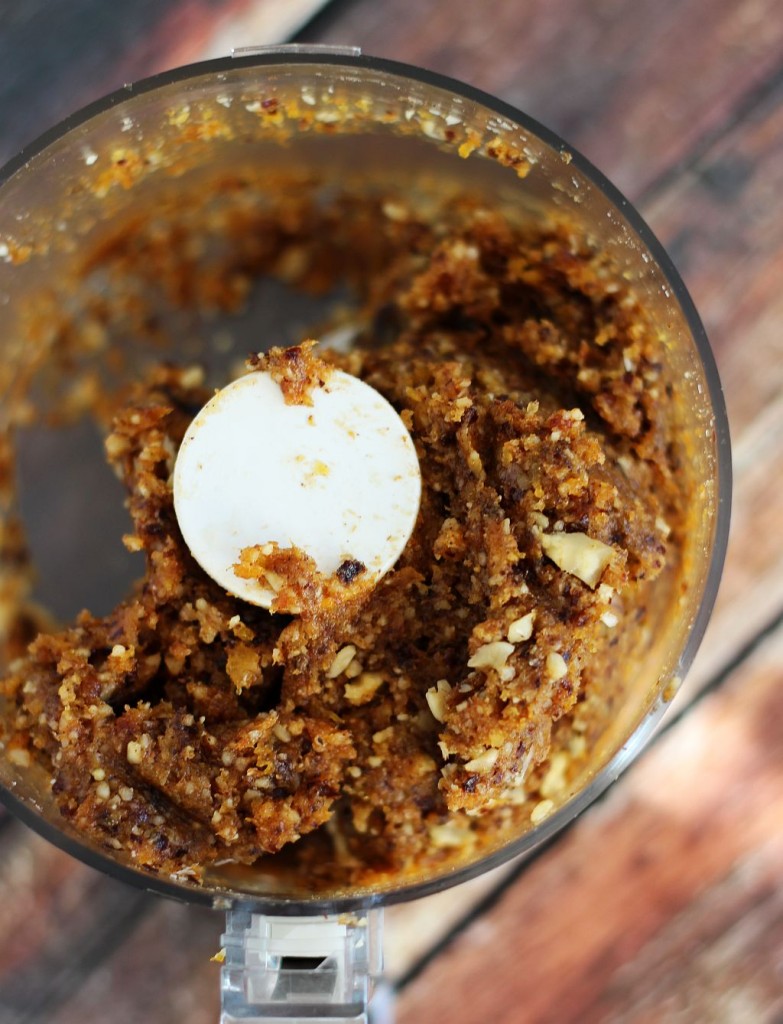 Prunes are possibly the most underrated of dried fruits! It's a plum with all the water zapped out…. who doesn't love a plum? Prunes are even more sweet and concentrated in flavor. What's not to love? They're also a good source of fiber so they'll keep you feeling full longer, they're versatile so you can toss them into cereal, oatmeal, or even salads, they're low-glycemic, and they contain lots of nutrients that are good for bone health.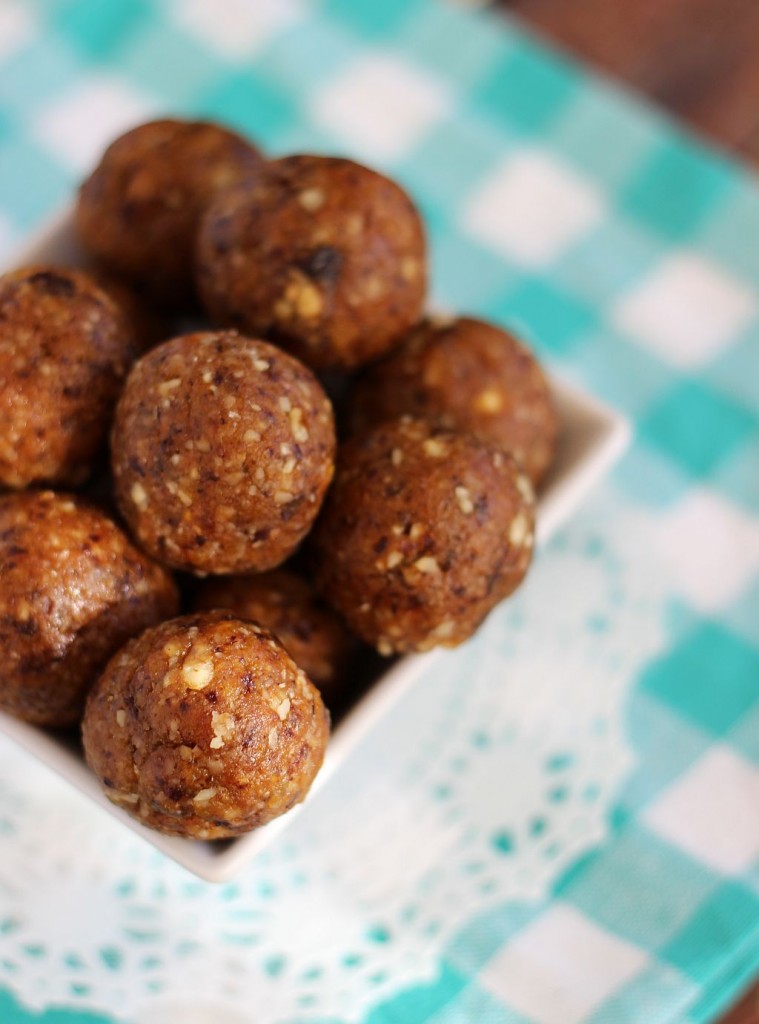 Admittedly, prunes do remind me of my great-grandma! Whenever my mom would take my brother and I to visit her when we were little, she would inevitably offer us prune juice and cookies. True story. Every single time. There really wasn't any variation that I recall – it was always prune juice and cookies!
And we liked that! As a little kid, I appreciated the prune, and I still do. They're the perfect moist and sweet base for these energy bites – just mix in your preference of other fruits and nuts!! Apricots are a delicious accompaniment to prunes. I tested these energy bites with pecans, almonds, and walnuts. My personal favorite was walnuts because they were a bit more unexpected, but this recipe is extremely versatile so you can adjust it easily to your preferences! Enjoy!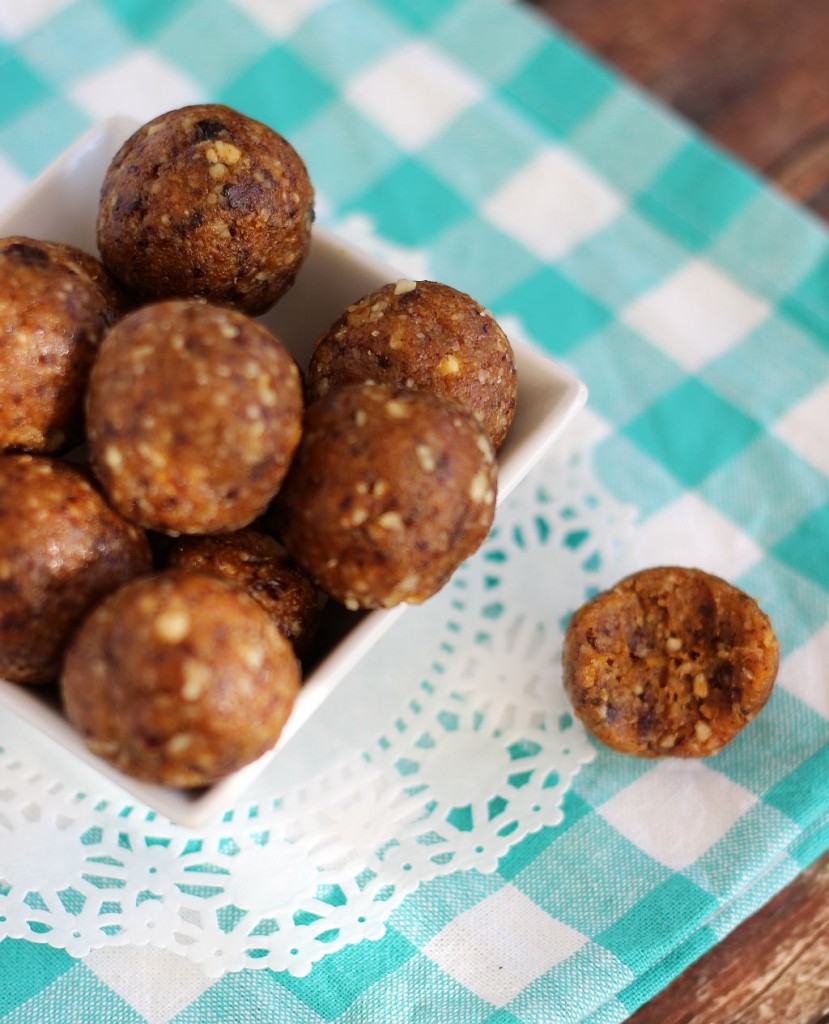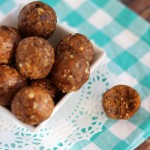 5-Ingredient Apricot, Prune, and Walnut Energy Bitess
Super simple and healthy energy bites made with walnuts, honey, cinnamon, and dried fruits including apricots and prunes!
Ingredients
8

prunes

10

dried apricots

1

c.

walnuts

1/4

tsp.

cinnamon

1-2

tbsp.

honey
Instructions
Combine prunes, apricots, walnuts, and cinnamon in a small food processor or chopper.

Pulse until the fruits and nuts are roughly chopped.

Add 1 tbsp. honey to the mixture, and pulse until the fruits and nuts are finely chopped.

Drizzle additional honey into the food processor, as needed, until the mixture starts to form a ball.

When the mixture sticks together and can be easily rolled into balls, it's ready!

Roll into 1-inch balls. Enjoy!