A silky and creamy semi-sweet chocolate custard with orange flavor from fresh orange zest, and boatloads of chopped pistachios.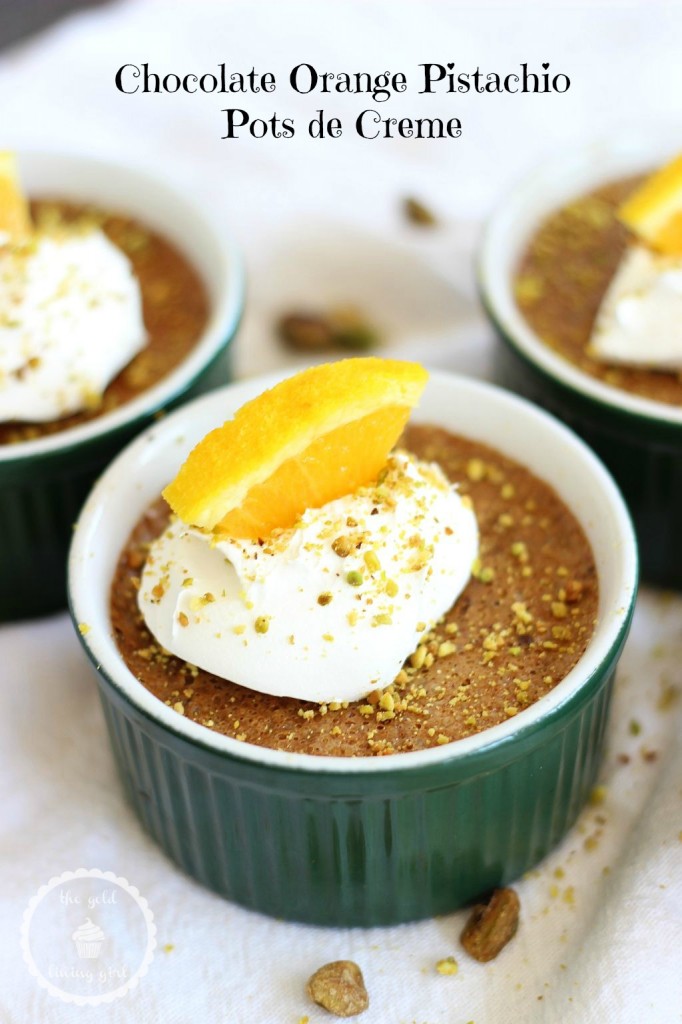 Here's a fancy dessert for you. Fancy only because of the name: "pots de creme." Otherwise, these are deceptive about their fanciness because they're so darn easy to make, and you actually only need a few ingredients.
Those are some of the best desserts though. The ones where everyone believes you've slaved to make it, and they have an air of fanciness, but they were shockingly simple.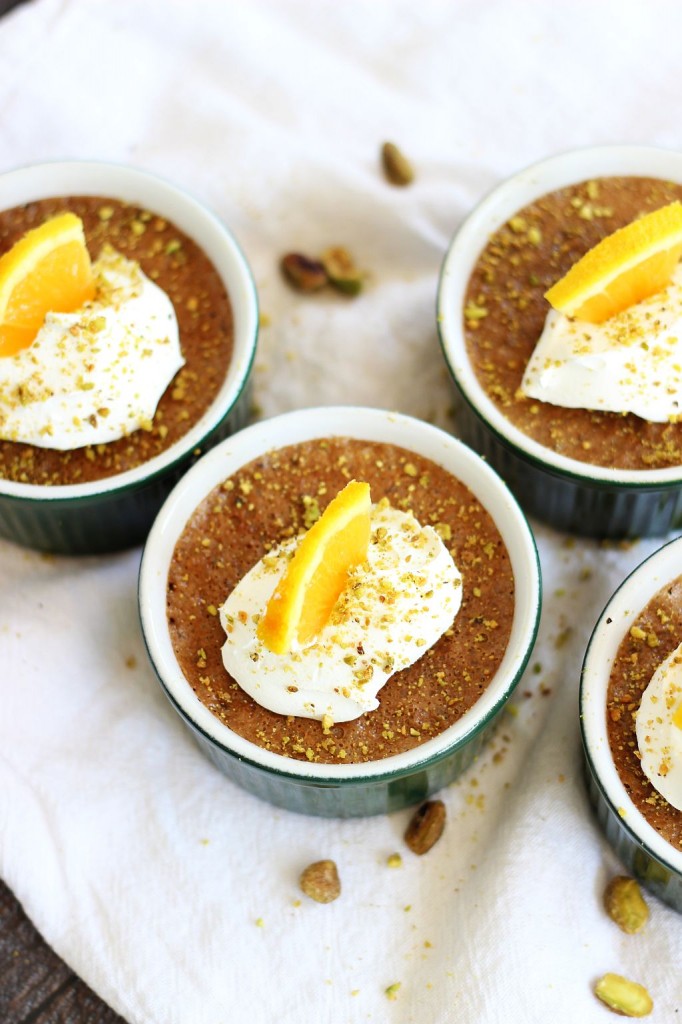 What should NOT be discounted about these pots de creme are two things: 1. the flavor combination – chocolate, orange, pistachio. Heaven! And 2. the creaminess factor. You will never experience a creamier food in your life. I guarantee it. It's probably because there are 6,000 grams of fat in each of these, so that will have a lot to do with it. You won't necessarily want to make them a regular weeknight dessert, but when you feel like really indulging, these are what you turn to. The richest and creamiest custard you've ever had.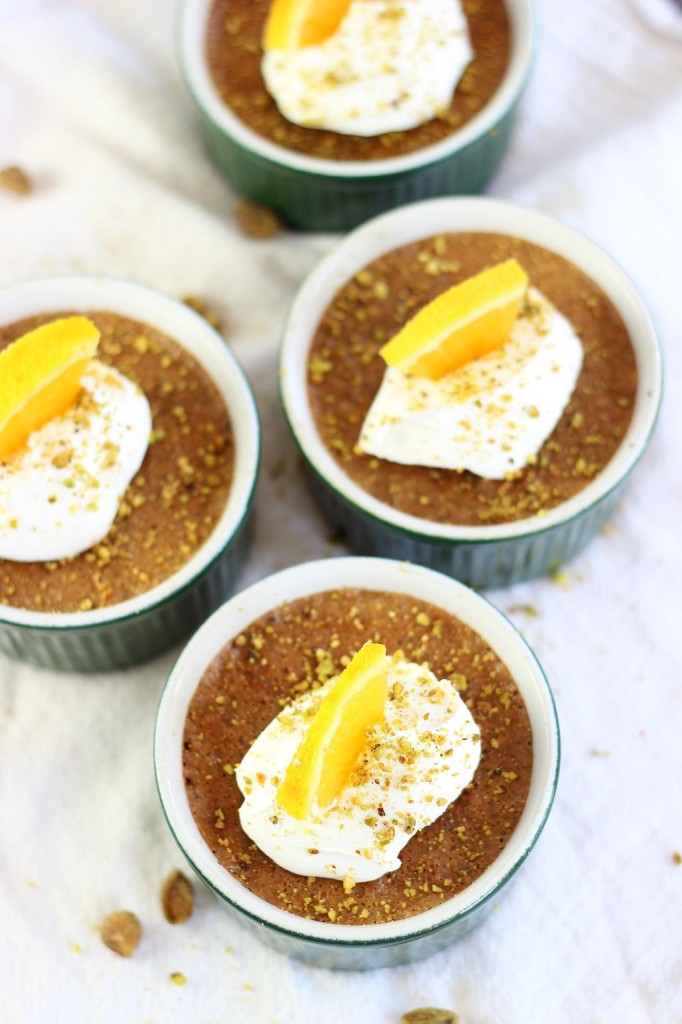 Except for the chopped pistachios. Those give it some crunch. But outside of the chopped nuts, these are nothing but creaminess. Maybe I'm droning on about this too much. Movin' on…
I love chocolate and orange together, and I love orange and pistachio together. Therefore, with orange being the common denominator, they ALL belong together. That's been my recipe logic many times in the past, and it hasn't really failed me yet. These pots de creme are no exception!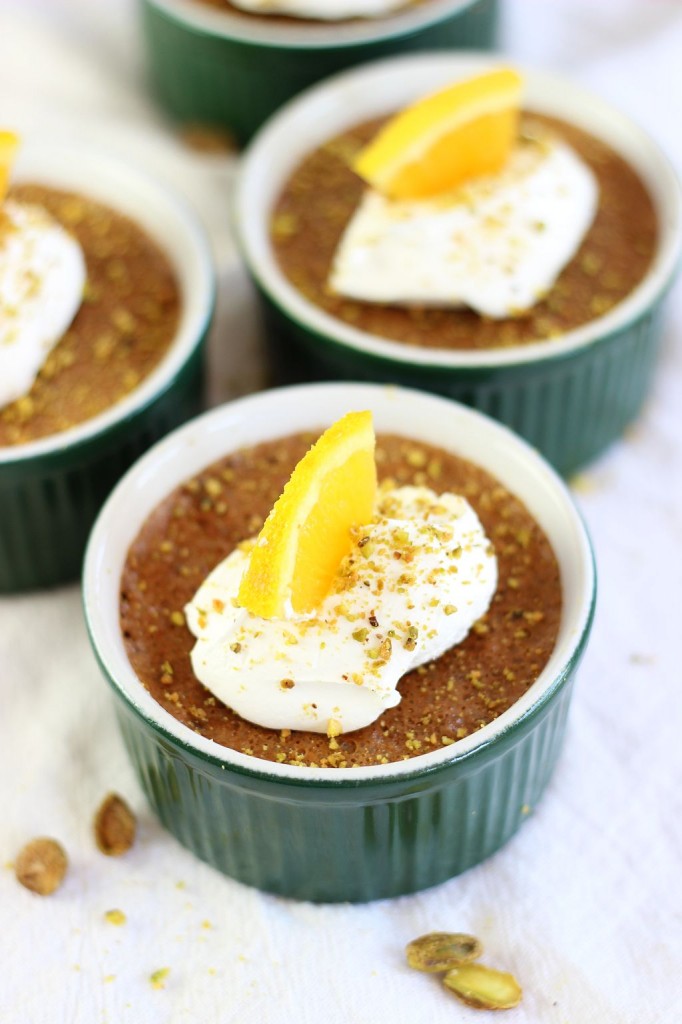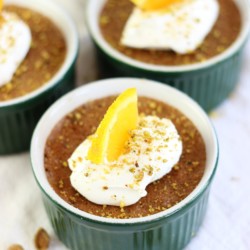 Chocolate Orange Pistachio Pots de Creme
A rich and luscious chocolate orange custard with chopped pistachios! You only need a handful of ingredients!
Ingredients
2 - 4

oz.

bars semi-sweet baking chocolate

coarsely chopped

1

c.

heavy cream

4

egg yolks

at room temperature

3

tablespoon

sugar

2

teaspoons

orange zest

1

c.

finely chopped pistachios

divided

whipped cream

for garnish
Instructions
Place the chocolate in a large bowl, and set aside.

In a small saucepan over low heat, heat the heavy cream until it's hot and steaming, but not boiling. About 5-6 minutes.

Pour the cream over the chocolate and allow to sit for 1 minute, without stirring.

Once the cream has melted the chocolate, stir together until smooth.

In a large bowl, whisk the egg yolks, sugar, and orange zest until smooth.

Very slowly and gradually, whisk the chocolate mixture into the egg mixture. You don't want to accidentally cook the egg yolks with the heat from the chocolate mixture, so you add the chocolate slowly. Stir until smooth.

Mix in the pistachios, reserving 1/4 c. for garnish.

Place 4 ramekins or custard cups in an 8x8-inch baking pan.

Pour enough water into the baking pan that it rises to about halfway up the ramekins.

Divide the chocolate mixture evenly among the ramekins.

Bake at 300 degrees for about 35 minutes, or until the custard is set at the edges, and slightly jiggly in the center.

Allow ramekins to cool for 10 minutes in the baking pan before removing to a wire rack to cool completely.

Refrigerate for at least 1 hour, or until chilled.

Top with whipped cream, and sprinkle with remaining chopped pistachios. Devour!