An easy and elegant trifle with layers of pumpkin butterscotch pudding, cinnamon-spiced maple whip cream, and spice cake!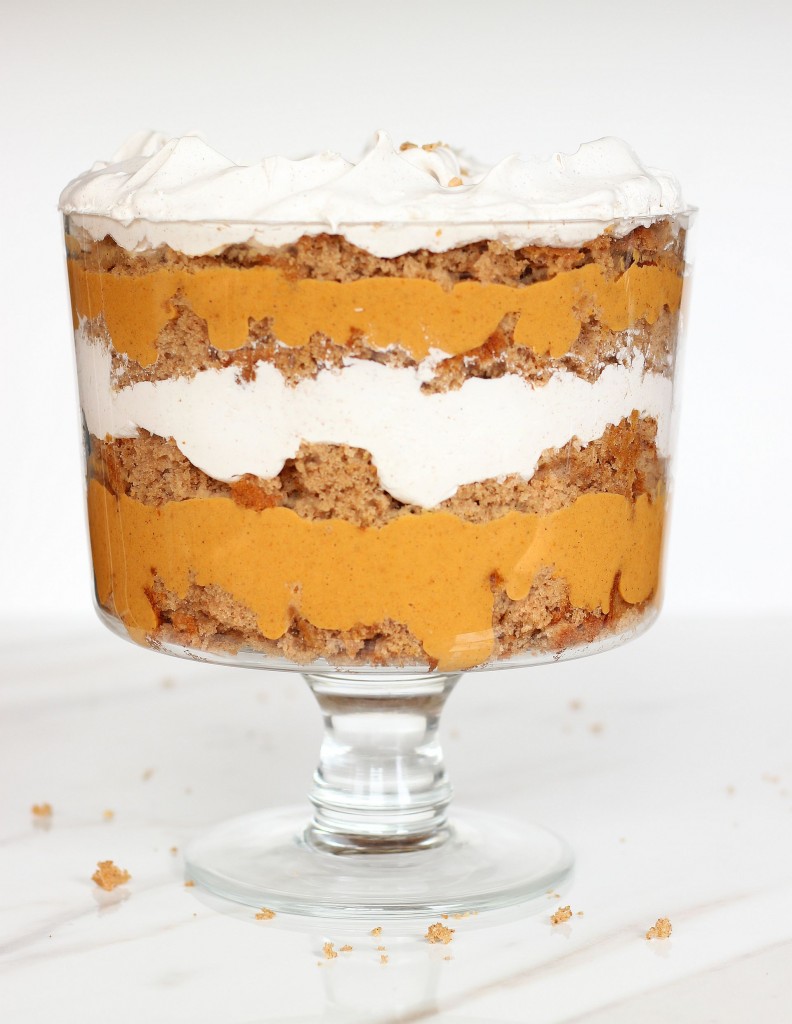 Trifles are easy to throw together. Literally. Trifles are fantastic to make because they don't have to look perfect. By nature, they're a bit more hap-hazard. You literally just sort of throw everything together, attempt for it to look picturesque and pretty, but accept that it will be a bit hap-hazard. That's part of their charm!
Correction: Trifles *should* be easy, unless you make it hard on yourself. I did this –>self-imposed difficulties in assembling the trifle.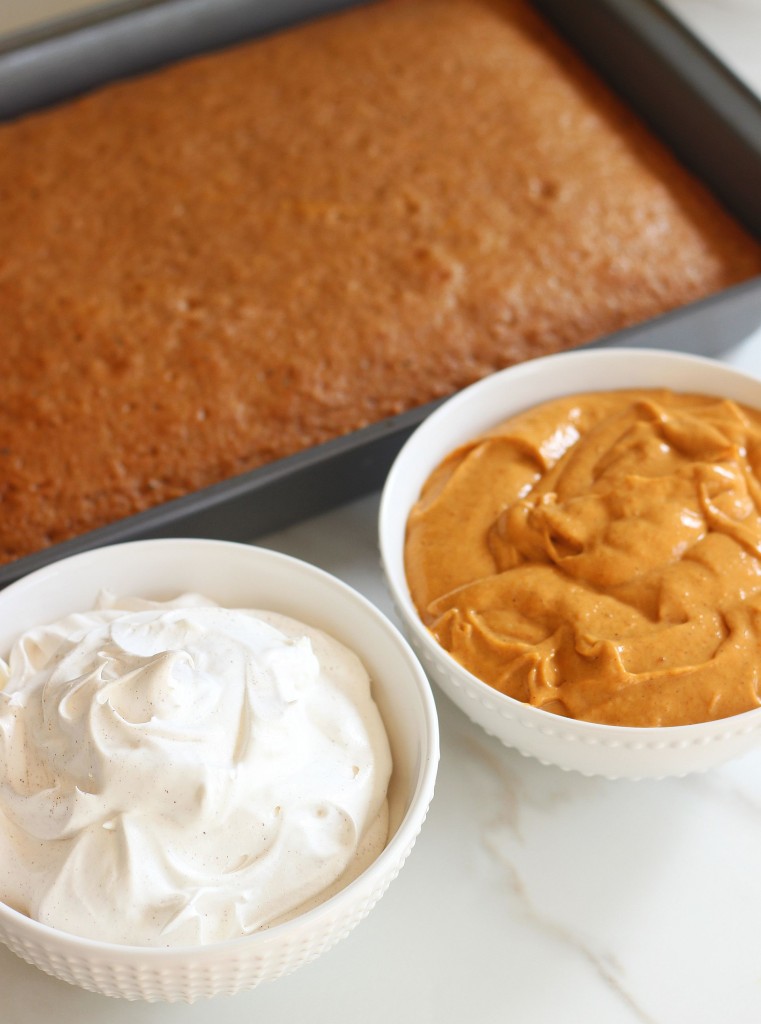 First, I nearly cried when I ran out of Cool Whip halfway through because I didn't properly ration or measure. I just slapped it on. Okay, I didn't cry, but we'll say I was… highly distressed. Without any backup containers in the house, I briefly pondered whose house I could possibly be in, then walked out the door in my pajamas (yes, I was that person) and drove to the corner store for another container. Or four. I can't be caught in this scenario again, after all.
Btw, I like to refer to the Dollar General down the street as the 'corner store' because it sounds much more quaint and 1950s than 'the dollar store.' Don't you think?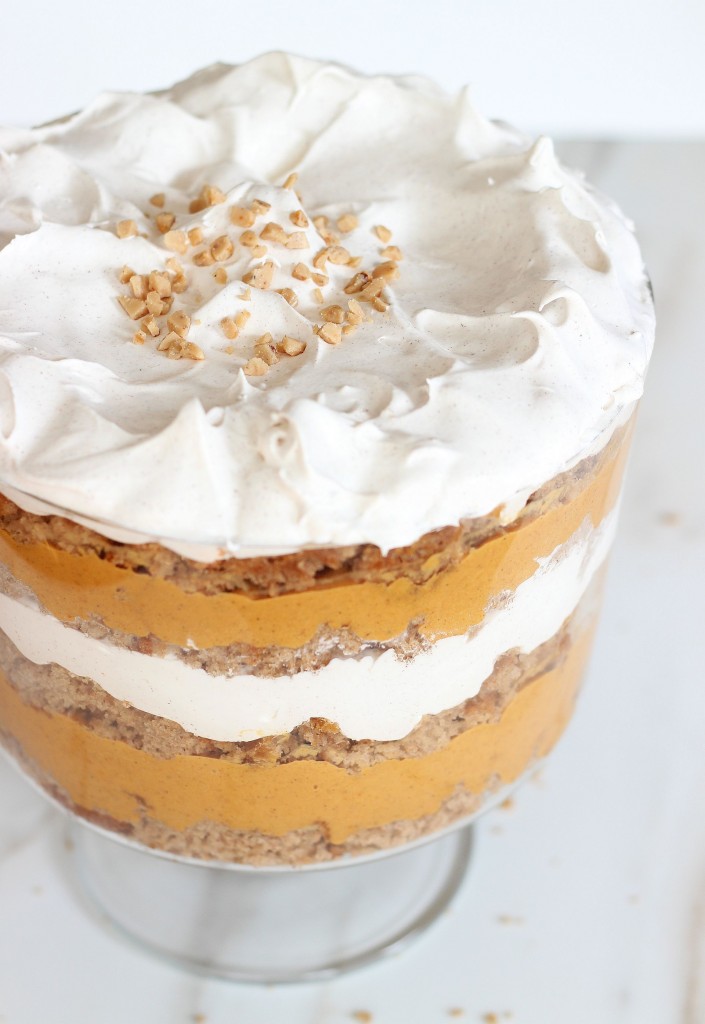 Things move along more swimmingly after the emergency Cool Whip run, but I probably could've made the layers a bit more even. Who really cares though? Remember… we're going for charm.
Next, I plan to make tall and puffy mountains of Cool Whip atop the trifle. They turn out to be more like little hills. I dunno… they're still pretty cute.
Then I sprinkle the top with toffee bits, not because there's toffee anywhere else in this trifle. No, they're just for fun. I was supposed to reserve cake crumbs as a garnish, but I made the affirmative decision to go with toffee bits. Yes, that's my story and I'm sticking to it. I planned the toffee bits. I actually really did.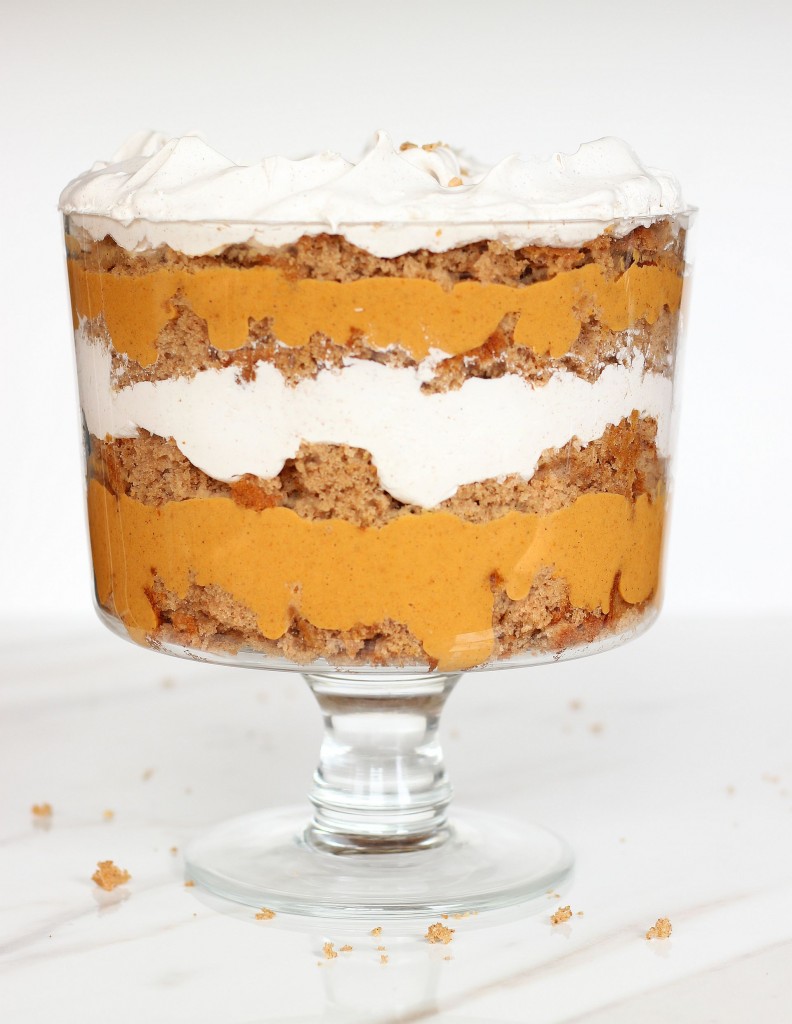 Lastly, I decide that I'm really, really, *really* in the mood for pumpkin trifle and will eat it for breakfast, lunch, dinner, and everything in between because in an instance of very poor planning, I made it the day before we are going out of town for a week. Pumpkin trifle ALL DAY. Perfect!
That is the saga of this pumpkin trifle. But seriously, it's easy. Just make sure to have the correct amount of ingredients on hand and you'll be golden! This trifle is luscious. Lots of layers of spice cake, pumpkin-butterscotch pudding, and fancified Cool Whip (by way of some cinnamon and maple syrup). It's altogether quite light, but is packed with so many great flavors and spices, best of all pumpkin, of course.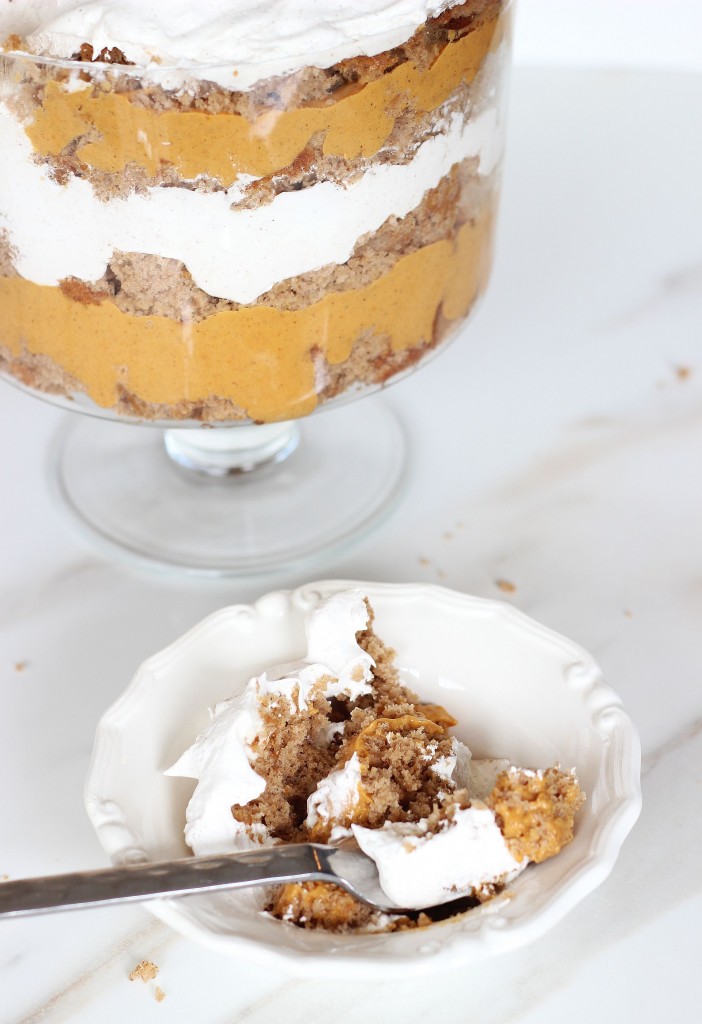 Pumpkin Butterscotch Spice Cake Trifle
An easy and elegant trifle with layers of pumpkin butterscotch pudding, cinnamon-spiced whip cream, and spice cake!
Author:
Sarah @ The Gold Lining Girl
Ingredients
1 - box spice cake mix, prepared according to instructions (mine required 1 c. water, ½ c. oil, 3 eggs)
1 - 15 oz. can pureed pumpkin
1 tsp. cinnamon
½ tsp. pumpkin pie spice
¼ tsp. ginger
3 c. cold milk (low-fat works fine)
4 boxes instant butterscotch pudding mix
2 - 8 oz. containers Cool Whip, thawed
1 tsp. cinnamon
¼ c. maple syrup
Optional garnish: 2 tbsp. toffee bits
Directions
Prepare spice cake mix according to instructions on the box. Allow to cool completely.
Break up the cake into coarse crumbs and crumbles. Reserve ¼ c. for garnish (if not using toffee bits as garnish), and divide the remaining crumbs into 4 equal portions.
In a large bowl, combine pumpkin, 1 tsp. cinnamon, pumpkin pie spice, ginger, milk, and instant pudding mixes. Whisk til smooth, and set aside.
In a large bowl, fold together Cool Whip, cinnamon, and maple syrup.
To assemble the trifle, from bottom to top, it will be as follows: cake crumbs, pudding, cake crumbs, Cool Whip, cake crumbs, pudding, cake crumbs, Cool Whip, garnish. Got it? 🙂
To assemble, evenly sprinkle one portion of the spice cake crumbs into the bottom.
Next, gently spread half of the pumpkin butterscotch mixture over the cake crumbs.
Sprinkle a second portion of the cake crumbs.
Gently spread half of the Cool Whip mixture over the cake crumbs.
Sprinkle the third portion of cake crumbs over the Cool Whip.
Gently spread the remaining pumpkin butterscotch mixture over the cake crumbs.
Sprinkle the fourth and final layer of cake crumbs.
Spread remaining Cool Whip mixture.
Garnish with toffee bits, or the ¼ c. reserved cake crumbs - whichever you chose.
Enjoy!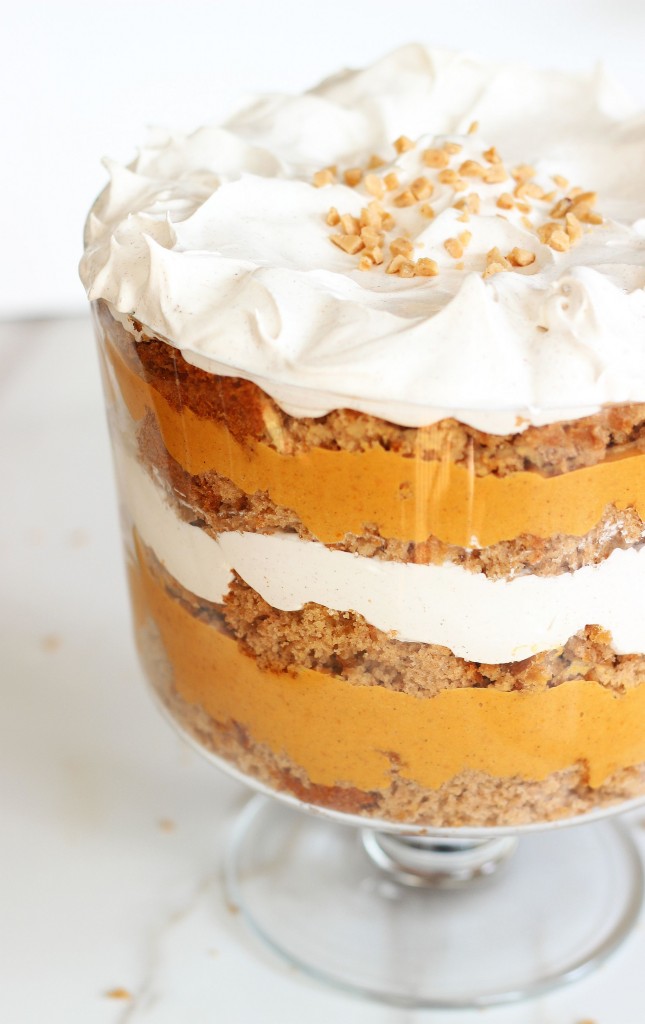 I have faith in your ability to portion out the Cool Whip properly, despite my own shortcoming, but just in case, I've added extra into the recipe so you don't have to run to the dollar store in your PJs. 🙂