Sweet and crunchy Nilla wafer cookies, strawberry frosting, slivered almonds, and white chocolate chips come together in this super simple and fast fudge! Ready in minutes, this decadent candy will satisfy your sweet tooth! Perfect gift for your Valentine!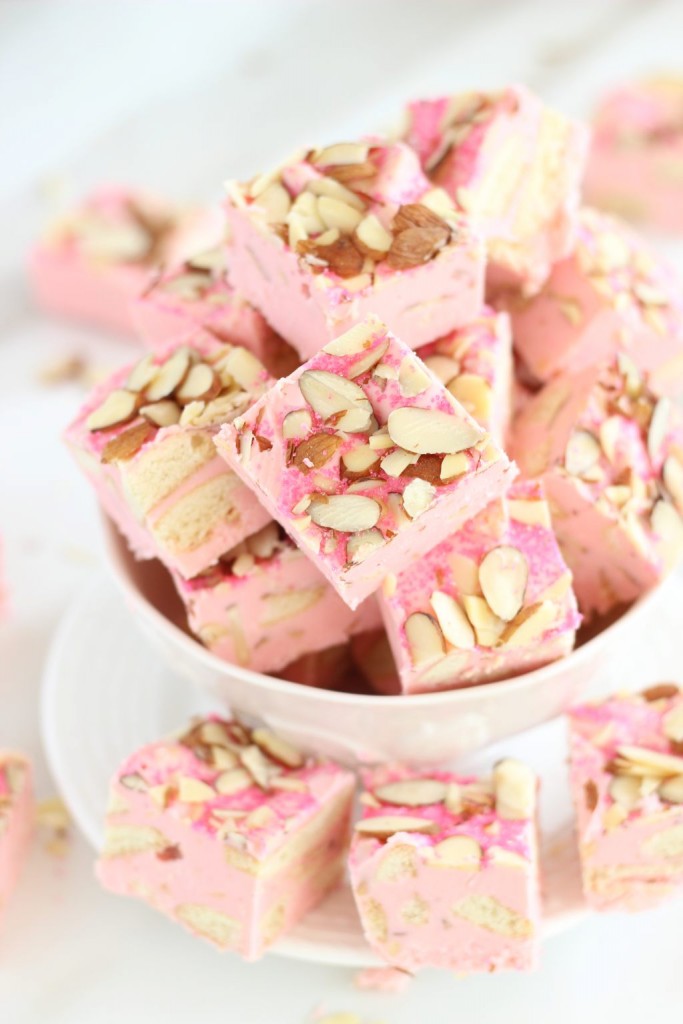 Had to. Had to do it. I love this 5-Minute Biscoff Cinnamon Bun Fudge so much that I had to make a Valentine's Day version. I remembered finding prepared cherry frosting last year around Valentine's Day, and originally, I wanted to make this a Cherry Almond Fudge. That was my grand plan.
But I think it's a seasonal item. I was waiting for it to pop up again in stores so that I could make it, but as soon as I gave up, I spotted it. Too little, too late!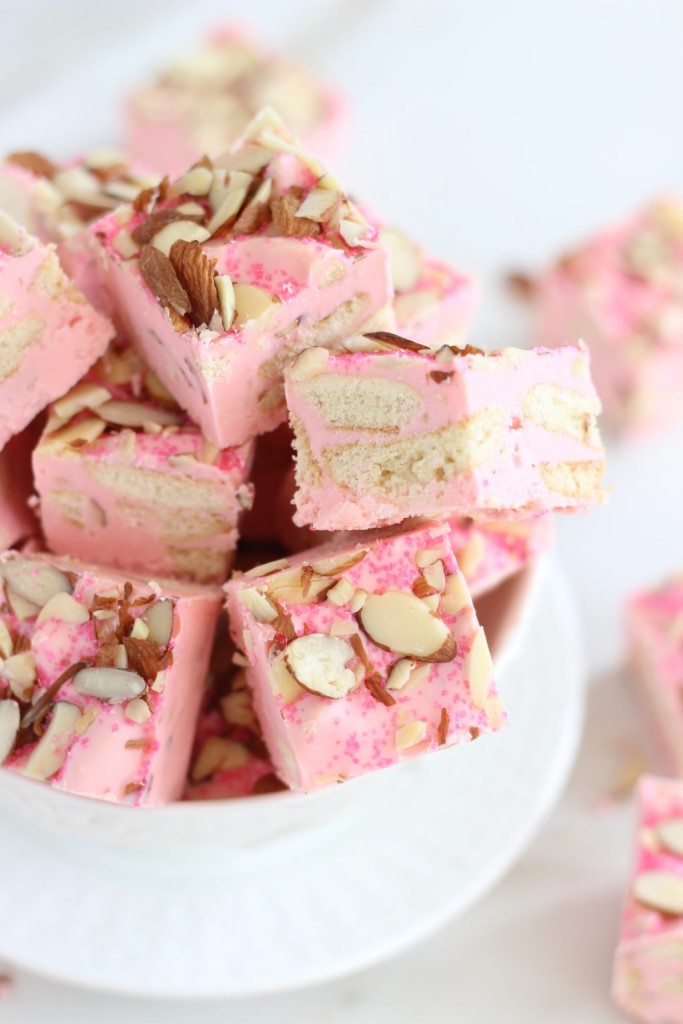 I'd already headed in a new direction with this Strawberry Shortcake Fudge. I have the cherry frosting in hand now too, so maybe I should make that anyway??? At least prepared strawberry frosting is something you can find year-round!
If you decide to make this recipe in the summertime when a craving for strawberry shortcake hits and you need a fast fix, you'll be set.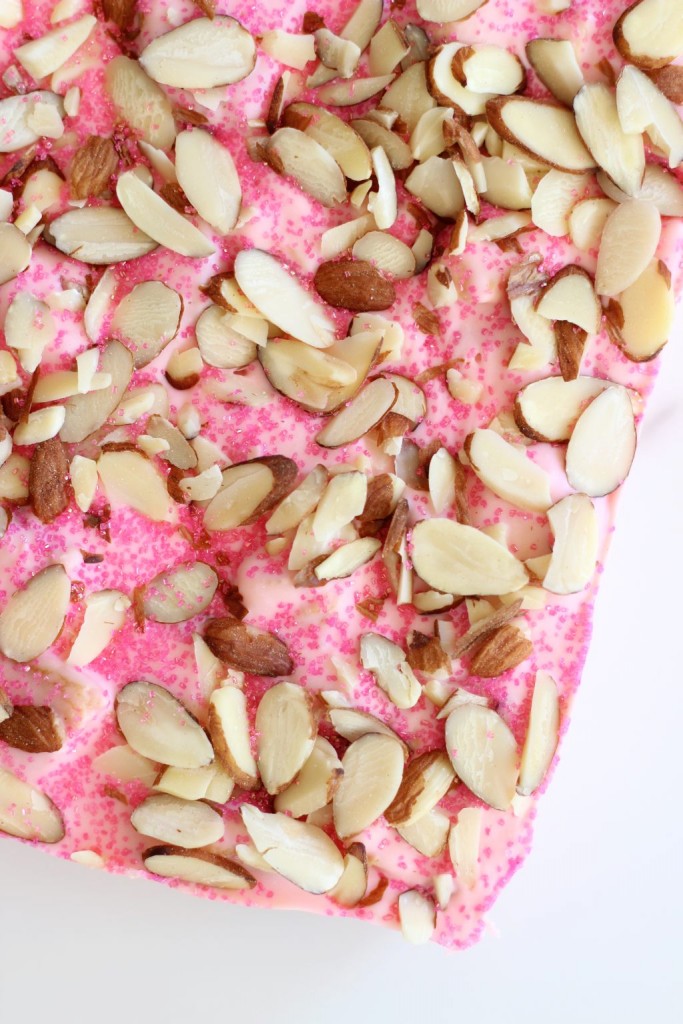 This 5-Minute Strawberry Shortcake Fudge hardly feels like I settled though. Cherry would be great, but this is delightful too.
There's a very short list of ingredients to make this fudge, and they are all easy to find. The prep time is seriously 5 minutes. Yes, okay, you have to then wait for the fudge to set, and that takes a little bit of time in the fridge, but you are only dedicating 5 working minutes to make this fudge.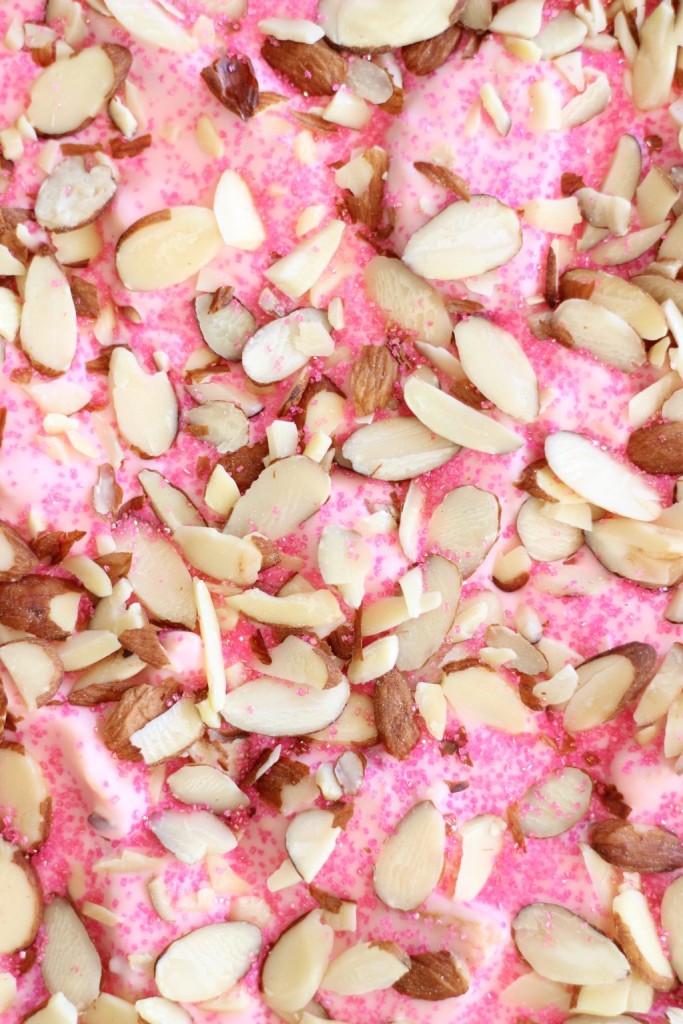 Combine the strawberry frosting with white chocolate chips in the microwave, stir in a little almond extract (just for good measure and to give dimension to the fudge's flavors), and fold in crushed vanilla wafers or vanilla sandwich cookies.
This recipe is foolproof. Tastes just like strawberry shortcake in fudge form.
Nobody has to know that you made it in under 300 seconds!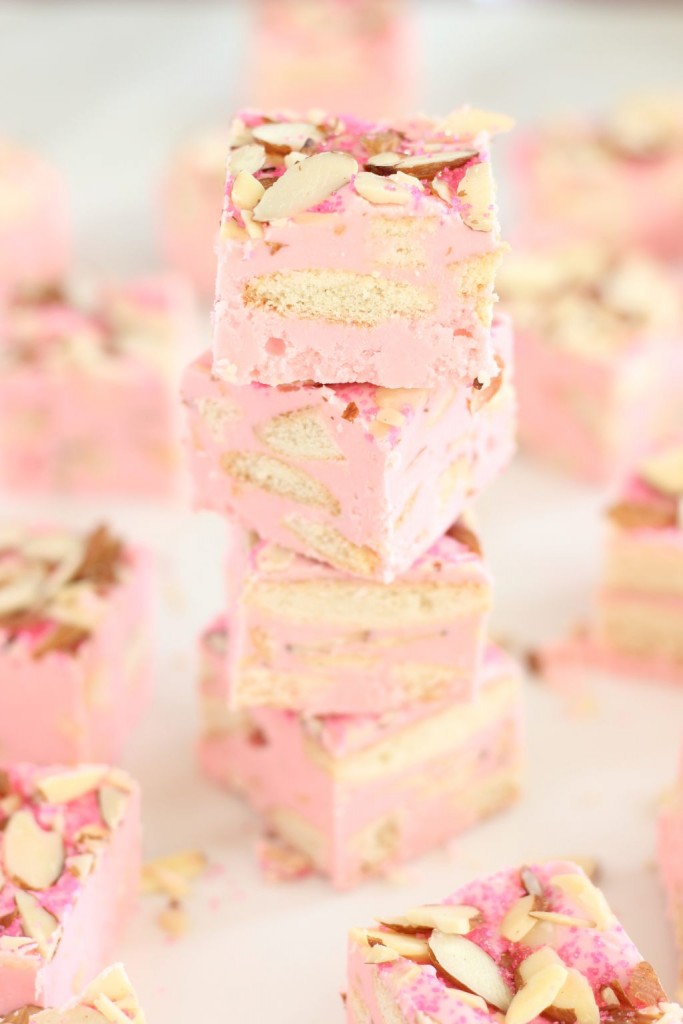 5-Minute Strawberry Shortcake Fudge
Author:
Sarah @ The Gold Lining Girl
Recipe type:
Candy - fudge
Ingredients
1 - 16 oz. container prepared strawberry frosting
1 - 12 oz. package white chocolate chips
3 tbsp. butter
1 tsp. almond extract
1½ c. coarsely crushed Nilla wafers
⅔ c. slivered almonds, divided
sprinkles, optional
Directions
Line an 8-inch square pan with foil, extending it over the edges of the pan.
Lightly grease the pan.
In a large microwave-safe bowl, combine the frosting, white chocolate chips, and butter.
Microwave on high for 1 minute, stir, then continue microwaving at 30-second intervals until the chips are completely melted and smooth.
Stir in almond extract.
Fold in the crushed Nilla wafer cookies and ⅓ c. almonds until just blended.
Spread evenly into the prepared pan.
Sprinkle with remaining almonds.
Decorate with sprinkles, if desired.
Allow to set at room temperature for about a half hour, or for 10-15 minutes in the refrigerator.
Remove from pan by lifting the edges of the foil. Remove the foil.
Cut into squares, and DEVOUR!
For another quick fudge recipe, this 5-Minute Peanut Butter Cup Fudge is also a hit!