A rich and moist, but fluffy and springy apple pie-spiced olive oil cake. Topped with a dusting of powdered sugar, and caramelized apples!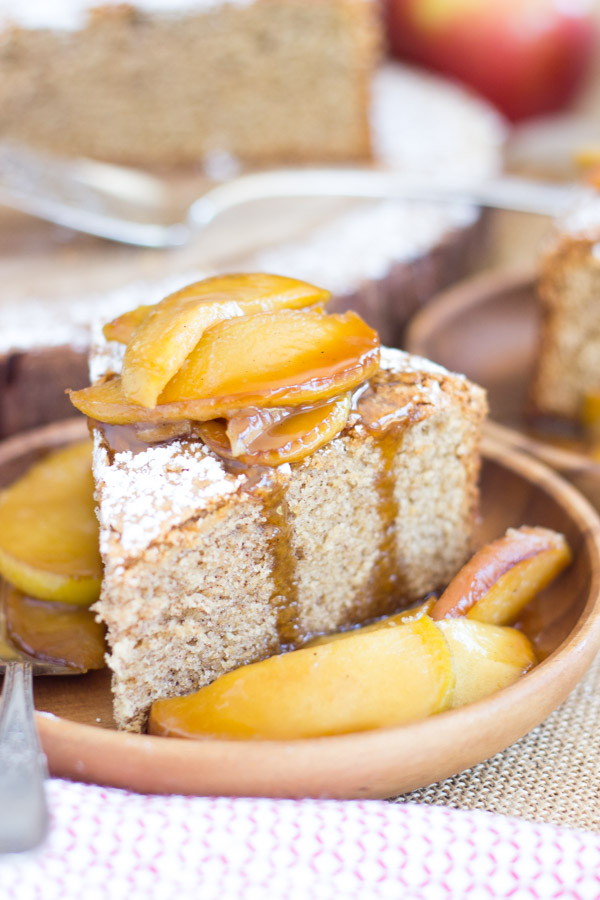 Olive oil cake with a fall makeover. I have a Citrus Almond Olive Oil Cake that was so incredibly popular at Christmastime about two years ago, and I wanted to resurrect it with a fall theme.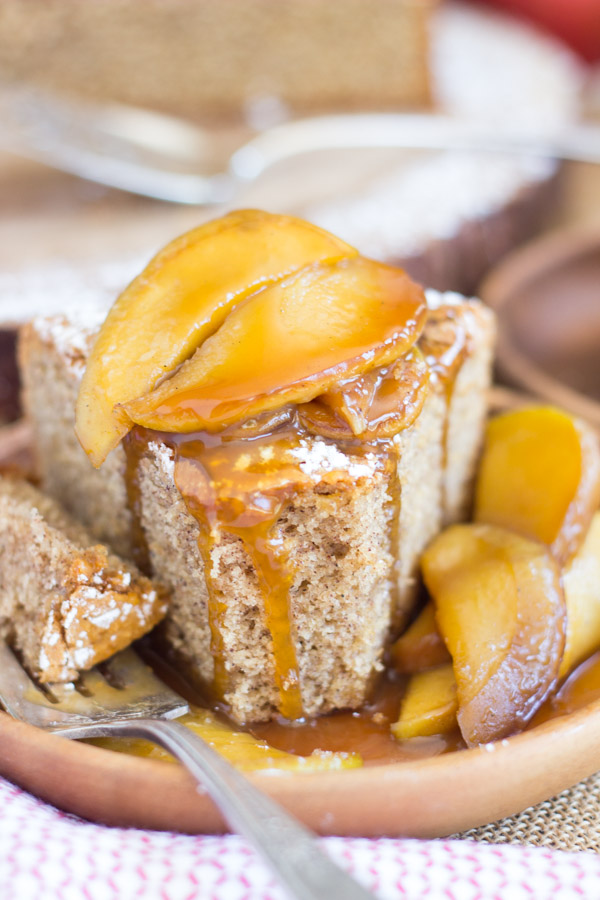 That cake is like nothing else. It's light and springy, fluffy, and a little spongey.  Yet it's dense and kinda chewy. It's not an overly sweet cake, and it's perfect for a person who likes a more rich dessert, versus something that's straight-up sweet and sugary.
I don't discriminate against any desserts, but I know that not everyone likes stuff like fudge and marshmallows.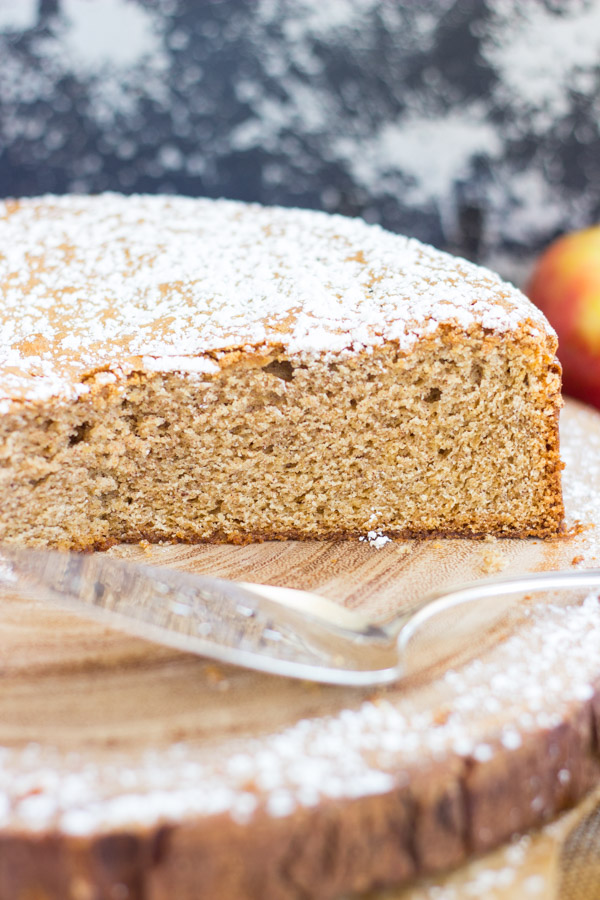 Despite being rich, it's not heavy. The olive oil makes it moist and rich, and adds a really interesting subtle flavor too, but it doesn't make it heavy like a pound cake. You beat the eggs pretty heavily so that it gives this cake a fluffiness and lightness.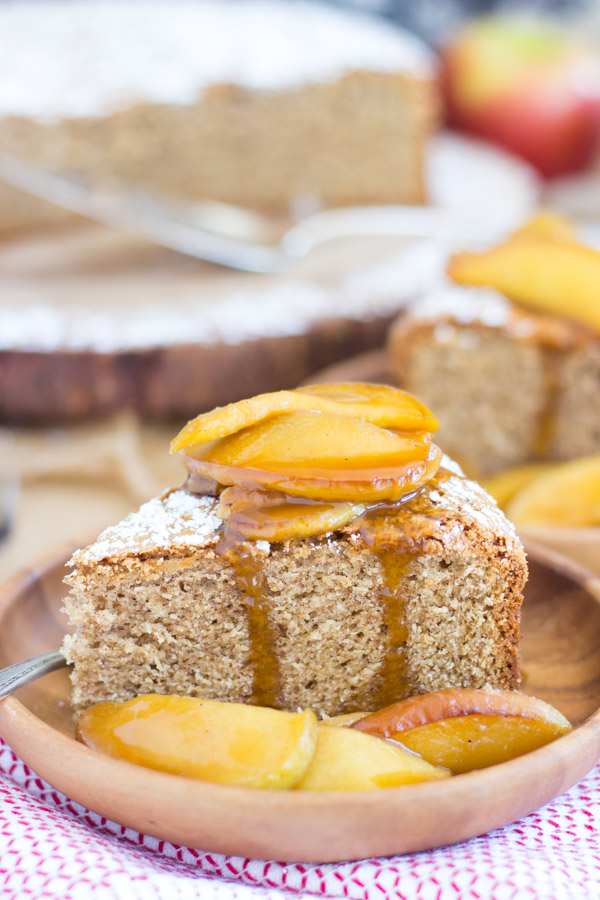 I wanted to add fresh grated apple to this cake, but I wasn't sure if it would throw off the chemistry of this recipe, so I just threw in quite a lot of apple pie spice, and it honestly gives off all sorts of apple vibes with just that spice alone. I also rounded out the spices with cinnamon, ginger, and nutmeg, and so it's pretty loaded up. There's so much flavor to it with the blend of spices and the olive oil. I didn't want to overpower those elements.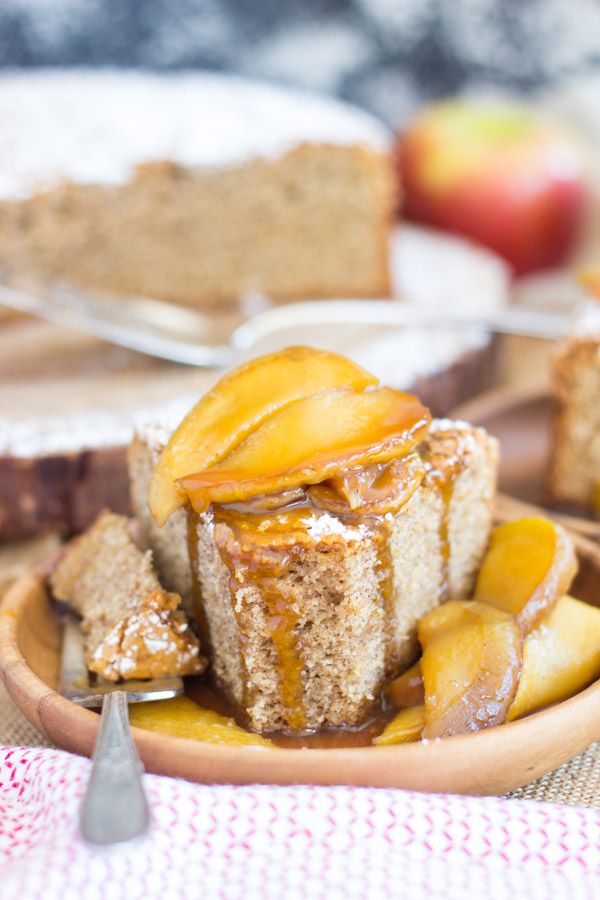 However, if you want this to be more authentic with apple, then caramelized apples are where you want to take this dessert. I love a sliced fresh apple that's been sauteed in butter and brown sugar. I never knew a fruit that didn't benefit from a little caramelization.
The warm, buttery, and sweet apples over a slice of apple-spiced olive oil cake is a dessert you don't want to miss this fall.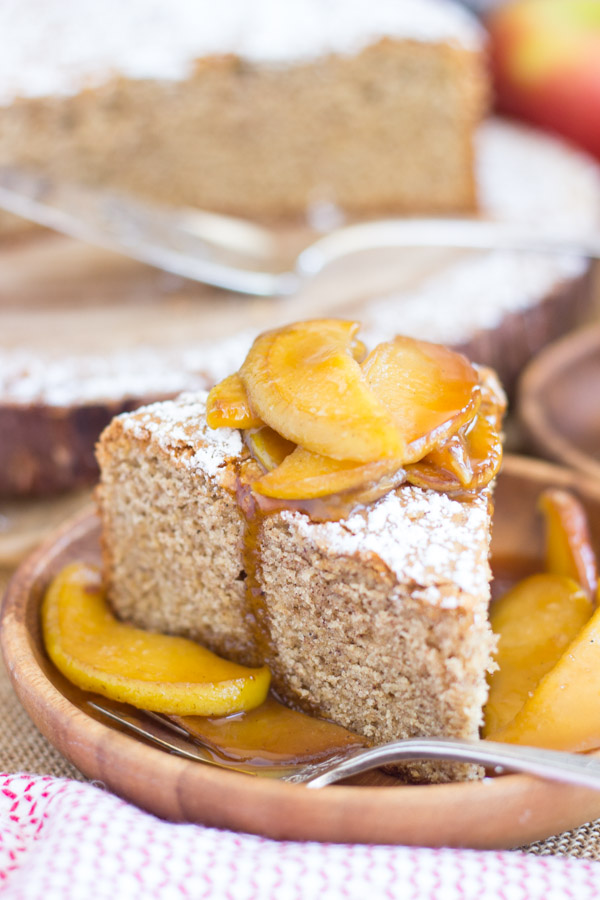 Apple Spiced Olive Oil Cake with Caramelized Apples
A rich and moist, but fluffy and springy apple pie-spiced olive oil cake. Topped with caramelized apples!
Author:
Sarah @ The Gold Lining Girl
Ingredients
For apple spiced olive oil cake:
2 c. flour
2 tsp. baking powder
½ tsp. baking soda
pinch of salt
1½ tsp. apple pie spice
1 tsp. cinnamon
½ tsp. ginger
pinch of nutmeg
3 eggs, at room temperature
1½ c. sugar
⅔ c. high-quality extra virgin olive oil
½ c. buttermilk or sour milk
1 tsp. vanilla extract
powdered sugar, for dusting
For caramelized apples:
2 large Fuji apples, cored, thinly sliced
3 tbsp. butter
3 tbsp. packed brown brown sugar
1 tbsp. water
Directions
For apple spiced olive oil cake:
Lightly grease a 9-inch springform pan.
In a medium bowl, whisk together the flour, baking powder, baking soda, salt, apple pie spice, cinnamon, ginger, and nutmeg.
In a large mixing bowl fitted with the whisk attachment, beat the eggs and granulated sugar at high speed until pale and fluffy, about 5 minutes.
Lower the speed to medium-high, and drizzle in the olive oil slowly, beating until incorporated.
With the mixer on low, add half the flour mixture until incorporated.
Add the buttermilk and vanilla, then the remaining flour mixture, until just blended.
Pour batter into prepared pan.
Bake at 325 for 40-45 minutes, or until the top is golden and a toothpick inserted near the center comes out clean.
Let the cake cool in pan on a wire rack for 20 minutes, then carefully remove the pan sides and allow cake to cool completely.
Dust with powdered sugar, and top with caramelized apples.
For caramelized apples:
In a large saucepan over medium-high heat, melt the butter.
Once melted, add the apples. Cook for 3-4 minutes, or until they are lightly browned, and starting to soften.
Add the brown sugar and water, stirring to mix. Continue cooking apples an additional 3-4 minutes, or until they are golden and soft.
Serve warm over slices of cake.