Tender, flavorful, slow-cooker chicken, with a creamy paprika sauce. My Slow-Cooker Chicken Paprikash recipe can be prepped in 10 minutes! Serve it over rice or noodles for a hearty, filling meal.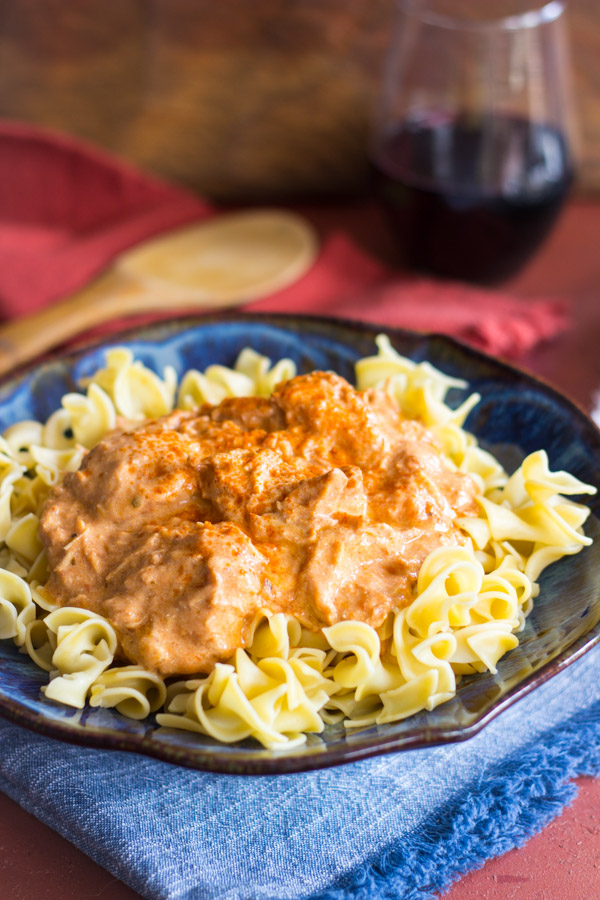 I just threw several pounds of pork tenderloin and some BBQ sauce in my slow-cooker this morning around 7:30am. Busting out the slow-cooker is definitely a Sunday morning ritual around here.
I sent my friend Leslie a snap of the ingredients in the pot so that she could see how simple it is to prep. ALL my slow-cooker recipes are ridiculously quick and simple to prep. I need to have lunches for the week, but I don't have the patience to spend my Sunday in the kitchen cooking. I'd much rather be baking, after all!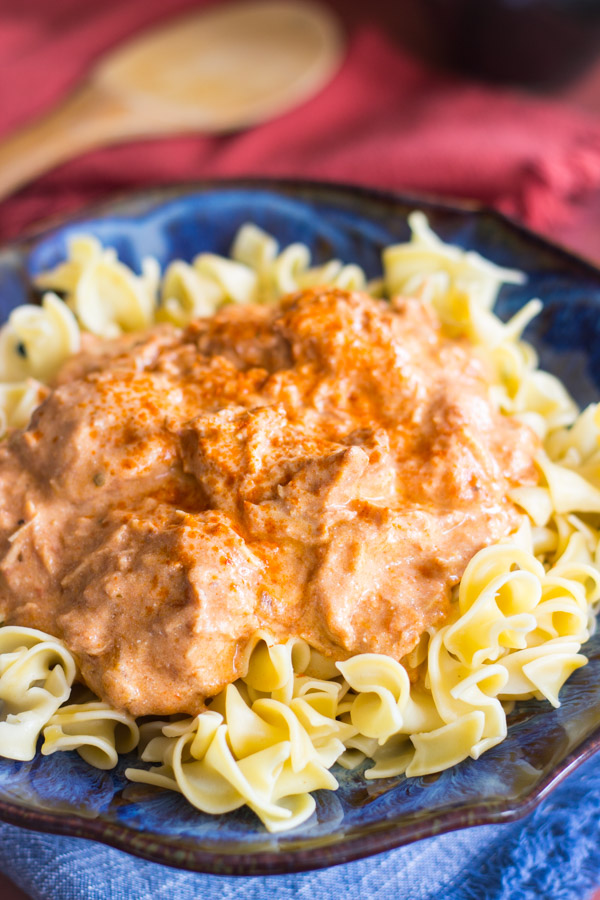 Leslie has a 6 month-old (already half-year??) and just went back to work, so she is in desperate need of easy meals. Her first week back to work, and she had ZERO time to do ANYTHING but work and take care of her kid. I'm a fur-mom, so I know nothing about raising an actual human, but I'm sure a lot of you can relate. She didn't have a spare second to do dishes or laundry or anything for the house this week, let alone have time for just herself.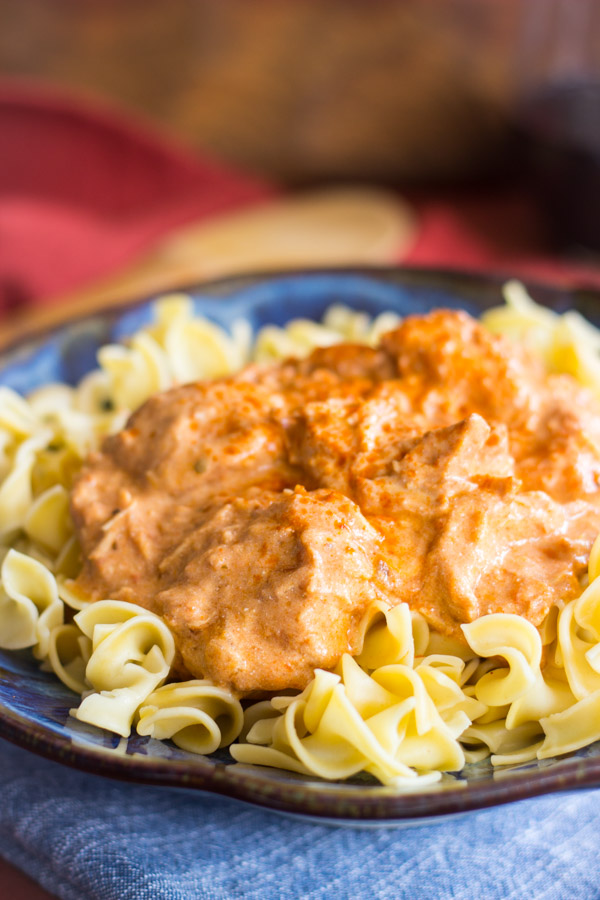 Anyhoo, my point is, she was asking me about quick-prep meals, and I was talking to her about some of my go-to recipes. Most of those are slow-cooker recipes because that's my favorite way to 'cook'. I suggested this Slow-Cooker Honey Mustard Chicken (my fave!), Slow-Cooker Thai Peanut Chicken, and Slow-Cooker Maple Apple Pork Roast.
I made these Salsa Chicken Fajitas from chicken that I threw into the slow-cooker with a bottle of salsa – that's it. Just two ingredients, and it's super versatile. I even make oats in the slow-cooker regularly, and here's a good PB&J oats recipe.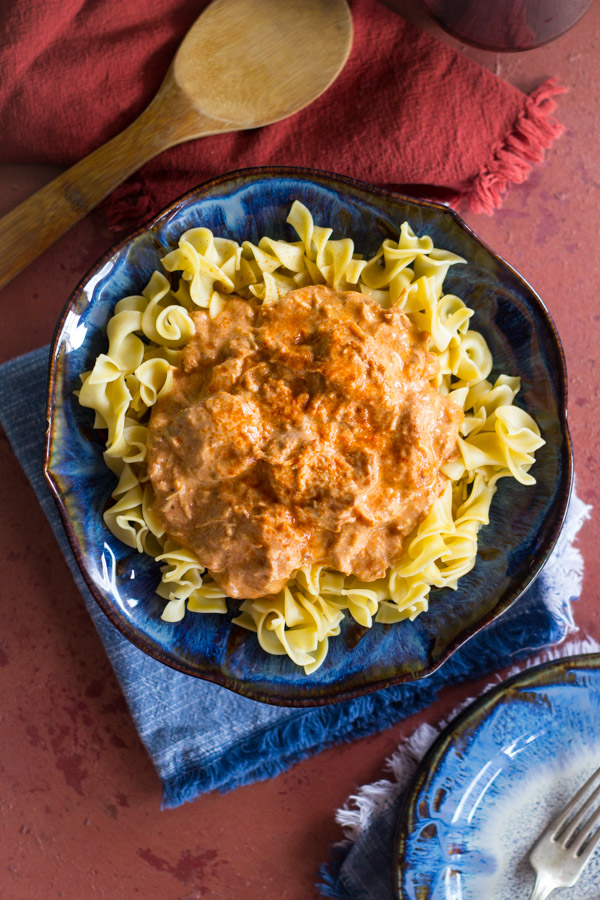 One of my favorite chicken dishes is Chicken Paprikash. I have a bunch of Chicken Paprikash recipes that have slight variations, and I cobble them together to make my favorite one. But what I didn't have was a slow-cooker version, and that's practically a basic need in my life. Whatever I love to eat, it needs to be adapted into a slow-cooker recipe. Otherwise, I don't have the time or energy to make it, sadly!
So I'm sharing my version of Slow-Cooker Chicken Paprikash. Not a long list of ingredients, and they're pretty basic pantry items. You can drop everything into a slow-cooker in about 10 minutes, so prep time is short!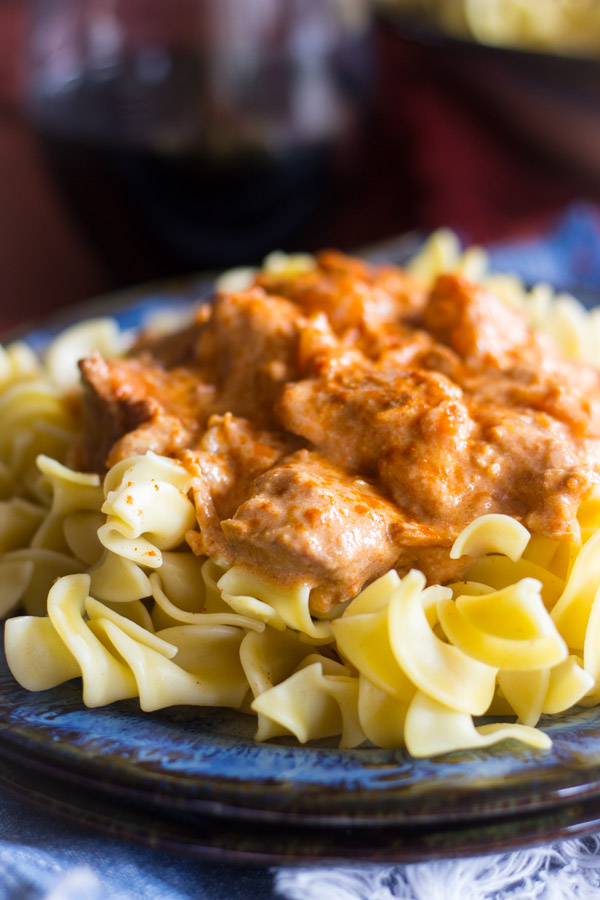 The chicken is tender and flavorful, and the creamy paprika sauce is smoky and tangy. This is a pretty light version of Slow-Cooker Chicken Paprikash – not loaded with butter, and I used light sour cream. You could even substitute Greek yogurt, we do that often. If you're a fan of traditional Chicken Paprikash, it never hurts to have a slow-cooker version on hand!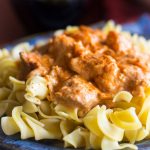 Slow-Cooker Chicken Paprikash
Tender, flavorful, slow-cooker chicken, with a creamy paprika sauce. My Slow-Cooker Chicken Paprikash recipe can be prepped in 10 minutes!
Total Time
6
hours
15
minutes
Ingredients
6

boneless

skinless chicken breasts, cut into 1-inch pieces

2

large yellow onions

chopped

1 - 24

oz.

jar roasted garlic tomato sauce

3

tbsp.

paprika

divided

2

tbsp.

Better Than Bouillon Chicken Soup base

1

tsp.

garlic salt

4

tbsp.

butter

melted, divided

2

tbsp.

flour

1 - 16

oz.

container sour cream

low-fat is fine
Instructions
In a large slow cooker, stir together chicken, onions, tomato sauce, 1 tbsp. paprika, bouillon, garlic salt, and 2 tbsp. butter.

Cover, and set slow cooker to 'low'. Cook for about 6 hours, or until chicken is tender.

In a small bowl, combine flour and remaining melted butter.

Whisk into the slow cooker.

Cover, and set slow cooker to 'high'.

Cook for 15 minutes, or until sauce is thickened.

Turn off slow cooker, and remove from heat.

Stir in remaining paprika, and sour cream.

Serve hot over rice or noodles.
You may also like these simple dinner recipes:
Honey Balsamic Baked Pork Chops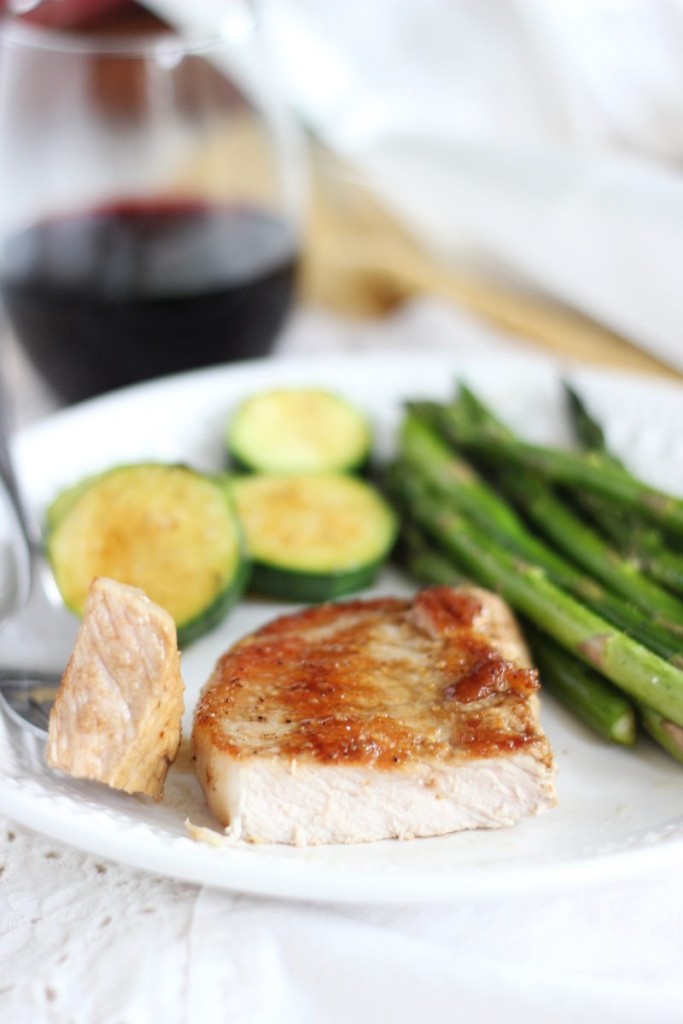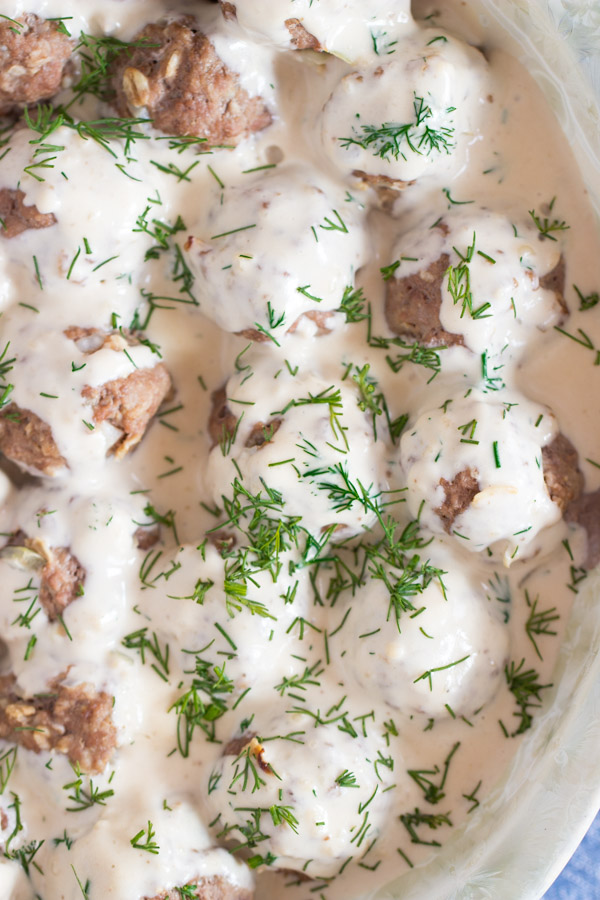 Slow-Cooker Honey Mustard Chicken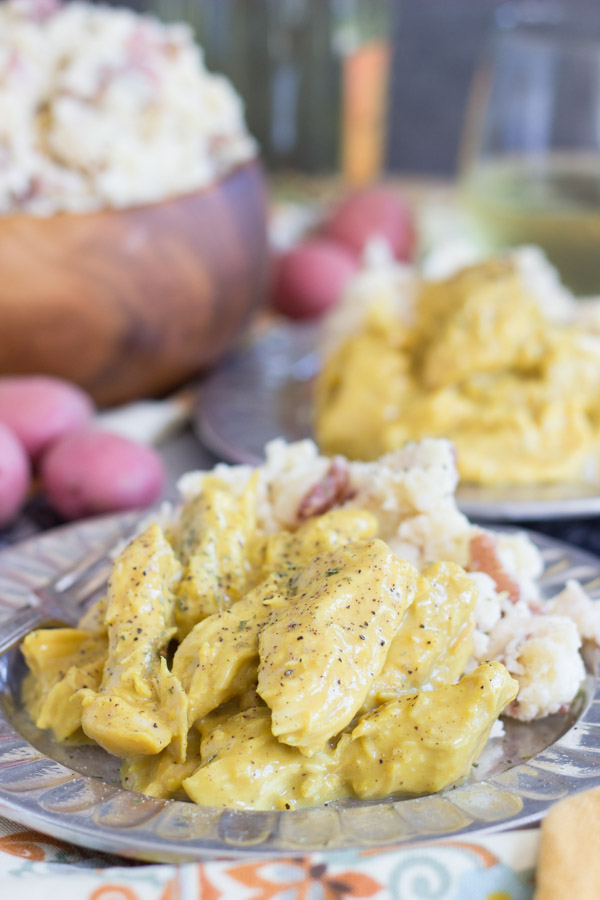 Slow-Cooker Thai Peanut Chicken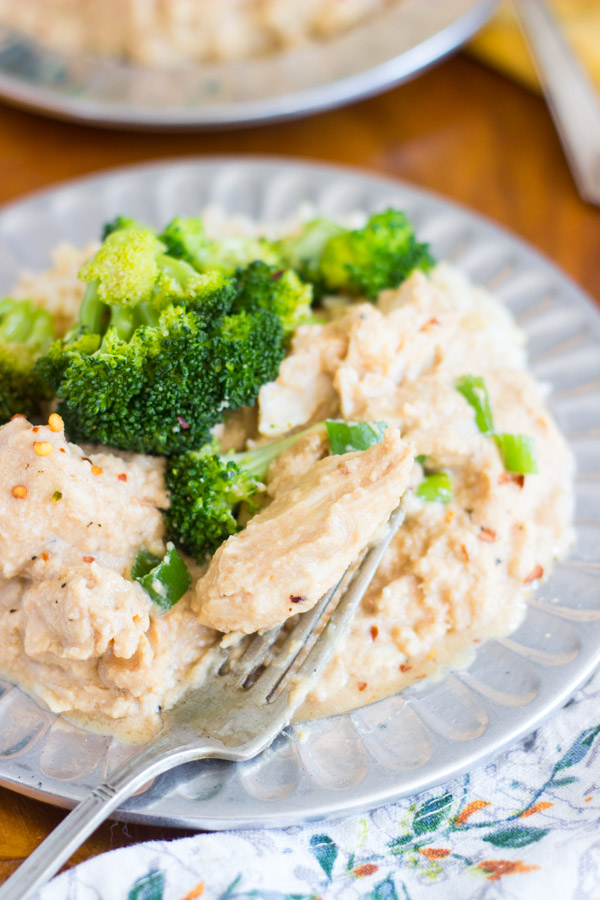 Slow-Cooker Maple Apple Pork Roast