This Layered Cinnamon Streusel Coffee Cake with Cream Cheese Filling is the last coffee cake recipe you'll ever need. It's the ultimate brunch show-stopper. With two layers of soft, tender, buttery coffee cake, topped with cinnamon-pecan streusel, and layered with cream cheese filling, this Streusel Coffee Cake recipe is incredible. You can't find another coffee cake recipe like this!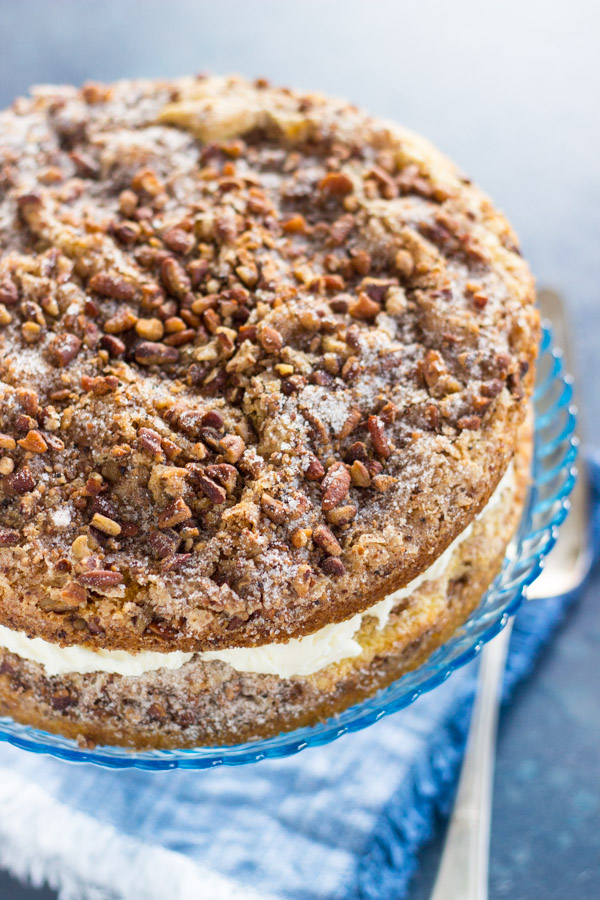 Where else can you find a layered coffee cake but here? If there was a way to crank up coffee cake into 'ridiculous' territory, you probably could count on me to find a way to get us there. This Layered Cinnamon Streusel Coffee Cake is it. We're there.
I provide you with a lot of breakfast and brunch recipes on this site that look a hell of a lot like dessert. This might be the most offensive example of that. Are you offended?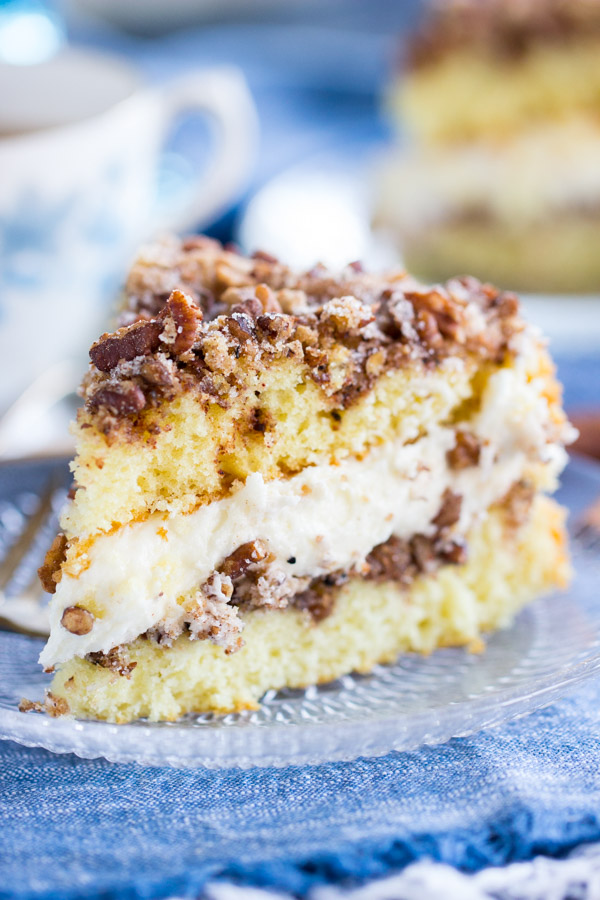 Although other flagrant instances of claiming something as breakfast when it much more closely resembles dessert are many of my crepes recipes. These Black Forest Crepes come to mind, and so do these Chocolate Crepes with Peanut Butter Marshmallow Filling and Caramelized Bananas. Yikes.
Think of this Layered Cinnamon Streusel Coffee Cake as straight-up cake. It's frosted like a cake, pretty much. Nevertheless, it's a 'coffee cake' because we're gonna eat it for breakfast or brunch, and you're gonna have coffee with it. K? Also, it has cinnamon. I feel like any baked good with cinnamon in it gets thrown into the category of 'breakfast' by default of that ingredient. Know what I mean?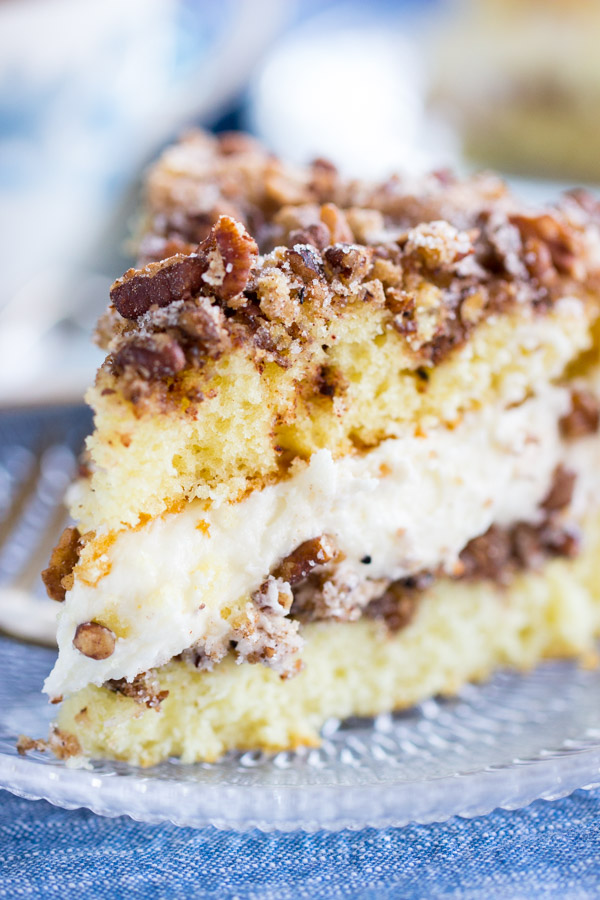 I'll get down to business. Here's why you need this Layered Cinnamon Streusel Coffee Cake recipe in your life: those coffee cake layers are so tender and wonderfully crumby, and LOADED with streusel. They're actually quite fragile and crumbly, FYI, so be careful assembling. Their fragility is what makes them so tender and soft though. If they crack a little, the frosting is like glue to keep them together. 🙂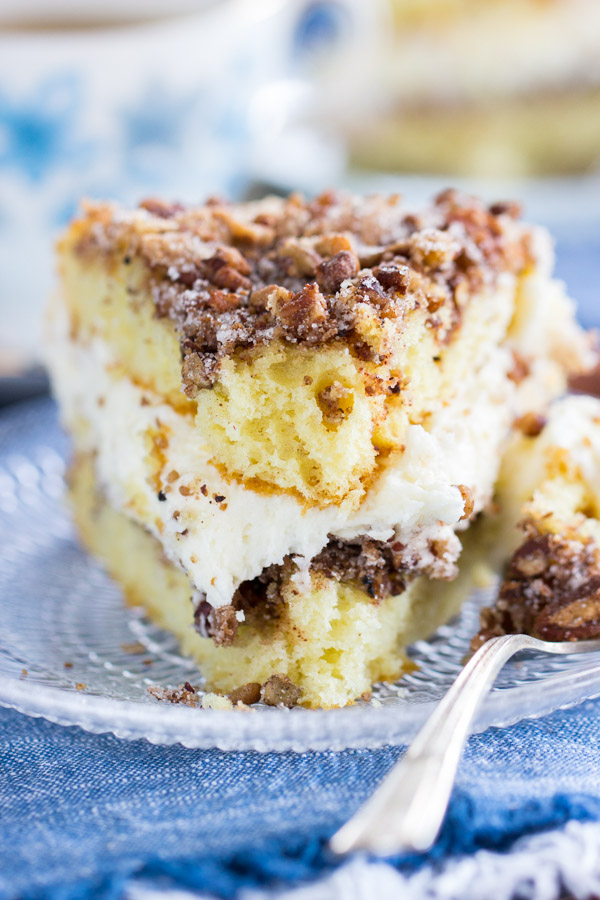 The cinnamon-pecan streusel on top is sweet, crackly, crunchy, and loaded with spice. I wasn't stingy with it, so the streusel is loaded up pretty darn good on each layer of coffee cake.
The filling. My goodness. It's like a cross between cream cheese frosting and cheesecake, but it's not heavy. It's light, fluffy, and creamy. Don't you feel like the one thing missing in most coffee cake recipes is some kind of filling or frosting?? Now you've got the perfect, ultimate, coffee cake recipe!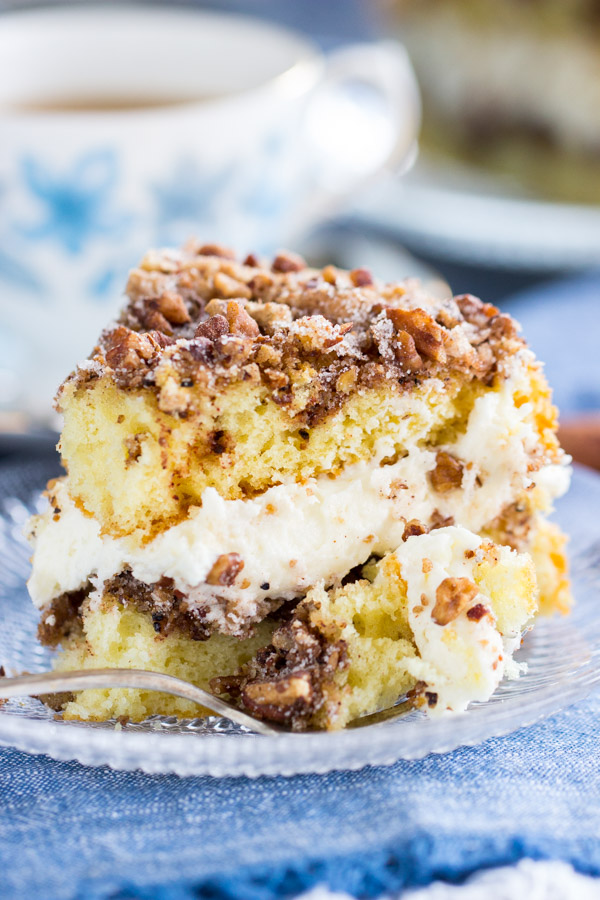 Layered Cinnamon Streusel Coffee Cake
Ingredients
For cinnamon pecan coffee cake layers:
10

tbsp.

butter

softened

1

c.

sugar

2

eggs

1

tsp.

vanilla

1 1/2

c.

all-purpose flour

1/2

tsp.

baking soda

1/2

tsp.

salt

3/4

c.

buttermilk or sour milk
For streusel topping:
2/3

c.

sugar

1/2

c.

chopped pecans

2

tsp.

cinnamon
For filling:
4

oz.

cream cheese

softened

3

tbsp.

butter

softened

2

tsp.

vanilla

about 2 c. powdered sugar

1

c.

whipped topping
Instructions
For cinnamon pecan coffee cake layers:
In a large mixing bowl, cream butter and sugar until light and fluffy.

Add eggs and vanilla, beating until combined.

In a medium bowl, stir together flour, baking soda, and salt.

Add to the mixing bowl alternately with the buttermilk, beating until just combined.

Line two 9-inch round baking pans with parchment paper, and extend it slightly over the edge in two places, so that you can lift the coffee cake layer out of the pan easily after baking.

Divide the batter evenly among the cake pans.
For streusel topping:
In a small bowl, stir together sugar, pecans, and cinnamon.

Sprinkle evenly over the batter in the two cake pans.

Lightly swirl with a knife.

Bake at 350 degrees for 20-25 minutes, or until a toothpick inserted near the center comes out clean.

Cool completely.
For filling:
In a small mixing bowl, beat cream cheese and butter til creamy.

Add vanilla and powdered sugar, beating until smooth.

Fold in whipped topping.
To assemble:
The cakes are pretty fragile and crumble easily. Gently remove one of the cake layers from the pan, and set it immediately onto a serving plate. Carefully remove the parchment paper from underneath.

Spread the cake with filling.

Gently remove the second cake layer from the pan, remove the parchment paper, and set it over the filling.

Cut and serve. Store leftovers in the refrigerator!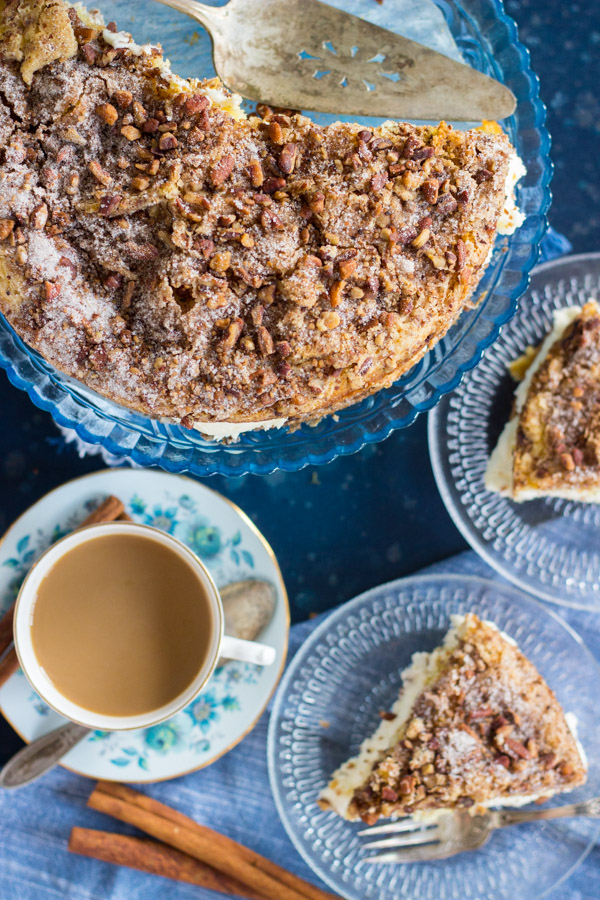 You may also like these popular breakfast recipes!
Peanut Butter Chocolate Chip Pancakes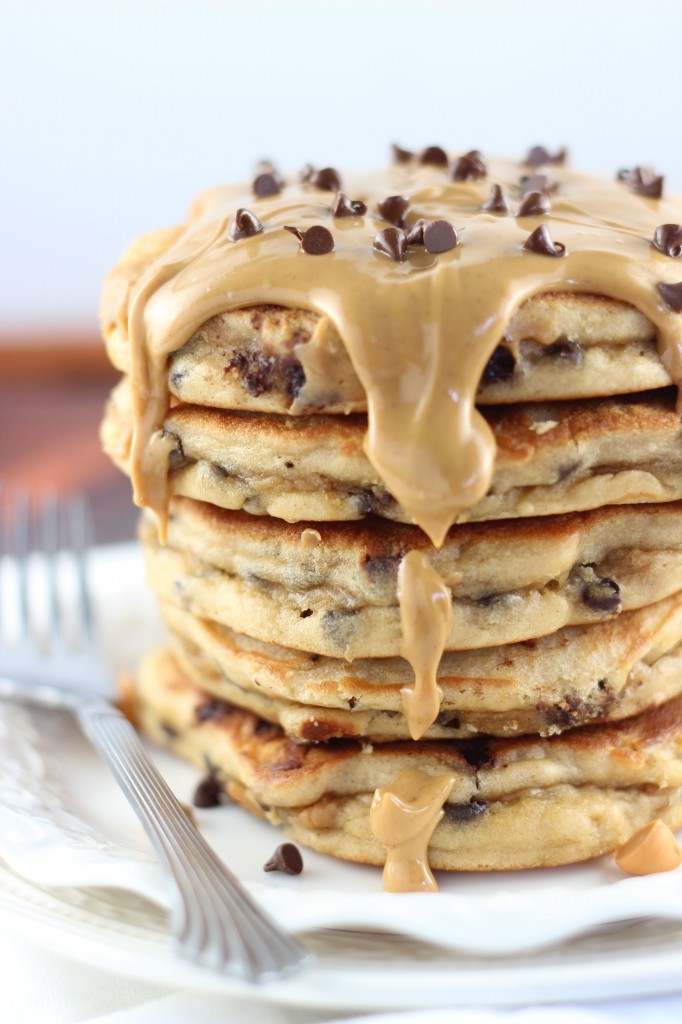 Blueberry Zucchini Bread Pancakes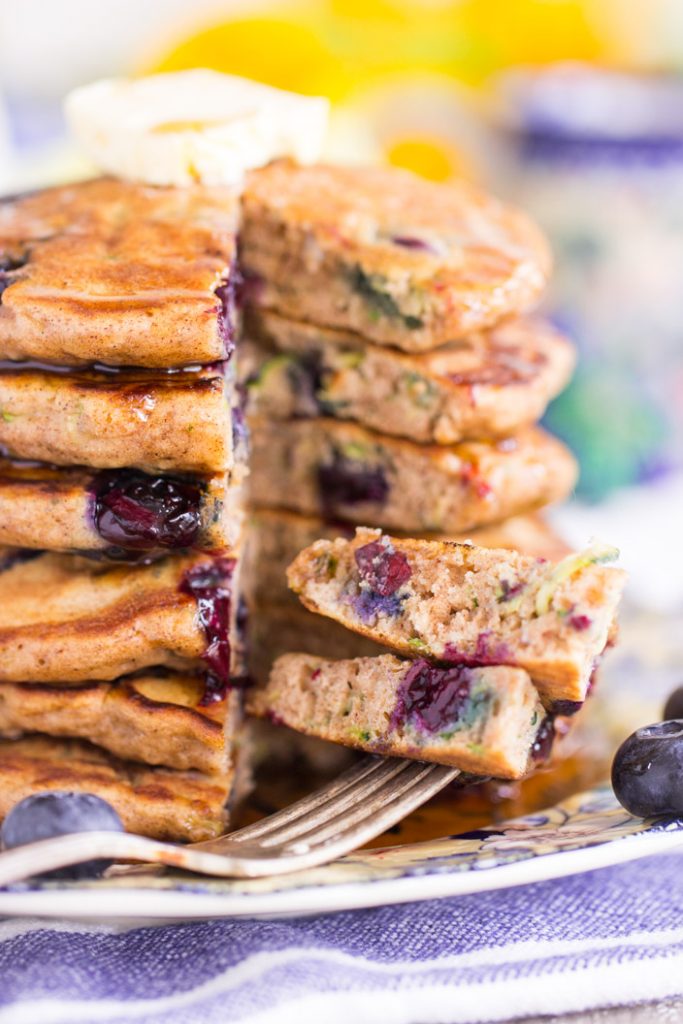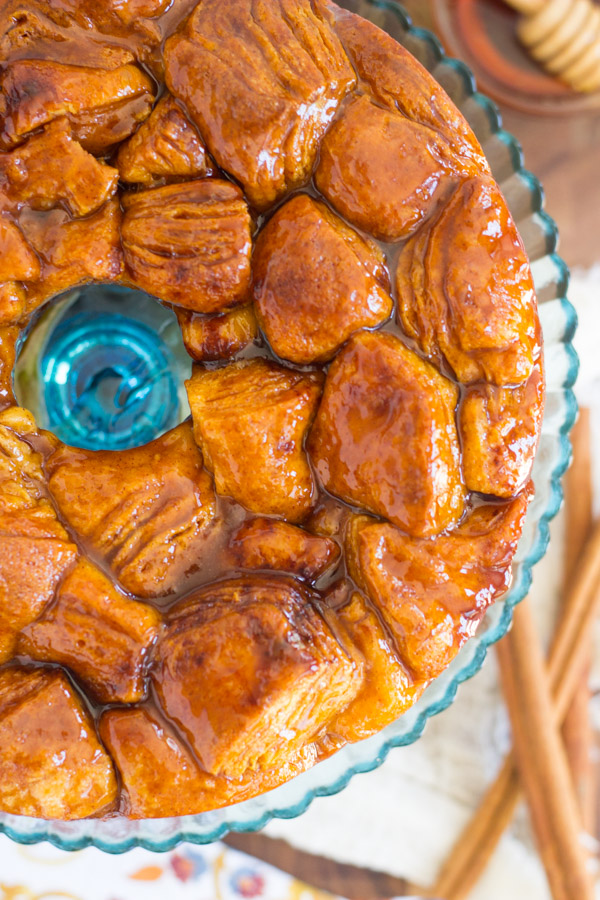 Coconut-Pecan Chocolate Cheesecake Muffins