Layers of lemon-kissed white chocolate batter are sandwiched with blueberry preserves! Topped with slivered almonds for a bit of crunch and complementary almond goodness, these Lemon Blueberry Bars are the burst of spring and sunshine we all need right now!
To easily view all of the blog recipes, follow along on Pinterest!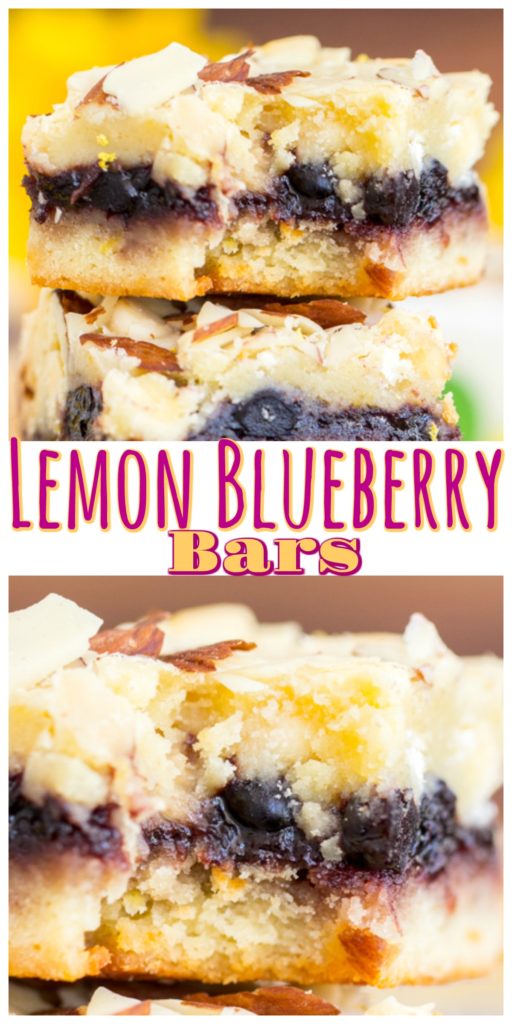 These Lemon Blueberry Bars are adapted from these Raspberry White Chocolate Almond Bars — a recipe that I've made for many, many years now.
I make them regularly, three or four batches a year, and that's saying a lot. I try so many new recipes, but there's a few that never leave my rotation, and that's one of them.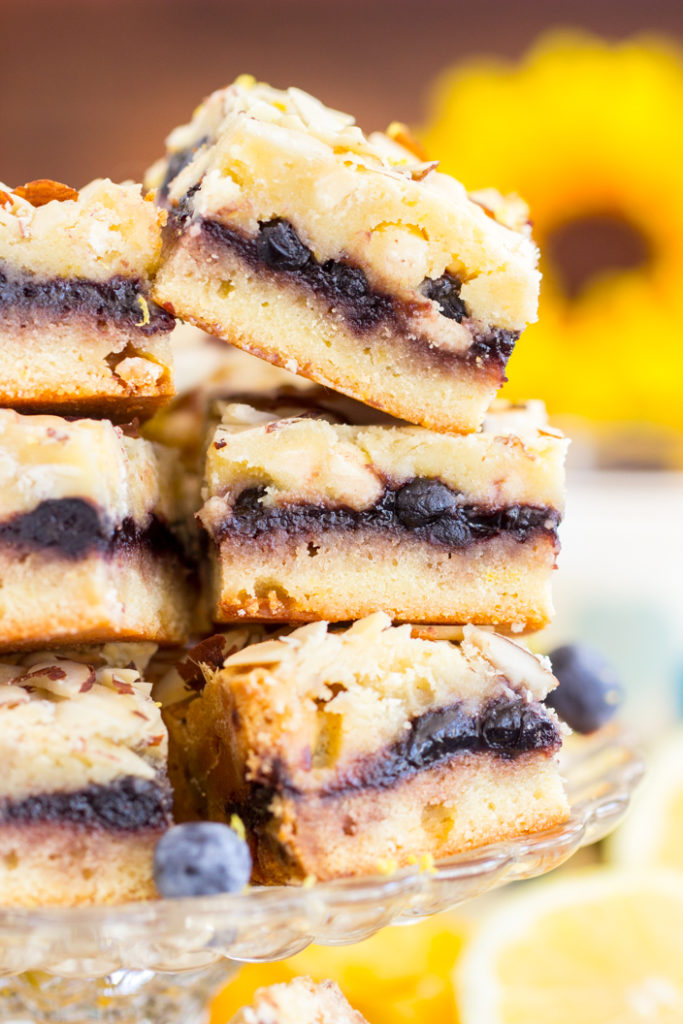 If I can makeover a recipe with a lemon blueberry theme, I will do it. It's one of my favorite springtime duos. I realized recently that those Raspberry White Chocolate Almond Bars were an excellent canvas for a lemon blueberry version. Enter these Lemon Blueberry Bars.
A few easy swaps, add some lemon zest, and voila: Lemon Blueberry Bars. Plus almonds. And white chocolate. Enhanced Lemon Blueberry Bars.
Not just lemon zest and lemon extract, and not just blueberry preserves and dried blueberries, but you also get a few other extras here with white chocolate chips and slivered almonds. Good stuff.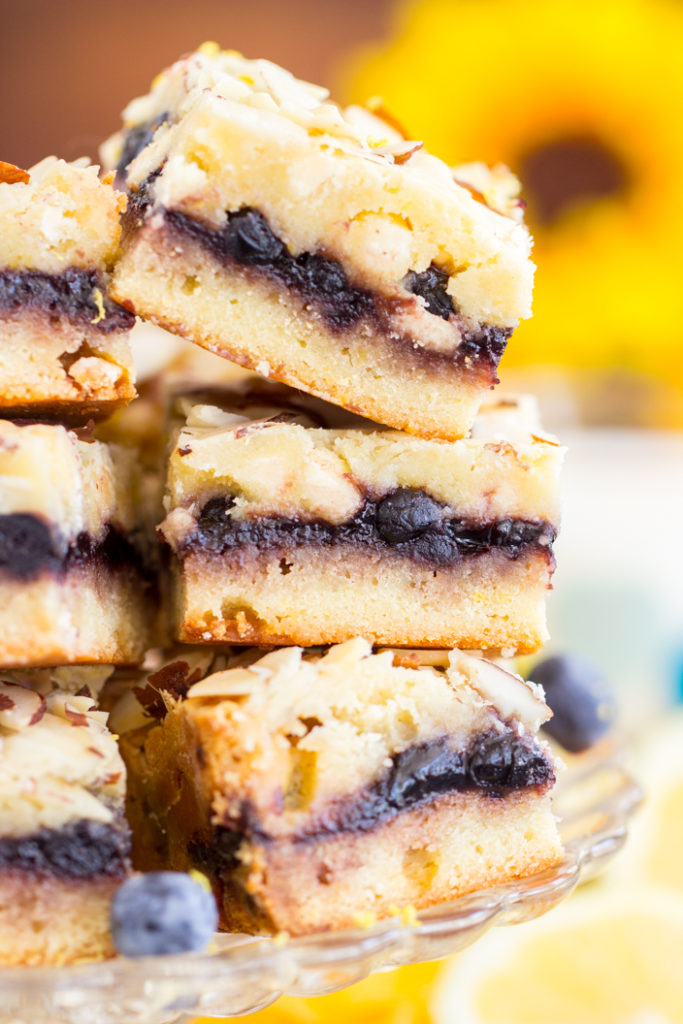 These will please even a food snob. Trust me, I've tested this. A good friend of mine has particular taste and is really into fancy restaurants and fine dining. Yet she adores these. They win over a harsh critic, and are a real people-pleaser.
For starters, there's melted white chocolate right in the batter. I have a few other recipes that do this, and I love when melted baking chips get incorporated straight into the batter of a cookie. Brilliant!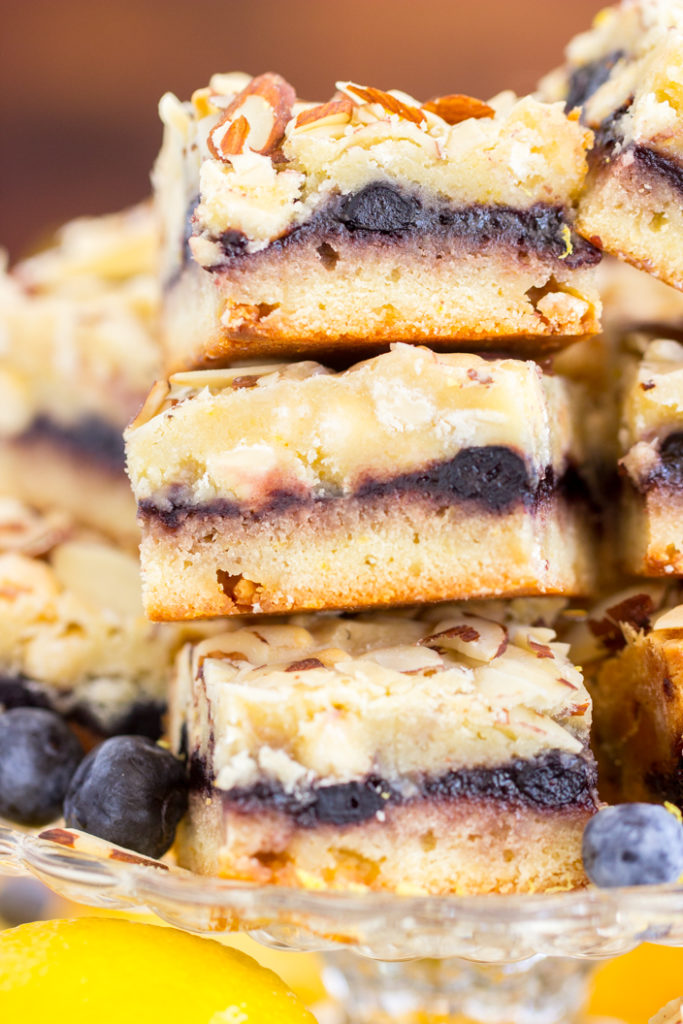 These are soft, delicate, and somewhat cakey cookie bars, infused with melted white chocolate chips, as I said, as well as fresh lemon zest. There's lemon in every layer here, even the blueberry layer. Soft, tender, white chocolate cookie layers are filled with a robust helping of blueberry preserves + dried blueberries.
The dried blueberries really plump up as these bake — absorbing a bit of moisture from the preserves.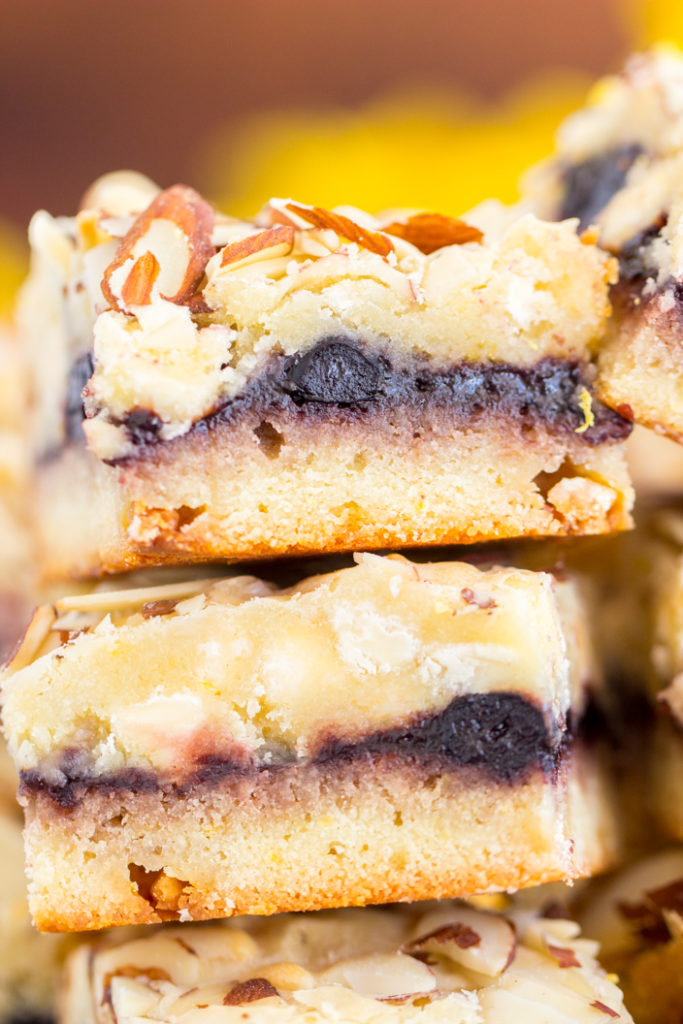 Then we dollop the top with more white chocolate batter, this time flecked with additional chips. YAY. Finishing off with a hearty portion of slivered almonds.
The combo of flavors is out-of-this-world. Lemon, blueberry, white chocolate, almond. What's not to love here? So many good things crammed into a cookie.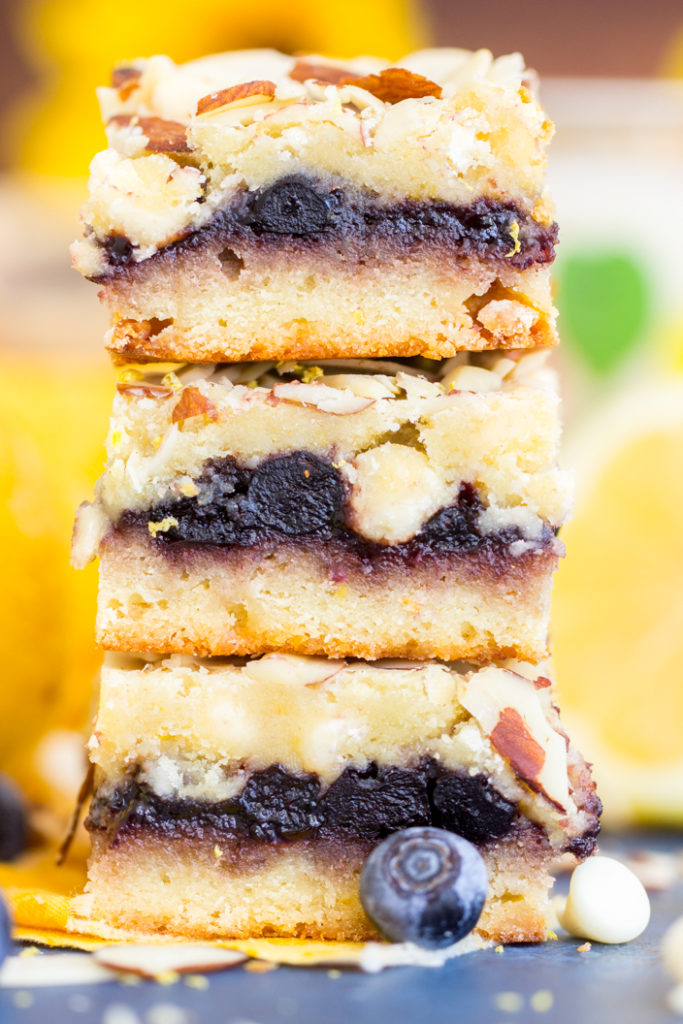 While these are not the quickest and simplest to make, they are NOT complicated, and certainly not difficult. They're just slightly more involved than a drop cookie or brownies or something like that.
I should also note that my food snob friend is the furthest thing from a cook or baker herself (she has ONE single recipe in her arsenal, Chicken Divan Casserole, similar here), but she asked me for the recipe for these bars. She successfully made them, and didn't have any trouble on the first try. They're beginner-friendly, bordering on intermediate.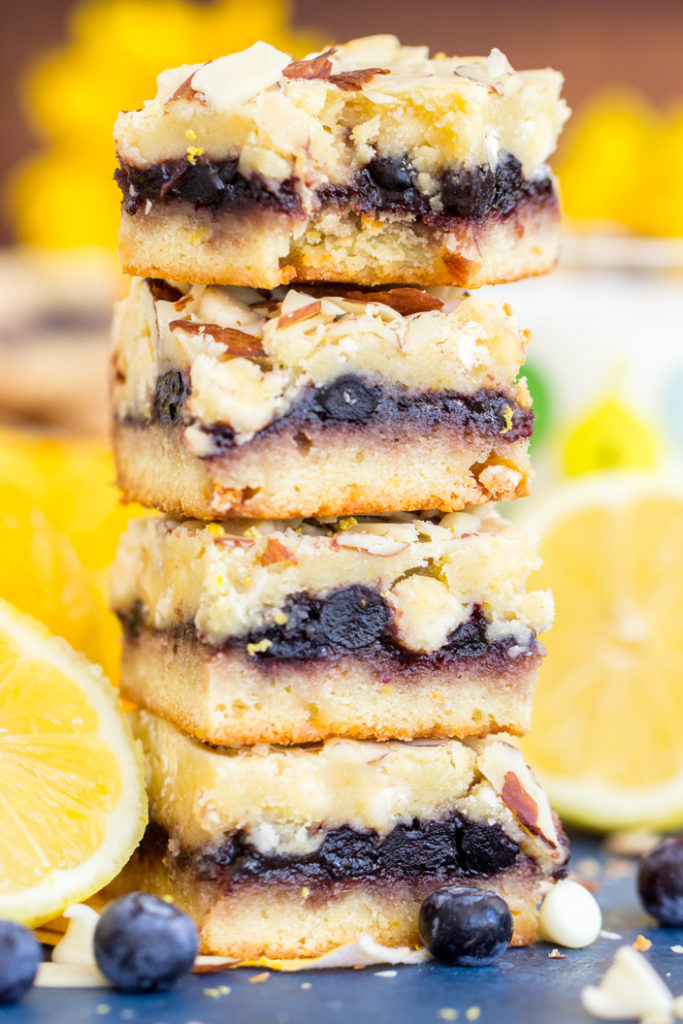 I would say that these Lemon Blueberry Bars would be fabulous on a cookie tray at Easter or for springy events like bridal showers or Mother's Day… but admittedly, who knows what those holidays and get-togethers will look like?
(Btw, how are you guys doing? I do hope you're taking care and in good spirits.)
Good thing we don't need a special occasion or any reason at all to make a batch of Lemon Blueberry Bars, and maybe our reason is just that we need a treat. That's enough for me to throw together a batch.
WANT TO PERUSE OTHER STELLAR LEMON BLUEBERRY RECIPES??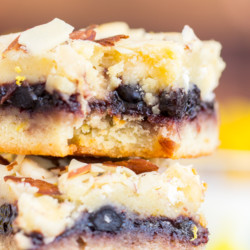 Lemon Blueberry Bars
Layers of lemon-kissed white chocolate batter are sandwiched with blueberry preserves! Topped with slivered almonds for a bit of crunch and complementary almond goodness, these Lemon Blueberry Bars are the burst of spring and sunshine we all need right now!
Ingredients
1/2

cup

butter

cubed

12

oz.

package white chocolate chips

divided

2

large eggs

1/2

c.

granulated sugar

1

tsp.

lemon extract

1

tbsp.

fresh lemon zest

divided

1

cup

all-purpose flour

1/2

tsp.

salt

3/4

cup

blueberry preserves

3.5

oz.

package dried blueberries

1/2

cup

slivered almonds
Instructions
In a small saucepan, melt butter over medium heat.

Remove from heat and sprinkle 1 cup of white chocolate chips over melted butter in the saucepan. Do not stir! Set aside.

Meanwhile, in a small mixing bowl, beat eggs and granulated sugar until thoroughly combined.

Beat in lemon extract and 2 tsp. fresh lemon zest. 

Add the melted butter and white chocolate chip mixture to the mixing bowl, beating until smooth.

In a small bowl, combine flour and salt. 

Add to the mixing bowl, beating until just combined. Do not overmix!

Line a 9-inch square baking pan with foil, allowing the excess to hang over the edges of the pan. Coat with non-stick spray.

Spread half of the batter evenly into the bottom of the pan.

Bake at 325 degrees for 15-20 minutes or until edges are very lightly browned.

Meanwhile in a small bowl, stir together blueberry preserves, remaining 1 tsp. lemon zest, and dried blueberries.

Remove baking pan from oven, and spread evenly with the blueberry preserves mixture, leaving 1/2-inch border around the edges of the crust.

Stir remaining white chocolate chips into remaining batter and drop by teaspoonfuls over the jam. It doesn't have to perfectly cover the layer of preserves. Just drop scoops of the batter as evenly as you can.

Bake an additional 25-30 minutes, or until edges are golden brown, center appears set, and a toothpick inserted near the center comes out clean.

Cool completely on a wire rack.

Run a knife around any exposed edges to loosen. Using the foil overhang, lift bars out from the pan.

Store at room temperature for up to a week. Bars freeze terrifically if well-wrapped!