Layers of almond and white chocolate batter are filled with raspberry preserves, and more white chocolate! Topped with slivered almonds for a bit of crunch, these Raspberry White Chocolate Almond Bars are always met with rave reviews!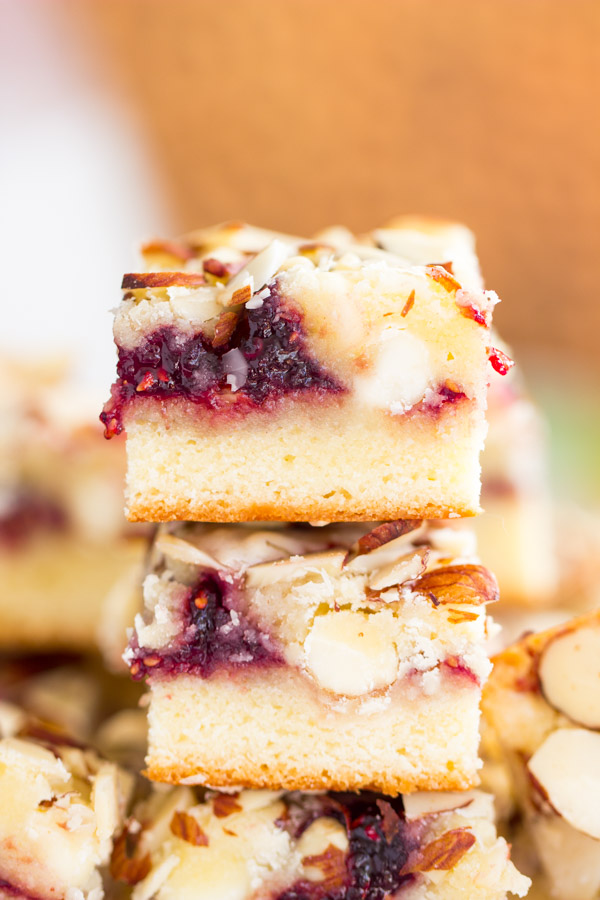 Hello, dear readers! I'm dropping in with a quick note on this VERY OLD post for Raspberry White Chocolate Almond Bars – I can't believe I wrote and published this almost 3 years ago. I've been blogging for almost 4, and that doesn't seem possible either! It was high time that these Raspberry White Chocolate Almond Bars got new photos to give some justice to how phenomenal they are.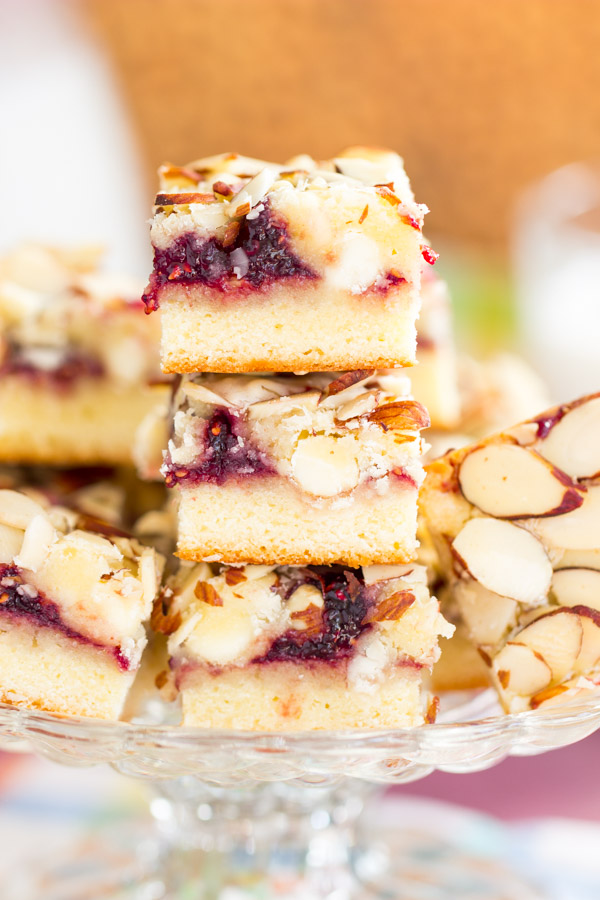 The updated photos still don't do justice to these bars, but at least they are an improvement from photos that were taken on my iphone. Eek. I've made these bars for many, many years now, and they are a staple to this day. I'm still going hard with these Raspberry White Chocolate Almond Bars, and I don't see that changing. They're a timeless, classic, crowd-pleasing recipe.
I've even based a few other recipes off these bars, including these Cinnamon Chip Blondies with Brown Sugar Pecan Streusel. Um, hiii, they rock too.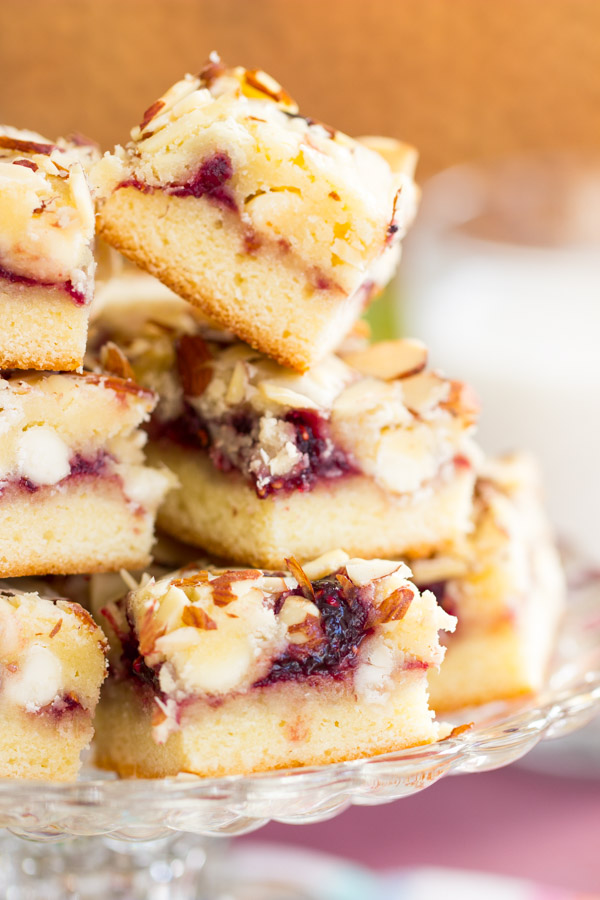 Anyway, what I originally wrote is right below, and I'm mortified to re-read it (as I always am with anything I write), but I will leave the text unchanged for posterity's sake. 🙂 Here it is….
I am on a constant loop of repeatedly checking Facebook, Instagram, Feedly, and my email. Over and over. Sometimes within seconds of when I checked before. How does anyone get stuff done with so many distractions? I clearly need lessons in productivity. Or I should spend more time in the kitchen away from technology making stuff like these….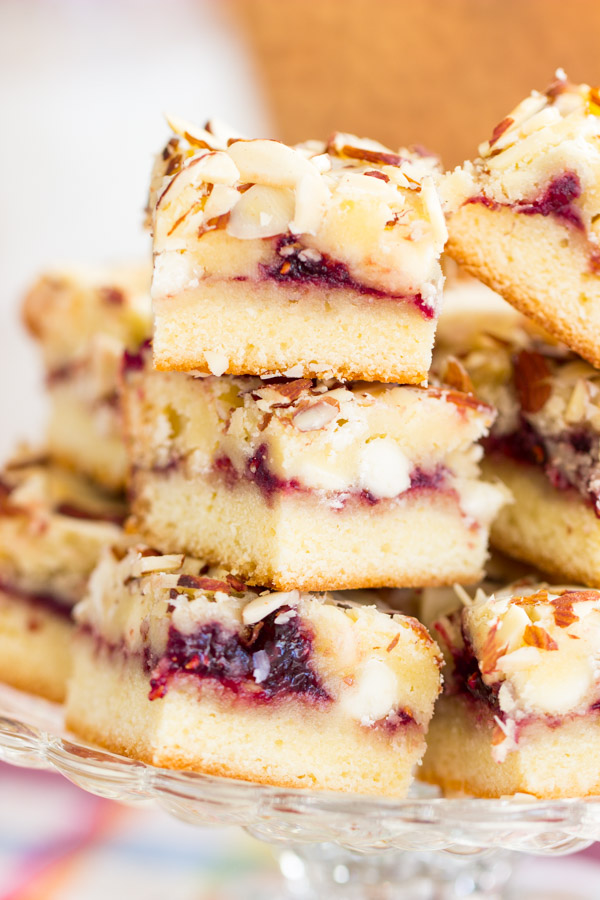 I lose myself in modern day time-zappers so absentmindedly too, like on autopilot. I stop concentrating on what I *should* be doing for one second, the next thing I know I'm all "I'll just check Facebook again real quick." Boom. Cycle repeats. I don't even think before I do it. Do I really think anything monumental or notable has changed in the last 1.5 minutes? Procrastination at its finest! Please tell me you also do this. I need to know I am not alone.
Today I am giving myself a deadline though. I will get this Raspberry White Chocolate Almond Bars post written in the next 35 minutes. It's going to happen.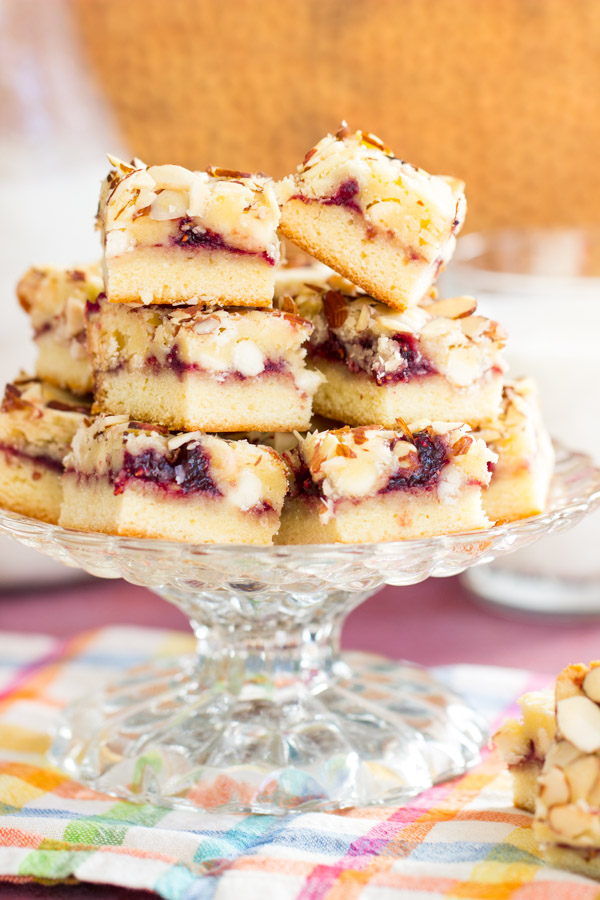 I've been making these Raspberry White Chocolate Almond Bars for YEARS. I clipped them from a magazine (of course) because that is probably my favorite place to find recipes and inspiration. I am not a fancy baker or cook. I like straightforward foods that just taste good. Put a casserole in front of me, I won't turn up my nose at it. I just like classic, homestyle recipes.
These Raspberry White Chocolate Almond Bars bars will please even a food snob though. Trust me, I've tested this. A good friend of mine has very particular taste and prefers only the finest of dining. She's a straight-up food snob. These are her favorite though. I always default to making these if I know she's coming over.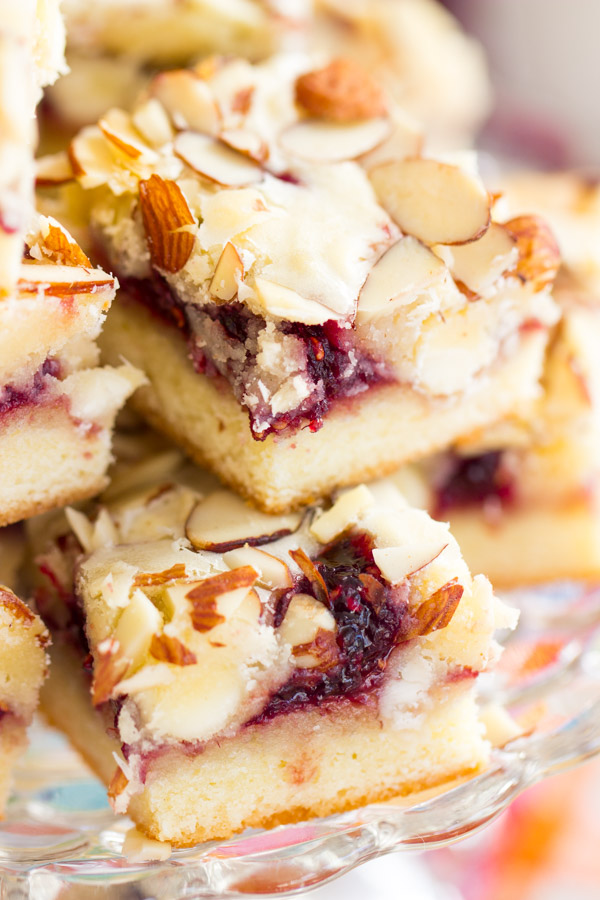 The combo of flavors is out-of-this-world. Almonds and almond extract are the perfect complement to raspberries. Aren't almonds and raspberries made for each other? And something about white chocolate and raspberries makes these automatically seem more regal and fancy.
If you're not yet convinced, there's melted white chocolate right in the batter! These are soft, delicate, and cake-like bars, infused with melted white chocolate, and filled with a thick layer of raspberry preserves, extra white chocolate chips, and slivered almonds for crunch.
These Raspberry White Chocolate Almond Bars fit well at a picnic or low-key gathering though, and would also work at a nicer occasion like a bridal shower or holiday party. At any event, they are delicious and will be a total crowd-pleaser. I hope you'll try them!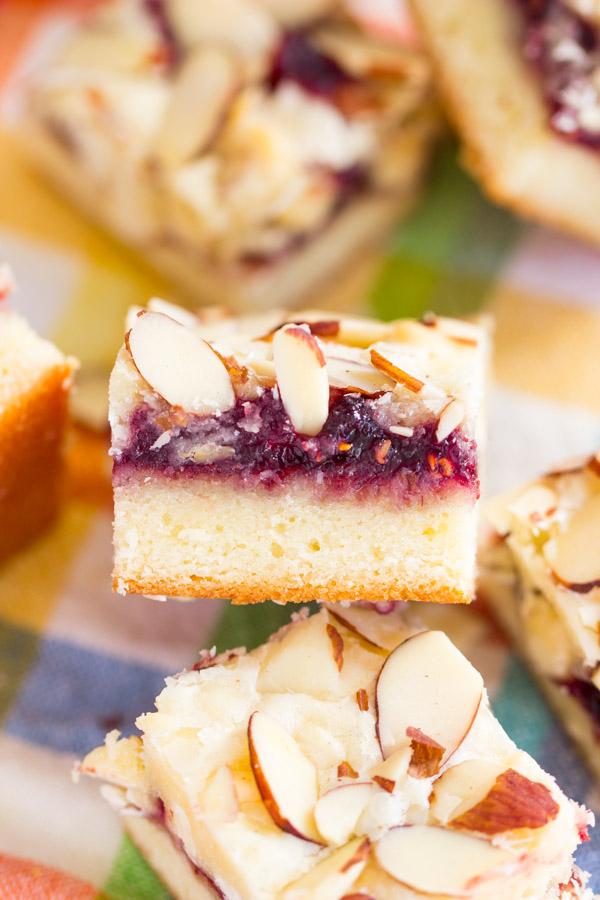 Raspberry White Chocolate Almond Bars:
1/2 c. butter
1 – 12 oz. package white chocolate chips, divided
2 eggs
1/2 c. sugar
1 tsp. almond extract
1 c. flour
1/2 tsp. salt
3/4 c. seedless raspberry jam
1/3 c. sliced almonds
In a saucepan, melt butter. Remove from the heat and add 1 cup of white chocolate chips. Do not stir. In a small mixing bowl, beat eggs until foamy. Gradually add sugar. Stir in the butter and chip mixture, and the almond extract. Mix together flour and salt. Add to egg mixture until just combined. Spread half of the batter into a greased 9-inch square baking pan. Bake at 325 degrees for 15-20 minutes or until lightly brown.
Spread raspberry jam over warm crust. Stir remaining chips into remaining batter and drop by teaspoonfuls over the jam. Sprinkle with almonds. Bake 25-30 minutes longer or until a toothpick inserted near the center comes out clean. Cool completely. Cut into bars.